Feminine hygiene bins: arrange efficient services for your washrooms
Feminine hygiene bins: when you are arranging your waste collection services and other required services such as various recycling streams, grease traps etc you should also think whether you need to arrange a feminine hygiene bins service for your ladies bathrooms. Arranging a clean and presentable washroom experience is vital if you are a restaurant, bar etc or for your employees in any work environment.
Through Waster you can organise all your waste related services such as female sanitary bins directly through us and obtain great prices, ease of services and not have to deal with multiple suppliers.
We currently provide high quality washroom services in all major Australian metro regions: Canberra, Brisbane, Gold Coast, Newcastle, Central Coast, Sydney, Wollongong, Darwin, Adelaide, Hobart, Launceston, Devenport, Burnie, Melbourne, Geelong and Perth.
Feminine hygiene bins services offered
We previously published a detailed blog posting on how to book your required sanitary bins service online through our waste booking portal.
Benefits of Waster approach
Waster offers modern, slimline sanitary bin systems that are industry leading. We offer a modern style 22 litre recepticle that is c.0.6 m high – minimising floor space whilst maximising capacity. Check out an image below.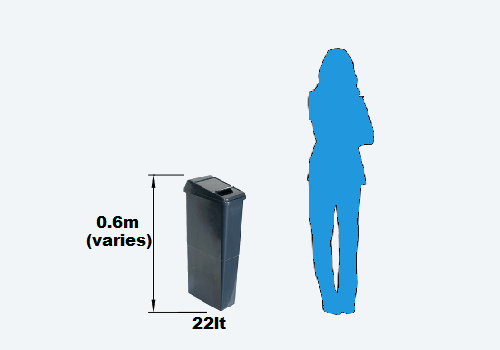 The bin is easily cleaned and is small enough to be conveniently moved, enabling cleaning of the floor space under and around the bin.
Our pricing is all inclusive and there is no additional charges such as collection charge etc. See a complete list of our inclusions etc here.
By consolidating all your services through Waster, you will benefit from ease of service and consolidated invoicing, payment and account management. When you have a query – you will have a designated contact who will answer your call and strive to resolve your issues.
As with all other Waster services, we offer flexible 30 day agreements – meaning you do not need to be locked into long term multi year contracts.
Check out an interesting article on why a clean bathroom can help your business at sanitary bins Melbourne.
How to book your feminine hygiene bins service online today
To check prices and book your service and arrange your schedule – simply access our online booking portal as below: