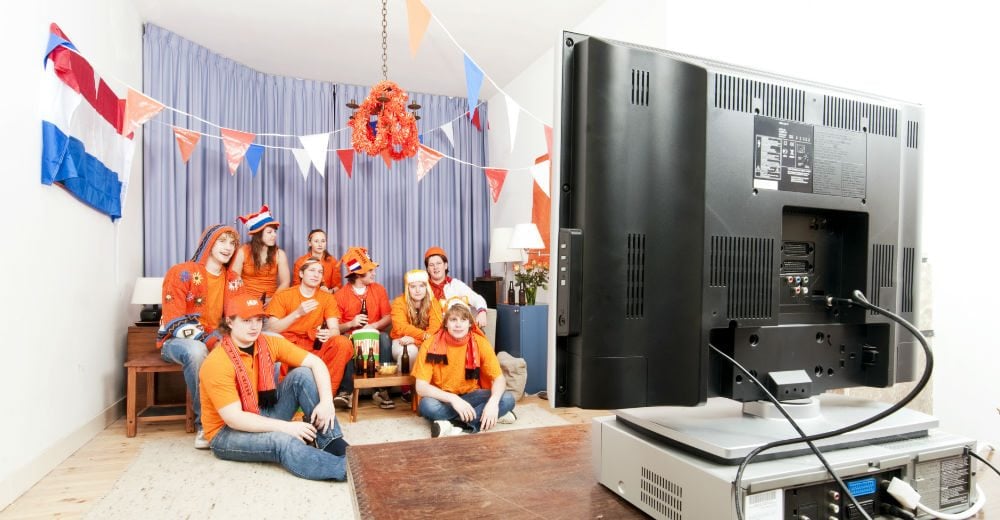 Skip bins Sydney: would you watch a TV show about waste services?
Skip bins Sydney: we all know the waste industry can get a bad press at times and sometimes being a "garbo" is not the most glamorous profession – especially at 2am on a wet, cold morning! However, Mr Waster was sitting down to watch a bit of TV this evening and happened upon quote an interesting TV show about waste management of all things. Note: the image above is of Dutch football fans watching a game on TV, and I am not insinuating any connection with watching rubbish. I just like the outfits.
Waster offers a real alternative for waste and recycling services to small and medium Aussie businesses – check out our prices and services online now for services ranging from 240 litre wheelie bins to large skip bins Sydney services:
Interesting TV series – Dirty Jobs
The show I watched was called Dirty Jobs- presented by a guy called Mike Rowe on the Discovery Channel. You can check out the episode here.
The episode I saw was about a medical waste collection and treatment business in South Dakota, USA. It was pretty interesting and made me think about whether waste collection and treatment can be interesting to the general public – or is it something we want to hide away from? For example, I know kids love garbage trucks – the term "garbage truck" is searched 5,400 times a month on average in Australia through Google.
Could the skip bins Sydney business even provide a fun day out?
From my own experience – visiting the more technologically advanced resource recovery centres in Sydney can be a fun and interesting day out for all ages. It can be fun to learn about how recycling works and how pollution can be reduced.
SUEZ runs tours at some of the facilities – from their website:
"Site visits are a key learning tool that helps individuals, businesses and community groups understand the processes behind how we recover valuable resources from everyday 'waste' and sustainably manage the waste lifecycle."
"Across Australia, SUEZ has a number of dedicated Education Centres and sites open for individuals, businesses and community groups to visit and explore."
"Each tour is conducted by an experienced SUEZ guide who will give detailed insights into the world of resource recovery and waste management and can answer some of those tricky questions."
Could be an idea for your next family day out?