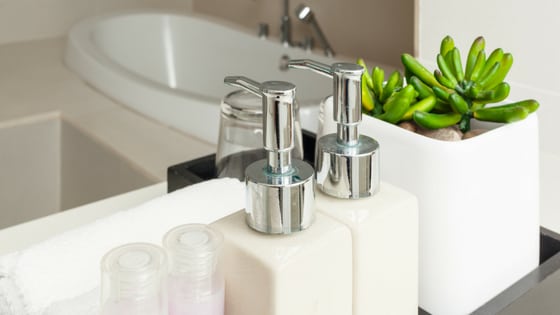 Are Sanitary Bins A Legal Requirement In Australia? 🚻 – How To Book Services
Are Sanitary Bins A Legal Requirement In Australia? 🚻: when you run a business in Australia, it is very difficult to keep totally up to speed with all relative rules and regulations. One of the questions we often hear from small business owners is "are sanitary bins a legal requirement in Australia"?
---
>Download Now: Free PDF Business Owners Guide To Sanitary Bin Services
---
The answer is not so clear cut; there is some guidance, but not a strict rule (at least that we are aware of).
About Waster
Waster provides low-cost waste and recycling services to small and medium Australian companies.
We can help you with all bins and waste queries and services – from general waste to recycling, grease trap cleaning and of course sanitary bin services.
You can take advantage of our low costs and flexible 30-day agreements by pressing the button below:
So, are sanitary bins a legal requirement in Australia?
We have looked at relevant legislation and to be honest the wording is rather vague. According to Safe Work Australia and the document – Managing The Work Environment And Facilities – Code Of Practise, we have found the following clauses:
"A unisex toilet should include one closet pan, one washbasin and means for disposing of sanitary items.
"Toilets should be supplied with:
an adequate supply of toilet paper for each toilet
handwashing facilities
rubbish bins
for female workers, hygienic means to dispose of sanitary items."
It should be noted that the document does not specifically say that a "sanitary bin unit" is required. Although, maybe it can be inferred from the text.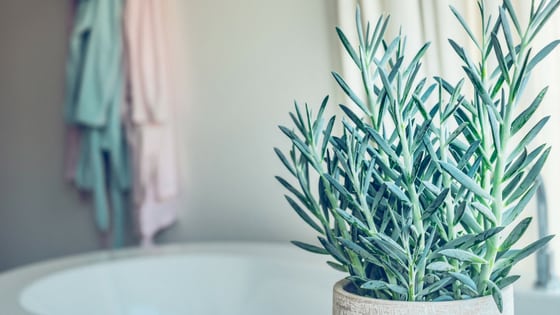 The website safetyconcepts.com.au states that "Female workers should have available an appropriate system for the safe disposal of sanitary items."
Conclusion on "are sanitary bins a legal requirement in Australia?"
I am not a lawyer, and of course, this blog should not be taken as legal advice. However, the legislation from Safe Work and elsewhere makes clear that having sanitary disposal available in washrooms is a requirement – even if having a "sanitary bin" may not be. In this case, we should consider sanitary bins as a legal requirement in Australia even if no law suggests just that.
Additionally, we would suggest that providing a sanitary bin service would be the most sensible option, from both hygiene, comfort and also legal perspective.
Sanitary bin services cost $20.00+GST per swap over through Waster. A four-weekly collection cycle for small businesses is usually sufficient.
It is thus a practical and cost-effective service for all businesses.
Implementing proper female sanitary waste disposal
In order to have a hygienic bathroom, female sanitary bins should be properly implemented to ensure and maintain cleanliness. We, as mentioned already, would want sanitary bins to become a legal requirement in Australia.
Let me tell you what happens when your establishments' bathrooms don't have proper female sanitary bins. It usually leads to poor practices such as improper disposal of hygiene products.
Let me discuss with you first a hygiene pad's makings.
A sanitary pad usually contains so much plastic estimated at around 90 per cent. That means a pack of sanitary pads equates to about 4 plastic bags. Moreover, a single piece of sanitary pad takes about 500 years to fully break down and decompose.
Did you know that in the UK, an estimated 1.5-2 billion items are flushed down the toilet yearly regarding sanitary products? So it is important to treat them correctly from an environmental perspective.
Improper disposal of pads and tampons prove to have a massive and negative impact on our environment. For example, beach cleaners record 6 pieces of sanitary waste for every 100m of the beach. That roughly equates to about 2 million of those items disposed of in the UK coastline.
Sadly enough, they either end up in waste incineration facilities or in a landfill.
Correct female sanitary bin disposal services
Dr Ann Borkowski once stated, "I don't want to contribute 40 years of garbage to a landfill just to manage something that shouldn't even be seen as a problem."
"It seems like something we should have a little more control of by now. I don't want to have that kind of burden on the planet" she added. It just means that people should be held responsible for the waste they make, whatever that waste may be – in this case, it's all about sanitary products.
For one, the implementation of a proper female sanitary waste disposal is a must.
Non-plastic female sanitary bin products
Susie Hewson, founder and CEO of Natracare said: "Thirty years of campaigning for and developing environmentally compatible sanitary products has led to this perfect storm of actions to reduce plastic entering landfill and our oceans."
"By choosing plastic-free, women have the power to help protect the environment and their own health," she added.
Sanitary units Australia: why we want sanitary bins to become a legal requirement in Australia
In this part of the blog, we want to look at how a clean and fresh bathroom can really make or break a restaurant (or any) business. We will also look at how sanitary units are an integral part of the bathroom experience, hence our debating on whether or not sanitary bins are a legal requirement in Australia.
What makes a great bathroom? Well, sanitary units are only part of it!
When you visit a restaurant as a paying customer, there are many things that make for a great and memorable experience. The Aussie website goodfood.com.au lists a number including:
Service, Decor, the menu, consistency and of course the bathroom:
"A neat, tidy bathroom is absolutely non-negotiable. There is nothing worse than excusing yourself to use the facilities to come out nervous about whether the same dire hygiene standards are being applied in the kitchen. Great restaurants go beyond just clean and offer good lighting, fresh flowers and luxe hand wash. Extra points for real hand towels and scented candles."
Basically, the bathroom is a bit like the old canary in the coal mine metaphor. It either gives people confidence in the experience – or makes them doubtful.
An untidy bathroom could be a real drag on your business
If customers are confronted by an untidy bathroom – they will be less likely to return or to recommend it to their friends.
Also, in the era of social media, the last thing you want is unfavourable reviews or photos being shared on Instagram etc.
From a cleanliness perspective, the website accupos.com recommends the following basic tips:
Checking that waste and sanitary units are emptied
Toilets are flushed and clean
All surfaces are clean and floors are mopped with no puddles of water left on the floor
Toilet paper holders, soap dispensers and hand towels are replenished
Mirrors are wiped down
Importance of a clean washroom experience
Let's talk about more of the importance of maintaining a clean washroom.
A clean washroom hygiene experience is vital for both customers and employees. This, of course, can cover items such as air freshener, soap dispenser, nappy disposal bin (if appropriate) and a sanitary disposal unit. It gives you peace of mind that your hygiene and comfort are being taken care of.
Evidence shows that customers will not return to a cafe or restaurant if the bathroom was not clean. A sanitary disposal unit, and a clean bathroom will help on this end. It also greatly reduces the spread of germs safely and hygienically.
Just think about how often you visit chain restaurants or hotels to use the bathroom when travelling in foreign countries.
How do you even clean a public restroom full of people going in and out of it? In case you didn't know, check this video out to learn more.
Sanitary bins being a legal requirement in Australia: tips on office etiquette
Whilst you hope that everyone knows how to use a bathroom, there is a saying that common sense is actually not common at all!
Mr Waster stumbled across an interesting article in the Huffington Post recently linked here on essential rules for office bathroom etiquette. We hope you will find some that we quote below interesting:
Don't wear shoes memorable enough to be recognized under a bathroom stall.
Find the safe haven toilets, usually located on the client meeting floor (with nicer bathrooms).
Don't wait for someone to open the door for you or bother using a hand towel on the knob. Grow up. If you shake hands, ride in cabs, or eat in restaurants, this won't make a difference.
No long conversations at the urinal (a simple "Hey man" or nod is acceptable). And, absolutely no talking between stalls.
No loitering. Get in and out as efficiently as possible; you never know what you'll encounter. I once saw what I can only presume was a four-legged man in a stall at a gas station on I-95.
If there's a nice hotel nearby, take a walk. Then grab a coffee on your way back, just to let your stomach know who's boss.
Don't talk on the phone. If I'm on the other end and I hear an echo, any weird noises, or even a sloppy attempt at muting, I'm hanging up.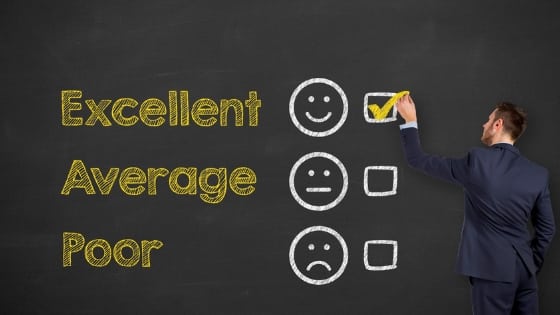 They're not movie theatre seats. I don't care how entertaining this timeline is, handle your business and get out (hiding interns get a pass on this).
No pulling rank. In the bathroom, everyone is equal, including your boss' boss.
Arranging sanitary units services is very easy
You can easily arrange sanitary units services with Waster. Getting sanitary bins may not be a legal requirement in Australia for now, but it still pays to get one.
Pricing per unit is $20+GST when on a regular 4 weekly cycle. This covers the bin provision and swaps over for new sanitary units each time.
Also, there are no additional charges or fees. If you have a larger facility or require multiple bins, please contact and inform us.
Our sanitary bins and what you need to know
Waster.com.au provides modern, slimline sanitary bin systems that will improve the quality of your washroom as regards feminine hygiene bins. We offer a contemporary design 22-litre receptacle that is c.0.6 m high. This size is the perfect combination enabling the preservation of floor space in the washroom with sufficient practical storage.
The bin is easily cleaned and is small enough to be conveniently moved, enabling the cleaning of the floor space under and around the bin.
The graphic below provides an illustration as to the size and dimensions of the bathroom sanitary bins. The graphic is shown against a silhouette of a woman of average height i.e. 1.65m which, apparently, is the average height of an Australian woman.
Waster can provide automatic sanitary bin (e.g., female sanitary bins) units as well as manual units to best suit your business requirements.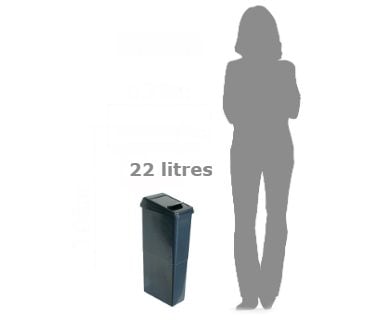 Our sanitary bins will help you achieve a hygienic washroom as well as a visually appealing one. A bathroom can be a prime area for bacteria due to the moist atmosphere and often limited ventilation. This makes the correct choice in sanitary bins even more important.
What is included in your sanitary services plan?
The pricing plan that you will receive is fully inclusive and covers sanitary bins rental, collection, disposal and maintenance. You can rest assured that there are no hidden charges associated with your contract.
Top grade account management from Waster.com.au is also included in your plan. Waster prides itself on offering the best customer service and account management in the waste and sanitary services sector. Your invoices and payment processes will be provided through electronic methods enabling ease of payment and management.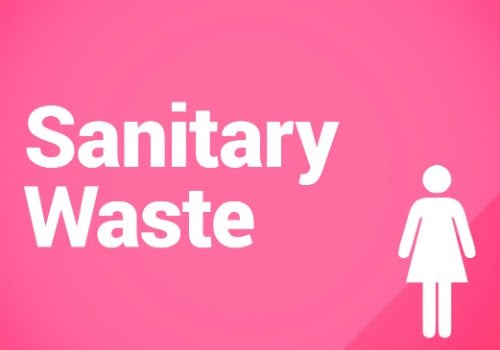 You would want to wish sanitary bins as legal requirements in Australia
In business waste disposal as in life, it is the small things that make big differences. A clean and fresh bathroom should not be an afterthought in a restaurant or any businesses. It will really help you grow a great business.
And of course, sanitary units are definitely an important part of that effort.
Check out our other waste and recycling services
Aside from providing female sanitary bins (that may become a legal requirement in Australia in the future), we also have other waste and recycling services to offer you.
Consolidating all waste management and recycling services (such as sanitary waste disposal) through Waster lets you benefit immensely. Our services also include consolidated invoicing, payment, and account management.
When you have a query, you will have a designated contact who will pick up and answer your queries.
As Waster is focused on delivering sustainable waste management costs to small-and-medium businesses through Australia, you will receive market-leading customer service. You also receive prompt issue resolution if things go wrong, and a real person to speak to resolve your issues. Each customer is given a dedicated Waster contact person for issue resolution.