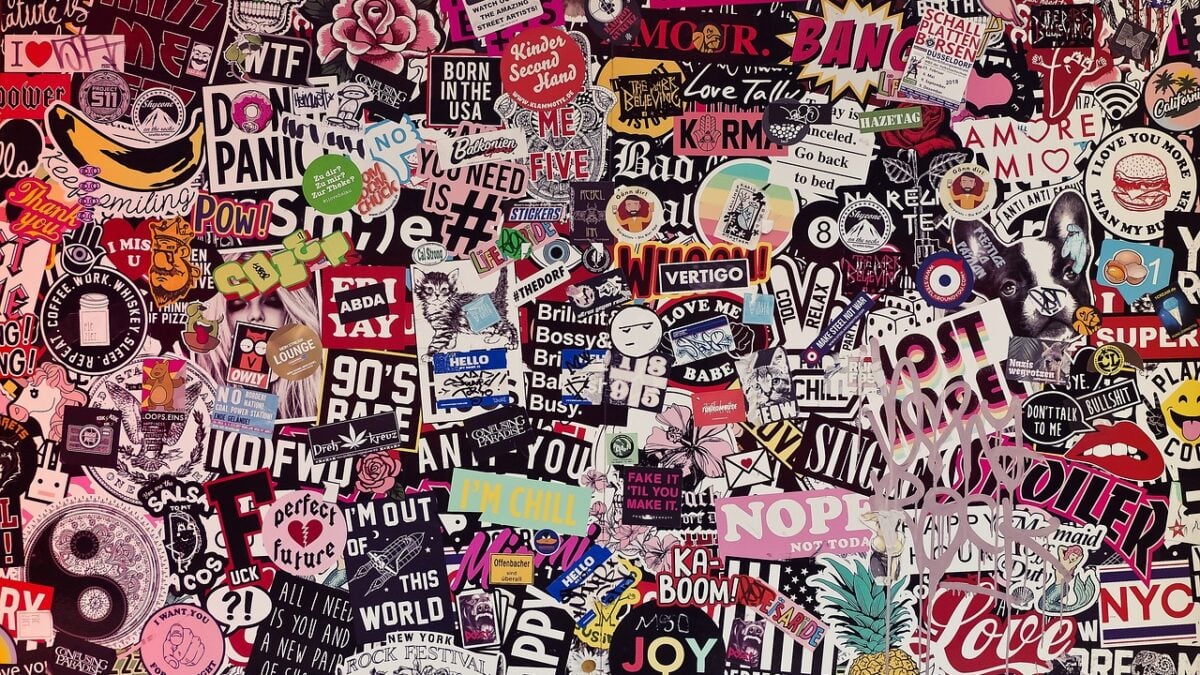 Getting Out Of A 'Sticky' Situation: Are Stickers Recyclable? ♻️
Are Stickers Recyclable? ♻️: In this blog, we talk about what you can do with your stickers or labels after use. Can you recycle them or are there any other methods of disposal available? Learn more by reading the whole blog.
Ah, stickers – they are one of the most versatile items that I have ever seen in my life. Businesses, for example, can use stickers as advertising and a means to strengthen their brand. Stickers are one of the most effective marketing tools out there. It may take you a bit of time to come up with the perfect image for your sticker idea that suits your brand, but when you do, trust me, it will help your business out plenty.
As for the average citizen like me, stickers are a fun way of designing almost any other item. To give you a solid example, if you have seen or currently own a Hydro Flask tumbler, you may have encountered some that 'sticker bombed' theirs to make them look cool or cute. Have a tumbler and want to sticker bomb them? Then Pinterest has plenty of images you can take a look at, for inspiration to your design.
But what if you decide you want to get rid of your stickers or labels? Where can you dispose of them? I know a resounding majority of our readers here are environmentally conscious and want to get rid of their items the responsible way, so they may be wondering what to do with their used stickers.
Recycling may come first to mind when it comes to thinking of ways to dispose of stickers. But are stickers recyclable? Can you get out of a 'sticky situation' and dispose of your stickers responsibly by recycling them? Let us take a look and see below!
Waster: who is it and what does it do for businesses?
Before we go further and cover whether or not stickers are recyclable, let me share with you more information about Waster.
---
>Download Now: Free PDF Business Owners Guide To Cardboard Recycling Bin Services
---
We here at Waster provide you with innovative solutions for your and your business's waste management and recycling needs. Furthermore, we provide flexible, 30-day contracts instead of the typical lock-in contracts to SMEs, which proves to be better.
If your business is based in Australia, partnering up with Waster will prove to be beneficial for your business! Here, I enumerate to you what we bring to the table in terms of providing quality waste and recycling services.
You pay exactly what you asked for – and not a dollar more! For your waste management and recycling needs, avail of our flexible, 30-day contracts instead of those long, unproductive and hidden fee-containing lock-in contracts.
Designed for small and medium businesses – we help you reduce costs whilst boosting recycling. That's a win-win situation!
On-time and reliable – we provide fully-accredited logistics and facility operators. By saying so, we ensure the safety and efficiency of our services.
As such, problems in the waste management industry are bound to rise like in any other business. Much like how we can help you determine whether or not stickers are recyclable, we can also help solve any waste or recycling issues you encounter. So if such issues arise in regard to our service, you can talk to our friendly customer service team.
---
READ NOW: Can You Save The Earth By… Deleting Emails? 📧
---
Now, let us go on and talk about whether or not stickers are recyclable.
It's a bit complicated whether or not stickers are recyclable
Even if stickers are made from paper, one of the most recyclable materials there is, sticker recycling might be a harder question to answer than we initially thought.
Stickers, to function the way we intended them to, have adhesives. Now, you can recycle paper products just fine, but if it has other properties such as containing adhesives to, obviously, make the paper stick, then that is where it becomes more complicated to recycle.
Adhesive itself can be recycled, so it is definitely not all bad for the environment. However, it becomes more complicated the minute that it makes its way to the recycling facility. The adhesives in stickers, when a large amount piles up together, can turn the machinery in recycling facilities into a mess because of all the sticky gunk that builds up. Now you know why recycling facilities will refuse stickers or labels – they want their machinery running perfectly and avoid a, as I already mentioned above, 'sticky situation'.
Shiny coatings make stickers even less recyclable
Aside from the adhesives, stickers also have a shiny coating applied to them so that they can resist the harshest of weathers such as extreme sunlight, snow and rain. This, as a result, makes stickers even less recyclable than they already are.
A typical sticker will either have silicone, polyethylene terephthalate (PET) plastic resin or polypropylene plastic resin as its coating. All three of these shiny coating requires another type of recycling different from the paper, thus making it harder to recycle stickers or labels.
How to remove the adhesives from stickers
There are a number of ways you can remove sticker adhesive or residue to make them recyclable, but we will share with you a method stated by estickers.
The best way is to use baking soda. Start off by taking a few spoonfuls of baking soda along with water. Mix it together to create a sort of paste and rub it on the sticker. Wait for 30 minutes and wipe it using a paper towel. Voila, the adhesive is now removed!
Now, are stickers recyclable? The final verdict
Unfortunately, stickers aren't accepted in most recycling facilities due to the fact that they can mess with their machinery. Stickers are usually not recyclable, as a result. We here at Waster suggest that you can just throw them in your general waste or rubbish bin if you intend to dispose of them.
Contact Waster right now for your waste and recycling needs now!
Does your Australian-based business need waste and recycling services? If so, then you have come to the right website!
Please call 1300 WASTER (1300 927 837).  You can also email us at info@waster.com.au or enquiries@waster.com.au if you have further questions. Find the best deals in terms of waste and recycling pricing and services!