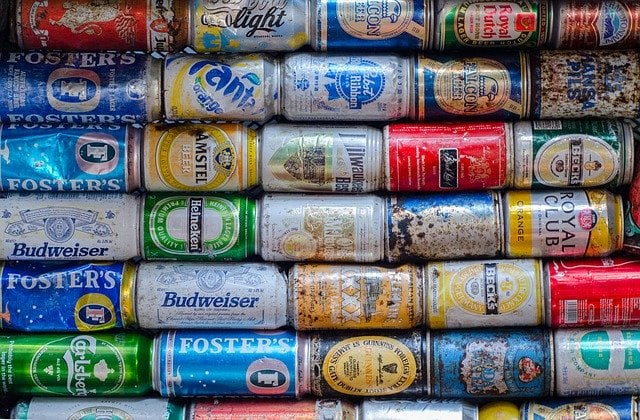 Beer Can And Bottle Recycling 🍺
Beer Can And Bottle Recycling 🍺: We hear more sad news after sad news because of the coronavirus pandemic. Unfortunately, this was also the case for the brewery industry. ABC News reported last May 2020 that brewers, unfortunately, threw millions of litres of beer down the drain. This is because pubs and clubs were closed for a while due to restrictions.
During that period, that got us thinking – can we recycle the beer items in the meantime, instead? After all, various beer items have other uses, too. Additionally, some can even be recovered and repurposed! We will discuss it all here in this blog. Read on to learn more.
---
>Download Now: Free PDF Business Owners Guide To Commingled Recycling Bin Services
---
A Bit About Waster
Before we discuss beer can and bottle recycling, let me share with you more information about Waster.
We here at Waster provide you with innovative solutions for you and your business's waste management and recycling needs. Furthermore, we provide flexible, 30-day contracts instead of the typical lock-in contracts, which proves to be better.
Click on the blue button to learn more.
---
READ: Fast Food Waste And Recycling 🍔
---
Beer Can And Bottle Recycling… And More!
You have to take note that beer usually comes in two types of container: either in a glass bottle or a can. Obviously, these two are one of the most recyclable materials in the world. So, let us discuss how recycling beer cans and bottles work.
Recycling Beer Cans
Did you know that beer cans (or any other beverage in cans, really) have an average recycled content of 73 per cent? That is because it is made of aluminium. It is a metal that has many uses. Examples include using it for cooking, wiring, framing, and many more. Additionally, it can also maintain flavour better than any metal or material.
You can just chuck your beer cans in your recycling bins.
Beer Bottle Recycling
Similar to beer cans, beer bottles are also easily recycled and accepted by kerbside recycling programmes. Furthermore, they can also be recycled relatively quick, with the bottles making it back on shelves in just 30 days.
They also do not lose their quality even after long periods of time. As a result, we must make sure to boost its recycling rates and avoid it from going into landfills.
Quick Tips On Beer Bottle Recycling
You must remember these when you try to recycle your empty beer bottles:
Avoid breaking the glass bottle. Expect your broken bottle to lose its value if it does happen. Currently, you will not find any programmes accepting broken beer bottles.
If you have read our blog on Pyrex glass and China plates recycling, you already know by now that there are many glass-like materials which are not glass in reality. Do not mix them in with the glass bottles as these may ruin a batch of recyclables.
Some programmes require you to remove the label while some do not. Contact them beforehand and ask if you should remove the label or not.
You can opt to clean or not to clean the glass bottles, according to your preference.
Just to emphasise, contact the local council if you are not sure about something in recycling your beer bottles.
What About The Other Beer Items?
In this part of the blog, we will discuss the recyclability of other beer items aside from bottles and cans.
"Can you recycle beer bottle tops?", "can you recycle beer kegs?", or "are plastic beer rings recyclable?" – these are just some of the questions we have been receiving from our readers. And today, we will discuss all of these here.
Can Beer Bottle Caps Be Recycled?
Unlike the beer bottle and can recycling process, this might be a little tricky. You might think beer bottle caps made of steel or aluminium are happily received in facilities, right? Well, not really.
Similar to the blog we talked about on recycling plastic bottle caps, sending them for recycling may do more harm than good. That is because almost every modern recycling facilities use some big machinery to process the materials for recycling. As it turns out, these metal bottle caps, due to their size, might fall through the screeners. As a result, it certainly will not be recycled in any way.
What's worse is that the bottle caps or tops may get stuck on the machinery, causing it a malfunction or even be broken.
If you really want to recycle beer bottle tops, put them into an empty aluminium or steel cans, depending on the type of bottle tops. Fill the can halfway and seal the lid tightly.
Rings, Anyone?
Now, onto the next question: can you recycle those 4-pack or 6-pack beer rings?
Like the bottle tops, recycling facilities often have a problem trying to recycle beer rings. That is because it has an odd shape that can cause it to fall through the screeners. You just have to ask your local council first if beer rings are accepted.
Although beer rings have become a concern for quite some time now (marine life getting stuck), many are taking action towards this. Corona, for example, uses biodegradable 6-pack rings which fishes can eat. Biopak, on the other hand, is now trying to switch from plastic to sugarcane in manufacturing beer rings.
Can You Recycle Beer Kegs?
A beer keg is a barrel that can store gallons of, you guessed it, beer! It can be recycled – or upcycled. It can be repurposed into news items such as urinals, mailboxes, guitar amplifiers, workout tools, and even into bar stools!
And Finally… The Beer Waste
Is recycling the beer waste as possible as recycling the can or bottle? Answer: Yes, it is!
Breweries can turn the spent grains into compost, first and foremost. Additionally, they can offer to use beer liquid waste as a way to treat wastewater. Finally, there is also the option to use it as an alternative, green energy.
Beer Can And Bottle Recycling: Conclusion
All in all, we can say that recycling different beer items is very much possible, with a few needing a little bit of effort to do so.
It is, after all, in our best interest to boost recycling rates and lessen waste going into landfills.
Waster: Things You Need To Know
If you're looking for different bin services, check our waste recycling shop and find the best deals in terms of pricing and services.
Also, please call 1300 WASTER (1300 927 837), or email us at enquiries@waster.com.au if you have any further questions.