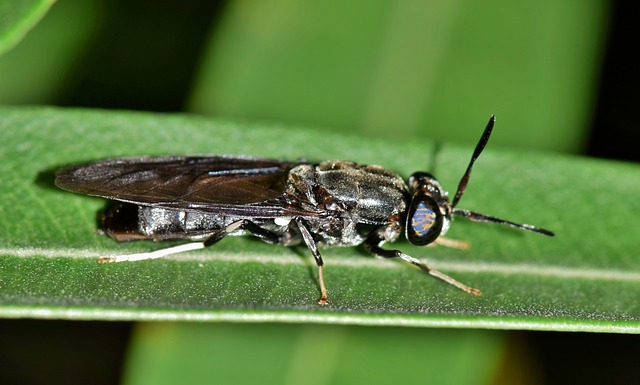 Black Soldier Fly Waste Management ⬛
Black Soldier Fly Waste Management ⬛: Day by day, our waste problems continuously haunt us. We have been coming up with ways on how to, at the very least, reduce them. However, we still see a rise in waste produced year by year. As a result, more sustainable ways must be researched and implemented.
As I was enjoying my leisure time by reading interesting articles, I came up across something that made me particularly curious. The much-dreaded-by-everyone fly, as stated in the articles I read, can play a major role in reducing waste. Additionally, it may also produce fertiliser and feeds, which comes off as good news to everyone.
Mr Waster will discuss everything with you. Read on to learn more.
---
>Download Now: Free PDF Business Owners Guide To General Waste Bin Services
---
A Bit About Waster
Before we discuss black soldier fly waste management, let me share with you more information about Waster.
We here at Waster provide you with innovative solutions for you and your business's waste management and recycling needs. Furthermore, we provide flexible, 30-day contracts instead of the typical lock-in contracts, which proves to be better.
Click on the blue button to learn more.
---
READ: Plastic Recycling Innovation ⚙️
---
Can A Black Soldier Fly Help With Waste Management? And More!
I pictured myself seeing a farm of black soldier flies trying to reproduce in an enclosed space – a black soldier fly farm, to be exact. Needless to say, that was a big "nightmare fuel" for me. But according to experts, we may see this becoming more common as the years go by.
In particular, the black soldier fly, or Hermetia illucens, is a fly hailing from the family Stratiomyidae. It is a fly with silky smooth hair that we can sometimes confuse with a wasp.
Some of you (including me) surely did not know that a fly that many benefits even existed! In the next section, let us discuss its benefits to people and the environment – the society, as we should call it.
Benefits Of A Black Soldier Fly
As we have already mentioned above, we can find loads of benefits from the black soldier flies. But did you also know that black soldier fly larvae have loads of benefits not just to waste management, but through society as a whole?
1. They Eat The Waste We Produce
Black soldier flies are mainly beneficial to waste management because of the fact that they (the larvae, that is) eat tonnes of organic waste, specifically fruit and vegetable waste. Additionally, they can also feast upon manure and offal. In fact, research has shown that they much prefer organic waste – the manure, specifically – than the standard poultry feed.
Obviously, this spells beneficial to all of us. This just means that we have found a good and, more importantly, sustainable way on how to reduce waste.
2. You Can Easily Manage Them
If you think about flies, you may think of negative thoughts instead of positive ones about it. The same goes true for black soldier flies – with their sleek bodies that can certainly creep out anyone and their ability to annoy people with all the flying and buzzing around. But all of these perceived thoughts are simply false when it comes to the black soldier fly.
Unlike other flies, they do not transmit diseases to people as they do not have a mouth-piece. Additionally, unlike the larvae, they do not eat. That is the main reason why we will see more black soldier fly farms in the future for waste management and feeding purposes; they do not pose a threat to humans and are easily manageable.
3. Their Larvae Can Be Used As Fertiliser
According to ABC News, a waste recycling business based in the northern regions of Western Australia will open a black soldier fly farm which aims to take care of organic waste and establish a fresh, new industry.
The development was funded or granted with a hundred thousand dollars to set up a black soldier farm specifically in Broome. The waste that the larvae or maggots will produce will be used as fertilisers, adding to the list of benefits we have already discussed.
4. Black Soldier Fly Larvae Can Convert Organic Waste Into Protein
Furthermore, the larvae can convert the waste they eat into protein – adding to the validity of the development stated in the above section. As a result, they become high-quality protein product that can feed aquaculture. To add more details, the facility in Broome will dry out and crush the maggots or larvae and will trial them as feedstock for aquatic animals, specifically Cherubin – a native freshwater prawn.
"They just do their thing, eat the food, get nice and juicy and fat themselves, and that is what becomes the protein product."
Additionally, they have set their eyes on other aquatic animals that can benefit from the feeds – barramundi, prawns, and crocodiles.
They Are Used On Other Countries, As Well!
Aside from Australia, we can also see them in other countries. Black soldier fly farming is also available in India, Indonesia, and the United Kingdom. Like us, they also recognized that this is the perfect way to combat organic waste problem while providing a great business opportunity.
Black Soldier Fly Waste Management: Quick Recap
Recently, we are leaning towards more of a sustainable approach in reducing waste. The best solution conceptualised was the utilisation of the black soldier fly for (a) waste management, (b) a significant amount of protein acquisition, and (c) fertiliser production purposes.
Did you find this blog interesting? Read our other blogs if so! Two blogs I suggest you read are the following:
Waster: Things You Need To Know
If you're looking for different bin services, check our waste recycling shop and find the best deals in terms of pricing and services.
Also, please call 1300 WASTER (1300 927 837), or email us at enquiries@waster.com.au if you have any further questions.