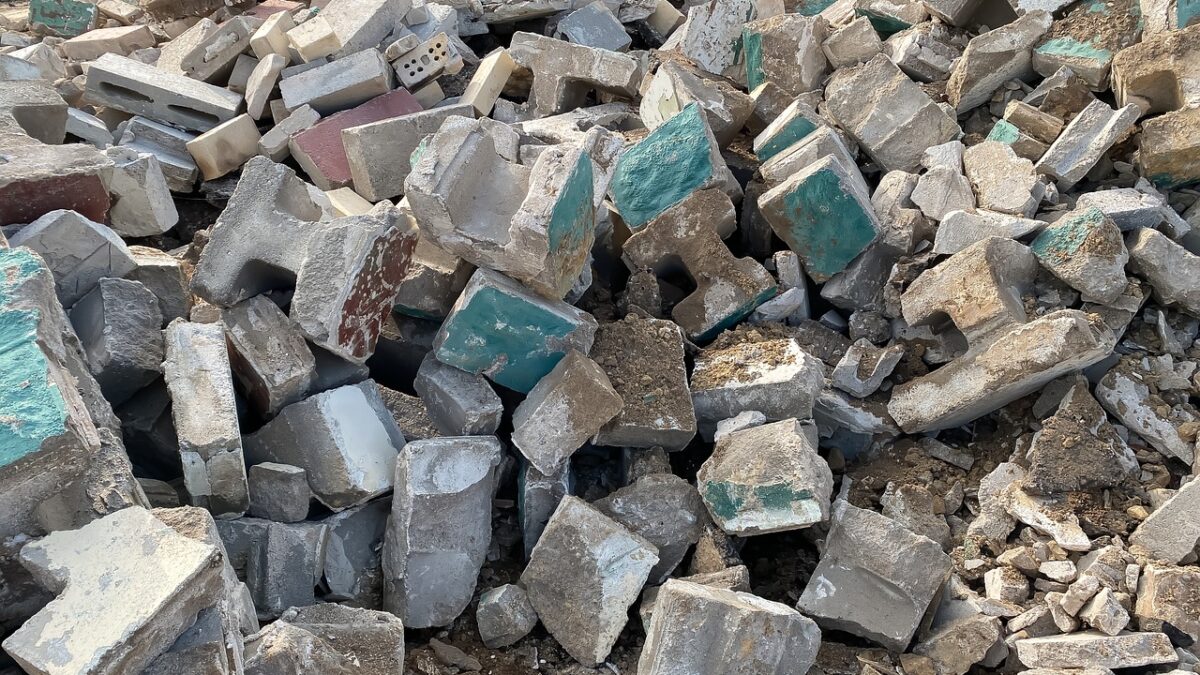 Everything You Should Know About Our Brick And Concrete Skip Bin Services 🧱
Brick And Concrete Skip Bin 🧱: Are you looking for a cost-effective and reliable way to dispose of brick, concrete and other materials? If so, our skip bins are the perfect solution. Our Brick & Concrete Skip Bins come in various sizes. They can conveniently store and transport waste materials away from your job site or home without causing unnecessary disruption. In this blog post, we will provide an overview of what our skip bin service entails and more, so we suggest you not miss this! Read on to learn more.
Businesses of all kinds looking to make a respectable amount of profit should learn how to manage their expenses carefully. Waste management and recycling are one of those aspects businesses should plan for.
In particular, those who are renovating old, building new, landscaping or working on a construction site needs another kind of bin service to deal with their waste. So, what kind of service do they specifically need?
---
 >Take A Look At The Skip Bin Services Offered By Waster
---
These kinds of businesses need a Brick and Concrete Skip Bin service. We definitely recommend you get this type of service. And, of course, Waster can easily provide that type of service to you! Waster has you covered with a variety of Brick and Concrete Skip Bins available for hire and at your disposal (no pun intended).
Below, we will cover more about our skip bin services and other related topics such as why you need these services and more.
A rundown of Brick and Concrete Skip Bins
As the name suggests, a Brick and Concrete Skip Bin is a service that collects bricks, concrete and other demolition and construction waste that otherwise cannot be removed via a general waste bin. This type of skip bin service can save you some significant amount of money whilst also causing you to help save the environment.
---
>>Download Now: Free PDF Business Owners Guide To General Waste Bin Services
---
A few questions might come to mind about Brick and Concrete Skip Bins. First, why the need to get a separate skip bin rather than putting everything in the general waste bin – after all, we call it general, right? Well, there is one strong for this.
Mixing bricks and concrete with other general waste and putting them all in a small general waste bin causes the bin to become too heavy, therefore costing you a lot more in the process. In addition, due to the heavy weight of these kinds of waste, collecting and transporting them is by no means an easy task.
Therefore, we would strongly suggest that you acquire a Brick and Concrete Skip Bin that could deal with heavy loads of construction and demolition waste such as bricks, concrete, rubble, soil and more.
More on Waster's skip bins
As we have mentioned above, Waster now offers these kinds of services to small and medium businesses, as well as residential areas, in Sydney!
We have different sizes of Brick and Concrete Skip Bins available for you in both marrel and hook lift options. Our skip bins also have tailgates for easy access. The sizes are as follows:
2 cubic metres
4 cubic metres
6 cubic metres
8 cubic metres
9 cubic metres
10 cubic metres
Essentially, our offered skip sizes are best for rubbish removal and small household clean-up. Along with that, however, we also accept construction and demolition heavy-load waste such as flood waste, rubble, bricks, concrete, soil etc.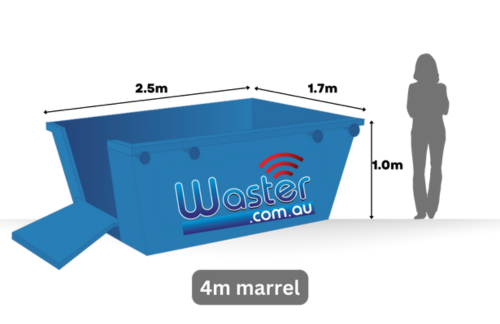 Why you should get our Brick and Concrete Skip Bin services
It really does not matter if you are a household or a business – you will, at some point in time, need a skip bin. Period.
Do you want to move some stuff into or out of your house? Have any green waste material you want disposed of out of your garden? Then you can get this type of skip bin to make everything smoother for you!
Below, we enumerate the reasons why you should get a skip bin service from Waster.
It reduces your costs. Whether we like it or not, the removal, transportation and disposal of waste cost a tonne. But with a marrel skip bin, it becomes much cheaper. Empty units are stacked upon each other, therefore requiring lesser trips, which in turn means cost-effective bin hire charges.
Your waste will be disposed of properly. If you use Waster's Brick and Concrete Skip Bin service, rest assured that you will have your waste collected and disposed of properly. We will "take out the trash" for you in an ethical and environmentally friendly manner.
It is safe to use with little to no chance of damage. The skip bins are lifted on and taken off the truck (i.e., lifted through a chain) – no damage or spills occur, meaning that the process is safe.
What are you waiting for? Book a Brick and Concrete Skip Bin service from Waster now!
All in all, Waster provides an efficient and convenient service of offering Bricks and Concrete Skip Bins with competitive pricing which helps reduce costs during projects. With the innovative solutions they present, Waster caters to various tackling needs depending on the situation.
When you outsource your Bricks and Concrete skip bins from a reliable company, it takes the burden off your shoulders. It is always safe to go with experienced hands who can do what's best for the project. Waster services guarantee safety which makes it easier for you to manage and handle the entire process without worrying about any issues arising at any stage.
So if you're looking for a customised solution or have any queries related to skip bin services, don't hesitate! Get in touch with Waster today and get professional advice – they look forward to helping you in any way they can! In need of a Brick and Concrete Skip Bin Service? Call us now and let us know!
Contact Waster right now for your waste and recycling needs now!
Does your Australian-based business need waste and recycling services? If so, then you have come to the right website!
Please call 1300 WASTER (1300 927 837).  You can also email us at info@waster.com.au or enquiries@waster.com.au if you have further questions. Find the best deals in terms of waste and recycling pricing and services!