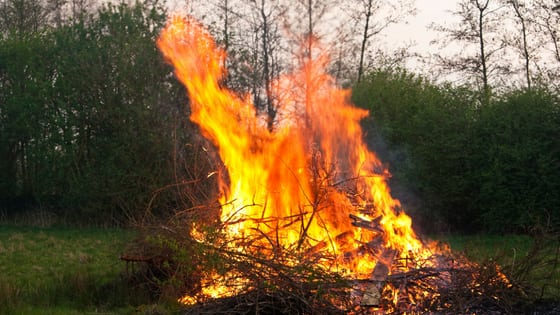 Burning Rubbish: Why Can You Not Simply Burn Trash In Your Garden?
In a recent blog we covered the topic of burning rubbish – i.e. whether incineration on a huge, industrial scale could be a key part of waste management strategies in the future.
This topic comes up again and again – and some countries are really pro incineration – such as Sweden and Japan (who are currently burning rubbish equivalent to 90% of total volumes). Sweden is so keen on burning rubbish – they are even importing more trash to burn and generate electricity!
We had a question from a reader of our blog on what is the law in Australia about burning rubbish on a much smaller scale – i.e. at your own home or business.
The question was basically could he burn his own trash – and hence get around the need for bin collections altogether.
In today's blog – we will take a look at the answer.
A bit about Waster:
Waster is a waste and recycling business – we provide low cost and reliable waste and recycling bin services to small Aussie companies.
If you are a small (or not so small) business – seeking reliable, cost effective and fair waste services – we can certainly help you:
Let's look at the rules on burning rubbish
According to the NSW EPA – the simple answer is that you should not be burning rubbish in your backyard or at your business:
"Burning wood and rubbish in open fires and incinerators can cause smoke, which is a major cause of air pollution. Backyard burning and unauthorised incineration are prohibited at all times in all council areas in the Sydney, Wollongong and Newcastle regions, and in other NSW council areas listed in Schedule 8 of the Clean Air Regulation."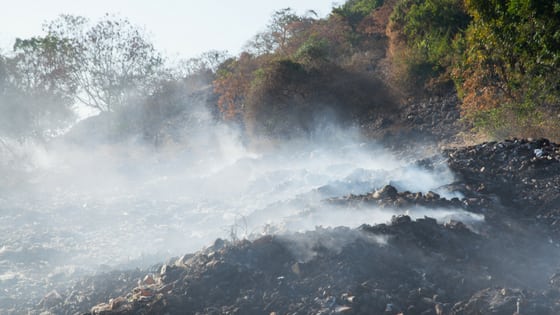 The only areas where outside fires are permitted are:
barbecues or camping
eligible hazard reduction work
some agricultural purposes, and
authorised fire-fighting training.
Other countries commonly burn their rubbish in the open
Any of our readers who have travelled extensively – will certainly have seen piles of rubbish being burned in other countries.
In fact – according to Scientific American:
"more than 40 percent of the world's garbage, is burned in open piles, contributing more emissions than is shown in regional and global inventories."
The big issue though is how much dangerous pollutants are in the smoke:
"The more interesting and concerning story to Wiedinmyer are the other pollutants, which accounted for far bigger percentages of global emissions. For example, as much as 29 percent of global anthropogenic emissions of small particulate matter (tiny solid particles and liquid droplets from dust to metals  that can penetrate deep into the lungs) come from trash fires, she estimates. About 10 percent of mercury emissions come from open burning, as well as 40 percent of polycyclic aromatic hydrocarbons (PAHs). Such pollution can cause lung and neurological diseases, and have been linked to heart attacks and some cancers."
Conclusion:
First things first – burning rubbish is illegal – so clearly do not do it!
Secondly – it emits lots of toxic elements – which is why any incineration project in Australia will need to be thoroughly vetted and controlled.
Of course – you should never burn rubbish indoors – due to the risks of carbon monoxide poisoning.
Any facility in a metro region such as Sydney will need to pass the strictest environmental controls.