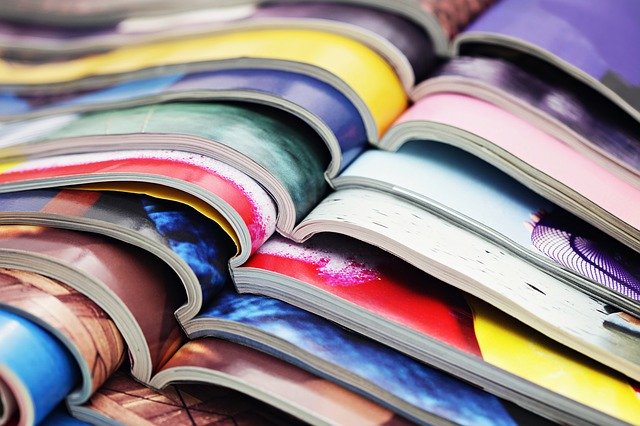 Can You Recycle Magazines With Staples? – And More You Need To Know!
Can You Recycle Magazines With Staples: You may have some old and outdated magazines in your offices or homes. If that's the case, then recycling them would be the perfect way to dispose of them properly.
Magazines with staples recycling is a part of a more general topic which is mixed paper recycling. Mixed paper means different types of paper mixed together. Additionally, this includes items such as phone books, magazines, office paper, junk mail, catalogues, and others.
But I'll focus more on magazines with staples recycling.
A Bit About Waster
Before discussing whether or not you can recycle magazines with staples, let me first talk about Waster.
Waster is an innovative solution for your waste management and recycling needs. It basically gives you flexible, 30-days contracts instead of those long lock-in contracts, which proves better to businesses in the long run.
Click on the blue button below to learn more.
Read more: See blog on Earth Day 2020.
Can You Recycle Magazines With Staples: Why Recycle?
According to West Bin, Australians homes and businesses produce more than a million tonnes of paper waste each year. Additionally, each tonne of paper equates to about 13 trees cut down.
Here are other reasons why recycling magazines with staples, or mixed paper, or just paper in general, need to be recycled:
Removes, or at least reduces the possibility of paper going into landfill
Conserves natural resources like wood, water, energy, and other materials
 Reduces production of greenhouse gases
Gives more job opportunities for people in the paper recycling industry
Paper Pollution
Paper pollution is defined by Busch Systems as "refuse created in pulp and paper mills and paper that is discarded into landfills". Basically, it refers to the pollution caused by paper.
According to Wikipedia, "Paper waste, like other wastes, faces the additional hazard of toxic inks, dyes and polymers that could be potentially carcinogenic when incinerated or commingled with groundwater via traditional burial methods such as modern landfills. Paper recycling mitigates this impact, but not the environmental and economic impact of the energy consumed by manufacturing, transporting and burying and or reprocessing paper products."
Recycling Preparation
Technically, according to Earth 911, you don't have to do anything with your magazines before recycling. Items such as staples, cardstock, and perfume samples need not be taken away, as well as the cover and binding. Additionally, you should remove the plastic bag it came with; you should recycle them separately.
Very old magazines turning yellowish or tan, due to oxidation, should be put in the trash. That is because no recycling market exists to accommodate it.
Can You Recycle Magazines With Staples: Recycling Process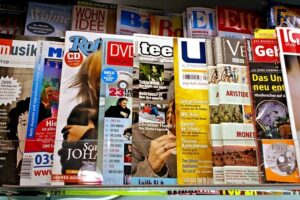 The first step in the recycling process includes separating mixed paper parts. Next, it is then baled and sent to a mill.
After that, recyclers then break them into fibres by introducing water and chemicals to break the paper down. They then remove any ink and sticky adhesive, and they start to bond the paper together. Finally, the fibres are then dried and rolled, ready to be made into new products. This includes products like coffee filters, egg cartons, and paper towels.
Generally speaking, paper can be recycled six to seven times before finally losing its recyclable qualities.
Read more: See blog on recycling boxes.
Other Ways You Can Recycle Your Old Magazines
We don't necessarily need to send magazines with staples to recycling facilities in order for it to get recycled. Technically, normal people like you can very much recycle your old, discarded magazines.
According to diys, here are ways of repurposing, or upcycling, your magazines:
Rolled gradient wall art
Magazine page envelopes
Magazine storage baskets
Paper flowers
Rolled pages picture frame
Decorative rolled page mirror
Rolled wall art
Woven magazine coasters
Rolled magazine clutch
Magazine page shoes
Quote canvas arts
Paper beads
Hanging door wreaths
Magazine gift bags
Magazine stack tools
Check out diy's official website to find out cool ways on recycling magazines!
Can You Recycle Magazines With Staples: Waster With Paper
If you read our blogs regularly, then you already know that Waster offers all kinds of paper recycling collection services. Aside from magazine with staples recycling, Waster collects similar materials like that.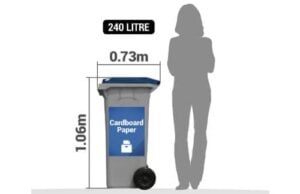 When we first discuss with you on what recycling bin you should avail from us, we always offer paper and cardboard recycling first. That is because it is a must-have if you want to implement an effective recycling plan in your place.
So, picking Waster as your waste management and recycling service provider for your magazines with staples, or other items, is a great way to maintain your business's cleanliness – all the while helping to sustain the environment.
Additionally, check our services regarding confidential paper destruction and TerraCycle – Office Supplies Zero-Waste Box. Help boost paper recycling!
Why You Should Pick Waster
If you want to recycle your old magazines with staples, then picking Waster as your waste management service proves to be a great decision for you. But why is that? Here are some of the reasons:
You pay exactly what you asked for – and not a dollar more! For your waste management and recycling needs for magazines with staples – or any other type of materials – avail our flexible, 30-day contracts instead of those long, unproductive, and hidden fee-containing lock-in contracts.
Designed for small and medium businesses – we help you reduce cost while boosting recycling. That's a win-win situation!
On-time and reliable – we provide fully-accredited logistics and facility operators. By saying so, we ensure the safety and efficiency of our services.
Conclusion
It is very much possible to recycle magazines, even the ones with staples in it. You just have to make sure that the plastic encompassing it be separated from the magazine.
Remember to properly dispose of your magazines with staples in order to ensure its recycling and avoid it from going into landfill.
Picking Waster as your waste management and service provider proves to be beneficial for you.
Read more: See blog on paper shredder bin.