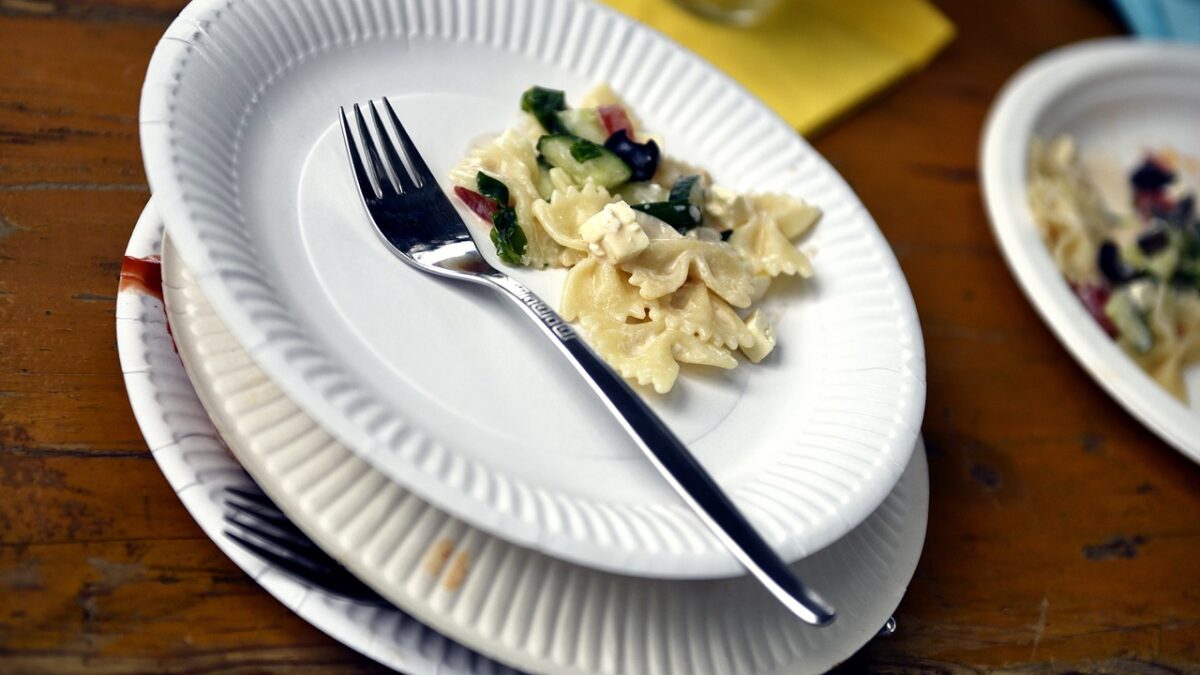 Can You Go And Recycle Paper Plates? 🍽️ We Do Some Debunking!
Can You Recycle Paper Plates? 🍽️: In this blog, we go and try to discover whether or not we can recycle paper plates – used or unused. What do you think will be the answer? Continue reading this blog to learn more. 
If there is anything that life has ever taught me, it is that washing the dishes is the biggest hassle after hosting a celebration. For a number of years, I have thrown parties dishing out my ceramic plates in my arsenal (pun totally unintended). That results in mountains of dishes needing washing afterwards, which I dread.
Fortunately, that all changed when I discovered that I can just use paper plates instead. Gone are the days where you should look at a pile of dirty dishes and wash all of them alone. Now, I only collect and place them in rubbish.
However, placing them in the rubbish or general waste bin suddenly got me thinking back then, "Why don't I just place it in the recycling bin instead?" So, I went on to do my research about whether or not I – or we – can recycle our paper plates.
Of course, you already know where this is going. Below, we will cover the possibility of recycling paper plates. We will specifically address whether or not you can recycle paper plates. In addition, we will talk about environmentally friendly ways you can do to deal with paper plates. We suggest you read on to soak in the knowledge.
Short answer: you usually cannot recycle paper plates because of their composition. They have to meet a certain condition for them to be recycled.

– Mr Waster
Waster: provider of readily-available recycling solutions for small and medium Aussie businesses
Before we take you further into the discussion and determine whether or not you can recycle paper plates whilst also covering environmentally responsible ways to deal with them, we want to share Waster with you.
Who is Waster? Why do plenty consider it as one of the best waste and recycling companies in Australia?
---
>Download Now: Free PDF Business Owners Guide To Commingled Recycling Bin Services
---
Simply put, Waster provides you with innovative solutions for your and your business's waste management and recycling needs. In addition to that, we provide flexible, 30-day contracts instead of the typical lock-in contracts, which proves a better choice nowadays.
Click on the blue button below to learn more.
---
READ: Can You Put Sand In Compost? 🌱 It All Boils Down To Soil!
---
Discover if you can recycle paper plates
Now, we finally go to the long-awaited question: can you recycle paper plates? As you might not expect, the answer to this question is both a yes and a no. This might confuse our readers, so we elaborate further.
It is true that paper plates are, well… made of paper. And, it is true that paper products are recyclable. However, the same is unfortunately untrue when it comes to paper plates because of the fact that we use them to eat food. Paper plates soiled with food contents become contaminated, therefore you cannot recycle them even if you want to. So, if you have used paper plates at a party to eat, for example, then do not expect to recycle them anytime as contamination has already happened.
We want to explain further the reason you usually cannot most recycle paper plates. Below, take a look at the two main reasons.
1. They have coatings of different materials
Paper plates, unsurprisingly, is not made up of entirely paper – it would not have its sturdiness if it was, after all. Usually, manufacturers create paper plates with wax, plastic and/or clay coating to give it a smooth surface and prevent the paper from taking in liquids or grease.
As recycling facilities do not have any groundbreaking machinery to separate these types of coating from the paper present in paper plates, this means that you cannot recycle paper plates the usual way you recycle regular paper.
If you insist on recycling (clean) paper plates, then you have to consult with your local council first.
2. You cannot recycle paper plates when they are contaminated with food
As mentioned above, one of the main reasons as to why you cannot recycle soiled food waste is because they are already contaminated with food waste. This might create a cluster of problems such as contaminating a clean batch, so almost all local councils would tell you that they do not accept soiled paper plates for recycling.
What about those paper plates you can recycle? How do you recycle them?
There are rare instances wherein your local council and recycling facility accept (relatively clean) paper plates. In the case that they do so, how are they recycled? We aim to answer that question in this section of the blog.
The first step is collecting and transporting. Before you transport them to the recycling facility, you first have to collect a number of them so that they get recycled. Once they get to the recycling facility, the paper gets sorted. This step involves removing any contaminants that made their way to the collected paper plates.
After the first two steps comes the next: turning the paper into pulp. This process involves separating and treating the fibres to produce pulp through the use of water and different chemicals. They then push the pulp into the screens there to remove any foreign and unwanted objects. Afterwards, they then remove the adhesives, inks and other chemicals through de-inking and bleaching. Finally, the pulp now gets rolled and dried, ready to be cut into different sizes and shapes and ready to be distributed to different markets.
For businesses
As for businesses, if they want to recycle paper plates along with various kitchen separation waste, then TerraCycle is the perfect solution for them!
First, take a look at our TerraCycle boxes available and search for Kitchen Separation Recycling Solution Zero Waste Box. After a few details, we will send you a box wherein you should do the following:
 Only put the appropriate type of waste here. In this case, recycle any of the following: plastic and paper packaging, kitchen gear, baby gear, filters (air/water), home cleaning accessories, coffee and tea accessories, used gum, coffee discs, prescription drug containers, home fabrics and clothing, and e-waste. We will discuss more details with you through our statements below.  
After you filled it up with the appropriate items, you can then ship the box to TerraCycle. Use the pre-paid shipping label affixed to the TerraCycle box. Rest assured that your sent items are recycled properly and safely.
Contact us to learn more about the steps.
Contact Waster right now for your waste and recycling needs!
Does your Australian-based business need waste and recycling services? If so, then you have come to the right web page!
Please call 1300 WASTER (1300 927 837).  You can also email us at enquiries@waster.com.au if you have any further questions. Find the best deals in terms of waste and recycling pricing and services!