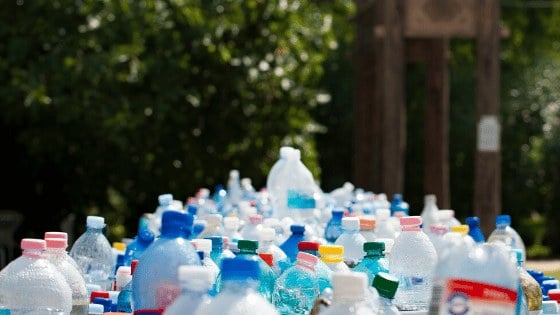 China Waste Problem 🇨🇳 – Ban On Single-Use Plastics
China Waste Problem 🇨🇳: Being a waste management company here, it is only natural for us to talk about plastic and its detrimental effects on the environment.
This is especially true in China, wherein according to a BBC article, China produced about 60 million tonnes of plastic waste in 2010. Plenty of plastic, right? But this is where it gets worse, it ballooned to 81 million tonnes this 2019. It is also important to note that China is the world-leading plastic producer, amounting to about 29 per cent of the world's plastic products.
As a result, steps have been done by China in order to address this waste problem. Let me discuss it with you.
A bit about Waster
Before continuing with the blog about the China waste problem, let me first discuss with you Waster. See our blog on recycling facts in 2020 here.
Here at Waster, we offer you an innovative solution for your waste management and recycling needs. Additionally, we offer you flexible, 30-day contracts instead of those long lock-in contracts. You pay exactly what you have signed up for and not a dollar more! Our month to month contracts means exactly that.
Click on the blue button to learn more.
Read more: See blog on Earth Day 2020.
China waste problem: more information
A while back, a certain rubbish story brewed in China –not just any rubbish story, but a true and alarming one, at that.
In 2019, an unfortunate event occurred: The Jiangcungou landfill in Shaanxi Province was fully filled with all kinds of waste – 25 years too early, at that. The Jiangcungou landfill in Xi'an city's developers and others responsible all thought it should last until 2044.
This football field-sized landfill was only supposed to 2,500 tonnes of rubbish daily. But instead, it received 10,000 tonnes – 4 times its recommended intake of rubbish.
If nothing is done in China to counter the waste problem, then we should expect municipal solid waste (MSW) to increase tenfold. Expect it to increase up to 409 million tonnes by 2030, growing along with China economically. Of course, this means bad news to not only just the environment but also the climate.
China waste problem: Nation Sword Policy
Changes have certainly been made starting from 2017 when China spearheaded a pilot program of new regulations intended to deal with waste. This was done in selected cities and would be implemented nationally. Last April 2020, the government in China approved changes to the Solid Waste Law. The approved changes mainly focus on revising some laws on improving waste sorting.
But even before that, China has already implemented the National Sword Policy to regulate the waste imported to their country. Ever since, plastic imports have drastically decreased over the next years. The year after it was implemented, China saw a 99 per cent decrease of  plastic imports. They've also had to handle nearly half of the world's for the past quarter century, so this is certainly a welcome for them.
Struggling countries
However, this has affected other countries around the world relying on China to recycle their waste. Australia is one of them. You can read more of it on our blog on Australia waste export.
Yale E360 had this to say in one of their articles:
"Globally more plastics are now ending up in landfills, incinerators, or likely littering the environment as rising costs to haul away recyclable materials increasingly render the practice unprofitable. In England, more than half-a-million more tons of plastics and other household garbage were burned last year. Australia's recycling industry is facing a crisis as the country struggles to handle the 1.3 million-ton stockpile of recyclable waste it had previously shipped to China."
Along with Australia and England comes the United States:
"Across the United States, local governments and recycling processors are scrambling to find new markets. Communities from Douglas County, Oregon to Hancock, Maine, have curtailed collections or halted their recycling programs entirely, which means that many residents are simply tossing plastic and paper into the trash. Some communities, like Minneapolis, stopped accepting black plastics and rigid #6 plastics like disposable cups. Others, like Philadelphia, are now burning the bulk of their recyclables at a waste-to-energy plant, raising concerns about air pollution.
"Even before China's ban, only 9 percent of discarded plastics were being recycled, while 12 percent were burned. The rest were buried in landfills or simply dumped and left to wash into rivers and oceans. Without China to process plastic bottles, packaging, and food containers — not to mention industrial and other plastic waste — experts warn it will exacerbate the already massive waste problem posed by our throwaway culture."
This only means that Australia, along with other countries, should strive to deal with their own waste problem now that they do not have the option of exporting it to China.
China waste problem: aftermath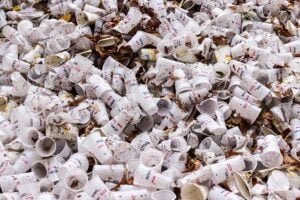 Last 2020, we are met with good news. China said that it plans to ban single-use plastics by 2025. Additionally, it includes single-use plastic straws and bags.
China's National Development and Reform Commission (NDRC) stated that these two single-use plastic items would be slowly removed all throughout China by, at the very least, during 2025.
How will the process go forward? Well, according to the document, for example, authorities will ban single-use plastic utensils in major cities by the end of 2020 and will implement it in all cities and towns by 2022. Furthermore, straws incapable of degrading will be unavailable in all of China.
Plastic's bad effects on the environment
Kudos to the Chinese government for implementing this beneficial ban! The China waste problem phenomenon stems from a  much deeper and worldwide problem regarding plastic pollution.
The usage of single-use plastic products greatly devastates the environment. According to a CNN news article, about 8 million tonnes of plastic end up in the ocean every year.
In fact, the United Nations identified single-use plastics as currently one of the environment's biggest challenges.
As a result, we look into the detrimental effects plastic products produce on the environment:
Plastic pesters ocean wildlife like entanglement, plastic ingestion, etc.
Burning it won't help as plastic contains toxic materials.
Putting it in landfill results in contaminated land when plastic comes to contact with water.
Plastic pollution causes groundwater pollution, as well.
Other countries have chimed in
Thailand has also aimed to ban single-use plastic products, like China. Announced just this January, the country's government aims to reduce land and sea plastic waste. This is due to the fact that a plastic waste crisis happened wherein several wildlife animals were found dead with huge amounts of plastic stuck in their digestive tracts, as cited by both Ecowatch and The Hill.
Before China even implemented the said single-use plastic ban to appease its ongoing waste problem on plastic, New Zealand was a few months ahead of it. The single-use plastic ban in New Zealand was implemented last 1 July 2019.
Additionally, the NZ government will seek to ban plastic bags with handles composing of 70 microns in thickness.
It aims to ban the following plastics, as per the Ministry for the Environment:
commonly used lightweight plastic bags provided by supermarkets and fast-food restaurants
heavier shopping bags found in department and clothing stores.
"emergency" bags offered by supermarkets as an alternative to a free single-use plastic bag.
How you can help in fighting off plastic
Thanks to China announcing its single-use plastic ban in addressing its plastic waste problem, other countries have also stepped up and implemented the same ban in their respective areas.
Let me just say this… Even random citizens like us can help in fighting off plastic pollution. Here are some ways we can do so:
Bring your own reusable bag when you go out for grocery shopping. Do not get single-use plastic bags
Participate in events that help clean beaches, rivers, etc.
Recycle! This helps keep plastic off the environment
Do not buy products containing microbeads
Support your local organisations fighting off plastic pollution
Read more: See blog on recycling in the Philippines.
China waste problem: not just plastics
Aside from plastics, China will also look to ban illegally produced wood, too.
According to an EIA article, China will change its Forest Law that includes the banning of illegally produced timber, buying, processing, and transporting.
In regards to the China waste problem, the illegally produced timber ban aims to address the global deforestation problems. It is important to note that China is the world-leading wood importer and exporter of wood-based products.
"For almost 20 years, China's demand for raw materials for its vast wood-processing industry has been a massive driver of illegal logging around the world, especially in South-East Asia and Africa," as said by Faith Doherty, EIA's Forests Campaign Leader.
"This amendment to its law is such a positive move by China and will also help to encourage timber-producing countries to tackle corruption in the way they manage and trade in the products of their own forests."
Here are some of the devastating effects deforestation may bring to the environment:
Flooding and soil erosion
Loss of wildlife habitat
Climate change
Increased greenhouse gases
China waste problem: conclusion
In order to address China's plastic waste problem, the government implemented a single-use plastic waste ban that will surely be beneficial for both China and the world, entirely.
In fact, its efforts in maintaining its environment already started when it banned the import of plastics last 1 January 2018. Additionally, China also implemented a ban on illegal timber logging as a way of helping sustain the environment.
Remember that you, as a random citizen, can also help in the fight against plastic pollution. Make better decisions in your lifestyle!
We've got small and medium Aussie businesses covered!
Does your Australian-based business need waste and recycling services? If so, then you have come to the right web page!
Please call 1300 WASTER (1300 927 837).  You can also email us at enquiries@waster.com.au if you have any further questions. Find the best deals in terms of waste and recycling pricing and services! Contact us now!
Avail waste management provider's services, partner up with Waster!
You can work with a waste management company (like Waster). Waster, in particular, will arrange you with waste management services to streamline and handle the waste generated. We provide many services ranging from the general waste bin and commingled recycling up to the recycling of particular items like food waste/organic (best way on how to reduce food waste in a number of industries) and paper and cardboard recycling.
Additionally, we will always advise you to recycle, as this is a guaranteed way of saving costs. Any type of business in Australia will never have to worry about their waste management practices. We will handle it for them! Check out our YouTube channel and find videos that can help with your waste management and recycling.
Reasons why you should pick Waster
All across Australia, you can find all sorts of waste management and recycling services providers. "How can I ensure that Waster, the waste management company with good reviews, will fulfil their services with efficiency?" Well, you will have to book and find out about our services!
Why should you pick Waster? Here are some reasons:
You pay exactly what you asked for – and not a dollar more! For your waste management and recycling needs for your waste, avail of our flexible, 30-day contracts instead of those long, unproductive, and hidden fee-containing lock-in contracts.
Designed for small and medium businesses – we help you reduce cost while boosting recycling. That's a win-win situation!
On-time and reliable – we provide fully accredited logistics and facility operators. By saying so, we ensure the safety and efficiency of our services.
Waster enables many Australian businesses to access the cheapest bin collection, removal and disposal prices there are in the Australian garbage market. A statement from our very own states that it "requires no lock-in contracts, no unjustified rate increases and no hidden costs" and operates in all metro regions throughout Australia.
Read more: See blog on planned obsolescence disadvantages.
See our new podcast on recycling info here.