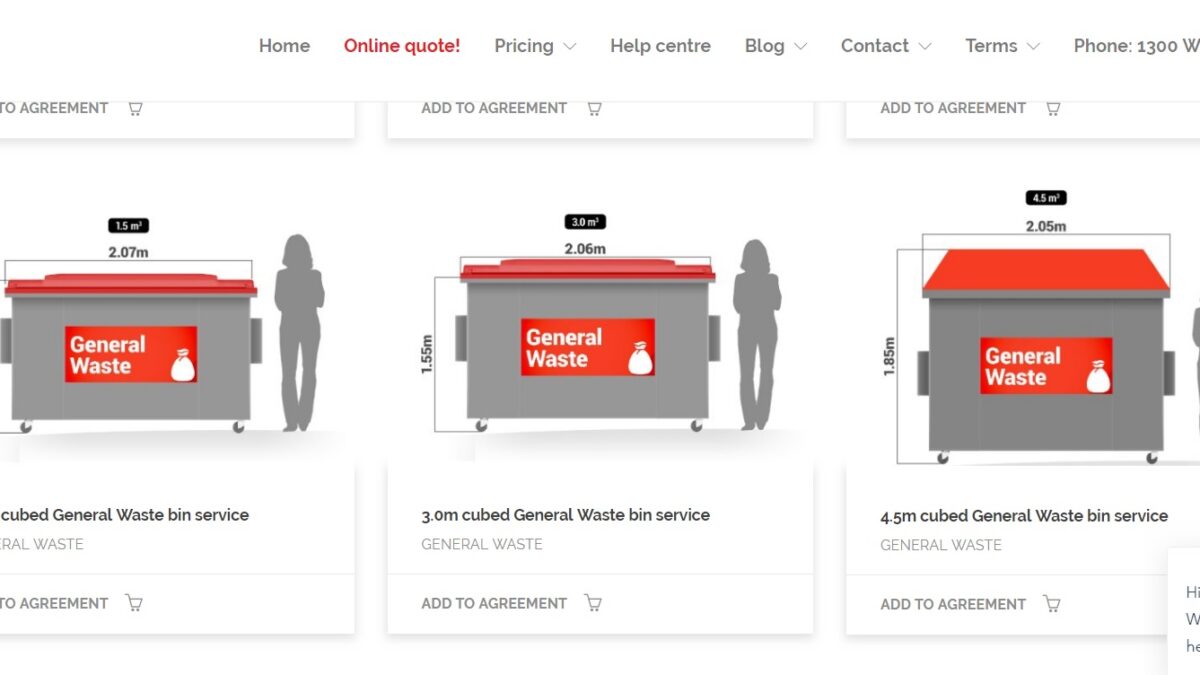 Commercial Bins – What Sizes And Options For Your Business
Commercial Bins: when we speak to customers at the start – very often they do not know which size of commercial bins best suit there business. In today's blog – we will go through the 6 bin sizes that we provide and what a business should consider before arranging.
We will also cover some info re plastic bags and how they can be removed from your general waste bins
Who is Waster?
Waster provides low cost and flexible commercial bins and recycling services to small and medium Aussie businesses.  Check out our services and prices online by pressing the blue button at the top or bottom of this page.
So – what are the commercial bins available in Australia?
Let's look at the 6 sizes of commercial bins that we provide to our small and medium business customers: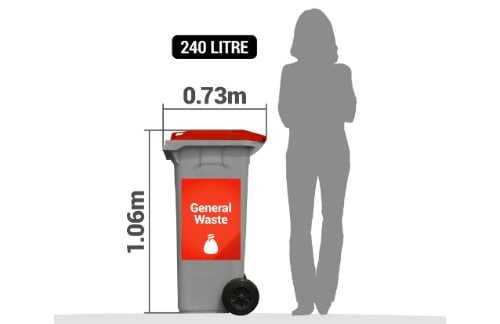 The smallest bin size we provide to commercial customers is the 240 litre wheelie bin as above.
This bin is plastic and comes on two wheels. It is easy to move around and is most suitable for a small business with limited waste – or alternatively – a business like a cafe that requires smaller regular collections – such as daily.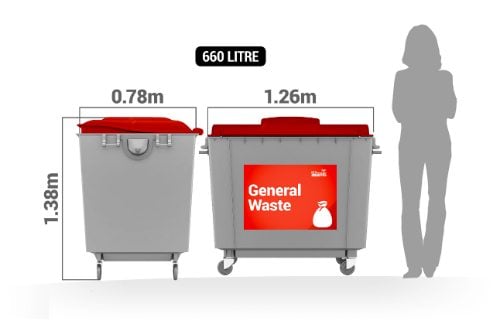 The next size up is a 660 litre wheelie bin. This bin is also of plastic and comes on four wheels.
It is also easy to move around and can be fitted between standard door posts. It is suitable for slightly larger businesses – or if you have bulkier rubbish.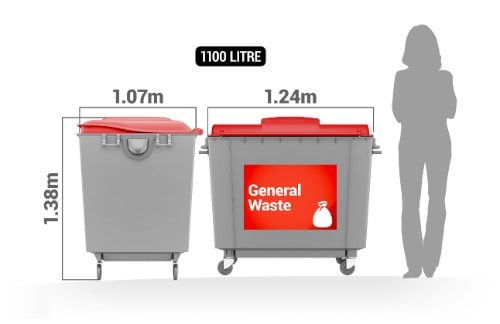 The 1100 litre bin size as above is the largest commercial plastic bin available. It is also on 4 wheels and easy to move around.
This bin appears similar to the 660 litre commercial bin when viewed from the front – but is deeper front to back – and is more "square". This bin will suit customers who need that extra bin space – but do not have enough room for a metal bin.
The commercial bin sizes as above are described as rear lift bins – as they are emptied at the back of the garbage truck.
They are more common in built up areas – where space is a premium – so will be common in CBDs and smaller business parks, high streets.
After the 1100 litre bin size – we move up to metal front lift bins.
Front lift bins are emptied by lifting over the front of the garbage truck.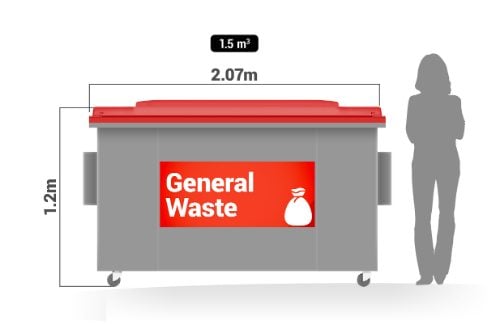 The 1.5 cubic metre or 1500 litres – is the smallest metal bin available.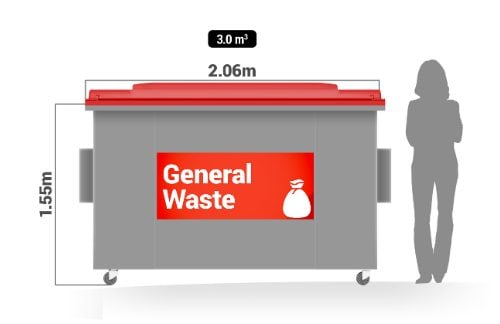 The 3m bin as above is the next size up. It also has a flat lid and can come on wheels or without wheels.
The largest commercial bin services available is the 4.5m bin as below. Some companies used to offer a 6m3 bin service – but this has almost been completely phased out due to health and safety issues.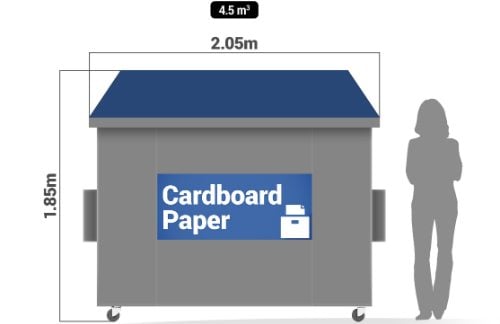 The bin shown above is the cardboard version – i.e. with blue stickers instead of the red for general waste.
This bin size is often not offered on wheels – as due to the large surface area of the bin – it can move around in wind – presenting a safety risk.
General waste bins – can we remove plastic bags from our bins?
What you should know about plastic bags in commercial bin collections in Australia
One of the most common queries we hear from commercial bins customers is where should we dispose of plastic bags – i.e. can they be recycled or do they have to go into general waste. There have been great developments in recent years – with innovations such as recycling plastic bags at Coles through REDcycle. Through this system – plastic bags are prevented from entering landfill and are recycled into plastic street furniture. There has also been good news recently whereby Coca Cola has boosted the recycling component of plastic bottles.
An interesting article on Choice.com.au summaries well the impact of plastic bags etc. We quote from the article below:
"Australians send more than a million tonnes of plastic waste to landfill every year, where it will sit for generations as it ever-so-slowly breaks down."
"In an effort to tackle the growing waste problem, some plastic products are now being made so they break down more readily."
The article notes that to date – people have focused most attention on shopping bags from supermarkets (estimated that Australian uses an incredible 4 billion per year. Note: some countries like Ireland have put a tax on bag usage and this has dramatically reduced the numbers.
The next big step is making bags and packaging from bio-degradable materials. See our blog on why plastic bags can not go in commingled bins due to contamination concerns.
"In Australia, the term biodegradable usually refers to plastics that are 'compostable', meaning they will break down when placed in a home compost bin or commercial composting facility. When disposed of correctly, a compostable plastic will almost completely biodegrade within six months – a big improvement on the 100-plus years it would take for something like a normal plastic bag to break down in landfill."
Of course things are never as simple as you would hope:
"If the plastic is labelled 'home compostable', then it can go in your home compost bin. But the majority of products currently available are labelled 'compostable', meaning they need to go to a commercial composting facility, where they get treated with high temperatures to create an organic-rich soil that can be on-sold."
See our blog on packaging alternatives to plastic.
We have covered the impact that plastic has in the ocean and seas in our blog in national resource recovery.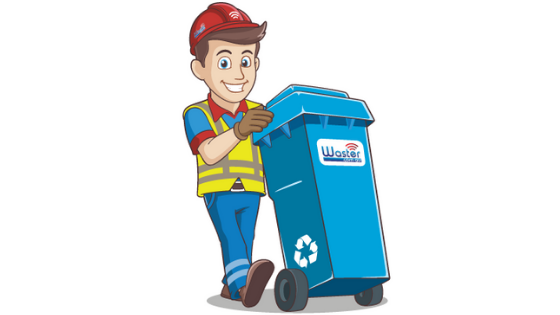 The article also gives a handy listing:
"Look for these terms:
Biodegradable will biodegrade, but generally not as quickly as compostable plastic. Look for products that state they are 100% biodegradable and show the disposal method.
Compostable will biodegrade in a commercial compost facility. Look for the Australian Standard number (AS 4736-2006) on the label.
Home compostable is the best option if you have a home compost bin. Look for the Australian Standard number (AS 5810-2010) on the label."
Also check out our blog on how to recycle bottle and cans. On a similar topic also see our blog on how much waste Australians produce in Integrated waste services.
See blog on new ABC TV services War on Waste – rubbish removals. See our blog on rubbish collection Brisbane and a new program for recycling.