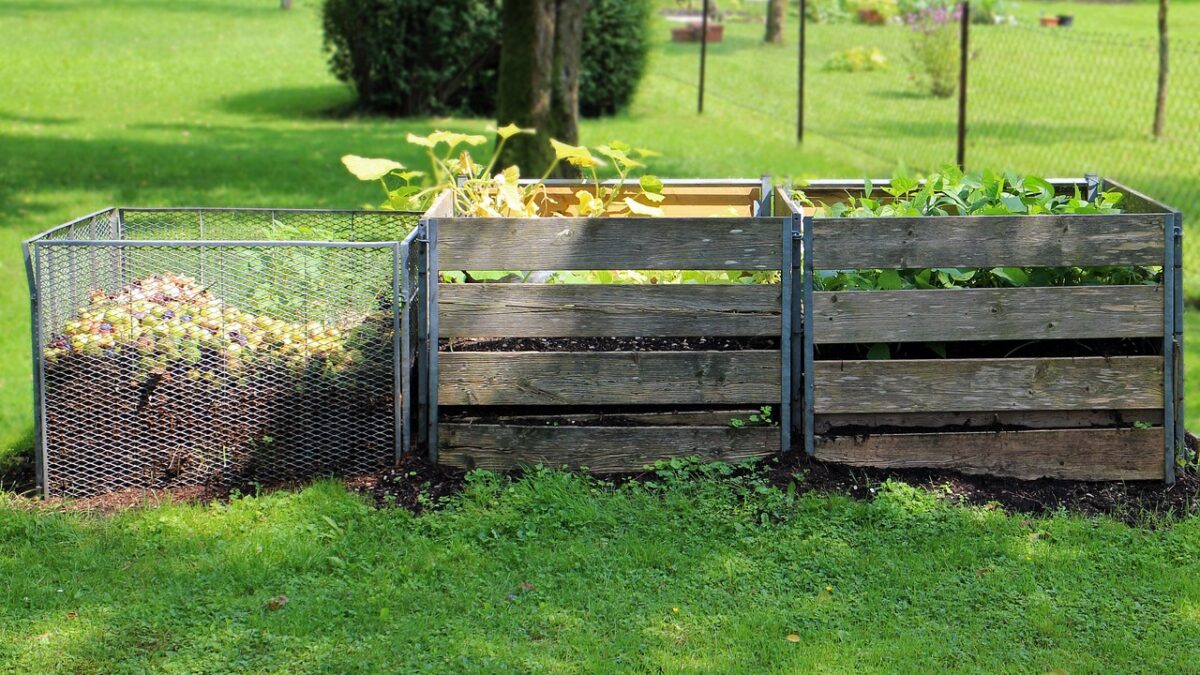 Composting At Home? How Is This Done? 🌱
Composting At Home 🌱: Aside from recycling, composting is another viable option to get rid of waste. If, for example, you want to dispose of your kitchen and garden waste the natural (and cheap) way, we suggest you compost it at home. How does composting at home work? We cover everything you should know in this blog.
The National Food Waste Strategy Feasibility Study done by Food Innovation Australia reported that we waste around 7.6 million tonnes of food across the supply and consumption chain, which roughly equates to about 312 kg per person, one in five bags of grocery or $2,000 to $2,500 per household each year.
Of course, wasted food would also produce more harmful greenhouse gases. In fact, 8 per cent of all greenhouse gas emissions come from uneaten and wasted food. What can we do about that?
Recycling would obviously come to mind first when dealing with this type of waste. But a more effective way to eliminate food waste without heavily impacting the environment is by composting.
Businesses/commercials can deal with their organic waste such as food and garden waste by availing of organic food waste bins. As for households, they can also get an organic food waste bin service, but they can also create their own.
A few of you might be intimated by the thought of composting at home, but let us tell you this: it is quite easy! You just have to remember a few things that, of course, we will cover fully in this blog. We suggest that you continue reading this blog to learn more about composting at home.
Learn who Waster is and what it can do for businesses
Before we go further and learn more about composting at home, let me share with you more information about Waster.
---
>Download Now: Free PDF Business Owners Guide To Commingled Recycling Bin Services
---
We here at Waster provide you with innovative solutions for your and your business's waste management and recycling needs. Furthermore, we provide flexible, 30-day contracts instead of the typical lock-in contracts to SMEs, which proves to be better.
If your business is based in Australia, partnering up with Waster will prove to be beneficial for your business! Here, I enumerate to you what we bring to the table in terms of providing quality waste and recycling services.
You pay exactly what you asked for – and not a dollar more! For your waste management and recycling needs, avail of our flexible, 30-day contracts instead of those long, unproductive and hidden fee-containing lock-in contracts.
Designed for small and medium businesses – we help you reduce costs whilst boosting recycling. That's a win-win situation!
On-time and reliable – we provide fully-accredited logistics and facility operators. By saying so, we ensure the safety and efficiency of our services.
As such, in the waste management industry, problems are bound to rise like in any other business. But of course, not as big of a problem as the irresponsible disposal of food waste that can lead to harmful impacts such as global warming which you can avoid by composting at home! If such issues arise in regard to our service, you can talk to our friendly customer service team.
Click on the blue button to learn more.
---
READ NOW: Everything You Need To Know About A Marrel Skip Bin 🗑️
---
Now, on to composting at home!
Here's what you should know about composting at home
To start things off, why do you think is it both necessary and beneficial to compost in the comfort of your gardens? We give you two solid reasons below.
It helps you save the environment. Composting at home provides you with lots of benefits. First things first, it helps you save money. Not only that, but it also helps you save resources. But probably the most important of its benefits is it helps you reduce your impact on the environment. Composting at home means that you do not have to put your kitchen scraps and green waste into your rubbish bin, meaning that your waste would not have to go to landfill where it will stay there and rot, which produces methane, a potent greenhouse gas.
Composting at home improves your soil and takes care of your plants. Aside from reducing your impact on the environment, another obvious benefit of composting at home is that it enriches your soil. It will help improve soil structure, maintain moisture levels, and keep your soil's pH balance in check whilst preventing plant disease.
Here's what you should do when composting at home
1. Determine what food scraps and garden waste you should use.
There are lots of viable food and garden waste you can use as compost. The best examples are fruits and vegetables. But did you know that you can also compost other types of food waste such as eggshells and bones? Just make sure not to include already-cooked food, meat and fish.
2. Find the best site.
You have to make sure that, along with gathering the best ingredients when composting at home, you place them at the right site. The most ideal place where to put them is in a place where the sun hits them and on bare soil. Additionally, you have to pick a place that you can easily put it ingredients and take out the compost.
 3. Now, fill up the compost.
With the right site and ingredients, it's time to start filling up the compost! Place both your food and garden waste into your compost bin. Mix the greens with the browns 50/50 to get good results.
4. It's time to wait.
After doing all of that, now you have to wait. It may take some time, ranging from a few months up to a year before you can use your compost. You will know it is ready if you take it out and you see a dark, crumbling and moist material that gives off an earthy aroma.
5. Take out the compost.
Remove the compost by slightly lifting the bin and opening the hatch at the bottom if it has one. Get the fresh compost out by scooping it with the proper gardening tools.
6. Use your compost to better your garden!
Now, to finish things off for a successful composting at home, it is now time to spread it in your garden. Enrich your soil and feed your plants with the compost you worked hard to create!
Contact Waster right now for your waste and recycling needs now!
Does your Australian-based business need waste and recycling services? If so, then you have come to the right website!
Please call 1300 WASTER (1300 927 837).  You can also email us at info@waster.com.au or enquiries@waster.com.au if you have further questions. Find the best deals in terms of waste and recycling pricing and services!