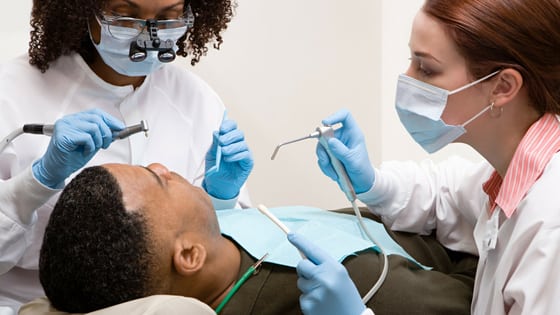 Dental Waste Management 🦷 Making Waste Services For Dentists Easy!
Dental Waste Management 🦷: Dentistry has come on in leaps and bounds in recent years, with many people almost forgetting the old fear of visiting dentists at all. In today's blog, we will cover dental waste management and what services clean and compliant dental surgery should follow.
Additionally, we will also cover some of the hazards produced in a dental setup, how dental offices can dispose of them properly and safely, and zero waste in dental laboratories/offices.
In dental surgery, maintaining a clean, pleasant and compliant atmosphere is obviously very important for client satisfaction and comfort.
---
>Download Now: Free PDF Business Owners Guide To Medical Waste Bin Services
---
About Waster
We here at Waster are an Australian waste management and recycling business based in, of course, Australia that helps small and medium companies boost recycling and minimise costs.
Furthermore, we provide all relevant medical waste and normal waste services for dental waste management, including clinical/medical waste bins, pharma waste bins and sharps collections. You can easily and securely arrange all your services at competitive prices on no lock-in contracts (30-day month-to-month basis).
Check out our offered bin options below:
Requirements for dental waste management
Legislation as regards dental waste management is covered by each State. For example, you can see the NSW regulations here.
For a dental practice, the key requirements include:
Correct waste labelling:  "All waste containers and bin liners are to be colour coded and identified in accordance with Tables 1 and 2 ('Waste streams'). The labelling, packing and transport of Division 6.2 Infectious Substances must comply with the ADG Code for dangerous goods. "
The colour code is yellow for anatomical waste, clinical sharps waste and clinical waste, which also includes pathological waste.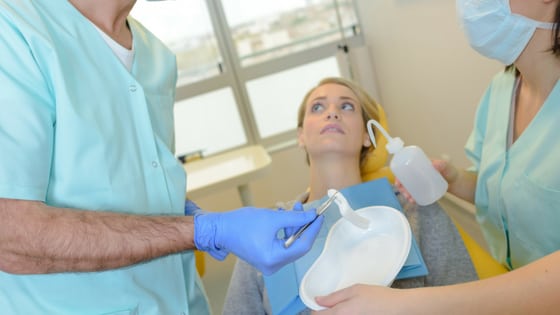 By choosing a reputable waste provider, expect all your containers labelled correctly to meet all relevant legislation.
Disposal of clinical waste – dependent on where you are located in Australia, the waste will either be incinerated or autoclaved and then landfilled.
Where are clinical waste bins collected from? A dental waste management company will come into your surgery to collect your bins and deliver new ones. In fact, you will not need to leave the bins on the street or outside.
How do you arrange dental waste management services?
Arranging waste management services for your business is very easy. Most practices would require either a 120-litre or 240-litre medical waste bin. This bin can be collected weekly, fortnightly, or even customised based on your needs, depending on how busy your practice is. For sharps containers, you can dispose of a sealed sharps container in your medical waste bin. Waster, in particular, will collect them at the same time with no additional fees.
We can also provide new sharps containers; they can be dropped off each time we collect the medical bin.
Hazards of dental waste management
The dental laboratories also have their own share of toxic and hazardous waste in their area.
In this section, we will discuss the most prominent dental biohazard and toxic waste and what dental laboratories and offices can do to practice proper waste disposal. Now, let us identify the types of toxic waste generated in a dental office.
Dental amalgam
Basically, an amalgam is a mixture of mercury and other metals, or an alloy, known prominently for its role as a dental filling.
We specifically want to reduce its discharge into the environment, as it can have a significantly harmful impact on it.
Mercury, in particular, is a known toxic element. To be more precise, it is a known neurotoxic, nephrotoxic, and bioaccumulation element.
Dental amalgam waste management involves recycling. Generally, you should not dispose of it in the general waste bin. The recovery process can extract Mercury from the amalgam waste using a distillation process. After the process, it can then be reused in new products.
This means that you should also not dispose of it in the yellow "colour coding" bin along with other toxic and biohazardous waste.
This is because wastes in the bins with a colour coding of yellow are often incinerated. If mistakenly done, this will result in mercury emissions due to the heated environment in an incineration plant.
So, that makes dental amalgam waste management, waste disposal, and recycling all the more important.
Other hazardous waste in dental offices
Aside from the prominent dental amalgams, you can also find other hazardous wastes that can harm us and the environment if improperly disposed of.
This includes wastes that contain silver (check out our blog on recycling x-ray films), lead, and other biohazardous waste such as blood-covered gauze, sharps, chemicals, and others.
These, in turn, should be put in the yellow "colour coding" bin, except for the X-rays as they can be recycled. Just a reminder: do not put them in the recycling bin. Search Planet Ark's Recycling Near You website to look for drop-off or mailing locations.
Additionally, we also have to mention dental gypsum; you can also recycle dental gypsum as a proper waste disposal practice.
If mishandled, it will lead to a number of health and environmental problems.
Zero waste dental care
In other news, let us now talk about zero waste dental floss. The other day, I read a blog about it well-written by Liz of Face Down Waste. In this blog, she tested different kinds of dental floss considered "zero waste".
And, that got me thinking that dental waste management is not just limited to dental offices and laboratories, but it also should be practised elsewhere, even in our own homes.
For one, you can start with your use of dental floss. By reading the blog mentioned above, Dental Lace is a good option to buy if you are looking for zero waste dental floss in Australia.
Dental waste management: conclusion
Dental waste management can be pretty simple and straightforward. In saying this, you should know the regulations regarding dental waste management. Generally, a reputable waste management company will be able to provide the clinical bins and sharps container service that you require.
You can see a blog here on recycling disposable medical gloves.
Some more tips
Dental waste segregation should be properly practised. Failure to do so can lead to a number of health and environmental problems.
Try to always identify types of toxic waste generated in a dental office and properly plan for them.
Dental laboratory waste disposal includes hazardous and non-hazardous wastes, needing proper waste management.
We can also practice some dental waste management in our own homes! We can do this by minding our dental floss waste or any other type of dental waste.
Other available research you can read if this really interests you include this dental waste management PPT link.
For an example of what you really want to avoid when arranging dental waste management for your business, see the news below from the US, where dental waste was all over a suburban street.