Document Destruction Brisbane: Book Low Cost & Secure Shredding
Document destruction Brisbane: If you are based in Brisbane and have been searching for a economical and secure method of getting rid of your confidential documentation, I am pleased to say that Waster.com.au can certainly be of assistance to you.
Document destruction services can be an afterthought for many businesses – and you may not know whether to invest in an expensive shredder or arranging a third party commercial shredding service.
Off-site shredding is most secure
The most secure and trust worthy method of destroying documents is a service whereby documents are taken in a secure truck to a licensed facility.
Waster offers high quality and fully licensed confidential paper disposal services and destruction services across Brisbane – you can thus rest assured that your private information will stay out of the hands of others.
We have previously published blogs on the topic such as what you need to know about confidential paper disposal.
Document destruction Brisbane – bin sizes offered by Waster
We offer scheduled document destruction Brisbane services in both convenient 120 litre and 240 litre bin sizes – see images below of bins:
120 litre bin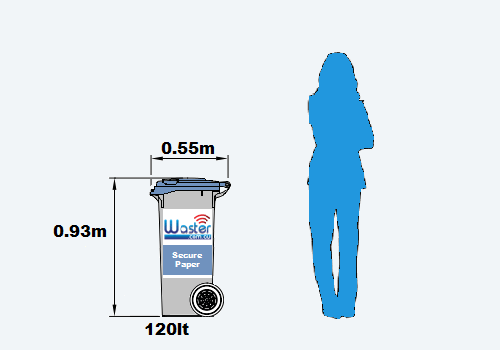 240 litre bin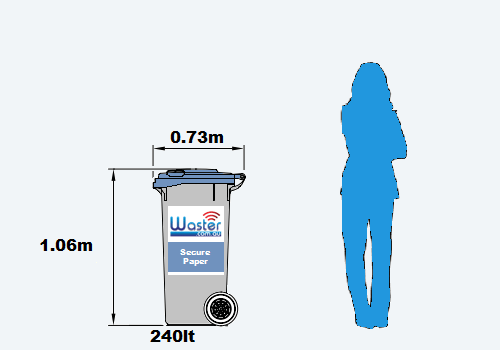 The pricing as per 26 March 2018 is $29.50 plus GST per service.
Note: this is an all inclusive price with no additional extras – you can see a comprehensive listing of our secure document disposal inclusions on our pricing detail page here.
Our service and personnel are fully licensed and accredited with industry leading work practices and controls – this means you can rest assured that your secure document destruction service will be of a high quality and that your documentation will be destroyed professionally.
All our services are performed on flexible 30 day agreements – the price is held constant (we only adjust rates once a year) and you can end the contract at any time (and for any reason) by providing 30 days notice in writing (email is fine).
You can compare prices and book your service online today by hitting the big blue button below:
Check out our services – and save more money!
Whilst you are booking your document shredding service for your business – you should also check out our other Brisbane rubbish collection and recycling services.
Waster is Australian owned and operated and would love to help you with your other service requirements.
Waster provides comprehensive waste management and recycling services such as general waste, commingled recycling etc through our online waste shop.
If you have a query that is not listed there – simply contact us and we will offer you a quote.
For more info on identity theft and how to protect yourself and your business – see the Ted talk as below.
This video covers a number of important and relevant topics (such as hard drive destruction)  – including how seldom it is for anyone to actually need your name for identification.