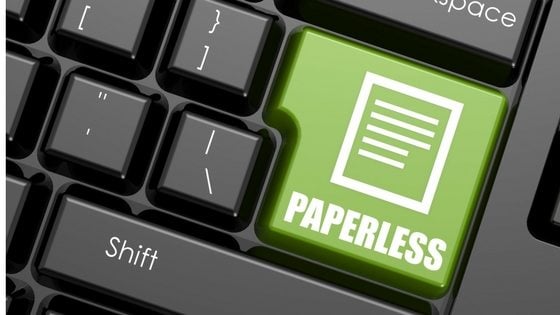 Document Destruction Services: What Ever Happened To The Paperless Office? 📄
Document Destruction Services 📄: Sometimes, when you are putting your confidential documents into the paper shredder bin, do you ever ask yourself, "What happened to the paperless office that we were all promised and expected to enjoy?"
---
>Download Now: Free PDF Business Owners Guide To Confidential Paper Bin Services
---
Think about it. Think about how rare it is to see someone reading a newspaper or magazine on the train or on the bus on your daily commute to work or school nowadays. I bet it is almost extinct, with people glued to their mobile phones and tablets. However, for some reason, the standard office has not seen the same digital transformation.
Waster: here to help you with all of that
On a side note, Waster provides low-cost waste and recycling services to small and medium Australian businesses such as confidential document destruction recycling services, general waste bins, and everything in between.
For businesses in need of document destruction services, check out our services. We also offer recycling services and personal document destruction services.
You can check out our services in our online shop. Waster promises that our services are flexible for as short as 30 days with no hidden fees! Just click on the blue button below to learn more.
Document destruction services: why has adoption of an e-office approach been so slow?
The introduction of electronic communication has been going on for over 50 years.
There was a time when electronic communication was but a dream; but unsurprisingly, due to the rapid advancement of technology, it was anything but impossible.
As stated by an article by the Canadian newspaper the Globe and Mail, Xerox engineer George Pake told BusinessWeek back in 1975 that future office desks would include a "TV display terminal with keyboard" that could call up reams of documents, files, mail, and messages. "I do not know how much hard copy [paper] I will want in this world," he said. And alas, all of it came true!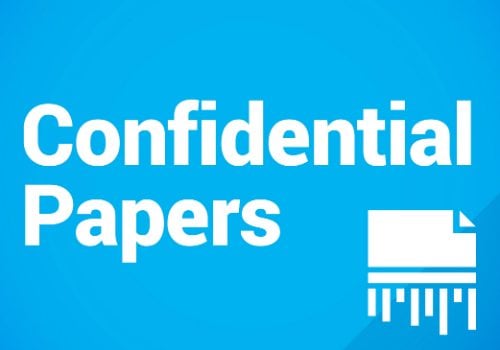 Why is a paperless office hard to adopt?
But, even with the rise of technology, it seems that paper just can't be removed from the offices.
Statistics Canada reported in 2006 that Canadians' paper consumption "more than doubled between 1983 and 2003" and that "the production and use of paper products are at an all-time high."
Surprisingly, not enough offices have been utilising the benefits of going electronic, and instead, stick to the traditional way of an office full of papers and documents.
We are getting there, but it is still not quite here yet.
Here are some of the reasons why some offices can't seem to embrace the idea of going fully electronic:
Official documents –  documents issued by any government firms or businesses should always be presented as a hard copy. Initially, some documents require a seal of approval or signature.
Time-consuming – believed by many, paperless can ruin a business. They are worried that making customers use paperless methods will result in losing them, due to the fact that not all people are tech-savvy.
 Scared of transition – this is self-explanatory. All these years, your business use paper, documents, or cheques in dealing with transactions. As a result, businesses can become scared to accept changes that can bring a huge impact on your business.
In the first place, going paperless can be so beneficial for offices and businesses.
Document destruction services: going paperless's benefits
As mentioned before, going paperless can be very intimidating to do. Believe me, it's not that difficult to adjust at all!
As a small or medium business, the saving of paper is not the only benefit it offers, here are the others – according to an article on Medium about moving to a paperless office:
Reduced search time – easily search documents with the use of online storage.
Workload stress – unlike paper, online storage does not clutter, therefore less stress in searching.
Cleaner offices – removes all the unnecessary mess your office has like useless and outdated documents.
These are just some of the benefits. Going paperless truly does bring good results, but it should be balanced depending on the company's needs.
There has been new business springing up also to help companies reduce paper in the office. Itpro.co.uk reported that: "In the United States, Earth Class Mail receives your snail mail and then scans and e-mails it to you so you can decide whether to have the company e-mail the contents, shred the letter, or ship it directly to you. (It currently only offers P.O boxes in the U.S. and some European countries.) Another company, Shoeboxed, will scan, categorize and digitally archive all of a company's paper receipts. Apart from these offerings, most cable, phone and cellphone companies now offer electronic billing via e-mail. Some also charge customers a fee for paper billing."
Harold Esche, chief information officer at the University of Calgary. Three years ago, his department evaluated paper use at the school and discovered it was producing 72 million pieces of paper each year, the equivalent of a stack 30,000 feet high. The university then entered into a partnership with Xerox to reduce the use of paper. The school upgraded to more efficient printers forced double-sided printing on campus, and educated staff, among other measures.
Document destruction services: conclusion
The weakest link becomes an issue and holds back companies when they try to move to paperless. If some customers cannot accept electronic invoices or want to pay by check, then it is hard to transition. The technology is there but the issue is often practised outside your control that holds it back. In the meantime, you will likely still require a reliable document destruction service for the foreseeable future.
Additionally, the paper is still needed for many offices that produce official documents. These cannot be processed and signed digitally. So, as a conclusion, it is best to have a blended office – i.e., businesses still using paper physically when it is deemed important and using digital email when sending out the important, but not-so-important ones. Avail our document and data destruction and recycling services now!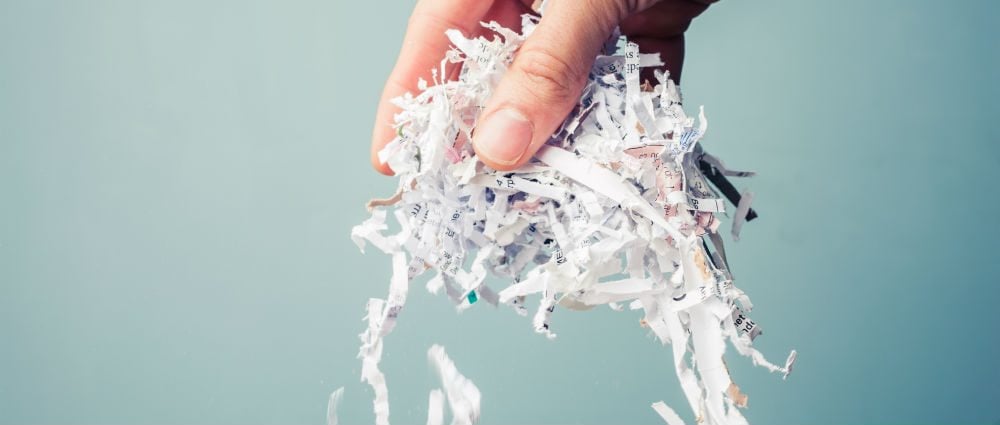 See our blog on confidential document shredding.
Check out Ana Santos's blog on how pricing models can influence sales in a business. You can also see our article on what happens when grease interceptors overflow.
See our blog on the future of waste management service.
Waster: waste management for smart businesses
As a business hell-bent on promoting a responsible way to recycle, we are here to help you with all your recycling needs!
We are an innovative solution for your waste management and recycling needs.
Call 1300 WASTER (1300 927 837) or submit an enquiry here at enquiries@waster.com.au to learn more.