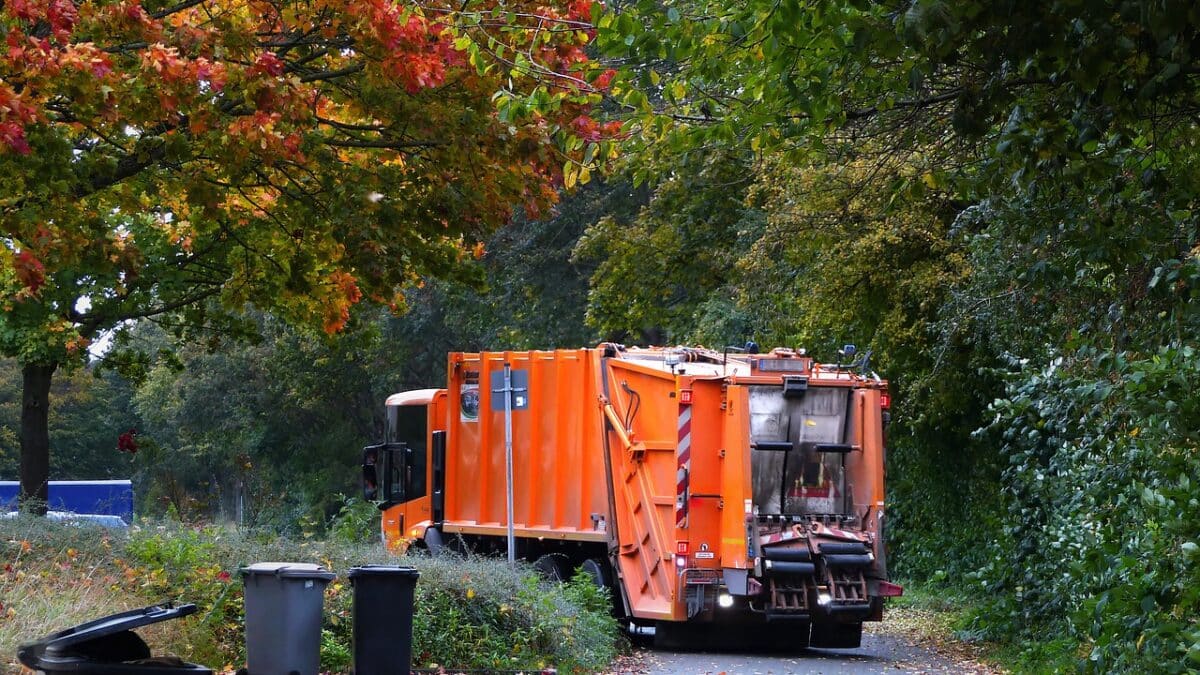 Garbage Truck Colouring In 🚚
Garbage Truck Colouring In 🚚: In this blog, we cover everything you need to know about garbage trucks. In addition, we provide you with some useful and fun-filled coulouring resources which children (and even you!) can enjoy. Continue reading this blog to learn more. 
Ah, the garbage truck of modern times. A beaut indeed, if you ask me!
For as long as I can remember, I have seen garbage trucks of different colours and sizes far and wide across the country. I distinctly remember being mesmerised by them when I was kid and would always ask my mum to buy me a toy figure all the time. Long gone are the days when I would for garbage truck toys, but my love and awe for the real ones never went away.
And for that reason, I am extra excited to cover everything you need to know about garbage trucks. Additionally, we at Waster will also provide you with fun-filled garbage truck colouring activities that the kids and even you can enjoy!
NOTE: If you fancy, make sure to scroll down below to get straight to downloading the PDF files!
Know more about Waster: for smart, small or medium Aussie businesses
Before we take you further into the discussion and cover everything you need to know about garbage trucks and provide you with colouring activities, we want to share Waster with you.
Who is Waster? Why do plenty consider it as one of the best waste and recycling companies in Australia?
---
>Download Now: Free PDF Business Owners Guide To General Waste Bin Services
---
Simply put, Waster provides you with innovative solutions for your and your business's waste management and recycling needs. In addition to that, we provide flexible, 30-day contracts instead of the typical lock-in contracts, which proves a better choice nowadays.
Click on the blue button below to learn more.
---
READ: Recycling Club Ideas For School And More 🏫
---
Garbage truck colouring in: everything you need to know first
Hold your crayons and discover the shortened version of the evolution of the garbage truck below.
Garbage trucks have truly come a long way from the time humans used other means to collect rubbish. A long time ago – a time where no human in this current generation even existed (not even their parents and grandparents) – people mainly used horse-drawn carts to collect waste. A bit more time passed by and the people then finally used automated vehicles. The dump body then was continuously improved until the spilling out problem (mainly caused by trucks getting bigger and taller) was solved. Take a look at Waste 360's article to learn more information about the garbage truck's evolution.
Fast forward to more than a hundred years, now you have state-of-the-art garbage trucks full of sophisticated technology.
Garbage trucks of today
We will also talk about the garbage trucks of today before finally going to the colouring activity we excitedly want to share with you.
Of course, why else would we improve garbage trucks even further?
That is because we want a more reliable way of both getting and providing waste management and recycling services. Bad service will always equate to unhappy customers, therefore resulting in generating lesser income – pertaining to waste management companies.
Not only do you need capable workers, but you will also need reliable garbage trucks that can safely drive, transfer and dump waste accurately every night. The trucks should operate on a frequent basis without a hitch and in a timely manner, both removing and collecting the rubbish. In addition, waste collectors should have an easier time maneuvering the truck, therefore needing the proper tools and machinery to do so.
In Australia, the waste management industry often uses two types of garbage trucks, which we will enumerate and elaborate below.
A front load garbage truck is a heavy type of vehicle used for rubbish collection and waste removal. They have hydraulic forks located on the front that picks up a rubbish bin using the slots it has on its sides. After picking it up and carrying it, the garbage truck then tips the over so that the bin lid opens, dumping the contents the bin has into the dump body (i.e., hopper) of the truck.
In Australia, the front load trucks have these as their usual dimensions:
Overall length – Max 11.0m
Overall width – 2.5m
Height (travel) – Max 4.2m
Height (in operation) – Max 8.5m
Weight (vehicle only) – 16.5 tonnes
Weight (payload) 11.0 tonnes
Turning circle – 25.0 m
Let us discuss two more types of garbage truck commonly used in Australia before finally sharing with you the garbage truck colouring activities we have prepared.
Of course, the opposite of front is rear. We now have our next type of garbage truck usually used in Australia: rear load garbage truck.
Rear load garbage trucks have a hopper at the rear or back end that a rubbish collector can put and throw waste or empty waste bins into. Like the front load garbage trucks, the rear ones also have sophisticated machinery specifically designed to empty the bins easily without requiring too much human efforts.
In Australia, the rear load trucks have these as their usual dimensions:
Overall length – 8.0m
Overall width – 2.5m
Height (travel) – 3.4m
Height (in operation) – 3.4m
Weight – vehicle only – 13.0 tonnes
Weight – payload – 9.5 tonnes
Turning circle – 25.0 m
What is a side loader truck?
We take an excerpt on our previous blog:
To answer, a side loader is garbage truck wherein the hydraulic arm that carries the container operates from the side, as the name suggests.
According to Big Truck Rental, source of rental garbage trucks in North America, The arms differ in lifting capacity; the strongest hydraulic arm can lift as much as 1,600 pounds. This applies to the later, high-end models built to carry that much weight.
For you to understand how the hydraulic arm works, you can playfully think of it as a kid getting his or her favourite toy inside a hydraulic powered claw machine.
Now, we move on to the garbage truck colouring activities you can download for your kids (or even for you, if you fancy).
Garbage truck colouring in: paper activities
Here, you can download the colouring activities.
NOTE:  Simply click the pictures below to access garbage truck colouring activities.
Front lift garbage truck colouring in
Rear lift garbage truck #1
Rear lift garbage truck #2
Side load garbage truck colouring in
We've got small and medium Aussie businesses covered!
Does your Australian-based business need waste and recycling services? If so, then you have come to the right web page!
Please call 1300 WASTER (1300 927 837).  You can also email us at enquiries@waster.com.au if you have any further questions. Find the best deals in terms of waste and recycling pricing and services! Contact us now!