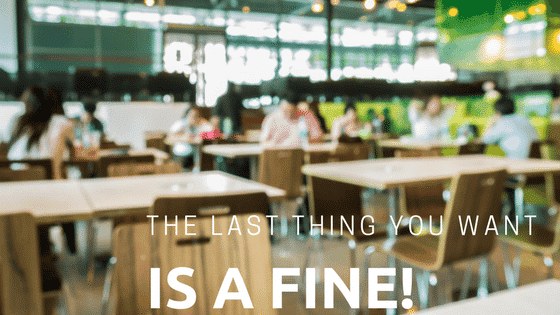 Grease Trap Emptying Sydney: Can You Be Fined If Grease Trap Is Not Serviced? 🛢️
Grease Trap Emptying Sydney 🛢️: Admittedly, one of the worst things about grease traps (let's face it, they can be pretty unpleasant if vital devices) is that, for whatever reason, if you do not have them serviced on time, you may get a hefty sign from Sydney Water. It is always important to ensure that you adhere to Sydney Water grease trap requirements.
---
>Download Now: Free PDF Business Owners Guide To Grease Trap Cleaning Services
---
When you first take on a café or restaurant – or any Sydney-based food service business – you should check that the Sydney Water grease trap installation and recording on the system are correct (i.e., check the service frequency, size, etc. is correct).
Of course, we have covered in previous blogs details that you need to know before you book a grease trap service and answers to common questions (grease interceptor). In this blog post, we will run through what happens if your servicing falls behind schedule or if you miss a couple of scheduled pump-outs. See our blog on how much waste management costs.
Who is Waster and how can we help with Grease trap emptying in Sydney?
Waster provides grease trap pump-out Sydney services (as well as all waste and recycling services) to small and medium Aussie businesses. We operate on flexible 30-day agreements so you never need to worry about lock-in contracts or hidden rollover clauses.
We provide high-quality and reliable grease trap pup out of Sydney services. Note that for the grease trap pump out of Sydney, we charge for a minimum of 1000 litres.
If your grease trap is difficult to access (i.e., if in an underground carpark or requiring a small truck, etc.), we may need to quote different pricing. Please contact us for discussions.
Now, onto more discussions about grease trap emptying in Sydney!
Will you be fined if you miss a grease trap emptying Sydney service?
It is, of course, vital that your food service business (such as a café or restaurant) complies with the grease trap emptying Sydney schedule as set by Sydney Water grease trap requirements. Otherwise, there can be expensive blockages and spillages. We often speak to store owners in a panic when their grease trap overflows. And of course, emergency grease trap cleaning Sydney services can be costly – a couple of thousand dollars for immediate pump out.
If you miss a service set by the water authorities, you will receive a warning stating that you must have a regulated service within a certain time frame. If you miss this time frame, you will be issued a late service fine of over $200. The exact amount will depend on the size of the trap, etc.
You will also be required to have caught-up pump outs to make sure you get back in alignment with your schedule. This can result in quite a financial hit in one month or two.
At Waster, we always say that prevention is better than cure. And, sticking to the mandated schedule is like visiting the dentist. It is always the cheapest option in the long term!
See our blog on North Sydney waste collection. 
Grease trap Sydney: Waster is dedicated to making waste services and recycling as easy as possible for our customers. We describe our booking process as easy as A, B, C for a reason!
Knowing the basis will no doubt help you save money, get great service and avoid costly mistakes. For any additional information, you can call our friendly customer service team today.
Let's run through the key points you need to book a great service:
What is a grease trap and what should you know?
A grease trap or grease interceptor is a simple but very effective device commonly used in businesses serving food or operating commercial kitchens such as cafes or restaurants.
In a food business, a licensed plumber will install a grease trap (by a trade waste agreement from your local waste authority).
In a busy kitchen, fats, oils and food waste will go down the sink with the wastewater. The normal wastewater system and sewer system could become blocked over time with these oils and solids. A grease trap will trap the liquid waste and prevent it from entering the city waste piping system.
The trap can then be pumped out or cleaned as per the schedule described below.
Through this process, a licensed waste transport business such as Waster will pump out the grease and water in the grease pit and scrape the sides. This process ensures it runs smoothly and does not result in an expensive overflow incident.
When do you need to arrange a grease trap Sydney service?
The requirements for and regulations around grease trap usage and grease trap cleaning Sydney service are controlled by Sydney Water.
As a business, when you appoint a waste company such as Waster to organise your grease trap service in compliance with regulations. This will be registered with Sydney Water; we can call this a Change of Transporter form.
Sydney Water will then inform you of the required schedule to have your grease trap cleaned/pumped out or emptied. It all pretty much means the same thing.
This means that your grease trap will only be serviced when it is required to be. It will not be over-serviced or under-serviced.
How much does it cost?
The Waster pricing model for grease trap servicing is very easy. We provide pricing based on a cost-per-litre basis. As of the date of publication, grease trap Sydney services are priced at $0.20 GST per litre. If you have a 3000-litre grease trap, the service will cost $600 GST.
This pricing is based on a minimum grease trap size of 1000 litres. The minimum price per service is $200 GST.
This pricing is also based on your grease trap being easily accessible. The truck can park within 15 metres of the trap and there is not a requirement for an additional operator on the truck.
Note: per the schedule set by Sydney Water, if your trap is 2000 litres (for example) the grease trap emptying service/pump-out in Sydney will be for the entire 2000 litres each time.
What details do you need to provide for grease trap Sydney?
Moving to Waster is easy. Similarly, you will find it easy to book grease trap emptying services in Sydney, Melbourne or any other area we service. We just need the following details – your name,  location address, phone number, trap size and info on your grease trap barcode, Sydney Water account number or other identifiers.
With this information, we will arrange your service schedule and registration with Sydney Water and ensure you meet all your regulatory requirements.
Am I tied to a long-term contract?
With Waster, you are never tied to a long-term contract, all our services are delivered on flexible 30-day agreements where the rates are adjusted once a year (unless we decrease rates as we did for waste removal in Melbourne recently).
Check out all our details and terms and conditions here. Also, check out our service and make a booking below:
For further info, we recommend you check out our blog on grease traps, tackling different topics, which we mention below:
Services in Melbourne
Emergency services
More detail on the pricing of your services
Sydney waste disposal – covering whether glass recycling can help your business.
For more tips and details on how to minimise issues from your café or restaurant grease trap in Sydney, see the short video below. A municipal authority in the USA produced this video, mentioning some good points: