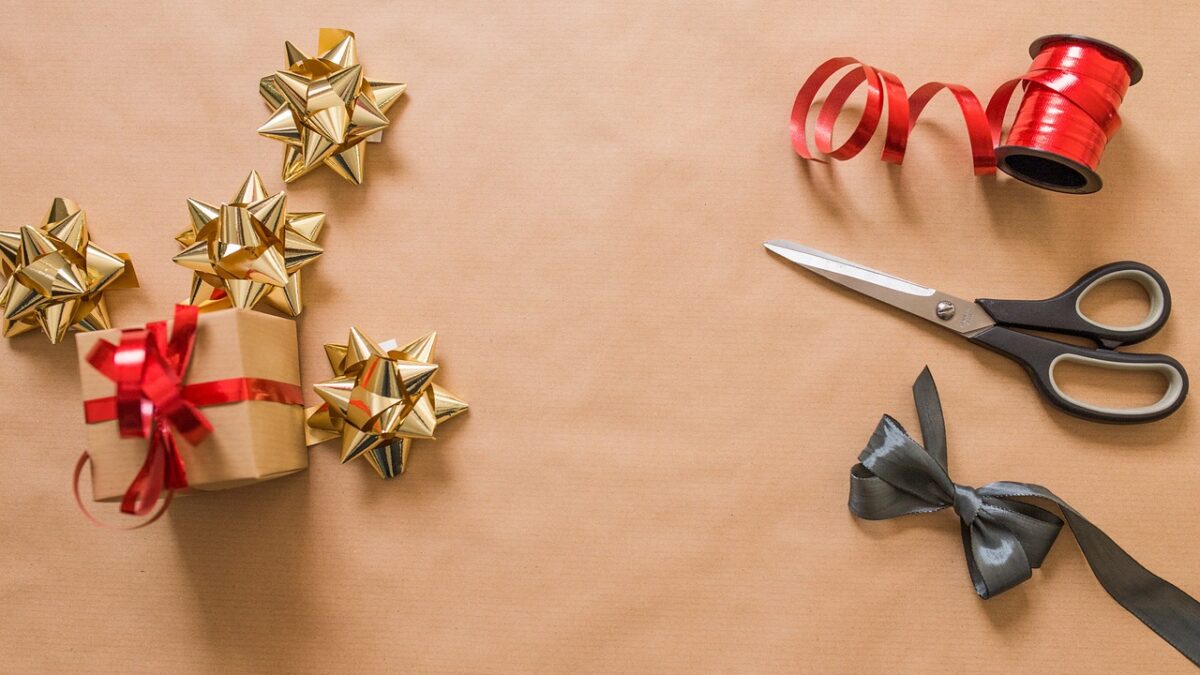 How To Gift Wrap Sustainably With These Tips And Tricks 🎁
Gift Wrap Sustainably 🎁: Have trouble wrapping gifts? Save some money and reduce your environmental impact by following these simple tips and tricks to wrap your gifts! Continue reading this blog to learn more. 
Ah, the joy of giving. As Christmastime draws near, people become more and more excited to buy uniquely thought-out gifts for their friends, family or special someone. To add to the building-up excitement, joy comes when seeing beautifully adorned gifts piled underneath the Christmas tree.
Not wanting to be outdone, one puts their heart and soul into wrapping their gifts, embellishing them with their own personal touch.
They, however, forget an important thing: what happens to all of the discarded wrapping paper after? Inevitably, they make their way to the kerb, are placed in the rubbish and await collection.
Obviously, no one would ever think of that during the happiest time of the year. However, a lot of people nowadays have become more environmentally conscious than ever. And so, they started to start a 'green' lifestyle.
In all sorts of waste, people came up with greener solutions: product production, use and disposal. Of course, this meant that people have adapted and learned to gift wrap more sustainably.
How does one gift wrap sustainably? Some might know, whilst some may not. Worry not, if you have no idea how to sustainably pack your gifts, we've got you! Below, we give you some useful tips and tricks to gift wrap sustainably.
Learn who Waster is and what it can do for businesses
Before we go further and learn more about how you can gift sustainably, let me share with you more information about Waster.
---
>Download Now: Free PDF Business Owners Guide To Commingled Recycling Bin Services
---
We here at Waster provide you with innovative solutions for your and your business's waste management and recycling needs. Furthermore, we provide flexible, 30-day contracts instead of the typical lock-in contracts to SMEs, which proves to be better.
If your business is based in Australia, partnering up with Waster will prove to be beneficial for your business! Here, I enumerate to you what we bring to the table in terms of providing quality waste and recycling services.
You pay exactly what you asked for – and not a dollar more! For your waste management and recycling needs, avail of our flexible, 30-day contracts instead of those long, unproductive and hidden fee-containing lock-in contracts.
Designed for small and medium businesses – we help you reduce costs whilst boosting recycling. That's a win-win situation!
On-time and reliable – we provide fully-accredited logistics and facility operators. By saying so, we ensure the safety and efficiency of our services.
As such, problems in the waste management industry are bound to rise like in any other business. But like any other problem, they will always have solutions, such as having answers on gift wrapping in a more sustainable way. If such issues arise in regard to our service, you can talk to our friendly customer service team.
---
READ NOW: A Unique Method To Deal With Waste, Sharing Waste 🥕
---
Now, on to discussing how you can gift wrap sustainably!
Here's how you can gift wrap more sustainably
This may come as a surprise to you. Did you know that wrapping paper is not recyclable? Due to it having a glittery, metallic look, this shiny-looking paper cannot be put in the yellow bin and recycled.
To avoid stash after stash of wrapping paper waste, we give you some of the best ideas below on how to gift wrap sustainably. Hopefully, after this blog, we want to see you doing your part in taking care of the environment, along with unlocking your creative and artistic side!
Find reusable alternative gift wraps
Obviously, this would be the first thing that comes to mind: finding recyclable materials to gift wrap sustainably. But did you know that reusable materials are just as good, if not better?
Cardboard boxes, for example, are sturdy and lasting enough to be reused again. We suggest that you gift wrap it as simply as possible so that it can be reused many times in the future. Encourage the ones you give gifts to reuse the gift wrap to help others gift wrap sustainably, too.
Using compostable items such as newspapers
If you are like me and like reading the news whilst sipping a cup of hot coffee, then you might have many old newspapers in your house that you have no use for anymore. Well, you can upcycle them to gift wrap sustainably!
Old newspapers can transform into beautiful gift wrap with a little effort and creativity. Partner your newspapers with other compostable materials such as kitchen strings and beautiful flowers as decorations to achieve your desired beautiful gift wrap.
Have any unused cloth or fabric? They can be used to grift wrap sustainably, too!
Do you have some old clothing or fabrics lying around the house that you have no use for anymore? Well, it's time you declutter your house and use them as a gift wrap!
Yes, you can also use old fabrics and clothing to gift wrap sustainably.
How do you do this? It is quite easy! Let us use bento box wrapping as a good example. You can use that method to wrap your gift properly. In a similar manner, you can use Furoshiki fabric wraps, which you can view here. You can also watch the video below to learn how to do a Furoshiki wrap.
But if you prefer, you can go the more familiar route in Australia and get yourself a few decorations such as laces and satin.
Contact Waster right now for your waste and recycling needs now!
Does your Australian-based business need waste and recycling services? If so, then you have come to the right website!
Please call 1300 WASTER (1300 927 837).  You can also email us at info@waster.com.au or enquiries@waster.com.au if you have further questions. Find the best deals in terms of waste and recycling pricing and services!