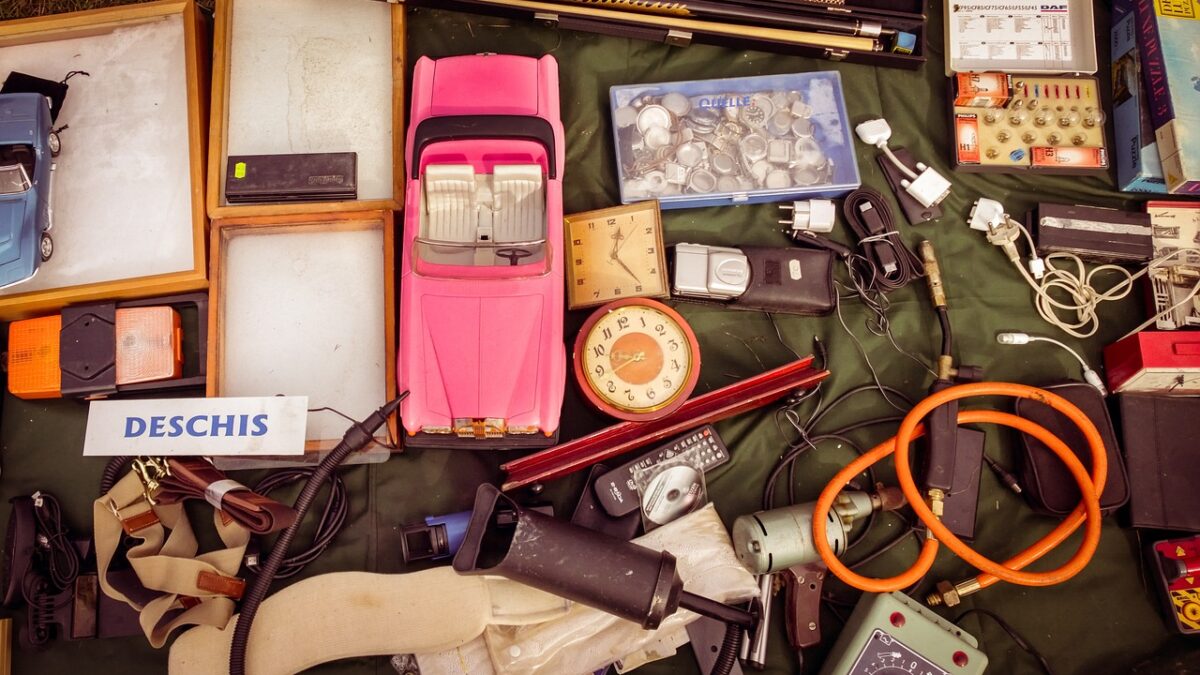 A Walkthrough And Some Tips On How To Make Money Selling Junk 🗑️
How To Make Money Selling Junk 🗑️: Nobody probably told you this, but did you know that what you consider junk in your house, many others see as treasure? That is right! So in this blog, we will walk you through how you can make money selling items that you think of as junk. We suggest you continue reading to learn more.
You and I both probably have some items that we consider junk in our own homes. And if we ever decide to declutter our respective houses for reasons such as re-acquiring more space in them and preventing dust or moulds from growing, how can we get rid of the junk? The first thing you are probably thinking is chucking it down the rubbish bin and sending it to landfill as a result.
If you are an avid reader of our blogs, you would know that we would surely tell you that you should have that idea at the farthest back of your mind if you want to help the environment. But then what should you do with your so-called junk if throwing it in the rubbish bin is not the answer? Selling your junk is a good idea to get rid of them and not impact the environment whilst also making money in the process.
With that said, how can you sell your junk to make money? Below, we walk you through how you can make some money by selling your junk and give you some useful tips you might know on the way.
Who is Waster? What does it do for small and medium businesses? 
Before we go further and walk you through and give you some useful tips on how you can make money selling junk, let me share with you more information about Waster.
---
>Download Now: Free PDF Business Owners Guide To General Waste Bin Services
---
We here at Waster provide you with innovative solutions for your and your business's waste management and recycling needs. Furthermore, we provide flexible, 30-day contracts instead of the typical lock-in contracts to SMEs, which proves to be better.
If your business is based in Australia, partnering up with Waster will prove to be beneficial for your business! Here, I enumerate to you what we bring to the table in terms of providing quality waste and recycling services.
You pay exactly what you asked for – and not a dollar more! For your waste management and recycling needs, avail of our flexible, 30-day contracts instead of those long, unproductive and hidden fee-containing lock-in contracts.
Designed for small and medium businesses – we help you reduce costs whilst boosting recycling. That's a win-win situation!
On-time and reliable – we provide fully-accredited logistics and facility operators. By saying so, we ensure the safety and efficiency of our services.
Remember!
As such, problems in the waste management industry are bound to rise like in any other business. Much like how selling your junk to make money instead of throwing it in the rubbish bin can help the environment immensely aside from yourself, we can also help solve any waste or recycling issues you encounter. So if such issues arise in regard to our service, you can talk to our friendly customer service team.
---
READ NOW: What Is Donation Dumping? Here's What You Should Know About It 🗑️
---
Now that we mentioned all of that, let us move on and talk about how you can make money selling your junk.
The basics of making money selling your junk
Have anything in your home that you do not use anymore? Instead of throwing them in the rubbish bin, turn them into money-makers and sell them!
First things first, determine what you want to sell and put them in a separate box. Create an inventory and list down all the possible junk items that you can sell to make some money. Here are some strong examples of valuable 'junk' that you can sell to make a bit of a fortune.
CDs, DVDs and books (i.e., multimedia stuff): On the 'do not throw list', these items are probably on the top of our list. They may not have that much value to you, but they definitely do to others mainly because of their content.
Clothing and textile: Clothing and textile waste have long been a problem in Australia. Depending on its condition, you could see your old clothing and textile recycled, repurposed or sold. Sell your clothes or other valuable textile and do not treat them as junk to earn some money.
Toys: Some collectors focus on toys. They can pay a significant amount of price depending on how rare the toy is. Instead of throwing your old toys in the rubbish, why not sell them?
Video games and consoles: I, for one, collect Nintendo video games and consoles simply because of nostalgia. I want to relive the feeling of playing Pokémon in my room using my Game Boy. There are others like me who would certainly like to collect as many video games and consoles as possible. If you have one or a few in your closet that you want to get rid of, sell them to other video-game lovers.
Obviously, there are plenty more examples of 'junk' that you can sell for money. Bottomline is, just determine what you want to sell first and place them all in a box.
Some tips if you want to sell your junk to earn money
You have to make sure you know what a particular item you want to sell is worth. There are plenty of resources online you can access to determine how much an item costs when reselling it. Check out items similar to yours on sites such as Craiglist, eBay and Facebook Marketplace to get an idea of how much you should sell your items.
Make sure your items are in good condition. Clean them up and organise them so that you would attract more interested people.
Before posting them online, make sure that you take a high-quality picture of them to attract more potential buyers.
Be kind to potential buyers. Answer questions about the item/s truthfully and enthusiastically so the person would be more inclined to buy. Always be responsive, as well, so the potential buyer can see your sincerity in selling the item.
Contact Waster right now for your waste and recycling needs now!
Does your Australian-based business need waste and recycling services? If so, then you have come to the right website!
Please call 1300 WASTER (1300 927 837).  You can also email us at info@waster.com.au or enquiries@waster.com.au if you have further questions. Find the best deals in terms of waste and recycling pricing and services!