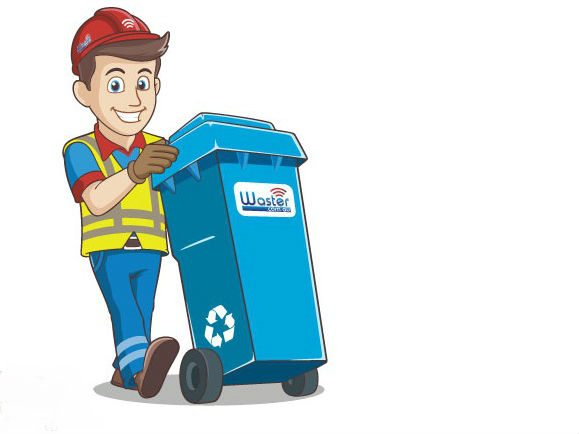 Industrial Waste Bin Sizes 2021 🚮: Waste Services Online Today
Industrial Waste Bin sizes for your business in 2021: when you run a small business, or one that is not so small and maybe growing rapidly – ensuring that the core services such as water, electricity and garbage collection in industrial waste bins is vital for your business success and peace of mind.
---
>Download Now: Free PDF Business Owners Guide To General Waste Bin Services
---
Waster offers a real alternative for small and medium Australian businesses – as you can arrange your garbage and recycling needs easily online – and have confidence that you will not be hit by any hidden costs or charges.
We provide all industrial bins sizes from 240 litre general waste bins i.e.  a standard plastic large wheely bin – up to an industrial metals bins size such as 4.5m general waste bin – this is commonly referred to as a front lift bin.
Industrial metal bins come in sizes 1.5m, 3.0m and 4.5m cubed. Large industrial garbage bins on wheels such as front lift metal bins are very suitable for businesses with larger waste requirements.
Industrial garbage bins in front lift sizes can come on wheels or with out wheels. Waster also provides industrial recycling bins for businesses. Industrial recycling bins range in size from 240 litre wheelie bins – to 4.5m front lift industrial metal bins.
You can check out your industrial waste bin sizes  and options and costs online today by visiting our waste shop above:
We provide all common industrial waste bin sizes as below:
Rear lift bins sizes – 120 litre bin, 240 litre bin, 660 litre bin, 1100 litre bin. See more on rear lift bins (also called rear load bins).
Front lift bin sizes – 1.5m cubed bin, 3.0m cubed bin, 4.5m cubed bin. These larger bins are often referred to as dumpsters.
For larger industrial waste management bin sizes – you are looking at skip bin hire.
Industrial waste bin sizes – easy to organise so you can focus on your core business
Running a small business in 2021 and beyond is harder than ever – see this blog on the topic published by Amex. You have also probably heard about the impact that increases in energy prices is having on Australian businesses.

Waster has recently redesigned our website to make booking and checking on your waste services (such as general waste disposal) easier than ever. With a more responsive design – it is simple to check your required services and book a collection – whether it is for general waste bin hire or cardboard recycling.
The first step is to access our online waste shop and choose the bin size required: for example – see a 240 general waste bin – for a cafe in Sydney collected once a week.
When you select your required options – you will see the appropriate pricing per collection – in this instance – in March 2021 – a weekly pickup of a 240 litre general waste bin at a cafe in Sydney will cost $21.50+GST per collection. There is no rental charge or other fee.
Check out pricing for bin hire for events here.
Delivery timeline from booking is usually 7-10 days – but we can often get bins delivered quicker than this dependent on region etc. We know that when you open a new business – not having bins and grease trap cleaning organised can be stressful – so we try our best to work to your timelines. See our blog on recycle cardboard processes.
See our rubbish remover blog for challenges that small businesses can face and more info on industrial waste bin sizes and services.
Waster always focuses on the latest tech to enhance our customer service – see our tips and many others on the latest systems at Telco Solutions.
Industrial wheelie bins: Waster has been busy the last week or so due to it being National Recycling week here in Australia. We have some major announcements to make shortly on improved recycling offer so watch this space. In the mean time – we put some attention to what you can learn from your previous supplier for commercial wheelie bin collection if you are thinking of moving to Waster.
The first question we always ask people thinking of moving to Waster is "why are you thinking of moving" – we get various answers and we try to cover some in the blog below. It is important to think about the good things your supplier for industrial wheelie bins does and can you improve on the bad. Also check out our blog on rubbish bins Australia – covering 5 signs you should think of changing supplier.
A. Is the industrial wheelie bins service reliable?
Basically, how often do they not pick up the bin on the scheduled day. Most of the major companies publicise an accuracy rate of between 95-99%. i.e. between 5 and 1 day out of 100 are missed. You should aim to improve on this if you move to a new supplier.
B. Is there someone to contact if your bin is missed?
If a bin is missed or if you have an issue you need resolved – i.e. like booking an additional collection, querying something etc – is there actually someone to talk to for industrial wheelie bins services?  For example – do you have a dedicated contact person who will be responsible for resolving your issues regarding commercial waste bin sizes?
C. Are the invoices for low cost wheelie bins accurate?
Many complaints we hear is due to billing for services that did not occur – i.e. charged for extra fees such as environmental fees or for industrial wheelie bins collections that you dispute occurred at all?
D. Do they continually increase prices?
Many customers complain that their previous supplier quoted low prices at the beginning of a contract – but that these rates kept on increasing and within a few years, the rates were now quite a burden on the business,
E. Do they lock you in to long term contracts?
Many customers who move to Waster seeking commercial waste bin sizes and options have previously been locked into rollover clauses and the saying "once bitten twice shy" can apply to many – the flexible 30 day agreements offered by Waster can be a big selling point in this context.
Check out our services and prices in our online waste shop below and then book online or call our friendly customer service team:
See our blog on rubbish removal Sydney north shore.
F. What size is a wheelie bin?
When arranging industrial wheelie bins for your business – you should make sure that the wheelie bin is the right size etc. What size is a wheelie bin?
The standard wheelie bin size Australia for commercial waste bin sizes and collections is 240 litres. A 240l wheelie bin is the larger wheelie bin that many councils are phasing out for their residential collections – and providing smaller 120l wheelie bin options instead for general waste. This is designed to promote recycling.
Commercial waste bin sizes such as wheelie bin sizes are basically 120 litres and 240 litres as below – any larger size would be on 4 wheels.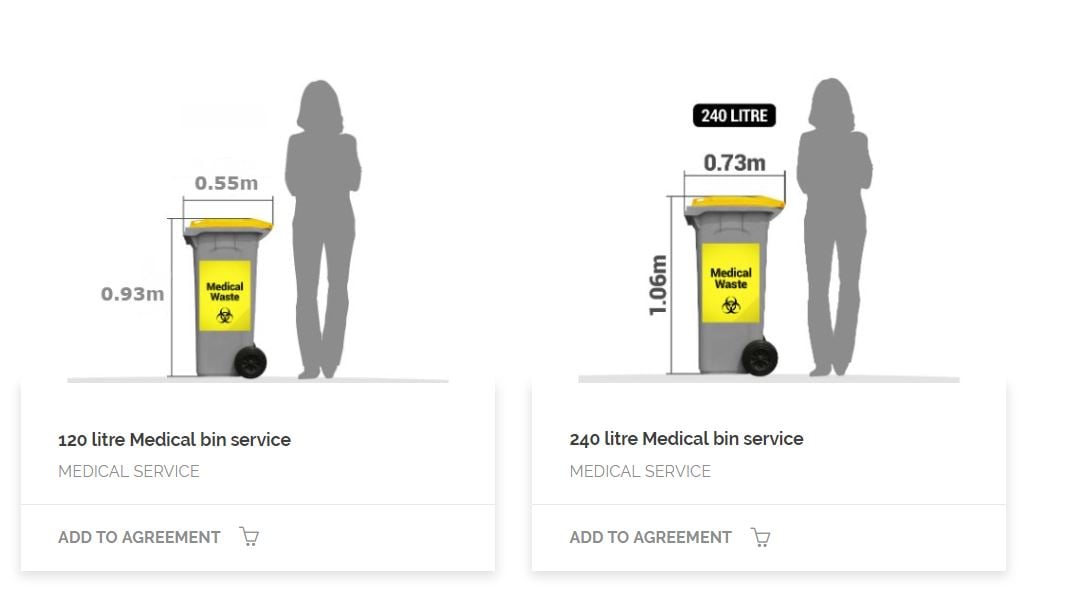 If you are asking as to  how many litres in a wheelie bin – the answer is 240 litres for a standard bin.
In one cubic metre – there are 1000 litres – i.e. so a 240 litre bin is 0.24m cubed.
If you have any other questions re industrial wheelie bins for your business – whether wheelie bins Sydney , Melbourne etc – like what is a 240 litre wheelie bin price – simply call our friendly team on 1300 927 837.
This is a guest post by Daniel Mittz on industrial waste removal in the brewing and beer industries.
Daniel is a hard working waste engineer who is dedicated to finding the problems in your waste management process.  Companies trust him to find ways to increase their bottom line through optimizing their production and waste processes. He has worked at various waste companies.
For details and pricing regarding Waster's industrial waste management services – check out the link below:
Industrial waste removal and optimisation in the brewing industry
If you want to increase your bottom line and have expenses disappear.
Look towards waste management… Especially if you are in the brewing industry.
The Waste Management Process
Waste management is simple.
We are trying to minimize the waste generated, and manage the remaining waste.  With this remaining waste, we can find ways to recycle or convert it to energy or other products.
Crazy huh?  As I have worked and learned from leading waste companies like Alternative Waste Solutions, I have learned a couple secrets but before I can tell you…
You need to understand the waste management process in your industry.
Here is an image of what waste management generally consists of in the brewing industry.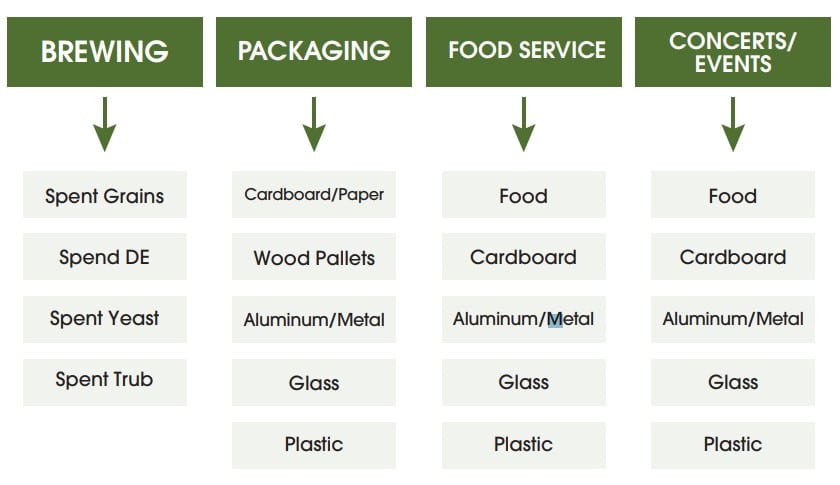 (Image Credits: https://www.brewersassociation.org)
Best Practices or the "Secrets" In This Industry
 – Destroy your brewing physical and chemical deposits
These are the industries primarily processes when it comes to the brewing to make actual beer: mashing, lautering, boiling, fermenting, conditioning, and filtering.
Now the brewing part can be improved in a lot of ways, but the one I will discuss is how to deal with your "spent grains" which are produced by the malting and lautering processes.
The "waste" here can actually be valuable, but spent grain suppliers are everywhere.  I don't suggest trying to be a sales guy here, but that is an option.  Even better, give it away.  You can build a community of local farmers you give to.
 – Optimize the use of Diatomaceous Earth
Most people call it DE, a little less of a mouthful.  Diatomaceous earth is a sedimentary rock that is essential to the filtration process of making beer, and it can be highly optimized.
You need to optimize DE when preparing a filter to mitigate waste.  If done wrong, it can affect the beverage's quality, so I suggest reading up or getting an expert on industrial waste management and removal.
 – Get your glass bottles from the locals.
You usually need to get your glass bottles from some producer.  My suggestion, source locally.  This will drastically reduce the amount of energy needed to transport glass to and from the brewery, and you can often grab a nice deal.
Next, try to get a glass supplier that supports recycling glass if you are interested in supporting the many environmental causes.
Are you environmentally cautious?  Do you not have time to study and implements these tips?
It can be hard to write these types of posts about industrial waste removal because it often just depends on the situation, and after you have dealt with a lot of cases, you get this knack for analyzing what the best path is for how Company XYZ is handling their waste.
I would suggest going out and hiring experts in this kind of thing.
You don't have time to be obsessing over every detail of the waste process,
But companies and innovative teams like Waster do.
Industrial rubbish bins: when your business reaches a certain size – utilising the local council waste or recycling service is not really an option anymore for you.
You will likely have larger volume requirements and potentially unusual waste streams to take care off. At Waster we have seen all types of waste from 10 feet long cardboard cores for floor retail outlets to every type of hazardous waste imaginable.
The point to note is that every industry is different – but the objectives should be reasonably similar; get rid of your waste as cost efficiently as possible whilst maximising recycling and ensuring everything is in line with environmental legislation.
Waster offers all waste and recycling services to commercial businesses and organisations through 30 day flexible agreements (no need to sign a long term contract). We offer all commercial waste bin sizes. You can check out our services and prices below:
Industrial rubbish bins – specific solutions for every industry
Every industry has its specific waste and recycling requirements with a focus on environmental waste disposal – and Waster can help you with that.
The New South Wales EPA produces useful fact sheets for various industries – you can see the example for the furniture and timber manufacturing industry here.
We quote below some of the key facts from the document:
"Wood fills just over half the typical waste bin in the furniture and timber manufacturing industry, with paper, cardboard, textiles and plastic taking up the rest of the bin. . That means around 90 per cent of the contents of each bin could be recycled rather than being removed with rubbish to landfills."
"As a timber or furniture manufacturer, you can greatly reduce waste collection charges by putting this material in the right recycling bins instead of sending it off as general waste. Not only will you be cutting your costs, you will also be helping our environment and reducing greenhouse gas pollution."
Industrial rubbish bins tips for reducing waste in a timber business
The document also quotes some good tips for reducing timber waste:
"Painted, coated and preservative treated products may contain toxic components, so they are often sent to landfill. Follow government guidelines for disposal of timber waste treated with Copper Chrome Arsenate (CCA). Waste chipboard, laminated bench tops, treated timber and lacquered or painted timber can contain toxic chemicals.
Do not burn CCA treated timber waste and do not use this treated timber as mulch or soil additive. Non-chemically treated wood can generally be recycled. But there are materials that can be attached to otherwise useful timber which limits its reuse value.
These materials can include nails or metal connectors, plaster board, plastic wrapping, oils , dirt or sand, laminates (including some plywoods), edge bandings, glue and resins. Removing some of these contaminants will add value and provide an opportunity for the reuse of this wood."
"To prevent storm water pollution, sweep driveways and work areas. Get rid of litter and other contaminants. Put litter in bins and provide containers for cigarette butts.
Store waste bins, chemicals and dust bags away from storm water drains. Publicise your waste reduction goals and achievements. Your sustainable waste policies could help attract or retain customers as well as benefitting your budget and the environment."
Check out our recent blog on medical waste collection for doctors, vets and dentists.
Conclusion:
Waster can help you with your rubbish bin requirements – no matter what industry you operate in.
We have found innovative solutions for many businesses that help them boost recycling and cut costs.
We look forward to discussing your options and waste management solution with you today!
Check out the short video below for an insight into the size and benefits of industrial rubbish recycling (in USA for the video – but many similar outcomes in Australia):