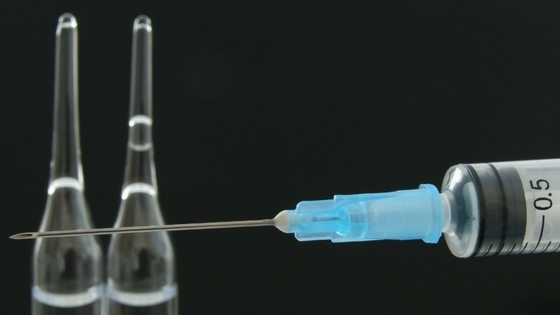 Medical Waste Management: Let's Talk About Sharps
When many businesses such as doctor or dentist surgeries are arranging their medical waste management services – they often forget about a sharps disposal service.
Sharps disposal can refer to "any device or object used to puncture or lacerate the skin" – and most commonly refers to needles, syringes and items used by tattoo parlours, acupuncturists etc.
How can Waster Help?
Waster provides all bin services, recycling services and medical waste management solutions such as clinical waste, medical waste bins and sharps disposal services.
We operate on 30 day agreements and so you never need to sign a long term contract. You can book your services online by pressing the blue button as below:
Medical waste management – what is a sharps disposal service?
According to Wikipedia:  "Common medical materials treated as sharps waste are:
Hypodermic needles
Disposable scalpels and blades
Contaminated glass and some plastics"
Or any other medical items used for cutting in the medical setting, regardless of if they have been contaminated with biohazardous material.
Why sharps must not be put in general waste or loose in a medical waste bin
Sharps can provide significant danger and health hazard to waste collection professionals – and can lead to the transmission of blood-borne diseases, such as hepatitis B (HBV), hepatitis C (HCV), and HIV.
This can be of particular danger if sharps are placed in plastic bags or general waste bins.
If medical waste is illegally disposed of in a general waste truck – it can lead to significant costs and the potential for the entire truck to be classified as clinical waste.
See our infographic on how health and beauty organisations can recycle all their waste.
For private individuals – you can see the Government backed Safe Sharps program here.
Sharps containers – the best way to dispose of sharps
Medical waste management practice in Australia is to dispose off and collect used sharps in sharps containers.
"A sharps container is a hard plastic container that is used to safely dispose of hypodermic needles and other sharp medical instruments, such as an IV catheters and disposable scalpels. Sharps containers may be single use which are disposed of with the waste inside, or reusable which are robotically emptied and sterilized before being returned for re-use."
Sharps containers can be purchased in various sizes ranging from 1.4 litres upwards.
No extra charge for sealed containers
If you have a medical waste management bin collection through Waster – you can place a sealed sharps container in the bin for collection at no extra charge.
Conclusion:
Medical waste management is simple to arrange. Sharps can be securely disposed of using a sharps container.
See our blog on all medical waste and the options available.
Please see a Ted talk as below regarding the importance of correct disposal of used medication: