Office Bins Australia: Arrange Reliable, Low Cost Services Online
Office Bins Australia: as a waste management business focused on small and medium customers throughout Australia, naturally many of our clients operate office based businesses. Despite what you may have read about the death of the traditional office and a relentless move to remote working – the old fashioned office seems to be as much as part of our cities as ever.
In mid 2019 of course – offices may look and sound a bit different than in previous years – such as wework etc – but much of the waste produced remains the same.
In this article we will cover some of the most common waste streams and cost effective solutions that office based businesses can easily implement so as to minimise their costs, boost recycling and ensure no interruption of their day today business.
It is good to know that in an office business – you have a number of positives. Firstly, you can recycle almost everything in your office with a bit of effort.  Secondly – as your bins are quite light, you will pay low rates for general waste bins. Office bins Australia services cover pretty much all the waste and recycling requirements you may have.
Office bins Australia – let's cover the basics
Offices tend to produce reasonably light and clean waste streams i.e. in comparison to say a cafe or a factory producing food. For this reason their bins tend to be quite light and contain significant amounts of recyclable materials.
In waste and recycling industry language – they produce dry general waste – i.e. meaning that it does not rot or smell bad generally.
The bin sizes required by offices also tend to be quite small – i.e. sizes such as 240 litre wheelie bins or 660 litres tend to be sufficient to meet your recycling needs. Waster focuses on providing competitive pricing for these waste streams – you can see images and descriptions of these bins on our waste shop pages here.
Generally – an office business will have small internal bins – and can separate waste internally – before having your cleaners bring the waste downstairs – where it is deposited into larger waste bins for truck collection.
We provide wheelie bins for offices services on schedules to suit your needs such as monthly, fortnightly and weekly etc. We understand that offices often do not need their bins collected as frequently as other businesses. We also provide pricing reflecting the light weights of your bins. When booking a general waste bin service for your office – you should select the cheapest category i.e. "Transport, warehousing, retail (non food), offices, professional services". We thus provide pricing that reflects your waste contents and helps you keep prices low.
Ancillary services such as commingled and sanitary
To help boost your office recycling and keep costs low we suggest you read some of our articles on recycling waste and also on developing a waste management plan for your office.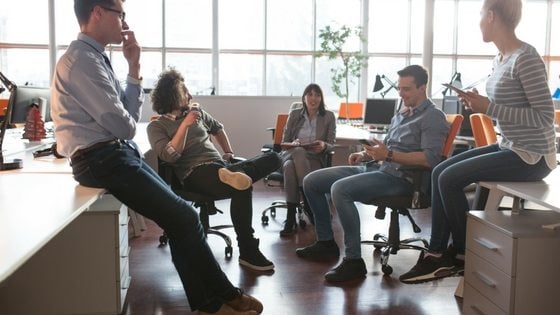 Once you have acquainted yourself with some of these concepts you can implement recycling services such as commingled recycling or cardboard collections.
You can also see our helpful infographic that shows exactly what can and what can not be recycled in an office environment. With a bit of effort – you can recycle nearly all your waste with office bins Australia collections.
This will serve to reduce your costs and also reduce requirements for general waste bin hire. To help boost your recycling we can provide under-desk cardboard recycling boxes for paper and cardboard.
Some offices – can invest in very visually appealing bins for internal areas of the office. You can see some really nice designs from companies like this one.
Who is Waster – and how can we help with office bins Australia?
Waster provides comprehensive office waste and recycling services to ensure you can organise all your services through one provider. This means you can benefit from flexible 30 day agreements and no lock in contracts for all your services as well as low prices and excellent customer services.
Check out a comprehensive listing of our pricing inclusions here and our terms and conditions here.  We keep everything nice and simple so you only pay for what you signed up to with no hidden costs.
We provide office services such as feminine hygiene bins and confidential paper disposal.
How to book your office bins Australia online today!
Booking your office bins Australia service online with Waster is really easy. Check out our online cartoon here and then simply select your services in our online shop by pressing the big blue button below.
If you have any queries you can call our helpful customer service team on 1300 WASTER – that is 1300 927 837 – and they will be pleased to answer any queries you may have.
Also check out our blog on sanitary bins Melbourne which discusses why a clean bathroom can boost your business profits.
We have published other blogs explaining how recycling in an office can help you build staff morale and a positive atmosphere.
Lots of evidence shows that a business that focuses on recycling will also have engaged staff. This also applies to building rapport with customers.