Recycling Adelaide: How To Really Encourage People To Recycle
Recycling Adelaide: as business owners we often really understand the benefits of recycling for the environment, our business reputation and of course because recycling can usually be cheaper than dumping in general waste bin hire – especially for simple and common services such as cardboard and paper recycling or yellow bin commingled recycling.
In this blog we cover some simple techniques to help you get the point across to your staff who need to separate the general waste from recyclables – i.e. if you are looking to boost cardboard recycling Adelaide or bottle recycling Adelaide etc.
---
>Download Now: Free PDF Business Owners Guide To Commingled Recycling Bin Services
---
How can Waster help you with boosting recycling Adelaide!
Waster offers online waste management and recyclingAdelaide services (such as recycle plastic) to small and medium Australian businesses on flexible 30 day agreements. Check out our prices and options by pressing the blue button below:
Recycling Adelaide – tips to help drive your business recycling programme
Many of our Adelaide customers have said they would love to recycle more but have shied away from more ambitious waste management plans due to fears staff will not separate waste.
This is a bit like in hotels, where there is a sign asking do you want to use the towel again. US researches have found how best to influence people to make the right environmental decision and it may not be what you expect.
An article at Fastcodesign.com explains the evidence – which we quote here for recycling Adelaide benefits.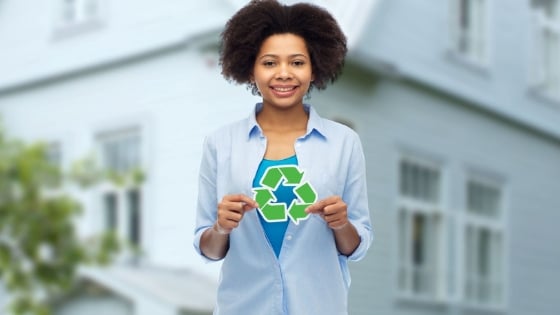 "The U.S. Environmental Protection Agency started a program to reduce hotel water consumption called the H2Otel Challenge. In addition to installing new equipment, such as water-efficient toilets, faucets, and shower heads, hotels are encouraged to give guests the option of reusing their towels and sheets with those little signs that have become ubiquitous across the United States."
"What the EPA doesn't mention is that the wording used in designing these signs matters—a lot. Signs that draw on our concern for the environment, are good motivators. But new and old evidence alike suggests that signs drawing on our sense of social norms, telling us just how many other people in our same position reused a towel or a linen, are better ones."
"Knowing the basic power of social norms, behavioral scientists Noah Goldstein, Robert Cialdini, and Vladas Griskevicius created two versions of the towel re-use signs for guests. One gave the standard industry message playing on environmental concerns. It said this":
"HELP SAVE THE ENVIRONMENT. You can show your respect for nature and help save the environment by reusing your towels during your stay."
The other focused on social norms:
"JOIN YOUR FELLOW GUESTS IN HELPING TO SAVE THE ENVIRONMENT. Almost 75% of guests who are asked to participate in our new resource savings program do help by using their towels more than once. You can join your fellow guests in this program to help save the environment by reusing your towels during your stay."
"They found that guests with the social norm sign reused their towels at a significantly higher rate than those with the standard sign. In a second experiment over 53 days, the researchers found that signs referring to guests in that specific room number—as opposed to just other hotel guests in general—served as even stronger motivators for towel reuse."
"So reminding people to save the environment by reusing their towels was effective, but it wasn't as effective as telling them that other guests in the hotel reused their towels, and neither approach was as effective as telling them that other guests in that exact room reused their towels. The point is that not all forms of persuasion are created equal. For a number of possible reasons—peer pressure, perhaps, or even the minor kinship that forms among hotel patrons—guests reused towels when they knew that other guests in their position did the same."
Conclusion –  implications for boosting your business performance
We would suggest using something like this to help incentivise your teams do the right thing – i.e. something like "85% of people in this role separate waste and recycling correctly" or whatever is most suitable. See our blog on environmental services.
It sounds weird – but guilt and comparing yourself to others are hugely effective motivators! You might as well use this info for something good – like boosting our recycling and decreasing your business costs. Create a virtuous circle of recycling performance!
See our blog on whether lotteries could be used to help boost environmental performance in recycle bin.
See our infographic about recycling facts Australian needs to know.