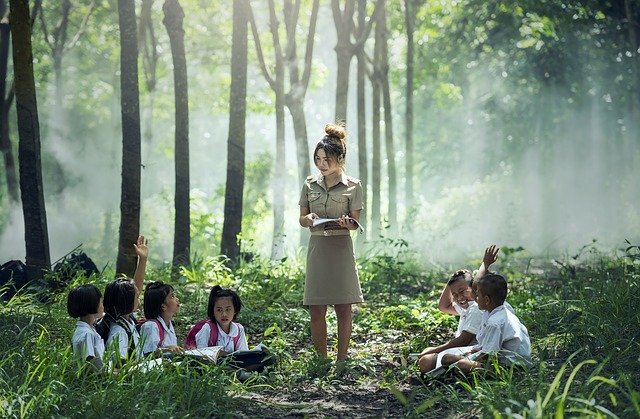 Recycling in Schools Quiz 🏫 – Guide To Successful Recycling Program
Recycling In Schools: Here at Waster, we like to educate both teachers and students on the importance of recycling.
Check out our quiz for primary school children in Australia as below. This quiz will help students (and maybe teachers) improve recycling for common items in the school environment.
There is no sign in required or need for identification etc – so suitable for school kids and the classroom.
"Start them young", as they say. And by saying this, a good way to start learning would be to do it at school! Of course, we definitely want our children to grow up as environmentally friendly individuals, so we should definitely start focusing on them. As a result, instilling good sustainable routines for children will help the Earth in the years ahead.
Therefore, recycling in schools is one way to go! Let Mr Waster share with you some information in achieving a successful school recycling program.
A bit about Waster
Before we get further into the topic about recycling in schools, let me first share with you what Waster does.
Waster is an innovative solution for your waste management and recycling needs. We offer 30-day, flexible contracts to small and medium businesses all throughout Australia. Additionally, Waster is proven to be a high-quality bin service provider.
---
>Download Now: Free PDF Business Owners Guide To Commingled Recycling Bin Services
---
See the online quiz here.
Click on the blue button to learn more.
Read more: See blog on environmental services.
Recycling in schools: the importance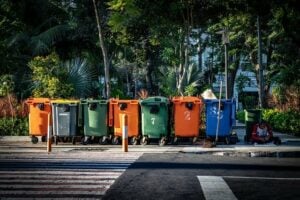 It wouldn't be that much of a hassle to implement recycling schemes at school, right?
In various subjects like Science and Civics, they teach us the importance of recycling. So it is only right that schools implement hands-on activities regarding recycling.
According to a Nerc blog, "Schools need to do the right thing. Some state and local governments require schools to recycle. When schools recycle they help to reduce fossil fuel usage, conserve resources, and help to create local jobs. Schools help to set an example, a legacy, which children learn to admire, and to emulate".
In summary, recycling in school does more good for the environment. Students who are taught recycling at a young age will have a tendency to carry on this behaviour as an adult.
How To increase recycling in schools
According to CleanRiver, there are 3 ways on how to increase school recycling:
Educate teachers, staff, and students about the recycling programme – in order to achieve a successful school recycling programme, it should start with the people around it, of course. Effective communication is a must! Regularly update everyone at school about the location of recycling bins and remind them to utilise it properly. Additionally, it is very important that frequent updates are provided. Ask everyone at school for their opinions that can improve your school's recycling programme.
Put together a team of recycling advocates – put together a team of capable personnel in order to bolster the success of the recycling programme. Personnel should include not only students but also the teachers, staff, and administrators. An example would be to run a plastic bottle recycling programme that aims to collect plastic bottles that can be properly disposed of.
Label recycling bins carefully – did you know that according to RAA, standardised recycling labels help increase recycling by more than 50 per cent? Additionally, a study conducted at the University of Toronto states that effective bin labels increase waste diversion rates by up to 163 per cent! You read that right, 163 per cent! Try to put pictures along with text to make it eye-catching.
Different recycling schemes
As of 2019, there are 10,584 registered schools in Australia. Teach all of those schools an effective recycling programme and I guarantee you an immediate positive impact. After all, we need all the help we can get.
The following schemes, inspired by Recycling Guide UK, gives us a guide on how to properly recycle different types of materials usually found in educational facilities.
Paper recycling
Contact your local council or a waste management service provider, like Waster, to set your school up with paper recycling bins.
Set up a paper-only box for each classroom for students to throw their paper waste into.
Make recycling fun by involving students, i.e., create labels in a fun way for the recycling bins.
Instruct the teachers about the recycling scheme, and let them instruct their respective students, in turn.
Educate teachers, staff, and students alike the importance of recycling.
Metal recycling
Metal recycling schemes prove to be good for schools with vending machines that contain canned drinks – as well as plastic ones, for your guidance.
Contact your local council to provide your school recycling bins for metal cans.
Place the bins next to the vending machines and clearly label them.
Make sure that the teachers and students understand the importance of recycling.
Buy recycled print cartridges whenever possible.
Composting
Contact your local council and ask them if they may be able to provide your school with compost bins.
Involve teachers and students in composting items such as tea bags, coffee granules, and fruit and vegetable cuttings from the cafeteria.
Put leaves, plant cuttings and grass trimmings in the compost heap. Check our blog on green waste collection to learn more.
Educational activities that can be done to  boost recycling in schools
Role plays portraying recycling.
Debates about recycling in schools.
Word puzzles that feature recycling terms.
Questionnaires, surveys, etc.
Read more: See blog on clothes recycling.
Conclusion
Just as recycling is important in other facilities, it is also important in schools. Involving everyone in recycling looks to be fun, as well as helpful in achieving a sustainable environment.
Furthermore, it teaches both students and teachers to become responsible. Take note that many schools would like to achieve successful recycling programs; however, certain circumstances prevent them from doing so, i.e., the willingness of people at school to participate, etc. So the rightful heads of the school should carefully educate everyone on the importance of recycling.
Waster: here to educate everyone on the importance of recycling in schools
As you have just read, it is very important that schools establish an effective recycling program.
In our own little way, we want to help you achieve that! As a result, we offer our services to you.
Check out our waste recycling shop to learn more.
Furthermore, call 1300 WASTER (1300 927 837) or enquire at enquiries@waster.com.au to learn more!
Read more: See blog on old Christmas tree recycling.