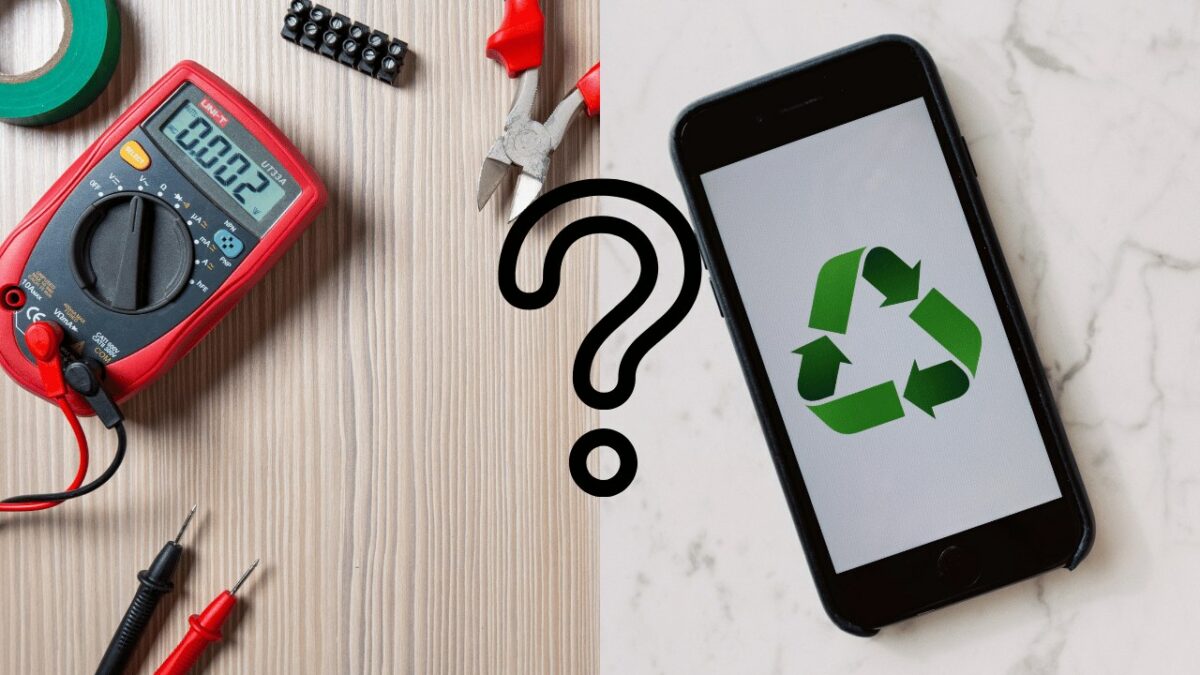 Repair Or Recycle? ⚙️♻️ Which Should You Choose?
Repair Or Recycle? ⚙️♻️: Would you choose to repair or recycle a particularly old or broken item you currently possess? Which do you think is the better option? We will give you a few tips and vital info to help you decide should you wind up in a situation like this. Read this blog to learn more. 
Now before anything else, we strongly advise against you throwing your items in the rubbish bin, hence opening this debate. On the contrary, we would want you to 'exhaust' your item and let it reach the end of its useful life. But with other available options present, the average consumer might not know what to do next. Would it be better to repair or recycle that said item?
There are various factors an individual thinks about before considering what to do with his/her items such as love for his/her item, the state of the item and more.
In this blog, we will help you consider your options carefully and choose the best actions to take moving forward – with or without your item by the end.
---
>Download Now: Free PDF Business Owners Guide To Commingled Recycling Bin Services
---
A bit about Waster
Before we go further debating whether you should repair or recycle your item/s, let me share with you more information about Waster.
We here at Waster provide you with innovative solutions for you and your business's waste management and recycling needs. Furthermore, we provide flexible, 30-day contracts instead of the typical lock-in contracts, which proves to be better.
Click on the blue button to learn more.
---
READ: Keep Australia Beautiful 🇦🇺 
---
Repair or recycle: more on e-waste
This particular topic is perfect for dealing with your electronics – or what we usually refer to as e-waste.
I know I am not speaking only for myself when I say that we have all had to deal with our malfunctioning gadgets or devices. I can't even remember how many times I have dropped my mobile smartphone and submerged it in the water! Plenty of people have done so, too – and some of them have had their phones stop working, as a result.
Naturally, persons who had their devices stop working go the usual route and try to repair it first. Their device would have a warranty and they would send it back to the manufacturer for repair. If the warranty is already expired or exhausted, it can still be sent back, but this time around, with a price for repairs.
In addition, they can also opt to take it to a local repair shop to have it fixed or even fix it themselves if they can. Some don't do any of these and just buy a new device right away, thinking of the hassles and expenses it takes to repair the device.
But trust me when I say that repairing (or having it repaired) is a good option.
The reasons for repairing and its benefits
You need to consider repairing before even thinking about anything else when dealing with a fairly recent or long-before broken device. Is there any reason why you should even repair them instead of trying to recycle and buy a new one, instead?
Of course, there is!
Getting your data – This is applicable for devices like phones, computers and laptops. Some would even consider the data stored as more important compared to the device itself, hence needing to repair it. There are still a lot of people that do not back up their files, putting their files at great risk. Fortunately, they can usually access the files, provided that the memory of the device was not the one broken. Additionally, if you just want to get your data and nothing else, plenty of repair shops offer just that.
Fondness – Chances are that you were already using the device long before it got broken. Through its wear and tear, it was there whenever you need it and you just simply 'fell in love' with it (i.e., loved using it for various reasons), as a result. You would not want to get rid of an item that you grew fond of, right? So if it gets broken, you simply repair it so that you can use it again.
This also includes…
Being environmentally aware – A vast majority of our readers here love the environment. They would want to do anything they can to prevent it from harming the environment. Be aware that you can reduce your environmental impact by having your items (in this case, your electronic devices) repaired. Doing so would mean you keep the energy and materials it took to create this from happening and preventing them from ending up in landfills.
Saving more money – As I have mentioned earlier, the notion that repairing something is costly is simply wrong. You can easily have the broken part of a device repaired instead of buying a new one, which will cost significantly less.
When to recycle instead of repair
You might have done everything in your power to get your mobile phones or computers up and running again but to no avail. You scratch your head and think over and over again what solution could work to restore your device but nothing simply works anymore.
That is when you know that you should probably (and responsibly) recycle it. Find your local recycling facility or any other facilities that can take in your devices. Have them recycle it. You should feel fulfilled that you tried anything you can think of to save them before recycling, too! And, know that recycling is still a good option – a much, much better option than it ending up in landfills.
Final tips on repair vs recycle
Note that you can also apply these to other items such as clothing and textile. Recyclenow shared some tips you can do to repair them before trying to recycle them:
A simple repair could give an item of furniture a new lease of life
A quick stitch here and there could give an item of clothing a new look
Ask family friends to help – someone is certain to be nifty with a needle and thread or handy with a hammer or screwdriver
Lots of shops offer repair services – look on your high street or search online or in local directories
Remember: Recycling is a good option. But it is better, of course, to repair your items first and enjoy their whole useful life before finally recycling them.
Contact Waster today for your waste and recycling needs!
Are you a business in need of waste and recycling bin services?
If so, please call 1300 WASTER (1300 927 837).  You can also email us at enquiries@waster.com.au if you have any further questions. Find the best deals in terms of waste and recycling pricing and services!