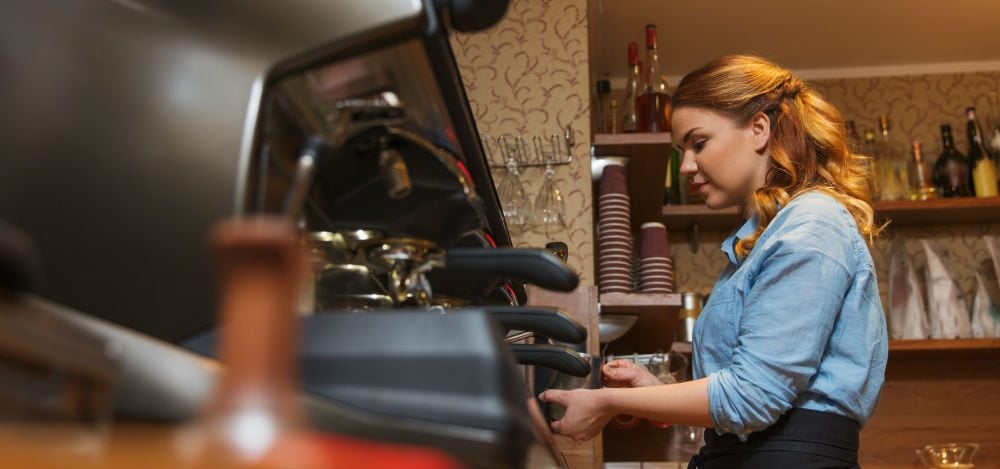 Rubbish Collection Perth 😀: How Is Our Service Different To Competitors?
Rubbish Collection Perth: As you will know if you regularly read our blogs – Waster is a reasonably new entrant to the $10bn per annum Australian waste and recycling sector – launching in 2016 and growing rapidly throughout Perth and nationwide – with our aim of focusing on the previously ignored small and medium businesses.
---
>>Download Now: Free PDF Business Owners Guide To General Waste Bin Services
---
---
Table of contents for this article include: 
I. Rubbish collection Perth
II. Waste disposal bins Perth WA
III. Waste Disposal Perth
IV. Waste removal Perth
---
Rubbish collection Perth
---
We really focus on how can we bring better services, bin hire prices and quality to small and medium businesses throughout Perth – and what differentiates our business from all the rest.
So what is really different about Waster?
The last thing any Perth business owner wants to do is engage commercial rubbish removal Perth services – and then find out that the company leaves a lot to be desired.
The big difference with Waster – and our rubbish bin collection Perth services – is that we do not operate our own trucks or facilities.
That is correct – we use the best provider for each aspect in each location. Some waste haulage firms are better at recycling, and some are better at general waste bin services. Of course – some are better in certain parts of town – and others can only service at certain times of day.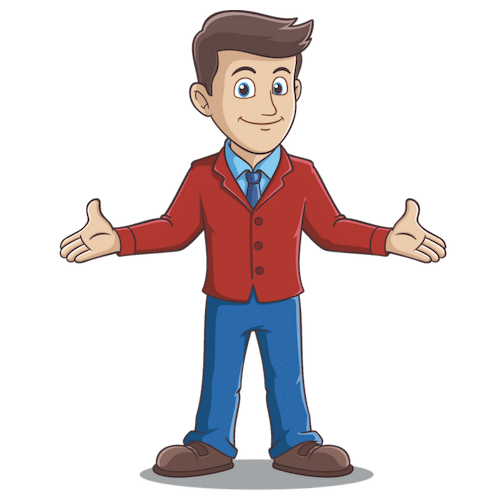 Waster chooses the best rubbish removal Perth option for each bin service to best match your business.
The other difference is that if for some reason – it does not work well – we can easily and painlessly swap services to another garbage collection or recycling haulage business.
As we do not own or operate landfills – we also have no financial incentive to keep you dumping in general waste. Our aim is to boost your recycling and keep your costs for rubbish collection Perth as low as possible!
Check out our prices and services online today – to see if you can save money on your rubbish collection Perth bills:
Rubbish collection Perth – the Waster difference
Waster is not a waste company!: The first thing to remember is that Waster does not define itself as a waste company – we are a customer service company first and foremost. We always try to put ourselves in the customers's shoes and remember that what is most important is high service quality for rubbish collection Perth, reliability, trustworthiness and ease of service.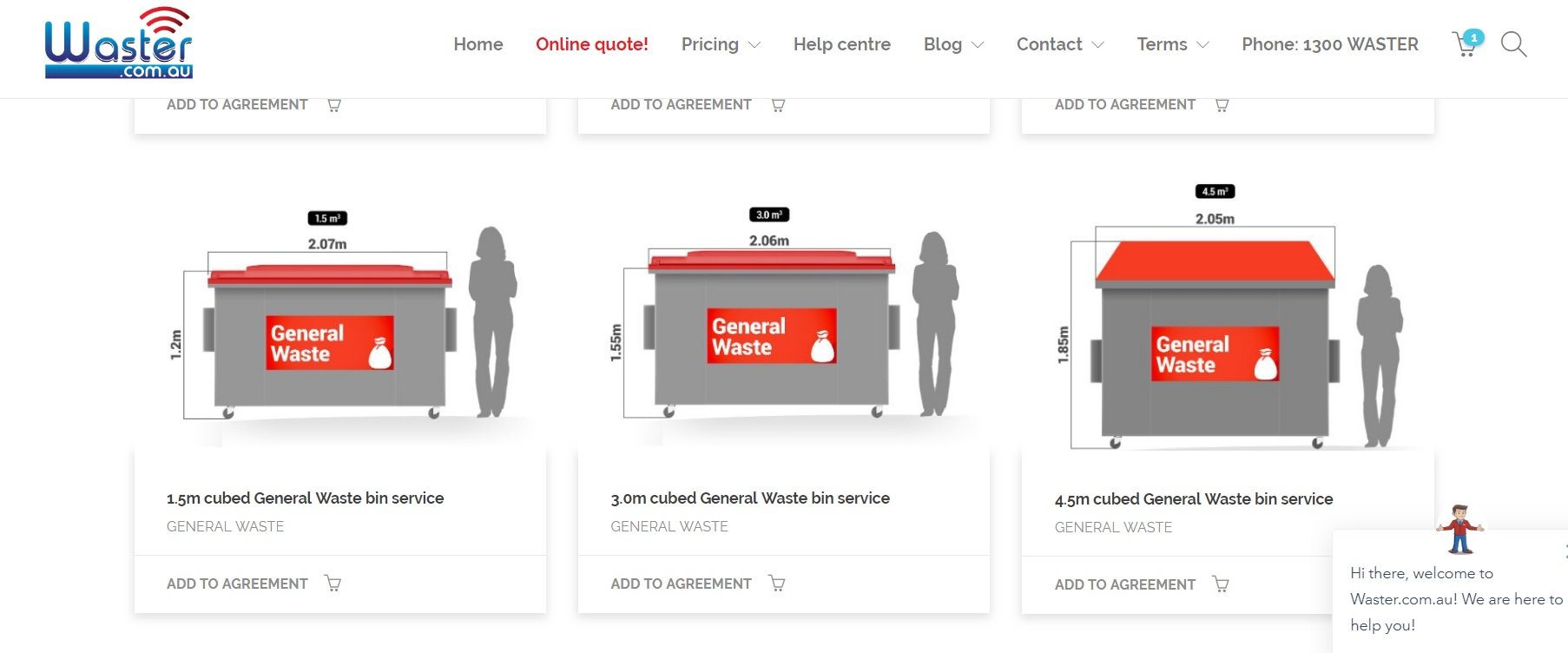 It is for this reason that we use customer pictures in lots of our marketing and branding – it tells customers that we are thinking of them, but also helps our staff remember who our customers are! This is very important, as if customers did not want to buy from us, our business would not exist.
Waster focuses on small and medium customers: nearly all waste and recycling customers in Australia provide services across the whole range of customers from the smallest business to the largest multi-national. The Waster model for rubbish collection Perth aims to give small businesses the service quality and reliability that they have not previously received.
In many ways, our model is like conglomerating many smaller businesses into one very large national customer, that receives the pricing and service quality equivalent to that obtained by a major corporation with a specialist procurement team.
How about waste levys in Perth in 2019?
Currently the waste levy on dumping general waste at landfill is:
"A waste levy of $65 per tonne for putrescible waste and $90 per cubic metre for inert waste applies to waste generated in the Perth metropolitan region which is disposed in either landfill in Perth or elsewhere in the state."
This will of course increase in future years – and so sustainable recycling is the best way to reduce costs – for cheap rubbish removal Perth bin services.
You can see other articles on rubbish collection Perth issues such as waste bins Perth and Perth waste management.
See our latest blog on recycling bottles and cans for new crushing devices.
---
Waste disposal bins Perth WA
---
Waste disposal bins Perth WA: if you follow the local press in Western Australia or read the national business news, you may be aware of the recent acquisition whereby global waste management group SUEZ paid $87m for Perth Waste business. The acquisition is covered here in the online magazine Business News.
Whether this acquisition increases or decreases competition for waste disposal bins Perth WA services and prices is not clear at this point. In today's blog – we will cover some information on how to arrange waste disposal bins Perth WA for your Perth based business – and some of the things you should look out for.
Will this acquisition lead to better prices or more competition in the waste removal Perth sector for business?
As with all mergers and acquisitions – it is not immediately apparent if the acquisition of Perth Waste will increase or decrease competition and pricing for Perth waste services – i.e. such as south Perth waste collections or general waste collection Perth pricing.
Key quotes from the article include:
"Perth waste was jointly owned by its three directors, led by managing director Kim Gorey."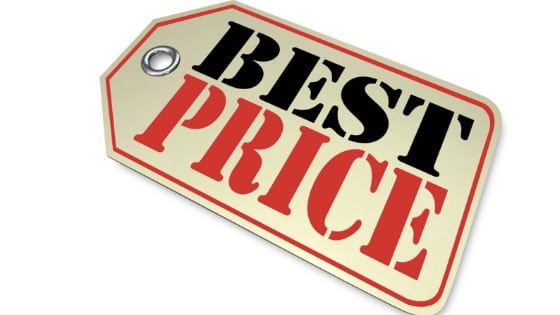 "The business was established in 2001 but was expanding rapidly over the past few years, with staff numbers hitting 185 and revenue expected to reach $50m in 2016."
Waste Management Review commented:
"Founded in 2001, Perthwaste provides waste management services across Western Australia's state capital and its south west region. The company has a large and well-established customer base across local government and commercial markets, serving a population of 760,000 people across numerous contracts."
"Perthwaste's waste infrastructure assets include two waste transfer stations, two materials recycling facilities, three depots, a landfill and a composting facility. With around 185 employees and a fleet of 68 trucks, the business is forecast to generate revenues above $50 million in 2016."
Waster – a low cost alternative for small and medium waste disposal bins Perth WA customers
Waster is a flexible alternative for waste and recycling services to Perth based small and medium business customers who seek low costs, flexible agreements and great customer service.
As a business that is focused on helping the environment and keeping client costs down – we are always looking for new ways to boost recycling. We recently launched a partnership with innovative company Terracycle to distribute their recycling boxes for all sorts of hard to recycle products like coffee pods.
Check out our services and prices in our online waste shop by pressing the button below or request a free 24 hour cost comparison to see how much you can save by moving to Waster.
Check out the quick news video below on some proposed changes that will impact how waste disposal bin Perth WA look in the future:
Conclusion on waste disposal bins Perth WA:
Waster can offer a real alternative to Perth WA based businesses who are seeking an alternative to long term lock in prices for their waste and recycling services.
For waste bins Perth WA – you can save money and boost your recycling by selecting Waster as your Perth waste management partner.
We offer our customers our double guarantees of quality – so you can be confident that you will not be locked into a long term contract that does not suit you or your business.
Our waste disposal bins Perth WA service guarantee– if you are unhappy with our service for any reason – you can cancel at any time on 30 days notice. You will never be locked into a service that does not work for you. 
Our price match guarantee for waste bins disposal Perth WA– we will match any written or emailed "like for like" quote for the services as described above. You can be confident that you are receiving excellent pricing from Waster as well as excellent service.
We look forward to helping you with all your waste and recycling questions whether you require south Perth waste collections or North Perth waste services. Our friendly customer service will be happy to help you and enable you to boost your business recycling.
See more details on topics such as document destruction Perth and Perth recycling.
---
Waste disposal Perth
---
Waste Disposal Perth: in most of our blogs we cover informative subjects on topics related to how businesses can save money and boost recycling when organising their waste disposal Perth services.
When the issue of waste services come up in any metro region – we often read news stories querying where new landfills will be located – and of course NIMBYs or Not In My Back Yards residents do not want them near their house (and completely understandably).
Numerous councils in Perth are moving towards an incineration model – and away from landfill – see article here. However, in this article we ask – can we just blast the waste into space.
Waster offers low cost and reliable waste services on flexible 30 day agreements – check prices and book your services here:
Waste disposal Perth – can we forget about new landfills and just blast our rubbish into space?
As we have limited space on earth – and infinite space in deep space (and also a huge incinerator in the form of the sun) – can we blast our garbage on rockets into space for disposal. This article on the BBC answers that question. We quote from the article below:
The primary problem is weight. The average person in the UK produces 1.85kg (4lb) of waste per day; in the US, it's 2.3kg (5lb).
As Andrew Pontzen of University College London points out, it costs $200m (£143m) to get the Ariane V rocket into an orbit ready to travel further into space.
With a payload of approximately 7,000kg, that works out at around $41,000 (£29,000) per kilogram. A hefty price to pay for a few plastic wrappers and a bottle or two.
Pontzen reckons that, unless you plan the mission very carefully, you'd need about 10 times more energy for the trip between Earth and the Sun's surface than you'd already spent getting into orbit.
In conclusion, even though blasting our rubbish into space is scientifically feasible – it most certainly does not meet our objectives of reducing costs and helping the environment. I am sure you are glad we have checked this for you! Do not mention it.
See our blogs on Perth waste management and dumpster rental.
See our blog on a caterpillar that can eat plastic bags in rubbish removal services.
Conclusion:
For the near future – waste disposal is much more likely to happen on earth. So we do not need to worry about waste depots or transfer centres outside our galaxy or worry about if they are open on public holidays.
In fact – if we pursue circular economy principles – it is likely that we will need to build more recycling centre facilities here in Australia than ship to China like in recent years.
We also published a blog recently explaining how smart landfill solutions could actually act as the power stations of the future. This would use the methane and other gases released during decomposition to generate electricity.
Check out a short video below explaining why we can't send our waste for disposal in the sun anytime soon:
---
Waste removal Perth
---
Waste removal Perth: Waster is the leading online provider of waste management and recycling services in Perth, Western Australia. We are totally focused on small and medium businesses – so we understand exactly what kind of motivations you have for your business – and what you hope to achieve.
We work with thousands of businesses throughout Australia – check out our reviews from customers here.
We explain in this short article, the benefits of booking you commercial garbage collection in Perth with us, and also a recent case study detailing how a new cafe organised their bins through Waster efficiently online.
Every day we receive phone calls from small businesses – and people opening their first business – asking what sort of bin services they require for their business – we are always happy to help.
Waster provides online booking for waste removal Perth services
Waster offers a new approach to commercial Perth waste management and recycling for small and medium Australian businesses. We provide online booking, low cost and a real customer focus. You can check prices and book online whilst being confident that you will not pay hidden fees or be locked into a long term multi year contract.
All our services are delivered on flexible 30 day agreements where the price stays static but you can cancel at 30 days notice for whatever reason.
We really work to keep your costs for Perth waste removal as static as possible – as in light of constantly increasing waste levies – i.e. for dumping at landfill – keeping your costs as low as possible is vital to your business success.
From July 2019 – the landfill levy in the Perth metro region is now $70+GST per tonne.
Whilst this levy is supposed to incentivise recycling as part of improved Australian waste management – through a cost differential and also to pay for construction of recycling facilities – not many recycling facilities have actually been constructed and opened.
Case study of cafe booking waste removal Perth services
We recently started working with a new cafe opening in Perth CBD. We have a real focus on working with food service businesses – such as cafes, restaurants etc – as we provide all the services you require from general waste, organic waste services, all recycling systems, grease trap pumping and even sanitary bins for your washrooms.
The new cafe owners (opened for first time) had forgotten about arranging waste services until pretty much the last minute – i.e. three days before opening. They had (like many new business owners) assumed that waste and recycling services would be provided by their local council like for residential services.
This is actually a very common issue.
They searched online and called us on 1300 WASTER. We were able to talk them through the services we would recommend – starting simple with a 240 litre General waste service once a week and a 240 litre commingled service once a week.
They had no real view on how much waste they would be producing (or waste removal Perth requirements), so we recommend starting with minimal services and then increasing as you find out volumes etc.
We always suggest starting with the minimum services to minimise costs and then go from there.
We were able to get the bins delivered the next day – admittedly this is not always possible (see our article on rubbish bins Melbourne which covers delivery time windows for new customers).
We always tell new customers – that the likely lead time on waste removal Perth bin delivery is 7 business days. This is because the site needs to be set up, routed to a truck, a safety inspected performed etc.
The cafe opened on the Saturday and at least waste removal Perth services was one less thing for the shop owners to consider.
We realise how stressful it can be to launch a new business venture and will seek to assist wherever we can. We always tailor our services to your business needs such as wheelie bins for offices or florists or whatever your business is.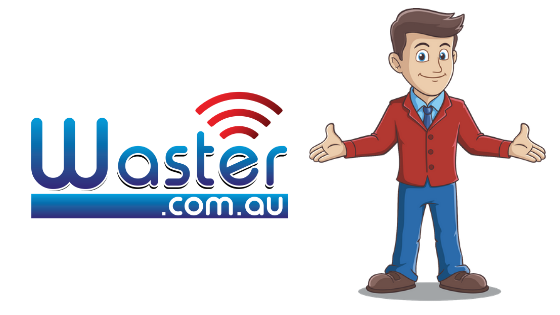 In this scenario – we really believe in doing the basics first and then seeking to help with driving recycling and reducing waste management costs later (see our recent article on "what is general waste?").
If you are in the same or similar situation – and require waste removal Perth services for your business – reach out to us – and we will be very excited to help you out!
Check out our services below and see if we can help your business also: