Skip bin hire Newcastle: how to book a cheap service for your business
Skip bin hire Newcastle: If you are a business or organisation based in Newcastle in New South Wales, Waster can help you organise waste and recycling bin services.
For more detail on bins and skip bins / dumpsters etc – please check out our blog on skip bins Perth. If you are interested in smaller bins – check out our overview of wheelie bin sizes. We also published a comprehensive overview of the waste management sector in Newcastle here.
What skip bin hire Newcastle services do we offer
Waster offers comprehensive scheduled Newcastle waste collection and recycling services (covering all streams) in the Newcastle region – you can book bin sizes ranging from 240 litre up to 4.5 cubic metre dumpsters in our online waste services shop by clicking on the link below: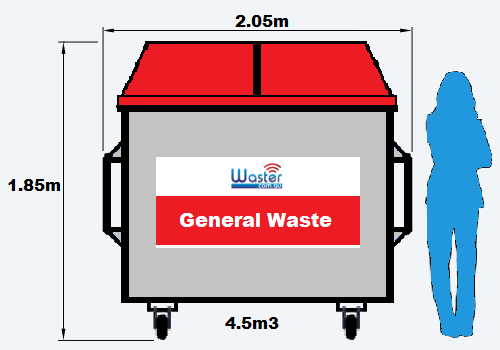 Through our online portal you can book collections of General Waste, Paper and Cardboard, commingled recycling, food waste as well as ancillary services such as confidential paper destruction, grease trap, medical and sanitary waste.
Where do we provide services in the Newcastle region
Waster provides services all across the Newcastle metro region as well as throughout the Central Coast and down into Sydney. For a full list of postcodes covered by our online pricing model, check out our map here.
All our scheduled services are delivered on flexible, 30 day agreements so you are never locked into a multi year contract for skip bin hire Newcastle that does not suit your changing business requirements. We pride ourselves on customer services and after all, if you are not happy with our service you can leave at 30 days notice! Check out our full details and frequently asked questions here.
How do I compare skip bin hire Newcastle services and book a collection?
Booking a service with Waster is extremely easy – simply compare prices in our online shop (as above) and book the service you require. A friendly customer service agent will be in touch to clarify your details and requirements and your bin will be delivered to your site after about a week or ten days. We will then start collecting your bin on the agreed frequency. Pretty straight forward, isn't it?
We also provide a clear video detailing how to book your services here. Check out our blog on Newcastle rubbish removal.
Check out our blog on rubbish removal Newcastle and why overfilled bins are subject to a surcharge.