Skip Bins Brisbane 2020 🚧: Why You Need A Skip For Construction Waste
Skip Bins Brisbane: if you read our blog on a regular basis – you will know that we provide low cost regular bin services for small and medium Aussie businesses covering general waste and all recycling streams.
---
>>Download Now: Free PDF Business Owners Guide To General Waste Bin Services
---
Recently we have had a couple of issues with customer disposing of construction waste such as concrete or bricks in General Waste bins.
In this blog we will run through why construction waste can not be collected in general waste bins an also talk about our services such as builders bins and skip bins Brisbane that can offer a good solution.
To check out our regular bin services – simply click on the blue button below:
Skip bins Brisbane – suitable for construction waste
When you are doing a construction project or have waste streams such as concrete or brick – you will need to get rid of that construction waste. We do not accept construction waste in our front lift and rear lift bins for a number of reasons:
– The potential damage to trucks and machinery is very likely – garbage trucks and bins are expensive pieces of equipment.
Flipping heavy objects such as bricks, concrete and similar into bins can severely damage them and the compression equipment inside the truck. The customer could be liable for incorrect usage of the bin.
– The weight of the construction objects will push the bin weight way above the contract weight- when we provide bins for general waste it is at an agreed density or weight per metre.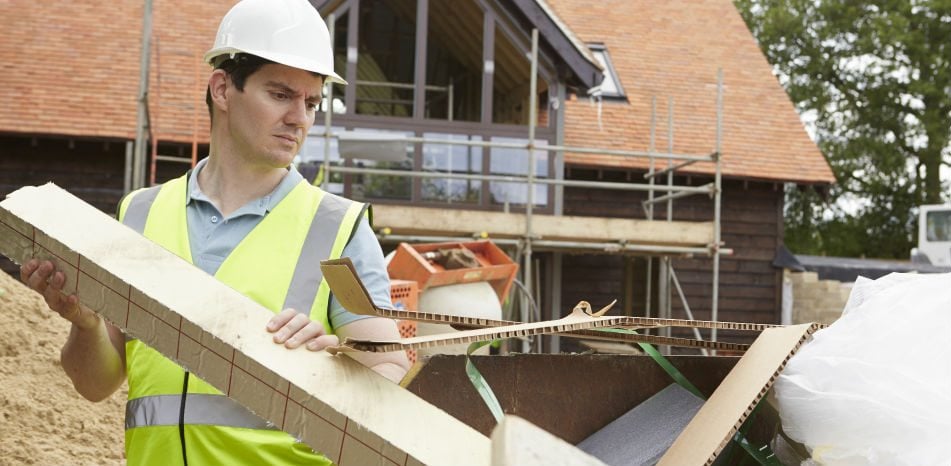 – Construction waste can often be recycled or used again – and general waste or landfill is not the best disposal facility for it.
If you have construction waste requirements – simply contact us and we will be able to arrange low cost and flexible construction or builders bins for your needs – i.e. in various sizes etc to suit your needs.
See our related blogs on bin sizes Australia and dumpster services for your business as well as recycling in Australia.
Skip bin hire services and rubbish skips are suitable for many waste streams including household waste, green waste as well as waste from building sites.
Our friendly services (hire throughout Brisbane) let you organise hire services from mini skips to larger 30m skip bins. You can easily arrange all your bin hire Brisbane services.
See more detail on asbestos disposal skips.
Conclusion:
Construction or demolition waste can not go in a normal bin for collection.
This is because of the heavy weight of those items – which can damage the garbage truck and also cost lots of money to dump at landfill.
Construction waste can often be recycled – whereby re-usable items will be separated out of the skip once it is collected.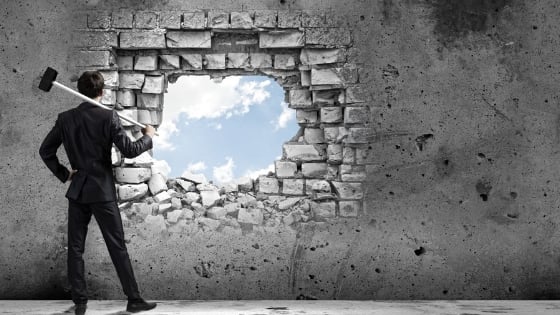 See the short video below on how more construction waste can be recycled.
Skip bin hire Brisbane: Waster specialises in regular waste and recycling services for small and medium businesses throughout Australia – for bin sizes ranging from a 240 litre wheelie bins services up to 4.5m front lift bins.
Of course, we can also help you out with skip bin hire Brisbane services or bulk bins as they are sometimes known. As you would expect we provide many regular customers with bulk bin services for  a disparate range of substances and quantities.
Check out our regular scheduled services options and pricing through our online waste portal by clicking on the blue button below:
Skip bin hire Brisbane – convenient services for all your waste needs
We can provide skips in all required sizes for the period of time you require – give us a call and discuss you requirements including waste stream i.e. whether concrete, renovation waste, general waste, electronic (ewaste) or recycling.
We will quickly provide you with a quote and arrange prompt bin delivery.
If your service request is for chemical disposal, product destruction etc – we can also provide you with certification if required, so you can rest assured that your waste is correctly treated and you are fully in line with legislation.
What is the difference in skip bin and a large dumpster / front lift bin
If you have a regular bin service, you should consider if this could be used for your required waste disposal. For example, a skip bin service requires a dedicated truck to deliver and collect the bin.
You will be charged a delivery and removal fee and then also a tonnage removal fee dependent on the waste collected.
We also often suggest that if customers have only small waste requirements or the waste is recyclable such as cardboard or paper, or e-waste such as Television sets or computer monitors – the best solution can often be to bring it to the local council or commercially run waste transfer centre.
See our blog on confidential document shredding and ill treatment of garbage staff in Brisbane rubbish removal.
Check out our blog on local Ipswich waste services.
Conclusion on skip bins Brisbane:
Organising a skip bin service for your Brisbane based business can be super easy and cost effective with Waster.
Whether you need to take care of household waste, green waste, or other waste material – Waster can provide competitively priced hire services for a wide range of skip bin sizes
Simply call or email our friendly team to check pricing.
Did you know that Brisbane metro was awarded the prize for most sustainable city in Australia in 2014 and 2016?
Check out the informative video from the local councils on the topic of keeping our State Capital green below: