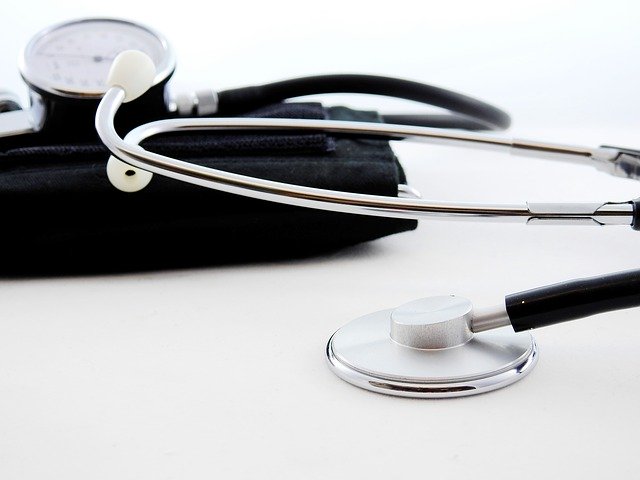 Solid Waste Management In Hospital 🏥
Solid Waste Management In Hospital 🏥: With different kinds of diseases looming around in all parts of the world, we should know that many hospitals are being occupied by countless amounts of people all day and all night without stopping. They are tirelessly doing their best to treat all of their patients.
But there is one problem that arises when you think about it. As a result of the hospitals treating their patients with different kinds of diseases, that also means many hospitals produce a significant amount of waste.
Improper waste management in hospitals will harm the environment. Additionally, it will also cause harm to human, animal, and plant health, as well.
So, it is a must for hospitals – or the healthcare sector, as a whole – to come up with a way to properly manage their waste – also think about how to reduce it, too.
In this blog, we will discuss different topics that will help in coming up with proper solid waste management practices in a hospital setup. Additionally, we will also discuss how to reduce waste in hospitals. Read this general blog to acquire more information on solid waste management in hospitals.
---
>Download Now: Free PDF Business Owners Guide To Medical Waste Bin Services
---
A bit about Waster
Before we continue with the discussion on proper childcare waste management practices, let me share with you more information about Waster.
We here at Waster provide you with innovative solutions for your and your business's waste management and recycling needs. Furthermore, we provide flexible, 30-day contracts instead of the typical lock-in contracts, which proves to be better.
Click on the blue button to learn more.
---
READ: Waste Management In Childcare 🧒
---
Discussing solid waste management in a hospital setup
Naturally, when you see the title of the blog, you will automatically assume that we will discuss medical waste. Well, you are absolutely right! But this is not the only type of waste you will encounter in a hospital. There are other types of waste, too.
For our new readers and others with curious minds, I will first define what medical waste means in layman's terms. Medical waste is anything that falls under the category of potentially infectious and very hazardous (i.e., risky or dangerous) waste that can harm any living being exposed to it.
Just a reminder: medical waste has many different terms. Some call it medical waste; some call it clinical waste; others call it biomedical and biohazardous. You may become confused with all of the different terms here but know that the ones mentioned before are the same in context.
Obviously, this type of waste is usually produced by the healthcare sector. This includes establishments like hospitals, healthcare facilities, laboratories, and veterinary clinics. But, we can also state other businesses that produce this type of waste. In fact, medical waste – or clinical waste – can also be produced at human and animal grooming salons. Read our blog on veterinary waste disposal and salon waste disposal for more information.
What is clinical waste in hospitals? Clinical waste, much like medical waste, means any waste produced from healthcare activities.
Types of waste
To know further about solid waste management in a hospital setup, you should also know the different types of waste produced by it.
As I have mentioned above, hospitals also produce other types of waste other than the known hazardous medical waste. Like any other establishments, they can also produce general and recyclable waste. In fact, according to an article on healthcare waste management written by Nkechi Chuks Nwachukwu, Frank Anayo Orji and Ositadinma Chinyere Ugbogu, hospital waste statistics show that about 80 per cent is general waste while 20 per cent is hazardous, albeit both can fall under medical waste. What is general waste in a hospital? What are the other types of waste in hospitals? We will discuss it below.
Types of waste in hospitals, according to the World Health Organisation (WHO), that should be subjected to disposal are as follows:
According to WHO,
Infectious waste – any waste smeared with blood and other bodily fluids. This can come from laboratories or waste from patients with certain infections such as swabs, masks, bandages, and other medical items.
Sharps – instruments that can pierce the skin such as needles, syringes, scalpels, blades, etc.
Pharmaceutical waste – drugs and vaccines. You can include expired and non-expired pharmaceutical waste. Additionally, you can also put unused and contaminated pharmaceutical waste.
Chemical waste – liquid waste. Examples include solvents, disinfectants, liquid metals such as mercury, and batteries.
Radioactive waste – any material contaminated by radionuclides which makes it radioactive.
Pathological waste – human parts, tissues, organs, body parts, and also animal vessels.
Genotoxic or Cytotoxic waste – drugs that can severely damage or toxicate cells. Cytotoxic drugs, in particular, are used to treat cancer. They are highly hazardous substances.
General waste – any other type of waste not considered hazardous or infectious.
Now that we have learned the types of waste, let us discuss other things in the following sections. Read on to learn much more about solid waste management in the hospital.
Bins in hospitals
Yellow bag waste in hospitals? Yellow bin waste in a hospital? Do you know any of those? What about a red waste bin in a hospital? Or red bag waste in hospitals? Are they unfamiliar terms for you?
Generally, we have different bins that cater to different types of waste. This is also true for hospitals. In order to easily distinguish what waste goes into a specific type of bin, the bin should be properly coloured and labelled.
Red bin waste
Red waste bins for solid waste management in the hospital that houses pharmaceutical waste. Disposing of pharmaceutical waste in the red bag will help mitigate – or at least minimise – risks in managing such dangerous products and lessen their environmental impact.
Yellow bin waste
Clinical waste bins in Australia are coloured yellow. Here is an excerpt from our clinical waste disposal blog:
Your requirements under clinical waste disposal regulations
"It is essential that clinical and related wastes are properly segregated, packaged, labelled, handled and transported to minimise risk to waste handlers and the community, such as needle stick injuries and transmission of infectious diseases. All sharps and other waste containers should meet the specific Australian Standards requirements. Clinical cytotoxic waste and related waste must be segregated and identified by colour coding and marked according to the following: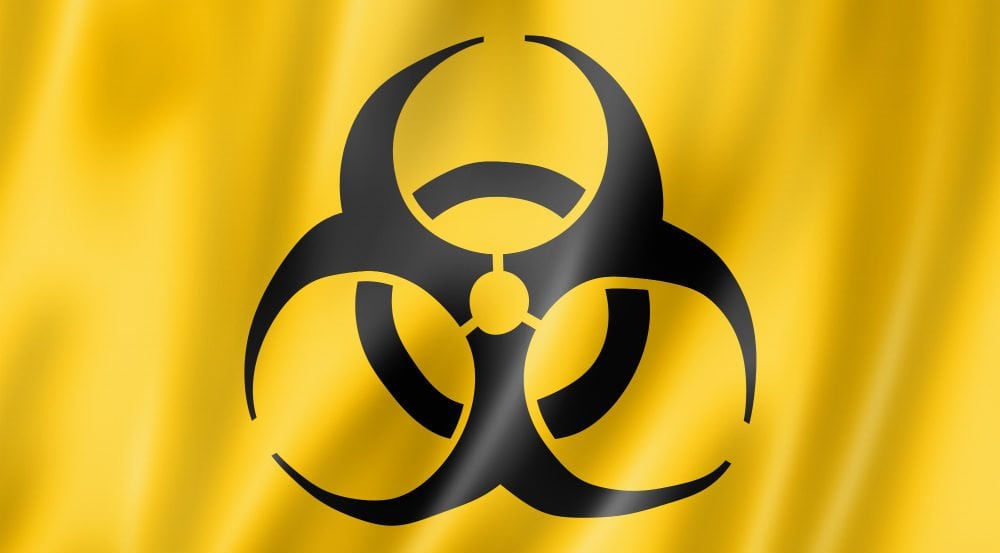 Colour code – clinical waste bins Australia: yellow
Wording: clinical waste displayed on at least 2 sides
Clinical waste sign: black biological hazard
Clinical waste symbol/logo: as above.
The clinical waste logo or clinical waste symbol should be clearly marked on the bags, sacks or bins.
The logo or symbol used is the "biohazard symbol is normally found on substances, materials, and containers that have biohazards. These are substances that pose a potential danger or risk to human life."
"As an international symbol, it is used worldwide to indicate the presence of a biohazard agent. It was developed in 1966 by Charles L. Baldwin of Dow Chemicals and Robert S. Runkle of the NIH."
For staff education and to facilitate effective clinical waste segregation from non-clinical waste – you should utilise clinical waste disposal posters in suitable locations.
Using a suitable and clear clinical waste poster – with the symbol above – will facilitate correct treatment and safe handling of the waste.
"Where small quantities of clinical waste bin and related waste are being generated, effective storage can be achieved using 120/240 litre mobile garbage bin (wheelie bins)."
Additional bins to consider
Hospitals can also consider implementing other bins on their premises to reduce waste. This mostly includes general waste-commingled recycling waste bins.
Where can you avail of medical bin services in Australia?
You can purchase services from Waster!
We offer scheduled medical/clinical waste collections in two convenient bin sizes to suit your needs – 120 litres and 240 litres:
When booking a medical waste bin collection, you can dispose of a sealed sharps container inside the medical waste bin at no extra charge.
Medical, biomedical, or clinical waste collection companies will take the clinical waste for treatment and disposal either through incineration or by using an autoclave. This will depend on the location and the people responsible for collecting medical waste that you contract with.
Other solid waste management in a hospital topics
Solid food waste management in the hospital
In this section of the blog, we will talk about food waste produced by hospitals.
You can find food waste in any establishment. This especially includes hospitals and other healthcare facilities. If left untreated, hospital food waste can impact the environment negatively.
To define, hospital food waste is any uneaten food waste by patients. Additionally, it also involves unserved food. We can also include leftover food and define it as food waste.
Forgetting food waste and failing to properly deal with it can be a bad thing. Food or organic waste, when improperly disposed of in landfills, can emit greenhouse gases like carbon dioxide and methane. This will contribute to climate change and global warming, so we would want to avoid that as much as possible.
The best option to do with food waste is to recycle it. Hospitals can purchase an organics/food waste bin to safely store and recycle their waste.
How do food waste and organics recycling work? The answer is the proper entities take the food and organics waste and usually turn them into compost.
Read our blog on food waste recycling ideas.
Solid waste management in hospitals: conclusion
Solid waste management in hospitals does involve a lot of planning, execution, and maintenance. But it does not have to be complicated if you follow proper hospital waste disposal methods.
Additionally, consider getting one of the best waste management providers to help you deal with medical waste. As I have stated, Waster can help with hospitals' solid waste management with our medical waste bin services!
Waster: things you need to know
If you're looking for bin services, check our waste recycling shop and find the best deals in terms of pricing and services.
Also, please call 1300 WASTER (1300 927 837), or email us at enquiries@waster.com.au if you have any further questions.