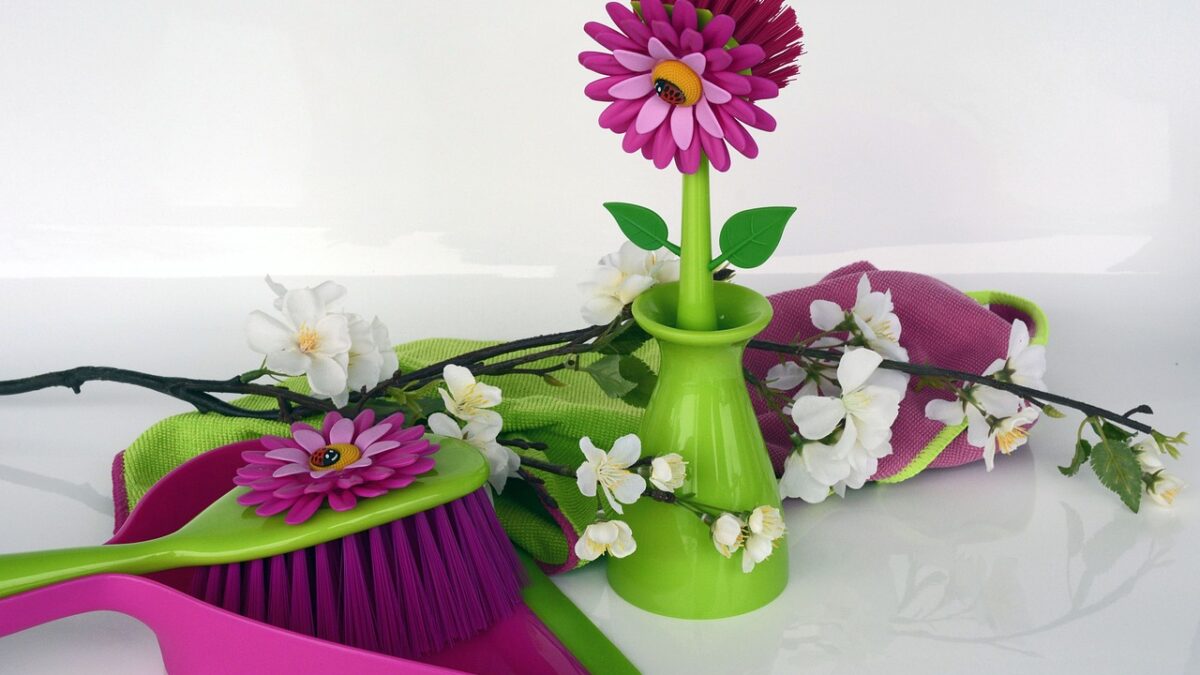 Spring Cleaning And… Recycling At The Same Time? How? 🧹♻️
Spring Cleaning Recycling 🧹♻️: Springtime naturally gets plenty of us motivated to declutter our own homes. However, with the amount of stuff you want to get rid of, the idea of sending them all to landfill might put you off. What can you do to spring clean and recycle more responsibly? Don't worry, we've got your backs!
During the spring season, people have more energy to turn their houses upside down and remove any unneeded stuff. Thus, the term 'spring cleaning' was born. May the reason be religious or biological, people just love cleaning during the springtime!
Spring cleaning recycling: the religious origin of spring cleaning
Spring cleaning is often tied to holidays or important dates in different religions, which isn't surprising given both occurrences are linked to the idea of rebirth and renewal. Members of the Jewish faith clean the home and remove breads made with yeast, also called chametz, which are forbidden during Passover in March or April, the Jewish holiday celebrating the Israelites escape from slavery in Egypt. 
Spring cleaning recycling: the biological origin of spring cleaning
A biological explanation for why we clean in the springtime has to do with melatonin production. In the winter our bodies are exposed to less sun, which decreases melatonin production and increases sleepiness. When days are longer and our bodies see more sun, melatonin production increases as does our energy. It's possible then that cleaning is just one way we choose to spend our newfound vigour. 
As all of you might already know, spring cleaning has plenty of benefits. First of all, it helps reduce clutter in your house. And when you declutter, you can expect a more vibrant, beautiful home as a result!
But not many know one other benefit of spring cleaning, which is improving your health. Not only does it get rid of gathered allergens, but spring cleaning can also remove anxiety. If you aren't spring cleaning right now, then maybe it's time for you to start.
With that said, spring cleaning should be done responsibly. I, along with others, I'm sure, dread the idea of sending all the clutter gathered into landfill. We, of course, want to find a 'greener', a.k.a a more sustainable, way of spring cleaning.
Spring cleaning and recycling at the same time is a good idea, but how is this done? Below, we cover all of that, so continue reading to learn more.
Who is Waster? What does it do for businesses?
Before we go further and learn more about the best tips for spring cleaning recycling, let me share with you more information about Waster.
---
>Download Now: Free PDF Business Owners Guide To Commingled Recycling Bin Services
---
We here at Waster provide you with innovative solutions for your and your business's waste management and recycling needs. Furthermore, we provide flexible, 30-day contracts instead of the typical lock-in contracts to SMEs, which proves to be better.
If your business is based in Australia, partnering up with Waster will prove to be beneficial for your business! Here, I enumerate to you what we bring to the table in terms of providing quality waste and recycling services.
You pay exactly what you asked for – and not a dollar more! For your waste management and recycling needs, avail of our flexible, 30-day contracts instead of those long, unproductive and hidden fee-containing lock-in contracts.
Designed for small and medium businesses – we help you reduce costs whilst boosting recycling. That's a win-win situation!
On-time and reliable – we provide fully-accredited logistics and facility operators. By saying so, we ensure the safety and efficiency of our services.
As such, problems in the waste management industry are bound to rise like in any other business. But like any other problem, they will always have solutions, such as spring cleaning in a more sustainable way, which is through recycling. If such issues arise in regard to our service, you can talk to our friendly customer service team.
---
READ NOW: How To Gift Wrap Sustainably With These Tips And Tricks 🎁
---
Now, on to discussing spring cleaning recycling!
Here's how responsible spring cleaning recycling works
Below, we list down what you should remember when you do spring cleaning recycling:
Reuse what you can
Spring cleaning recycling duties can score you some long-lost items you or your other family members have wanted to find for the longest time.
For example, your child might have misplaced their favourite toy and you, doing spring cleaning duties, found it lying in an obscure area of the house. Instead of putting it in the bin, give it a bit of cleaning, show it to your child and watch the smile on your child's face as you find their lost, favourite toy!
This also applies to other items you wish to declutter through your spring cleaning recycling duties that can be reused such as glass bottles, containers, magazines, books and plenty more.
Sort out and recycle the recyclable
Now, spring cleaning recycling essentially means gathering decluttered items and recycling them.
And yes, a lot of items you declutter whilst spring cleaning, you can recycle. If you do not have a need to reuse them anymore, or if they cannot be reused at all, then recycling is your best bet.
Examples of what you can recycle include steel, aluminium, cardboard and paper and glass.
Sort out the recyclables from those you cannot recycle. Those you cannot recycle, place them in the rubbish or general waste bin.
Spring cleaning recycling: donating the unneeded items
Aside from those mentioned above when it comes to responsible spring cleaning recycling, you have the option of donating your decluttered items to the less fortunate. Clothing and fabrics, textile, toys and shoes are some of the examples you can donate, provided that they are in good condition, of course.
Spring cleaning recycling: keep yourself safe from hazardous waste
Unfortunately, there are some decluttered items that you just cannot recycle or reuse. One glaring example is hazardous waste.
Hazardous waste such as chemical cleaners should be disposed of carefully. First off, do not pour them down the drain or toss them in the rubbish.
Check their respective containers and read the label for disposal instructions.
Contact Waster right now for your waste and recycling needs now!
Does your Australian-based business need waste and recycling services? If so, then you have come to the right website!
Please call 1300 WASTER (1300 927 837).  You can also email us at info@waster.com.au or enquiries@waster.com.au if you have further questions. Find the best deals in terms of waste and recycling pricing and services!