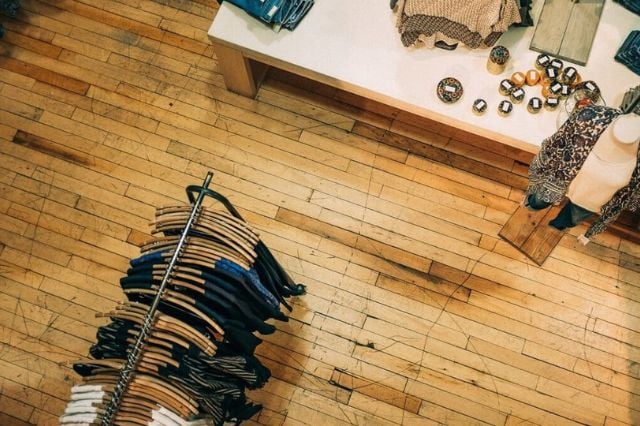 7 Sustainable Fashion Brands In Australia That You Should DEFINITELY Check Out! 👚
Sustainable Fashion Brands Australia 👚: As sustainability and eco-friendliness continue to become increasingly important, it's no surprise that sustainable fashion is becoming an integral part of our wardrobe. Whether you are new to the concept of ethical and sustainable clothing or have been actively searching for green garments for a while, it can be tricky finding brands that deliver what they promise, especially those who help you look stylish without compromising on quality – all whilst being as eco-friendly as possible. Well, we've done the hard work for you! Here is a round-up of 7 amazing sustainable fashion brands based in Australia that you should check out!
If we want to protect the environment, everything should start with ourselves. One way we could do so is by being more meticulous in clothing brand selection. What do I mean by this?
Well, if you have read our blog on fast fashion before, you would know by now that tonnes of mass-produced clothes put a real strain on the environment, filling our landfills faster than we can imagine. This mentioned blog also provided some alarming statistics that you definitely should know.
Some clothing statistics to note before we proceed with the 7 best sustainable fashion brands in Australia
If you are not alarmed, did you know that since 2000, clothing production has roughly doubled?
Another fast fashion waste statistic that might surprise you is that Europe's fashion companies have more than doubled their collections, going from two per year in 2000 to five in 2011.
A whopping 85 per cent of textiles go into landfill each year. That's enough to fill the Sydney harbour annually!
Let's mention one of the most famous and powerful countries in the world: the US. In the United States alone, 2.6 million tonnes of returned clothes ended up in landfill instead of being donated or recovered in 2020.
Have you ever heard of microplastics? If you have, then you know of its detrimental effects on the environment. Did you know that nearly 10 per cent of microplastics found in the ocean each year come from textiles?
---
>Download Now: Free PDF Business Owners Guide To Commingled Recycling Bin Services
---
So, what can we do to slow down or, even better, stop all of these from impacting our environment? One strong way we can do so is by supporting slow fashion and local sustainable clothing brands.
In Australia, we have some of what you might call 'hidden gems' that practice sustainable methods when it comes to clothing production. Below, we give you 8 sustainable fashion brands in Australia that you should check out when you need a new set in your wardrobe.
Here are 7 sustainable fashion brands in Australia that you should know
In no particular order, we present to you 7 of the most sustainable fashion brands there are in Australia. We provide a bit of description, mostly covering what they sell and what sustainable practices they implement in their respective companies. Make sure to check them out if you are in search of sustainable fashion brands in Australia!
Vege Threads is a clothing brand based in Melbourne that offers minimalist and timeless clothing made from organic and eco-friendly materials. Most notably, the brand takes pride in its environmentally conscious production methods. In addition, they prioritise transparency and ethical production. They use completely, 100 per cent organic and eco-friendly materials such as hemp, 100% GOTS-certified organic cotton, and natural plant-dyed textiles.
Outland Denim is, of course, a denim brand that focuses on creating jeans whilst also providing fair employment opportunities to vulnerable women. Liked by Meghan Markle, their products are made from Cambodian women who were exploited and victims of sex trafficking. Additionally, Outland's denim is made from sustainably sourced organic cotton, ensuring it helps empower the women who make their jeans.
Similar to the previous clothing brand, Luna & Sun is a women-empowering and sustainable fashion brand in Australia that produces linen clothing. The brand uses organic cotton along with an elastic fabric made of natural woven-together rubber and cotton for its products, ensuring its biodegradability.
More sustainable fashion brands in Australia
KitX is a sustainable luxury brand founded by designer Kit Willow. Among the mentioned sustainable fashion brands in Australia, KitX has been operating for the longest. They use organic fabrics, work with artisan communities, and implement ethical manufacturing processes to create stylish and sustainable clothing.
Pure Pod is an eco-fashion label based in Australia that creates clothing using organic, natural and renewable materials. They focus on fair trade and sustainable practices throughout their supply chain. Additionally, the brand is spearheading a more sustainable fashion industry by safeguarding the well-being of its workers and harnessing a profound passion for design to craft exquisite products that possess a distinct identity and compelling narrative.
Arnsdorf is a Melbourne-based brand that focuses on sustainable and ethical production. This sustainable fashion brand in Australia uses organic and traceable materials and operates a zero-waste policy, recycling fabric scraps and using biodegradable packaging. For example, they assume the role of a foremost advocate for transparency in Australia, openly disclosing the expenses linked to every garment produced, along with the sourcing details of fabrics and materials employed in each item. They aim to guide and educate a new generation of environmentally conscious consumers, fostering a movement towards sustainability.
Here, we have another sustainable fashion brand in Australia: LUXMII, an Australian-born eco-luxury womenswear and lifestyle brand that uses one of the most ancient fabrics to create their signature clothing products: premium linen. LUXMII upholds ethical manufacturing by sourcing suppliers within a 35km radius, emphasizing a reduced carbon footprint. Their highly skilled ateliers craft a diverse range of products, from tailored outerwear to innovative knitwear. Additionally, the company's commitment to eco-conscious packaging involves eliminating single-use plastics, utilising plant-based compostable mailer bags certified for home and industrial composting. As an online retailer, LUXMII prioritises sustainable package deliveries, not only through green practices but also by educating consumers about responsible disposal, showcasing a holistic dedication to sustainability and a reduced environmental impact.
Sustainable fashion brands Australia: Waster's key insights
Ultimately, we must focus on sustainable fashion brands in Australia when purchasing clothing. Each of these brands offers unique products made from quality materials that are eco-friendly and ethical. Not only can you find stylish options for outfits, but also environmentally conscious choices.
Making the effort to look out for more sustainable fashion brands in Australia is a way to promote sustainability whilst also helping our industry move forward with innovative and responsible manufacturing practices. All in all, sustainable fashion brands provide us with solutions to combat climate change and other environmental problems.
So why not have a go at trying out some of these beautiful Australian brands today? What can you say about these sustainable fashion brands in Australia? Let us know in the comments!
More information about Waster
Does your Australian-based business need waste and recycling services? If so, then you have come to the right website!
Please call 1300 WASTER (1300 927 837).  You can also email us at enquiries@waster.com.au if you have any further questions. Find the best deals in terms of waste and recycling pricing and services!