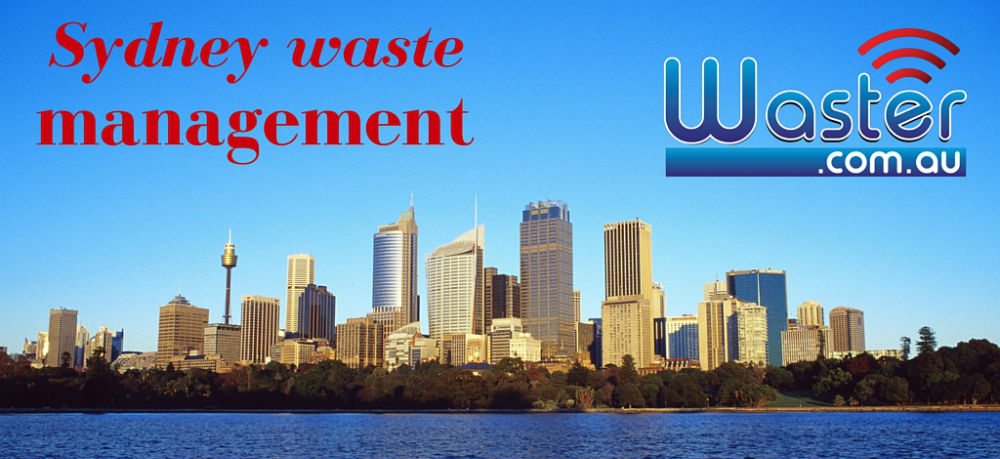 Sydney Waste Management 2019: Step By Step Guide To Saving Money!
Sydney Waste Management: In this article we aim to provide our readers with a comprehensive and complete answer (well at least as complete as we can provide in a single blog post) to how you should set about getting great prices and excellent services for your Sydney waste management services in 2018.
We will cover common pitfalls, the bin sizes and frequency you may need, how to put in place a waste management plan and introduce cost saving and environmentally beneficial recycling services. We will then cover the Waster online model that lets you compare prices in real time, the benefits of not signing a long term contract and pretty much anything else we think will be valuable to you. Phew! That is quite a lot – but at least it should be really informative for readers who are new (or not so new) to booking Sydney waste management services.
We have covered waste management in Sydney in previous blogs that you can also refer to – see our articles on Sydney recycling and whether you are eligible for Government Rebates, Sydney waste services and why flexible contracts make sense, uprate letters in Sydney waste services,  organising a reliable waste disposal Sydney service and an introductory primer on what you need to know about waste management Sydney.
Sydney waste management: avoiding common pitfalls
The first thing to remember when you are seeking a waste disposal provider, is that you do not need to select the first company you come across or go with the first rep who visits your site or knocks on your door. We gave an overview on whether you should seek to sign a long term contract in our article on waste management Melbourne which we will summarise here. Note: if you live just outside Sydney, check out our article on the Central Coast waste services we offer.
The keys point to consider are whether you really want to sign a multi year contract for commercial waste removal Sydney services. At all times you should be thinking about your future business flexibility and how your requirements may change in the next few years. Waste providers will seek to lock you into  a long term, exclusive supply contract for obvious reasons such as the salesperson commission, security of revenue etc and the ability to increase your rates in the future.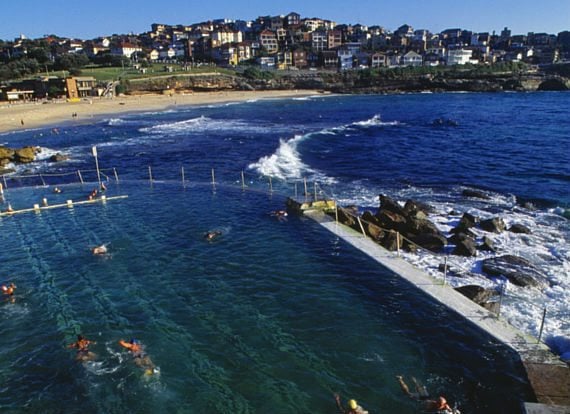 You should get the rates you are committed to in paper and be sure about how and when they will be adjusted. Some suppliers may quote an appealing low rate at the beginning of the contract to ease the sale and then seek to increase your rates soon after that.
As a business person who is not an expert in the Sydney waste management industry you will be uncertain as to whether you are receiving a competitive market rate and shopping around is time consuming as most companies will not quote a price online or without coming to visit your business.
You need certainly to be aware of rollover clauses contained in the proposed contract. This clause could read something like the below:
"This waste management agreement will automatically renew at the end of each term for a further term of 3 years unless either party gives the other written notice of termination at least 30 days prior to the end of the relevant term".
Clauses like this can also be known as automatic renewal or evergreen clauses and will renew a contract unless notice to terminate it is given within a time window prior to the expiry date. A major issue with clauses of this type is that most business owners are extremely busy and can easily miss this window – they have more to be doing than looking at small print in old contracts!
What bin size and frequency do I need for my business?
If you want to save money and boost recycling on Sydney waste management, it is key that you put some effort into producing a basic but effective waste management plan. The time you spend on this will certainly pay dividends later on. The key steps required to build an effective waste management plan include the following – you can also get help from a third party programme such as the NSW Bin Trim programme.
A. Get a clear understanding as to your current situation. Estimate volume of waste you are actually producing currently – i.e. weights, volume (metres cubed) of your general waste bins, collection medthod, current pices, how many bins you have (and the sizes and position in your yard area) and the recycling percentage that you are currently achieving.
B. Check the details on our current waste services contract. make certain how long your contract runs for, when it will rollover and if there are any negative clauses in there for you.
C. Begin organising your collections in a more efficient manner. Recycling is generally cheaper than general waste bin collection and disposal, so removing recyclables from your bins and putting in place a dedicated cardboard collection can save you money. You may even be able to obtain free cardboard recycling depending on the quantities you produce.
E. The correct bin sizes is the next step to work out: if you have been able to remove a certain proportion from General Waste (to go into cardboard or commingled recycling) you will need to work out the weekly volumes you produce and then choose the appropriate wheelie bin sizes. In this regard, we recommend you refer to our article on wheelie bin sizes which should give you a good overview. We also attached pics of varying bin sizes below to give you an indication of the range available to you.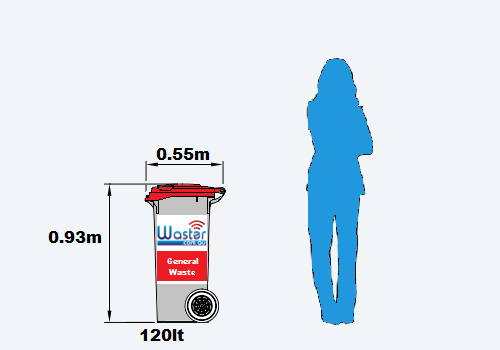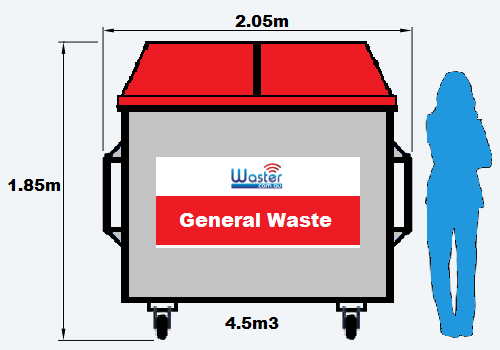 We also recommend considering how best you can position your bins and what posters or garbage bin stickers would be most useful in helping your staff make the best decisions as regards driving recycling.
Sydney waste management – what drives costs?
The Sydney area is covered by the NSW EPA so waste disposal at landfill is affected by the state landfill levy. In the Metro region as defined by the NSW EPA the current levy is $135.70 per tonne disposed at landfill as from 1 July 2016. See link to EPA website here.
In Sydney metro region, the EPA waste levy on waste disposed of in landfill has increased on 1st July 2017 from $135.70 per tonne to $138.80 – an increase per tonne of c.2%. You can find links to the NSW EPA levy details through our waste resources page. This is valid until 30 June 2018.
This levy serves to increase the cost of General Waste above that generally paid in other Australian capitals and also makes recycling much more important and cost effective for you.
Due to the high cost of waste disposal in Sydney (and reflecting the State Governments stated intention to drive recycling) has ensured that recycling is very cost effective for most small businesses. Due to the large population, major waste companies have invested in sorting and recycling facilities that ensure more potential waste can be recycled into reusable paper, cardboard, metals etc.
Sydney recycling services – what is available?
Reflecting the higher prices of waste management in Sydney than in the majority of the rest of Australia, there is strong demand for recycling services and all a healthy recyclable commodities market whereby collected resources are reused or reprocessed.
Reflecting the waste management plan that we covered above – you should really seek to boost your recycling performance for the twin benefits or reducing cost and improving environmental performance. Check out the informative blog we produced on the subject under recycle waste.
Waster offers complete recycling solutions for businesses and organisations throughout the waste services Sydney metro region (as well as in all other major cities in NSW and Australia). Through our online waste solutions shop you can check pricing and book services across all waste and recycling streams.
You can get information on the benefits of such recycling options as cheap cardboard collection, commingled recycling,confidential paper disposal,  grease trap services and other services such as medical waste disposal containers and sanitary bins through recent blogs we have posted. For example – check out our blog on sanitary bins Sydney.
How to book your Sydney waste management services online?
Once you have a good understanding as to the services you would like to book you can go ahead and compare rates and book your services in our online waste shop.
We provided a comprehensive overview to our online waste shop and how to book in our online garbage collection article.
Lets take the case of a Sydney based transport business or a similar business that produces reasonably light waste streams  (note: our pricing model categories businesses by weight based on their industry type)e for our example. They have a current waste service of one 240 litre General Waste bin collected once a week and a 660 litre Cardboard and Paper recycling service collected once a fortnight.
Go to the General Waste page and select the 240 litre service category.
As the business is in Sydney, the business owner selects Sydney – New South Wales in the drop down category for Geographic Region.
In the second drop down box for "Your Business Type" our client selects the first option – "Transport, Warehousing, retail (non food), offices, professional services".
In the third drop down box "Collection Schedule" our client selects the third option – "Weekly".
The price per service is displayed (As at 02 Jan 2018 – the price given is $18.00).
Our customer selects "Add to Agreement".
To book the Paper and Cardboard service the customer follows a similar pattern:
Go to the Paper and Cardboard page and select the 660 litre service category.
As the business is in Sydney, the business owner selects Sydney – New South Wales in the drop down category for Geographic Region.
In the second drop down box "Collection Schedule" our client selects the third option – "Fortnightly".
The price per service is displayed (As at 18 July 2016 – the price given is $8.00).
Our customer selects "Add to Agreement".
Once the customer fills in their details and agrees to the terms and conditions that is the booking completed. All that is required is for a Waster customer service agent to contact the customer, confirm details and arrange delivery details etc.
Where do we operate in Sydney?
Waster.com.au offers comprehensive service all across the Sydney metro region. For a full list of postcodes serviced in Sydney see the listing below:
Postcodes: 2000, 2006, 2007, 2008, 2009, 2010, 2011, 2015, 2016, 2017, 2018, 2019, 2020, 2021, 2022, 2023, 2024, 2025, 2026, 2027, 2028, 2029, 2030, 2031, 2032, 2033, 2034, 2035, 2036, 2037, 2038, 2039, 2040, 2041, 2042, 2043, 2044, 2045, 2046, 2047, 2048, 2049, 2050, 2060, 2061, 2062, 2063, 2064, 2065, 2066, 2067, 2068, 2069, 2070, 2071, 2072, 2073, 2074, 2075, 2076, 2077, 2079, 2080, 2081, 2082, 2084, 2085, 2086, 2087, 2088, 2089, 2090, 2092, 2093, 2094, 2095, 2096, 2097, 2099, 2100, 2101, 2102, 2103, 2104, 2105, 2106, 2110, 2111, 2112, 2113, 2114, 2115, 2116, 2117, 2118, 2119, 2120, 2121, 2122, 2125, 2126, 2127, 2128, 2130, 2131, 2132, 2133, 2134, 2135, 2136, 2137, 2138, 2140, 2141, 2142, 2143, 2144, 2145, 2146, 2147, 2148, 2150, 2151, 2152, 2153, 2154, 2155, 2158, 2160, 2161, 2162, 2163, 2164, 2165, 2166, 2167, 2168, 2170, 2171, 2172, 2173, 2174, 2175, 2176, 2177, 2178, 2179, 2190, 2191, 2192, 2193, 2194, 2195, 2196, 2197, 2198, 2199, 2200, 2203, 2204, 2205, 2206, 2207, 2208, 2209, 2210, 2211, 2212, 2213, 2214, 2216, 2217,2218, 2219, 2220, 2221, 2222, 2223, 2224, 2225, 2226, 2227, 2228, 2229, 2230, 2231, 2232, 2233, 2234, 2555, 2559, 2560, 2563, 2564, 2565, 2566, 2567, 2568, 2570, 2747, 2750, 2753, 2759, 2760, 2761, 2762, 2763, 2765, 2766, 2767, 2768, 2769, 2770.
You can see a useful map here that will enable you to see accurately our areas of coverage and check whether we cover your area.
If your business location falls outside the Sydney waste management metro region for Waster coverage, you can check out our informative articles on other geographic regions such as waste services Wollongong, waste management Canberra for our coverage in the Australian Capital Territory, or waste management Newcastle on how to book a cheap online service in NSW's second city. Check out our article on secure document destruction Sydney also.
Next steps
At this point there is really not much more for you to do than check out our prices and services in our online shop for Sydney waste management. Press the blue button below to check out the rates. Note all rates reflect prices post July uprates – so if you have just received an uprate letter from your existing supplier, you can be certain that these are the all inclusive rates you will pay. For full detail on our inclusions you can see our pricing page.