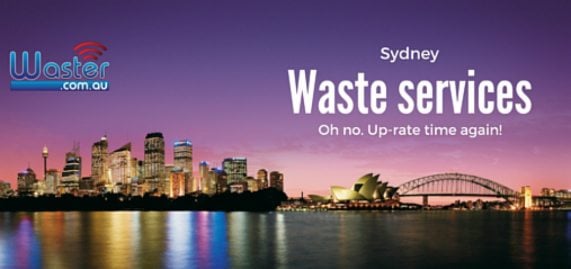 Sydney Waste Services 2020 🗑️: Flexible Business Waste Services
Sydney waste services: As it is that time of year today – at the beginning of yet another financial year for your business –  we ask the question – have you received your up-rate letter yet from your supplier of Sydney waste services.  We have spoken to many waste customers who have received their price increase notification already – however, they have not been told how much it will be.
---
>>Download Now: Free PDF Business Owners Guide To General Waste Bin Services
---
Very often – a price change notification can be a bit of a shock – especially if you have signed a long term lock in contract for your waste services. In many of these waste contracts – your supplier can unilaterally increase your waste collection and recycling charges. Of course – in some cases, an increase in waste levies (how much it costs to dump at landfill), the ongoing recycling crisis – or simply very heavy bins may explain any price increase. However, in some cases, you may just be being charged too much!
The notification was attached to the bottom of their May invoice (received in early June) and said something like "we will increase your rates from 1st July but can not tell you by how much – the next thing you will know is when you receive your July invoice in early August".
Many people have already expressed to us that they see this format of rate increases by Sydney waste services suppliers as leaving a lot to be desired.
Let's be honest – many waste companies also do not know what the rate increase will be from landfills and recycling plants until after 1 July. We cover below – what you should know and consider.
Why would Sydney waste services rates increase?
The reason generally given by waste companies as to why your rates are increasing is that they are "passing on costs" and their is some truth in this assertion. For example, in Sydney waste management metro region, the EPA waste levy on waste disposed of in landfill has increased on 1st July 2019 from $138.20 per tonne to $143.60 – a quite considerable increase. You can find links to the NSW EPA levy details through our waste resources page.
We published an introduction to Waste Management Sydney in a previous blog that you can find here. We also cover an intro to saving money on Waste Management Canberra.
There will also be cost increases due to changes in inflation (CPI) and other cost increases such as increases in landfill gate rates – i.e. the cost to actually dump the waste at the tip (you may not be aware but even Sydney waste services companies have to pay to dump the waste at the landfill).
One thing you will notice however, is that you never receive a reduction for increased efficiency, business improvements etc or long term customer loyalty. The price changes always seem to go one way.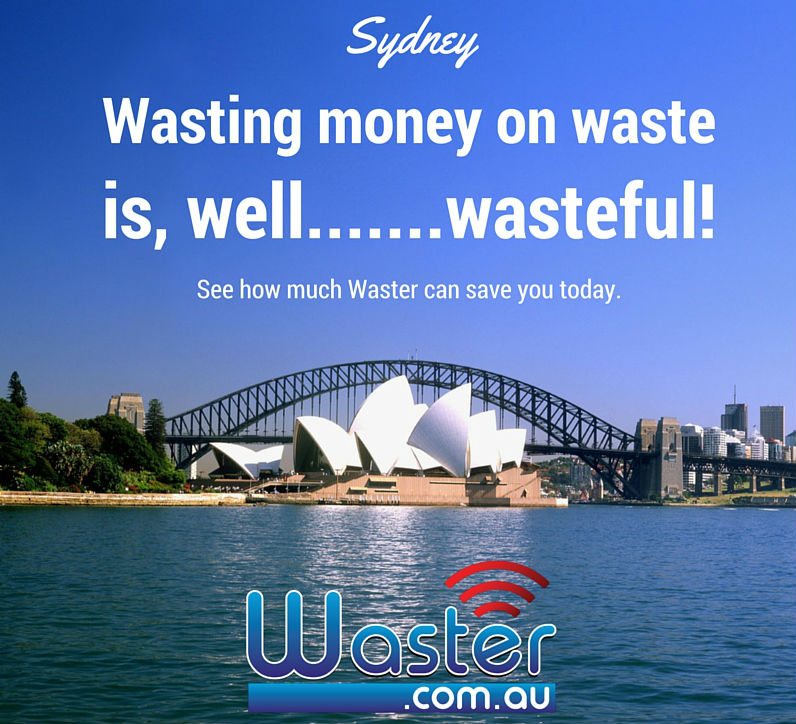 How much will your rates increase for bin collections and disposal?
Each waste company is different but we are seeing reported rate increase of c.10% for some clients – on already expensive services. These rate increases could also be your second increase this year i.e. you may have been increased on 1st January also.
Note: rate increases are very important to your bottom line in areas with high waste costs such as waste services Wollongong.
Update: Sydney businesses should maybe consider themselves lucky in comparison to rubbish removal Adelaide customers who will likely receive two uprate letters in quick succession this year.
How can Waster assist your business with waste services and recycling in 2020?
Waster.com.au was founded to offer a smart, online, customer focused alternative in Sydney waste services to small and medium businesses. Our rates as published in our online shop will not increase on 1st January. You can see our article on Sydney recycling and the potential to get rebates for new equipment.
Our 30 day flexible contracts mean that customers are never locked into long term contracts and hence are not powerless to large rate rises. If you simply want a no obligation comparison to your current provider – you can get one (with a guaranteed 24 hour turnaround). This will show you exactly how much you can save if you become a Waster! See our blog on rubbish removal Hobart.
Browse through our waste management shop – to see how much you could save by moving to a flexible plan at Waster.
Sydney Waste: In this blog post we will cover a brief overview of the waste services sector in Sydney, New South Wales as well as argue that smart commercial and industrial businesses in Sydney metro region should move to flexible waste contracts, as opposed to the older style, multi year contracts running for two to three years (and of course rollover clauses).
We have covered an introduction to Waster's service offering in Sydney waste management in a previous blog post on Waste Management Sydney. You can also check out some of the informative blog posts we have written recently such as Rubbish Removal Sydney, waste disposal in Sydney and the recent annual uprate letters for Sydney on 1st July.
Why you should consider a flexible Sydney waste agreement.
So much of modern business, particularly the IT sector is moving to a monthly subscription model for delivery of services (known as SAAS or "software as a service" in the world of IT). This disruptive trend is affecting nearly all established industries from Uber in Taxis to Airbnb in the vacation / overnight stay market.  What these new entrants are proving is that large companies as well as small businesses and consumers can receive much greater value, as well as better service and lower costs by procuring services on a flexible month to month basis.
You can read an introduction to Waster's approach to delivering online garbage collection in our blog covering the subject.
You can also see an articles on he benefits of an online model in our rubbish removal Perth blog post or here at waste bins Sydney.
Benefits of flexibility
The benefits for your business of moving to a flexible month to month waste supply basis are numerous. They include the following:
A. Incentive for supplier to pay attention to rising costs. When a customer can leave a contract by supplying 30 days notice, there is a clear incentive for a Sydney waste company to keep a close eye on their pricing structure and value offered to customers. Prices rising above the market are a sure way to risk the loyalty of your existing customers. The waste industry has seen twice annual price rises in recent years by numerous operators. This would not be sustainable under a flexible contract basis.
B. No incentive to push through hidden costs in the small print. When a contract can be cancelled at any time, there is no incentive for a waste company to push through small costs such as site fees, rentals, delivery charges, admin fees, environmental fees or any other unexpected charge.  These charges are only possible when a customer is locked into a long term contract.
C. Incentive to improve customer service: Sydney waste service providers have not been famed for their attention to customer service. A long term, restrictive contract has not incentivised them to invest in modern customer service requisites such as help centres, online assistance etc.
D. An end to the dreaded rollover clause. As you may be aware the rollover clause traditionally worked by locking customers into an extended period on the same terms as the original contract (unless they advised their supplier of an intention to leave during a specific time window). You should read our article on waste management Melbourne for an introduction to rollover clauses, and how they have changed in recent years.
E. An ability to match your Sydney waste services to your business needs. We know that businesses change over the years and hopefully for the better through growth and new sites etc. Waster certainly has aggressive growth targets over the next few years. By signing a long term contract you can find yourself locked into an agreement that no longer suits your business. For example, if your business grows, you would hope to get lower prices due to volume discounts etc.
F. An ability to implement improved recycling performance by following a waste management plan. A business can seek to reduce their costs, whilst boosting recycling through implementing services such as cheap cardboard collection, commingled recycling etc. Generally making changes of this nature will also be accompanied by health and safety improvements also.
Conclusion:
Whilst this listing is by no means exhaustive. It highlights the benefits that can be obtained by moving to a flexible month to month basis for your Sydney waste services. If you can think of others you should certainly contact us. Check out our article on Sydney recycling here.
Waste services Sydney 2020: As a hard working Sydney business owner, organising waste management and recycling services is probably one of the last things on your mind. After all you have to focus on growing your business and satisfying customers for your business to succeed. However, spending a little bit of time thinking about your garbage collection can significantly reduce your costs.
The economy in early 2020 – is certainly tougher than it has been for quite some period of time – what with house prices declines, China turning away Aussie coal – and general instability.
Ever increasing costs of doing business such as power, water, and waste services – mean that it is more important than ever to put some focus on boosting recycling and reducing waste services Sydney costs for your business as much as possible.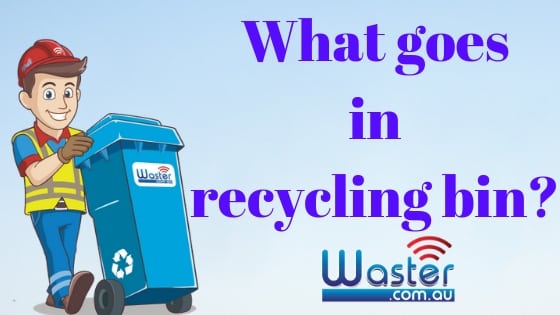 We have all heard horror stories about waste providers rolling customers into new contract extensions without them realising it and prices increasing year after year. Your business can not really afford constantly increasing prices in the current uncertain economy. The good news is that this can easily be avoided.
You can check out all our prices and services in our online store for wheelie bins Sydney by pressing the button below – so you can organise your flexible service today – simply press the blue banner at the top or bottom of this page – and you can check all the prices for any type of waste services Sydney or recycling collection.
Waster provides an alternative for waste services Sydney
We founded our business to be completely different from the established waste services Sydney providers – i.e. who focus only on the big customers and seem to not care too much about the SMEs. See our blog on how new tech is changing waste collection.
Waster offers a great alternative to traditional waste management companies in Sydney for the following reasons:
– We publish online pricing – you can check out our online pricing in our waste shop and be confident that this is the price you will pay. The only instance where this pricing is not applicable is in the instance where your bin is exceedingly heavy like for a fruit business, food production etc.
If you have a larger business or seek to bundle a number of waste services Sydney – we will of course be happy to discuss pricing with you! Check out our blog on being a zero waste cafe in 2020.
– Our services are on flexible 30 day agreements so you do not need to sign long term contracts. When you can cancel on 30 days notice, you do not need to worry about increasing rates or rollover clauses etc.
We are so confident in our waste services Sydney that we provide a guarantee in this regard:
Our waste services Sydney guarantee – if you are unhappy with our service for any reason – you can cancel at any time on 30 days notice. You will never be locked into a service that does not work for you. 
– We do not have hidden extras – i.e. we do not charge you unexpected fees such as rentals, site fees or environmental fees. The price you see is the price you pay. We enable easy payment by direct debit and simple waste invoices.
We work to remove extra fees as much as possible – so we can keep your costs low. This never impacts on our commitment to excellent services standards.
Our price match guarantee – we will match any written or emailed "like for like" quote for the services as described above. You can be confident that you are receiving excellent pricing from Waster as well as excellent service.
– We do not operate a rep model – we conduct our services online so we can keep your costs low. You can see the bin size you want online and book with confidence.
At the end of the day – you do not require a rep to visit you to accept that you need a bin. We discuss alll options with you on the phone – with a commitment to increase your recycling and reduce costs from Day One.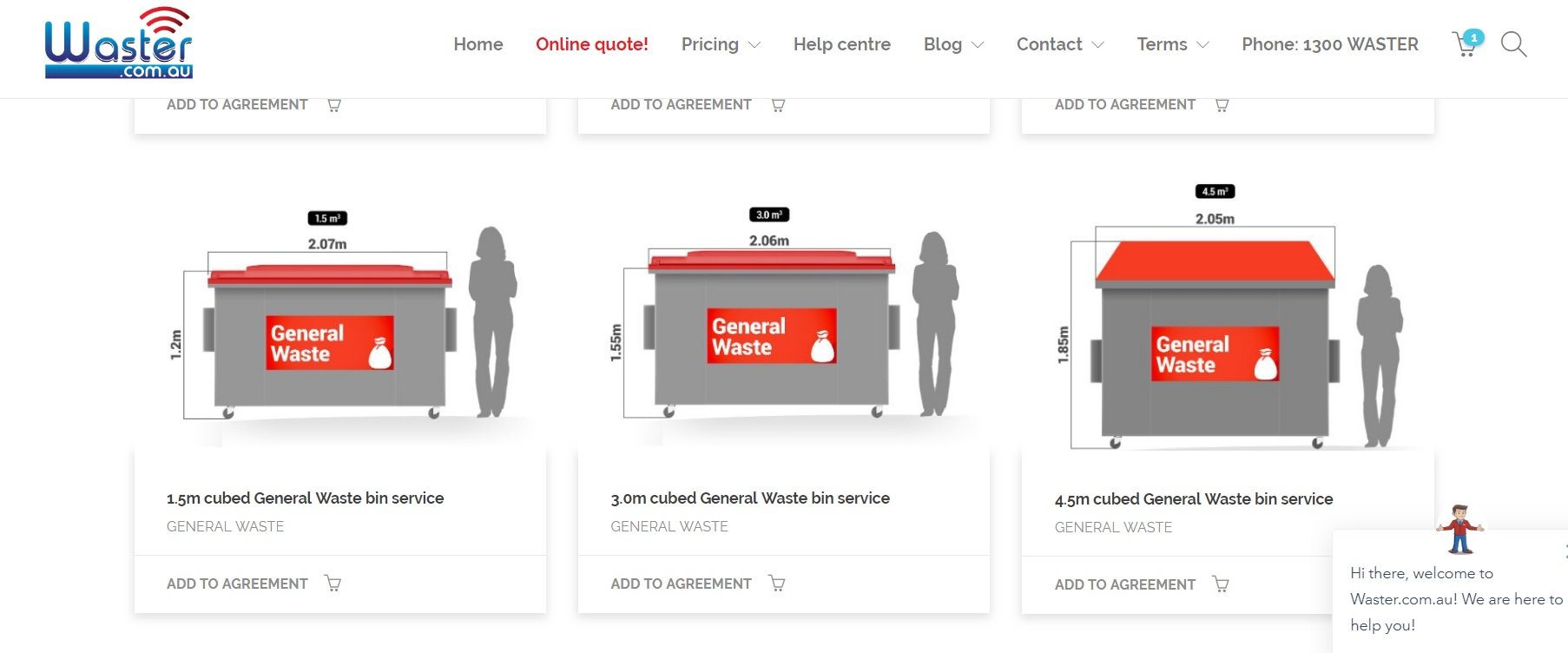 Check out a longer blog we posted on a step by step guide to saving money for Sydney waste management. Also, see our recent blog on secure document destruction Melbourne.
We cover all of Sydney – from Burwood recycling bins to Penrith general waste.