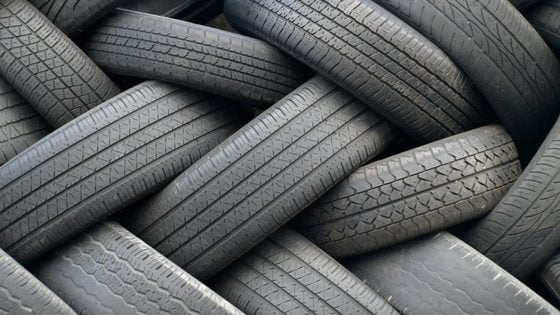 Tyre Recycling: We Check Out The Tyre Recycling Process
Tyre Recycling: Waster is a waste and recycling business with a difference – as we focus on reducing customers costs and boosting recycling.
We cover the recycling of car and vehicle tyres today. Note: Waster does not offer tyre recycling services – and provides this article for information purposes only.
According to Wikipedia "Tire recycling, or rubber recycling, is the process of recycling waste tires that are no longer suitable for use on vehicles due to wear or irreparable damage. These tires are a problematic source of waste, due to the large volume produced, the durability of the tires, and the components in the tire that are ecologically problematic. Because they are highly durable and non-biodegradable, they can consume valued space in landfills. In 1990, it was estimated that over 1 billion scrap tires were in stockpiles in the United States."
Waster provides low cost waste collections and recycling services to small and medium Australian businesses.
We operate on flexible 30 day agreements so you do not need to worry about lock in contracts or roll over clauses again.
You can check out all your bin options and prices for general waste disposal and recycling bins by pressing the blue button below:
Tyre recycling – how the process works
Tyrecycle operates in Australia providing tyre recycling services for all brands and tyre size including Goodyear tyre and Pirelli tyre. This ensures that the environmental impact of the waste stream is minimised.
Government estimates that around the equivalent of 51+ million passenger tyres reach the end of their life each year and that less than 5% of waste tyres (8 million pa) are recovered and properly managed within Australia.
The Tyrecycle website provides a detailed description of the raw material recovery and recycling step process including:
 – COLLECTION AND SORTING
 – SHREDDING IN-SITU, SHEAR OR GUILLOTINE FOR SAFER HANDLING (OTR ONLY)
 – TDF AND GRANULATION FEEDSTOCK
– OTR AND CONVEYOR BELT TDF SHIPPED BY  ALTERNATIVE FUEL END USERS
– TDF BENEFICIALLY RE-USED TO REDUCE  FOSSIL FUEL CONSUMPTION
Conclusion:
Recycling tyres is a vital business – otherwise they would end up in landfill. There are many new environmentally friendly process coming on stream – and even some that will turn used tyres into fuel for vehicles!
See our related blogs on topics such as glass recycling and recycling plastic.
See our blog on whether you can build a house from recyclable materials in recycling Perth.
Check out a video below on what goes on inside a tyre recycling plant that handles every tyre brand: