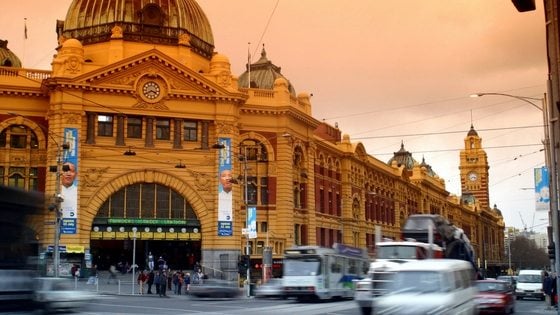 Waste Collection Melbourne ✔️: Commercial Bins Better Than Council Service?
Waste collection Melbourne: many customers come to us uncertain whether council or municipal based waste collection Melbourne services will be better for their business or whether a commercial service through Waster will suit their business needs better. We run through a couple of the considerations you will want to bear in mind when making the best decision for your business.
---
>>Download Now: Free PDF Business Owners Guide To General Waste Bin Services
---
Note: we have previously covered numerous aspects of waste and recycling services in Melbourne through our blogs such as rubbish removal Melbourne, waste management Melbourne and exploration of services such as grease traps, green waste removal and document destruction in Melbourne metro.  Of course, we offer all our services through our online waste shop – accessible by pressing the button below:
---
Table of contents for this article include: 
I. Waste Collection Melbourne vs council services
II. Bin collections for Melbourne businesses
III. Rubbish collection Melbourne
IV. Melbourne waste collection
V. Melbourne bin collection
VI. Waste removal Melbourne
VI. Garbage removal Melbourne
---
---
Waste collection Melbourne vs Council services
---
Is council or Waster better for your waste collection Melbourne requirements?
We examine below a number of questions as to which service provider is better suited to your business and offers a quality service:
A. Which days of service are available
Council collections are often only on a limited number of days in your area – this is akin to the way residential collections operate (i.e. their is a designated day each week for collections).
If your business requires more frequent collections – i.e. every day or say 4 times a week – the council may not be able to provide this service.
B. Service quality
In the instance of missed collections (which unfortunately does occur due to bad weather and other reasons), who do you call. Councils often offer very reliable and low price collections but organising follow up collections can be difficult – as can getting in touch with a customer service agent.
Delivery times for bins for rubbish collection Melbourne can also be an issue if your need bins delivered ASAP. Waster can often assist businesses with quick turnaround times for new bin requests (note: usually bins can be delivered within a week).
C. Recycling and other services
Waster offers comprehensive waste removal Melbourne and recycling services such as commingled, confidential paper, food waste, sanitary and grease trap. There is a distinct benefit in consolidating all your services under one supplier (on flexible 30 days terms)  – councils tend not to offer more than a few limited services.
Waster provides services for almost all waste including general waste, recycling, garden waste and hazardous waste in front lift and rear lift bin sizes.
D. Payment terms and time commitment
Waster operates on flexible 30 day agreements with payments one month in arrears. Many councils require you to commit for 12-24 months for their collection service, or require an up front payment.
E. Bin sizes
Many council services only provider smaller bin sizes such as 120 or 240 litre. Waster can assist you with all bin sizes to meet your business needs.
F. Does council still take on new customers?
Many councils have phased out (or in process of phasing out their waste collection Melbourne services) for commercial clients. For example City of Yarra Council – only offers small bins for offices and businesses to use for what is described as domestic waste – i.e. " The service is for domestic waste only (for example, rubbish and recycling from tea rooms and offices) and does not replace commercial waste collection services."
Conclusion:
Finding the right waste management services for your business may mean using council services or commercial services such as Waster.
It is best checking with your local council as a first step – as in many cases they can offer very cheap services.
If that is not suitable for you – private business collections and waste management solutions such as provided by Waster may be more suitable and cost effective.
Check out the video below highlighting some of the waste and recycling projects being run by Melbourne City Council
---
Bin collections for Melbourne Businesses
---
Bin collection Melbourne: opening a new business can be one of the most exciting times, but also one of the most stressful and exhausting times in anyone's life.
There are so many new things to learn and pick up all the time, things you had not even thought about learning. The marketing guru Joe Polish (who started as a small business owner in the carpet cleaning industry) says that entrepreneurs solve more problems by breakfast time than most people solve in an entire week.
Check out our services for bin collection Melbourne and rates by pushing the blue button below and give us a call on 1300 WASTER to discuss your options.
successful entrepreneur
.
One area where many small and new business people feel uncertain is in organising their wheelie bins Melbourne collection (and other areas in Australia for that matter) services.
In fact, many people are unaware that they even need to organise bin collection Melbourne waste services until the very last minute (we have literally had calls on the day of opening!.
Bin Collection Melbourne – how Waster can help you
We detail below a number of areas where Waster and it's online customer focused model can help small and medium businesses with rubbish collection Melbourne.
A. Provide information – Waster started as a small business not so long ago and we really believe in providing information to customers and potential customers (and just about anyone really – such as students) as we are passionate about the environment, helping small businesses and believe that best decisions are taking when you are well informed.
Check out our consumer guide to waste and recycling services for business owners where we provide answers to common questions.
You can also check out our waste services blog and frequently asked questions section for lots of details. Information leads to trust – an issue we cover in our blog on Perth waste management.
We have a waste resource section providing access to high quality third party information on waste and recycling such as government legislation etc.
B. Bin sizes – when opening a new business, most people find it hard to estimate how much waste they will produce, how many bins they will need and what sizes are best.
We always recommend you start with minimal bins and then increase from there.
We provide easy to understand bin sizes and dimension pictures as below and also have written articles on the right bin size for your business.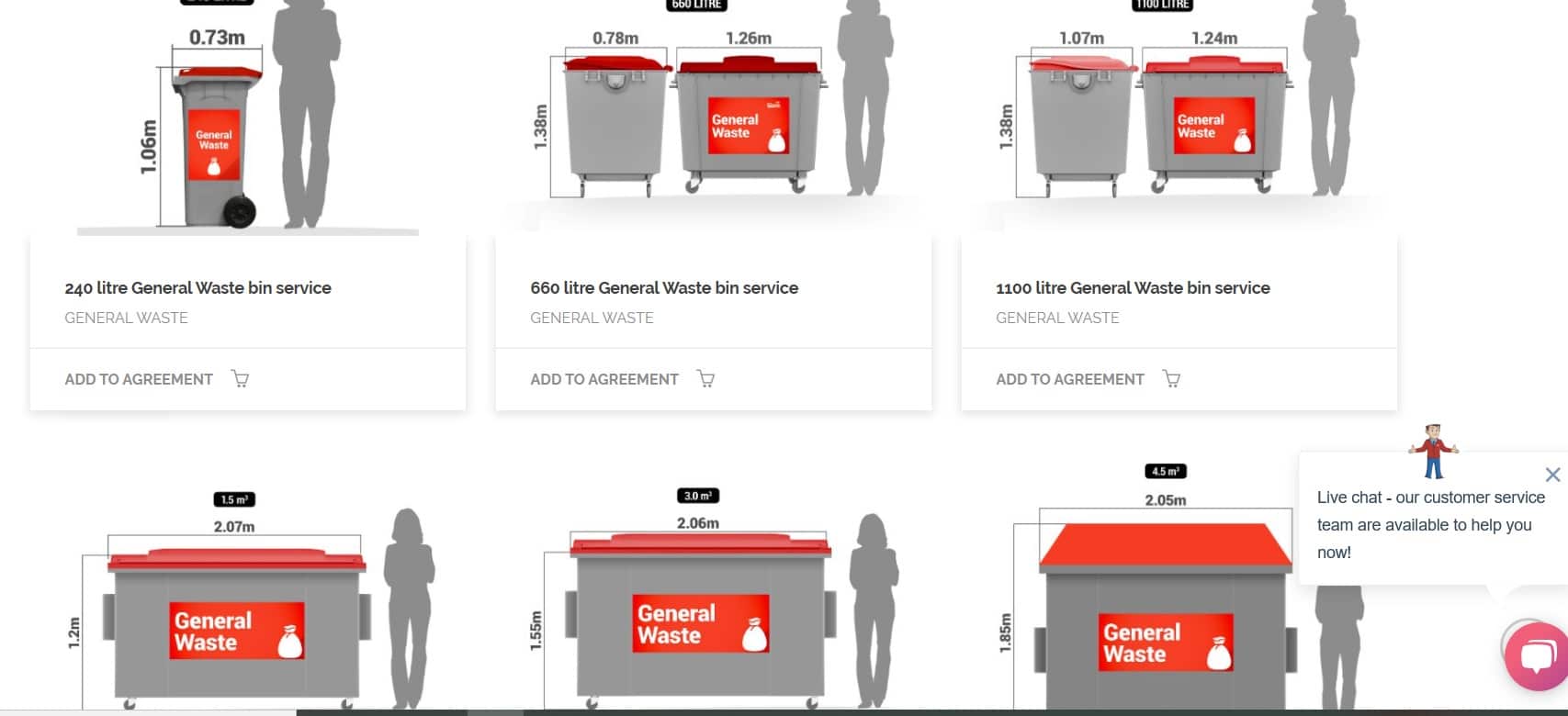 C. Simplicity of contracts and services – when you are starting a new business venture, the last thing you want to do is sign up to a long term contract, with potential cost increases and a rollover clause.
With Waster, all our services are delivered on flexible 30 day agreements (with one price adjustment per annum – the next one is 1st July 2020).
Check out our terms and conditions here as well as our pricing details and inclusions here.
D. Customer service – Waster is a customer service business – which means we respond promptly and efficiently to your concerns and queries.
All customers are given a dedicated contact person with contact methods including ticketed helpdesk, SMS and mobile phone contact.
If you bin is missed or you seek some information, just give us a call and we will rectify the issue.
Conclusion:
Starting a new business can be one of the most nerve wracking but rewarding experiences of your life.
When you start your business – it is vital to keep costs to a minimum and ensure flexibility and reliable services.
Waster offers exactly the service you require and can help you boost your recycling performance.
We are very happy to talk you through your options and will quickly explain how you can reduce costs with services such as green waste removal, organic waste bins or commingled recycling.
Check out the video below on some great tips when starting a new business:
---
Rubbish Collection Melbourne
---
Rubbish collection Melbourne: arranging competitively priced waste management and recycling services through the Waster online model is extremely easy – in fact we often say that booking your flexible 30 day agreement  for rubbish collection Melbourne is as easy as A,B,C. Check out our informative cartoon here – explaining how to arrange your services.
Waster is a revolution in waste management for small and medium businesses in Australia – we currently offer services such as wheelie bins Melbourne in all major metro regions throughout the country including Melbourne, Geelong, Sydney, Brisbane, Adelaide, Darwin, Canberra, Perth, Newcastle, the Central Coast NSW, Hobart and the Gold Coast.
How to book rubbish collection Melbourne services online?
You can arrange your required waste or recycling service through our online model for all bin sizes from 120 litres up to 4.5 cubic metres and all waste streams including general waste (red bin), paper and cardboard recycling (blue bin), commingled recycling (yellow bin), grease trap cleaning, sanitary bins, medical waste disposal, confidential paper disposal and organic / food waste. We have produced informative blogs covering all of these topics.
Whether you are searching for one off waste removal, a green waste collection, waste collection for your business on an ongoing basis or ways to boost recycling – we will be able to help you!
You can get quotes for these services by pressing the big blue button below:
Do I need to shop around for rubbish collection Melbourne services?
We encourage all our customers to inform themselves of the best pricing and service options to suit your business needs. We base our approach on providing education and information to customers such as our guide to buying waste services.
You can check all our prices online and we encourage you to shop around to see if any competitors will offer equivalent value, flexible 30 day agreements (no lock in contract) and customer service commitments.
Do I need to sign a long term contract with Waster?
Being honest – it is always a good idea for you to shop around. You will get a better understanding of prices and services in the market.
You will find out that not all companies in Melbourne service all suburbs and areas. Some companies may only be in your area one day a week. Other companies may not offer all recycling services.
Different business may not offer commingle recycling services or collect waste including food items or other organic waste.
By reading through our blogs and other information – you will gain a strong understanding of ways to boost recycling, obtain cheap rubbish removal services and hence keep costs down whilst helping the environment.
Waster offers all our smart waste management services on flexible 30 day agreements. We do not seek to lock customers in to restrictive long term contracts as we believe our strong customer service is our guarantee to enable customer retention.
Check out our pricing inclusions and terms and conditions for full details. Check our our blog on Melbourne waste management to find out whether Sydney or Melbourne ranks as more sustainable.
Check out a video below covering the city of Melbourne's journey to a sustainable future:
---
Melbourne Waste Collection
---
Melbourne Waste Collection: it is hard to believe it is almost 2021 – so we thought it would be a really good time to publish a quick "must have" list of the three things you absolutely need to consider when arranging Melbourne waste collection for your business. We want to bring our advice up to date and ensure that customers booking services in 2020 are aware of all the latest information.Waster is a real alternative for small and medium Australian businesses – as we let you book Melbourne waste collection and recycling services online – and on flexible 30 day agreements, so you are never locked into a long term (multi-year) contract that may not suit your needs.
Melbourne waste collection – three things to remember when arranging services in 2020!
When you are arranging services – make sure to remember the three simple tips below – and you will make a good choice (and avoid common pitfalls)!:Number One – Be aware of the recent changes in waste management contracts for small businesses
Small waste and recycling customers have recently received considerable protection from the ACCC when it comes to Melbourne waste collection contracts. Many of the traditional clauses in multi year contracts were found to be unfair to customers.
You should check out the summary of the ACCC findings here – before arranging services – so you are aware of your rights.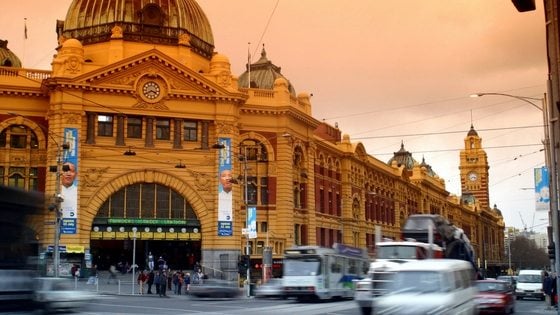 Number Two – Maximise recycling to reduce your costs and help the environment
Landfill levies continue to increase year on year. Landfill levies for general waste increased to $63.28 per tonne from July 2017. This serves to increase the cost of general waste and hence makes recycling much more financially rewarding for Melbourne businesses.
The more you can boost recycling by using mixed recycling or cardboard bins – the more you will reduce your rates.
Number Three – ensure your provide can service the days your require
Obviously different businesses have different waste and recycling requirements. For example, a small office will suffice with a wheelie bin picked up once a week – and hence the day of the week will not be that important.
If you however run a busy restaurant – depending on your bin size, you may need services multiple times a week. Not all suppliers service all areas every day or for example at weekends.
We recently worked with a customer in a suburban area – and services were only available on one day a week. It is thus very important to confirm this before signing a Melbourne waste collection agreement.
If you follow these tips – you will save money and boost your recycling!
---
Melbourne Bin Collection
---
If you are anything like me – you like things that should be simple to be nice and simple. When things are complicated – it often puts be off. In this blog post, we will give step by step guidance on how to arrange an easy, reliable and cost effective Melbourne bin collection service for your small or medium business – whether it is a new enterprise or well established.
When you start out looking for a waste management provider – you should of course check if the local council can supply your required service and if it suits your needs.
The first step should be to work out what type of waste your business produces – i.e. and what can be recycled.  Nowadays – it is usually cheaper if you recycle more of your valuable commodities such as glass, cardboard and paper and plastic etc. You can check out our blog here on putting together a simple waste management plan.
How to easily arrange Melbourne bin collection for your business
Even if we are blowing our own trumpet – we believe that waster.com.au is the best place to start to arrange your services easily and cheaply.
Jump on waster.com.au and select Bin Collections – the red button in the image below: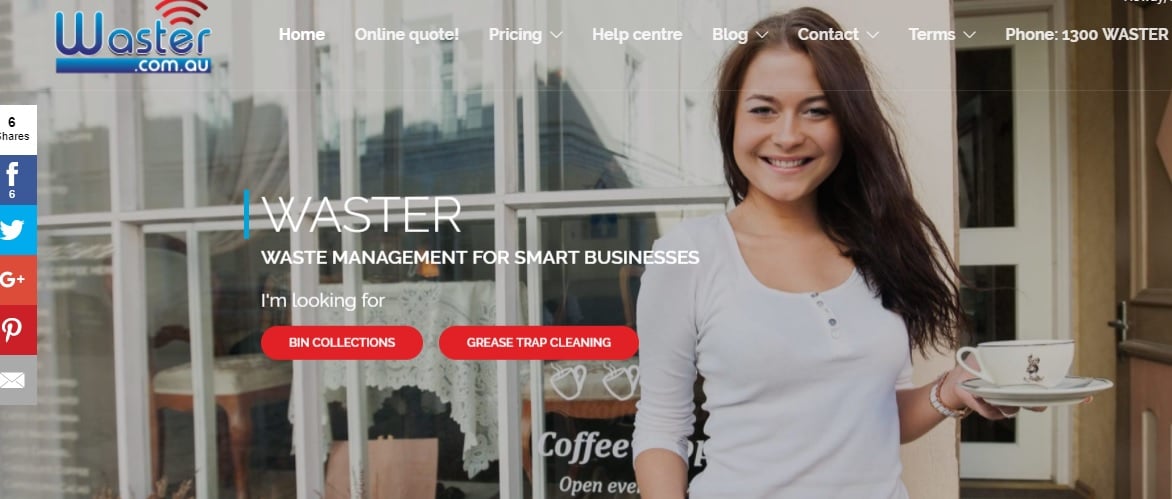 You can then select the bin type you require – using the Australian standard colours for each bin – simply click on the coloured icon as in the image below.
If you require a general waste bin service for your business – click on the red image.

You can always come back later to select other services that you may require such as grease trap cleaning or sanitary bins.  You will then be presented with the varying bin sizes and options for your required waste stream.
Of course if you have any queries – you can utilise the online chat function in the bottom left hand corner to talk to a friendly customer service agent in real time.
Alternatively- you can give us a call on 1300 WASTER or request a call back during business hours if now is not a good time for you.
In the image below you can select the bin size you need – for example a 660 litre general waste bin.
Through the drop down box options – you can also select the frequency – i.e. how often you would like the bin collected and your business type.
This will then provide a price per collection. The more often you get the bin collected – the price per collection will drop.

Selecting the 660 litre:

By selecting the bin size and frequency – you can then add the bin to your cart.
The final step is completing your delivery details and contact info.
The bin will then be delivered to your location and the collection cycle will commence.
You do not need to provide payment information on checkout – billing for regular services is one month in arrears – and you can pay by either direct debit or by bank transfer on invoice.
All services are on flexible 30 day agreements so you can cancel at any time – by simply sending us an email giving us 30 days notice.
Check out our blog on recycle garbage to see how a machine may be able to eat your waste plastic.
---
Waste removal Melbourne
---
Waste removal Melbourne: as anyone who reads our blogs on even a semi-regular basis (or who has ever dealt with an Australian waste company or rubbish collectors will know) regular rate increases have been a standard event twice or more times per year. It has become standard business practise for numerous providers to increase their prices for small customers two to three times a year, as the ability to increase rates on large customers has been decreasing – and believe it or not, the volume of waste produced in Australia has not been growing.
As of Feb 2019 – the economic climate is probably less certain that it has been in many years – with China refusing to buy Aussi coal, and lower house prices impacting consumer sentiment. Keeping costs low is more important than ever for small and medium Australian businesses.
You can find some details on waste companies common practise of increasing rates – and also some advice on what you can do about it in our recent articles on:
– waste collection Melbourne – whether a commercial collection can be better for your business than a council service
– waste management Melbourne – whether you should sign a long term (multi-year) contract for waste services
– Sydney waste services – covering the topic of rate increases, this advice in this article is equally applicable to Melbourne based businesses.
Do waste removal Melbourne companies reduce their rates?
The general answer to this question is no! If you are an existing customer of a waste removal Melbourne supplier, it is extremely unlikely they will contact you do reduce your rates. Your only real chance of getting a discount is to contact them and say you are cancelling your service. In this case they may offer you a discount if you sign an extension.
The problem with this approach of course is A. it is hard work and B. it will generally only give you short term price reductions as the waste removal Melbourne supplier will go back to the process of incrementally increasing your rates every 6 or so months.
We have had many instances where clients have sought to move their commercial waste removal Melbourne services to Waster – due to lower costs and flexible contracts, only for their previous supplier to come back with much lower rates. Competition is always good for the market!
Does Waster keep waste prices low for Melbourne customers?
Waster has reduced rates in the past – and also held commercial waste removal Melbourne pricing static in previous years. In fact – we have not raised recycling rates in Melbourne for over two years.
This is despite ongoing turmoil in the Victorian recycling market – that is only getting worse in early 2019!
It is always nice to be able to reduce rates or hold pricing static for a long period of time. It also keeps our customers happy – and with our 30 day agreements, of course reduces customer churn for us!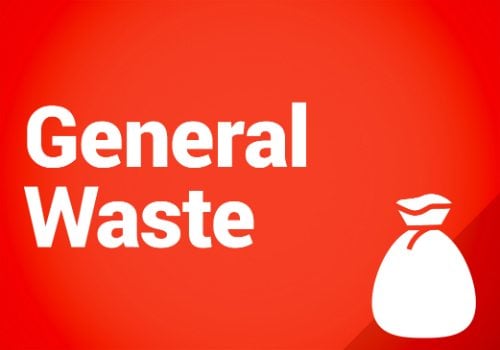 Waster's approach is different to the rest, as we seek to deliver enhanced customer service and value to our small and medium customers. Basically, when you move to Waster, you will not have to battle for efficiencies and cost minimisations. This applies to all waste services including grease trap Sydney services.
Please check out our rates today – and see if we can help your business with our flexible 30 day agreements and no hidden costs such as rentals, site fees or environmental fees etc. We look forward to speaking to you. Waster is one of the leading waste management companies in Australia.
We also provide skip and bulk bin services – so please contact our friendly team if you are seeking quotes on concrete waste removal Melbourne or industrial waste removal Melbourne.
---
Garbage removal Melbourne
---
Garbage Removal Melbourne: In Australia – we can often be overly critical of ourselves and sometimes look overseas for examples of best practise and how to do things better. However, there is lots to be proud of in waste management in Australia and our environmental commitments. After all – our major cities always rank highly in international indices and liveability rankings. Of course, we recognise that there is continually more we can do – but sometimes it is good to look overseas to see that garbage removal Melbourne can actually be pretty good.
Waster provides low cost waste and recycling services to small and medium Aussie business – services such as garbage removal Melbourne. Check out our flexible 30 day agreements and great prices online today.
Garbage removal Melbourne – things are done differently overseas!
We like to promote heroes of recycling in this blog – and a great example of can do spirit is given by Lebanese woman Zeinab Mokalled. The BBC covered her in a recent article – which we quote from below:
"It would also have been up to the women to sort the recycling, and probably to put out the rubbish. So Zeinab needed volunteers to go door-to-door to get the message to the women in every house – and for this job, in a Lebanese Muslim community in the mid-1990s, men would have been inappropriate."
"It didn't seem likely that the 10,000 villagers would pay to have their rubbish collected, so the volunteers paid for it themselves. Nineteen years later they still do, each of 46 members putting in about $40 each year."
"Household recycling was the best way forward," says Mokalled, who named the organisation Call of the Earth.
They started with the easier items to recycle such as paper and cardboard, bottles and cans – and then moved n to ewaste.
"The only help the waste collectors received from the local authorities, after three years' work, was a gift of 300 plastic bins and a piece of land, which enabled Mokalled to get her garden back."
This woman truly is an inspiration and shows what can be done with effort – her advice is : "Planting the idea in people's minds that caring for the earth is our responsibility in this part of the world. Whether we do it or not, our politicians won't care. It's down to us."
See our related blogs on garbage bins and rubbish tips Melbourne and industrial waste bins.
We recently published a step to step guide to arranging Melbourne bin collection services.