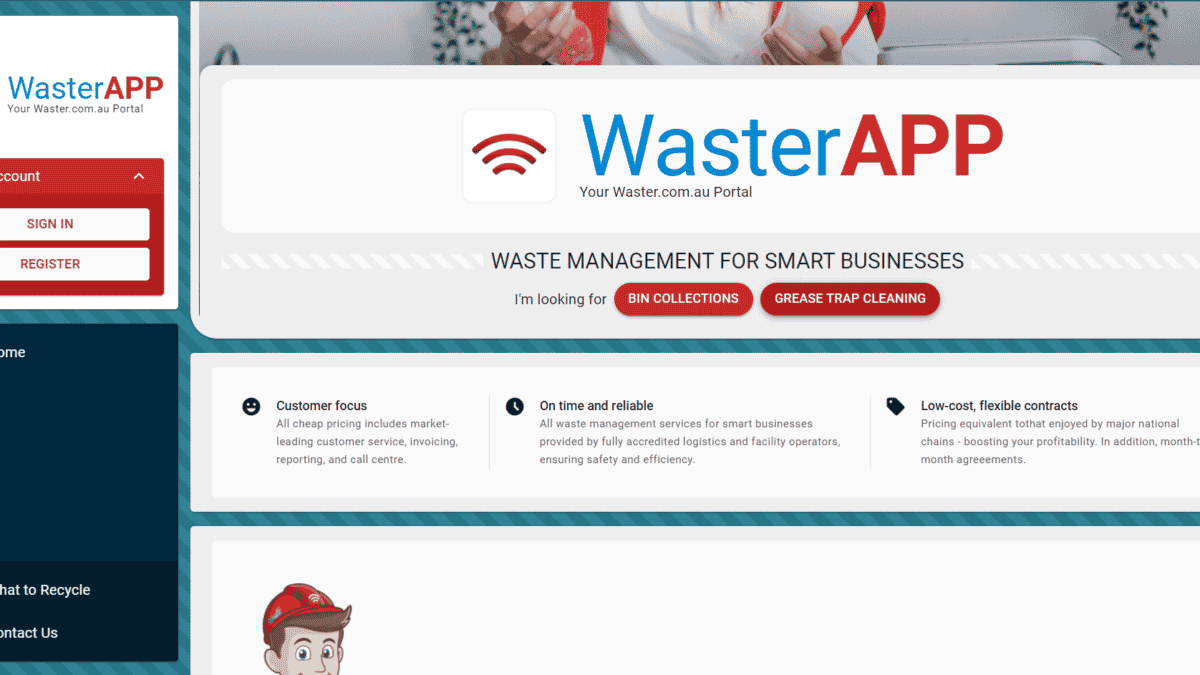 How To Use The Waster App: Checking Your Waste Collection Schedule And More! 🧑🏻‍💻
Waste Collection Schedule 🧑🏻‍💻: In this blog, we finally talk about our newly-released app called the Waster App! This helpful software application will make processes such as checking bin schedules and requesting additional services extremely easier. Equally important, we cover how you can use the Waster App without much confusion. Continue reading this blog to learn more about our waste collection schedule app. 
One way or another, we have to keep up with the times and evolve. Of course, doing so does not necessarily mean resorting to drastic changes in our processes. We, as followers of the evolution of technology, decided to take advantage of the present and the future by developing an app aimed at our customers, mainly making it easier for them to enjoy our waste and recycling services to the fullest.
Nevertheless, others might not be tech-savvy enough (for now, at least) to use it  for the first time there and then without a few instructions. Do not worry, no one really starts at the top and know everything, after all. As a result, we have created this blog to guide our awesome customers on how to use the newly-released Waster App without much hassle. Additionally, they have this blog to fall to if they forget to use some of the features such as checking the waste collection schedule.
Using it is really easy. Read on to learn more on how you, our valued customer, can use it.
Waster: provider of readily-available recycling solutions for small and medium Aussie businesses
Before we take you further into the discussion and talk about how you can use our waste collection schedule app along with other useful features, we want to share Waster with you.
Who is Waster? Why do plenty consider it as one of the best waste and recycling companies in Australia?
---
>Download Now: Free PDF Business Owners Guide To General Waste Bin Services
---
Simply put, Waster provides you with innovative solutions for your and your business's waste management and recycling needs. In addition to that, we provide flexible, 30-day contracts instead of the typical lock-in contracts, which proves a better choice nowadays.
Click on the blue button below to learn more.
---
READ: Refund Bag ♻️ – Helping With Your Container Deposit Scheme In Australia
---
What is the Waster App? And how to use it
If you are still not familiar with the Waster app, we have got you!
Basically, the Waster app is a simple, easy to use feature for Waster customers enabling them to check bin collection schedules such as service days. This ensures you never forget to place your bin out for collection again! You can also request additional services by contacting our friendly customer service team through the app.
Below, we discuss how you can use this waste collection schedule app to make things easier for you.
Using this waste collection schedule app
Access the app from the top menu bar. Alternatively, you can go and visit this link: waster.app/home.

Up next, you can continue with the waste collection schedule app and click Register to set up your account.
On registration, enter your email (this should be the email associated with your Waster account). You will receive an email confirmation. Please approve this email so that you will have access to the app without too much hassle. If your email is not recognised (i.e., is different to that registered with your Waster account), please contact us on info@waster.com.au and we will link your email.

How to check schedules
Now that you finally have the account to log in on the Waster app, how can you make sure to check your waste collection schedule? We elaborate below.
When you initially log in, it will open on the dashboard screen. This shows all your bin serviced and schedules as below. You can check individual services by clicking on services on the left-hand menu. This will show each service (i.e., bin type) on a unique calendar.

Please see the given example below for cardboard bin: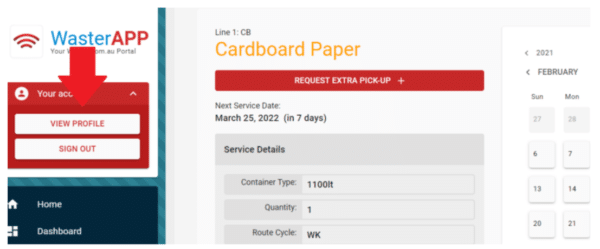 How to request an additional service aside from checking waste collection schedule
In addition to checking your waste collection schedule, the Waster app also lets you request additional services if you want. How is this done? We elaborate below.
By clicking on the red box – "REQUEST EXTRA PICKUP", you can open a request box. By requesting an additional service, the customer service team will book this service in for you on the first available day and confirm via email reply.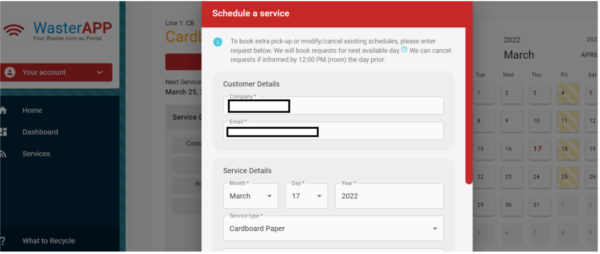 Check account details or change password
You can check your account details by clicking on "View Profile" as seen below.
You can then check your account details, site number, contact details etc. and change your password if so required. Mr Waster reminds you to always keep in mind your details as to not have any issues logging into your account.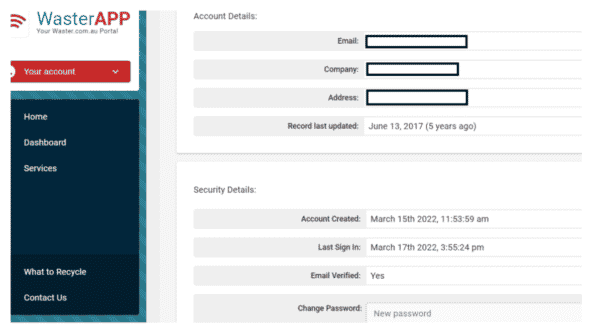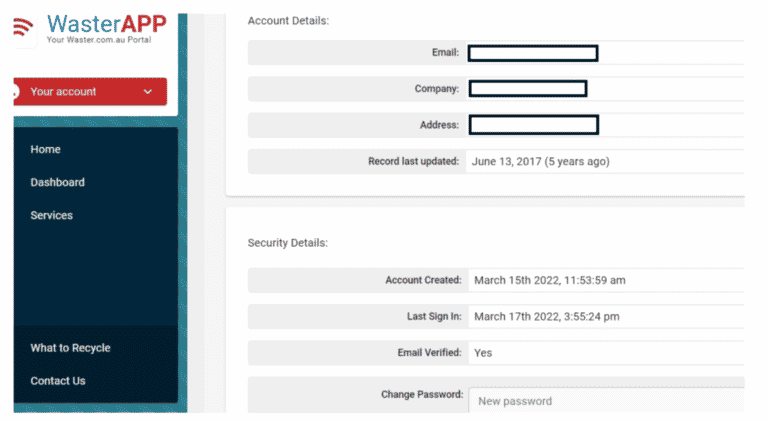 REMINDERS: If you update screens too quickly, chances are there may be an error screen. (i.e., Error 500 as seen below). To solve this, you Simply have to wait a few seconds and press reload – and voila! It will rectify by itself after you reload it.


Waste collection schedule: Waster's final thoughts on the blog
Waster itself tries to keep with the times and utilise technology so that we can provide better services to our customers. Through the Waster app, we have done so.
If you, our valued customers, have any questions in regards to our waste collection schedule, service provider app, then you should contact us right away. In the next section below, we have provided the necessary information needed to contact us.
Contact Waster right now for your waste and recycling needs now!
Does your Australian-based business need waste and recycling services? If so, then you have come to the right website!
Please call 1300 WASTER (1300 927 837).  You can also email us at info@waster.com.au or enquiries@waster.com.au if you have any further questions. Find the best deals in terms of waste and recycling pricing and services!