Waste Management Newcastle: Book A Cheap Bin Collection Service
Waste management Newcastle: Newcastle is probably the most livable city in New South Wales and all of Australia. From Port Stephens to the Hunter, the entire region is packed with beautiful wildlife, beaches and forests.Not just a lovely place to live, as the second biggest city in New South Wales (check out our guide to Sydney waste management), Waster.com.au has a very strong waste management offering in Newcastle and surrounding areas in 2018.
Waste management Newcastle 2018 requirements
With a diverse local economy covering tourism, mining, shipping, logistics as well as as a healthy and vibrant small and medium business community there is strong demand in the Newcastle metropolitan region for low cost, flexible online waste disposal services and recycling.
Newcastle region is included in the New South Wales EPA Regulated area under the MLA (the Metropolitan Levy Area). This means that all waste disposal of general waste at landfill is subject to the waste levy. From 1st July 2016, the waste levy per tonne has been increased to $135.70. It should be noted that the levy payable in Newcastle is the same as that payable by businesses in Sydney waste metropolitan region. You can access comprehensive and updated links to government and EPA websites providing reliable information on state landfill levies on our website through the waste resources page.
This high cost of waste disposal makes it more important than ever for Newcastle based businesses to obtain low costs for their Newcastle waste services as well as increasing the financial benefits for businesses of recycling.
How to compare waste management Newcastle prices
The easiest and quickest method for customers to check Newcastle waste collection prices in the Newcastle metro region (both new businesses opening their doors for the first time as well as established business looking to get better prices and contract terms) is to jump online and visit our online waste management shop. Here you can obtain real time pricing for all your waste management requirements as well as quickly book your services.
It should be pointed out that our pricing model delivers significant discounts for businesses producing more waste i.e. by either booking more regular collections such a 3-4 times a week or by booking multiple bins. Booking multiple bins can result in discounts in cost of up to 10-15%.
Waster.com.au practises a commitment to pricing stability for our customers. In an industry where some suppliers are in the habit of increasing rates twice or more times a year, Waster strives to keep pricing volatility to a minimum.
Regions covered by Waster.com.au
Waster offers comprehensive waste collection services all across the Newcastle region – we provide easy to understand and all inclusive pricing for all services. Our prices include no bin rental fees, no delivery fees, no environmental fee or administration fee. The price you see on the website is the actual price you will pay, we pride ourselves on having no hidden costs in our flexible 30 day contracts. As our customers can leave us on 30 days notice, we believe in treating them well to ensure they stay with us!
Our prices apply to the following postcodes – if your business is not located in one of the following post codes you may fall in our Central Coast region (check our our Central Coast rubbish removal article here). Please contact us if you have any queries and our friendly customer service team will answer all your questions.
Postcodes: 2265, 2267, 2278, 2280, 2281, 2282, 2283, 2284, 2285, 2286, 2287, 2289, 2290, 2291, 2292, 2293, 2294, 2295, 2296, 2297, 2298, 2299, 2300, 2302, 2303, 2304, 2305, 2306, 2307, 2308, 2309, 2318, 2322.
Suburbs serviced include (but not exclusive to): Mayfield, Fern Bay, Shortland, Birmingham Gardens, Callaghan, Jesmond, Holmesville, Barnsley, Argenton, Cameron Park, Warabrook, Kotara, Adamstown, Merewether, Bar Beach, Broadmeadow, Georgetown, North Lambton, New Lambton, Hamilton, Islington, Maryville, Carrington, Tighes Hill, Belmont, Hillsborough and Warners Bay.
Please see our map below indicating areas where we service waste customers in Newcastle metro region:
Waste Management Newcastle map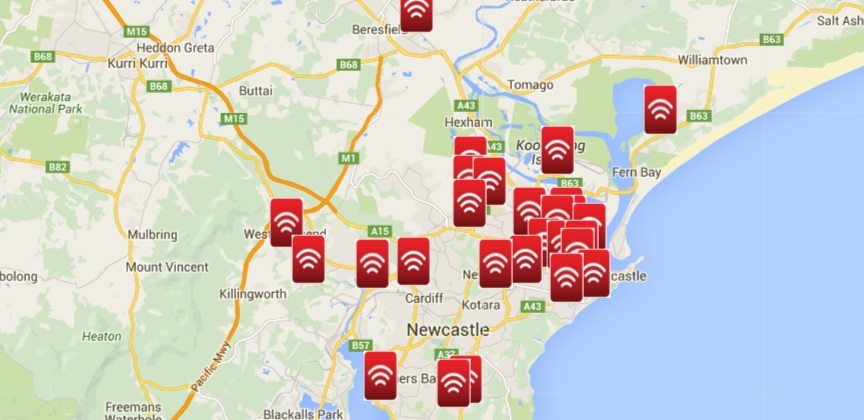 Central Coast, New South Wales
Waster also supplies services along the New South Wales Central Coast, another area of outstanding natural beauty. We will cover our waste management offering in this area in a future blog post.
Takeaway
Waster has an active social media presence on Facebook, Google +, Twitter and also a little bit on Instagram. We are a little uncertain as to peoples appetite to see waste management pictures on Instagram so we will have to see how that one develops! In the mean time, we would love to hear from you on any of these media platforms. Please send us a message telling us what you would like to see from your waste collection providers. Also check out our blog on skip bin hire Newcastle.
Finally, as Origin Game 2 is on tonight – C'mon the Blues!