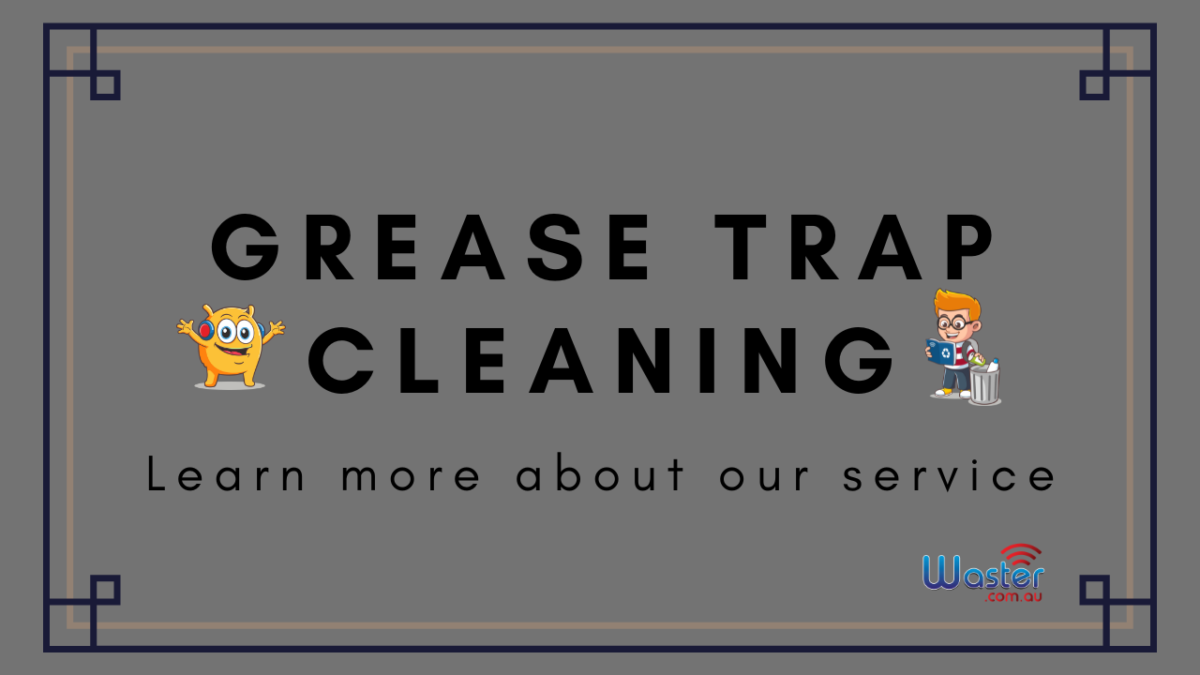 Waster's Grease Trap Cleaning Services 🛢️
Waster Grease Trap Services 🛢️: Having a grease trap cleaned is vital for food businesses such as cafès and restaurants. Waster offers grease trap services. Read this blog to learn more about this service.
New businesses or old, cafès and restaurants alike surely work hard to keep their establishments running smoothly, clean and safe. Of course, this means every day of hard work trying to achieve their goals of satisfying their customer's needs, efficient staff management, successful inventory checking and many others.
Unfortunately, this also means that some things will be unaccounted for and left out. Grease traps, in particular, are something that cafès, restaurants or other businesses in the food industry often forget about.
What you should know about grease traps
What is a grease trap, first and foremost?
A grease trap is a system to prevent grease, food waste and other types of organic waste from clogging up the water pipes in your business and the wider water network. It prevents the grease from entering the pipes and is mandatory in Australian cities for businesses serving food. The trap filters the grease as it goes down the sink.
As it collects grease and food waste, a grease trap, without scheduled cleaning, will accumulate all the waste and let it solidify, which will cause problems that become more serious as time passes by.
Some of the problems businesses can encounter when they fail to regularly clean a grease trap are as follows:
A clogged grease trap full of waste damages the environment.
Not only does it damage the environment, but it also damages a business's property.
As businesses damage the environment with their clogged grease trap, they also harm wildlife.
A full and clogged grease trap invites pests.
To prevent this from happening, businesses will have to regularly clean their own grease trap.
Whilst a business can go ahead and clean its own grease trap, it is a much better option to acquire professional services as this will help you save more money and is much less of a hassle than doing it themselves.
Waster, as mentioned above, offers grease trap services. Below, we give you a background on our grease trap services.
Learning who Waster is and what it can do for businesses
Before we go further with Waster's grease trap services, let me share with you more information about Waster.
---
>Download Now: Free PDF Business Owners Guide To Grease Trap Cleaning Services
---
We here at Waster provide innovative solutions for your and your business's waste management and recycling needs along with our grease trap services. Furthermore, we provide flexible, 30-day contracts instead of the typical lock-in contracts, which proves to be better.
If your business is based in Australia, partnering up with Waster will prove to be beneficial for your business. Here, I enumerate to you what we bring to the table in terms of providing quality waste and recycling services. This gives you a background of what advantages you have acquired now that you've partnered with us and availed of our grease trap service.
You pay exactly what you asked for – and not a dollar more! For your waste management and recycling needs, avail of our flexible, 30-day contracts instead of those long, unproductive and hidden fee-containing lock-in contracts.
Designed for small and medium businesses – we help you reduce costs while boosting recycling. That's a win-win situation!
On-time and reliable – we provide fully-accredited logistics and facility operators. By saying so, we ensure the safety and efficiency of our services.
As such, in the waste management industry, problems are bound to rise like in any other business. If such issues arise in regards to our service, you can talk to our friendly customer service team.
Click on the blue button to learn more.
---
READ NOW: What Can Go In Your Nappy And Sanitary Waste Bin? 🚻
---
Now, we move on to Waster's grease trap service.
Waster: here's our grease trap service
Waster offers its grease trap services for both small and medium businesses (SMEs). Assuming that you've acquired our service, we want to give you a comprehensive discussion that you must remember.
Here's what you should know about Waster's grease trap service:
We offer grease trap pump-out and cleaning services. The pricing is determined on a cent per litre basis. Pricing is shown exclusive of GST. In addition, the minimum charge is equivalent to a 1,000-litre pit. Pricing assumes grease trap is accessible by tanker within 15m of Pitt or pump out point and involves one personnel member to perform service. More complex services will require specific pricing.
Different areas have different laws. For example, in the Sydney metro, a Sydney water change transporter of form will be required and will be sent to you after signing up. In Sydney, our operations team scan your barcode each time a service is performed. If you operate in other areas, please keep a copy of our invoice as proof of services. This may be requested by the water authority.
Melbourne traps are quoted for a minimum of 4 (quarterly) services or 12 months, whichever occurs earlier. The Melbourne price is per individual service.
Grease trap cleaning is in line with the water authority schedule. Please note that Waster cannot set your schedule. Instead, the schedule will be set by your local water authority.
Waster's grease trap service: how often should you have your grease traps cleaned?
How often should your grease trap be cleaned? Well, it depends. If you've read our blog on how often you should clean your grease trap for your cafe or restaurant, we discussed it there in detail.
According to smart alternative fuels, businesses should always remember the one-quarter rule. You might be thinking, "what is the one-quarter rule?" Basically, it means having your grease traps cleaned when you find them a quarter full. If you failed to do this, the trap becomes much less effective.
Delaying this will result in overflowing and blocking your grease trap. Along with the horrible stench, you will experience different problems that we've already enumerated above.
If you have any questions, then feel free to contact and ask us. We will be more than happy to help you here at Waster!
Contact Waster right now for your waste and recycling needs now!
Does your Australian-based business need waste and recycling services? If so, then you have come to the right website!
Please call 1300 WASTER (1300 927 837).  You can also email us at info@waster.com.au or enquiries@waster.com.au if you have further questions. Find the best deals in terms of waste and recycling pricing and services!