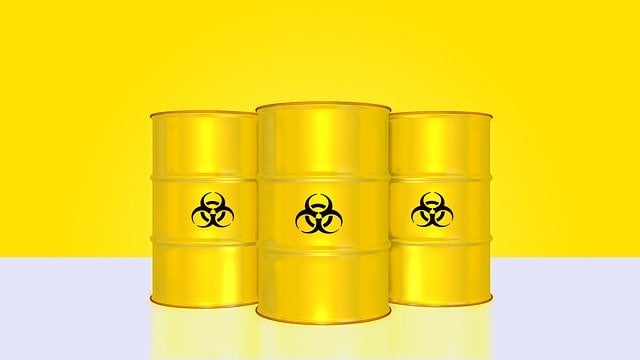 What Is Prescribed Waste? 🗑️
What Is Prescribed Waste? 🗑️: We encounter different types of waste here and there all the time. But for today, we will discuss a more specific type of waste.
More people are now becoming more concerned about generating waste. Businesses, in particular, produce hazardous waste which can harm people, plants and animals, and especially the environment if left unchecked. The law makes sure to remind businesses to manage their hazardous waste. Specific chemical, hazardous, or dangerous waste is classified as prescribed waste by the law and should be dealt with accordingly.
Let us discuss more in the following sections. Read on to learn more.
---
>Download Now: Free PDF Business Owners Guide To General Waste Bin Services
---
A bit about Waster
Before we continue with the discussion on what prescribed waste is, let me share with you more information about Waster.
We here at Waster provide you with innovative solutions for your and your business's waste management and recycling needs. Furthermore, we provide flexible, 30-day contracts instead of the typical lock-in contracts, which proves to be better.
Click on the blue button to learn more.
---
READ: Product Destruction Services 🗑️
---
Learning what prescribed waste is
As I have stated above, we can define prescribed waste as any chemical, hazardous, or dangerous waste. Businesses should make sure to deal with and dispose of this type of waste in specific manners.
Also called prescribed industrial waste (PIW), this can cause problems for people and the environment. In the next section, let us see how the people responsible (i.e., those under contract with an EPA permit) should deal with this type of waste.
For further understanding, prescribed waste includes the following waste:
waste coming from industrial processes, which can include the more common products manufactured such as plastics, batteries, and paint;
types of waste coming from commercial or business enterprises such as fast food chains, restaurants, cafes, salons, and automotive stores;
clinical or medical waste from healthcare facilities or the like; and
contaminated soil produced by former practices not suitable to today's standards such as utilising waste for land levelling, leaking storage tanks, and uncleaned or untreated spills.
To elaborate, here are examples of other different industries that generate prescribed industrial waste:
chemical industries
car and car parts manufacturing
food processing
metals refining, processing, and recycling
ink manufacturing
textiles manufacturing
leather manufacturing
Classification
Currently, we know of two classifications that can deal with waste differently, either by recovery and reuse or temporary storage and disposal. Let us delve deeper.
1. Recovery or reuse
There is prescribed waste that should not go to landfills because it can be reused or recovered (i.e., recycled). This means that not every PIW should end up in a landfill for disposal. Examples of what you can do to this classification of prescribed waste include energy conversion, among many others, depending on the waste. But let me elaborate more.
There is a wide range of waste that we can include for recovery and reuse. According to the EPA, examples include:
Architecture and decorative paint
Unprocessed cooking oil
EOL transformers
Grease interceptor trap waste
Used oil filters
Large containers
2. Temporary storage or disposal
This type of prescribed waste means anything classified as subject to disposal. Examples include:
Drilling mud
Firefighting DCP
Ceramic fibres
Absorbents
Packaging waste
Arsenic
How to deal with prescribed industrial waste
Governing bodies must have an advanced industry for prescribed waste management. As stated above, two things can be done to the industrial waste at hand: either by landfilling or resource recovery (only if possible).
Resource recovery, to explain further, does not only involve energy recovery, but this also includes reusing and recycling. Processes include the following:
producing fuels coming from different solvents, sludge, and similar organic materials;
recycling the same products as mentioned above, namely oil and solvents;
reusing utilised sulfuric acid as a neutralising agent;
reuse of fly ash as a soil conditioner or in concrete manufacturing
Additionally, here we state some other ways to manage this type of waste if you own a business (also courtesy of VACC):
You must first know what type of prescribed waste you generate.
Try to minimise the waste generated if possible. In particular, disposing of or dealing with prescribed waste costs a lot of money.
Do not mix it with other types of waste. For example, do not mix it with general waste, recyclables, organic waste, or the likes.
If the waste must be stored, then storage should be done in a proper way. To emphasise, they should be stored in a safe container on a designated area to prevent it from spilling.
Label the stored prescribed waste properly.
Only employ a contractor with an EPA permit. Additionally, make sure that the contractor shows you the permit beforehand.
Always keep records of your stored and transported waste. Keep the records for at least 24 months.
Mr Waster's opinions on it
Businesses produce waste almost daily. In fact, you will never truly find a "zero-waste" company. But even so, they can implement ways on how to properly dispose of prescribed waste in a manner that will not harm the people, plants and animals, as well as the environment itself.
First things first, before even thinking about the storage, treatment, or disposal of the waste, you must first be licensed by the EPA to do so according to the law. That is because products like these should be dealt with cautiously. After all, we would not want inexperienced people dealing with prescribed waste, right?
What is prescribed waste: conclusion
Every business should be aware of what type of prescribed waste they generate. More importantly, they should make sure that the waste is properly stored, transferred, and disposed of properly to ensure the safety of all people and the environment.
Waster: things you need to know
If you're looking for different bin services, check our waste recycling shop and find the best deals in terms of pricing and services.
Also, please call 1300 WASTER (1300 927 837), or email us at enquiries@waster.com.au if you have any further questions.