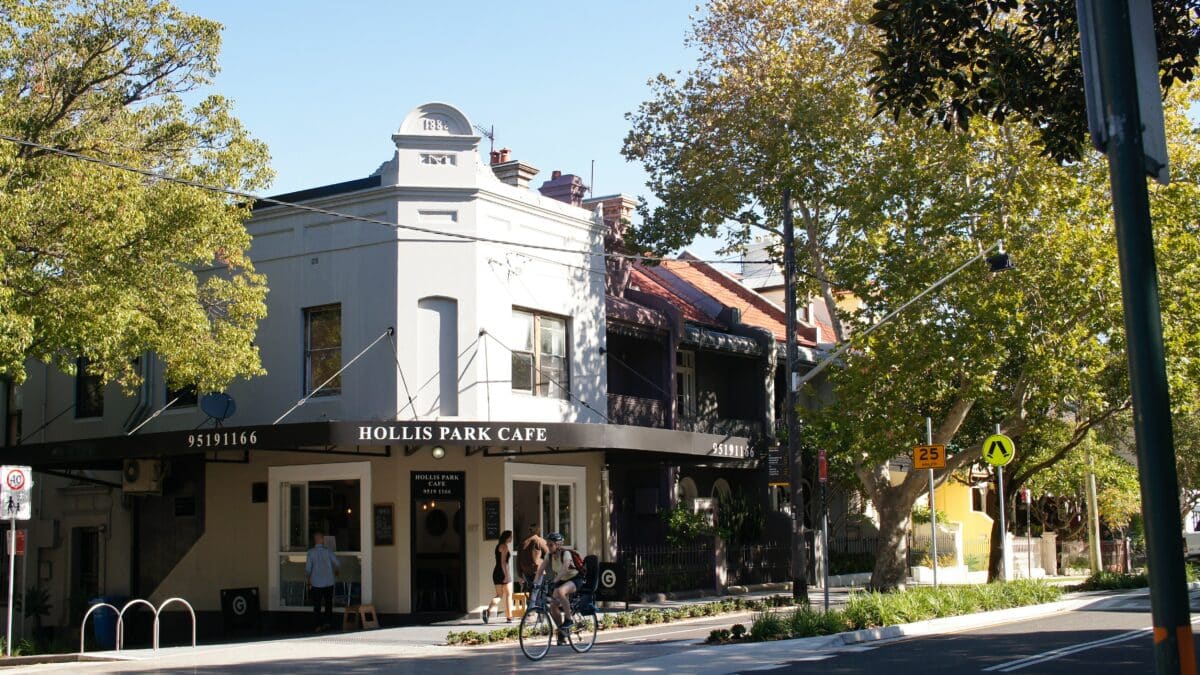 Newtown Garbage Collection 🗑️ – Waster's Offered Services
Newtown Garbage Collection 🗑️: When you think of the word "alternative", what comes to your mind? For me, Newtown often pops up when that comes into my dome. The vibe there is just amazing!  This inner Sydney neighbourhood is definitely on Waster's list of must-visit places. To maintain its pristine condition, cleanliness should be prioritised. Newtown businesses, in particular, must clean up after themselves. That is where Waster can offer Newtown businesses its garbage collection services.
According to Tom Smith of Culture Trip, the 2042 postcode is to Sydney what Brooklyn is to New York or Shoreditch is to London – a place specialising in coffee, breweries, thriving restaurants, and mural art. It is a place where I initially think that bicycles are more prevalent than vehicles, which is most definitely a vibe there. It is just that beautiful!
---
>Download Now: Free PDF Business Owners Guide To General Waste Bin Services
---
Of course, to keep its beauty, proper disposal, transportation, and treatment of waste should be taken into account. Newtown-based businesses like cafes, restaurants, etc. should be wary of this. A very viable solution to this is by acquiring professional help. In other words, Newtown businesses should enquire with a waste management company to help deal with their waste (i.e., get garbage collection services) is a must.
Waster can help with that! Below, we present you with useful information that can help with your waste and recycling needs. Read on to learn more.
A bit about Waster
Let us first discuss who Waster is.
We here at Waster provide you with innovative solutions for your business's waste management and recycling needs. Moreover, we provide flexible, 30-day contracts instead of the typical lock-in contracts, which proves to be better.
Click on the blue button to learn more.
---
READ: Common Recycling Mistakes ♻️🛑
---
Newtown businesses will definitely need Waster's garbage collection services
Signing up with Waster to have garbage collection services in Newtown will get you the following:
Customer service – of course, problems are bound to arise at some point. So, Waster has people that they can speak to when such problems suddenly pop out. Examples of concerns Newtown businesses can voice out from Waster's garbage collection services to customer service includes adding more services, cancelling some or all services, reporting bin damages, and more.
 Various bin sizes to choose from – through Waster's garbage collection services, Newtown businesses can choose from a variety of bin sizes. They can choose whatever suits them best — from 240-litre bin to 4.5m bins — they have plenty of choices! Waster will discuss more of that below.
Bin maintenance – when your bin gets roughed up and in bad condition, Waster offers assistance to sort that problem out. Waster does not want you to have faulty bins that can mess with the waste storage and collection process.
Provided with locks – We provide bins with padlocked to keep the bin locked and stop other people from accessing the bin.
Different collection schedules – some businesses produce waste at a different rate than others. One business may produce more or less waste than the other, so scheduling waste collection should be different between them. Waster offers different collection schedules that suit a business's needs.
The different services
Waster offers different garbage collection services for Newtown businesses. The services are as follows:
Waster firstly offers enables businesses to access the cheapest waste management and recycling services all throughout Australia. Of course, we offer competitive garbage pickup or rubbish removal prices available in the Australian garbage market. A statement from our very own states that our services to businesses "require no lock-in contracts, no unjustified rate increases and no hidden costs" and operates in all metro regions throughout Australia.
The bins for garbage collection we deliver to Newtown businesses include cardboard and paper recycling, commingled recycling, confidential paper destruction, general waste, grease trap liquid service, medical service, organic waste service, sanitary bin service, and Terracycle Recycling boxes. You can click on the blue button positioned above to learn more.
We also recommend you purchase any suitable recycle bins for garbage collection to save up more money. Filling up rubbish bins with loads of waste will make it more expensive; recycling helps reduce that!
Take note that there is no hidden charge in our services. Additionally, we even offer discounts if you purchase multiple bins!
Why Newtown businesses should avail our garbage collection services
Now, if you plan on starting a business or if you already have a thriving business in Newtown, you should consider some factors regarding garbage collection services for your waste and recycling needs. Location, target customers, capital: these are just some of the things you should think about. But there is another important factor that people forget sometimes, and that is the disposal or recovery of your waste with the help of Waster, of course.
Look no further, as Waster will help you with that! Here are just some of the reason why we are considered as one of the best for this:
You pay exactly what you asked for – and not a dollar more! For your waste and recycling needs, avail of our flexible, 30-day contracts instead of those long, unproductive, and hidden fee-containing lock-in contracts.
Designed for small and medium businesses – we help you reduce cost while boosting recycling. That's a win-win situation!
On-time and reliable – we provide fully-accredited logistics and facility operators. By saying so, we ensure the safety and efficiency of our services.
We highly recommend that business follow a waste management plan to boost their recycling, pick the right wheelie bin sizes for your business and lower their costs sustainably for kerbside bin collection.
Waster offers waste industry-leading waste collection services reliability and dependability of utilising only fully licensed, accredited and vetted service vehicles, facilities, landfills and recycling locations. By utilising a wider network of both vehicles and facilities, Waster can provide back up services in case of any unforeseen problem. Furthermore, Waster and all vehicles, personnel and facilities are fully insured and hold all required licenses to perform the contracted services.
Bin sizes
The waste management and recycling industry in Australia measures bins in volume. Bins are generally standardised sizes to facilitate collection by varying garbage truck systems and equipment.
In general, smaller wheelie bins provided to Newtown businesses used for garbage collection are described in litres. The standard small wheelie bins are in sizes 120 litres (0.12 cubic metres), 240 litres (0.24 cubic metres), 660 litres (0.66 cubic metres) and 1100 litres bins (1.1 cubic metres). Remember that one cubic metre is 1000 litres, following the metric system of measurement.
Check out bin sizes below in our image: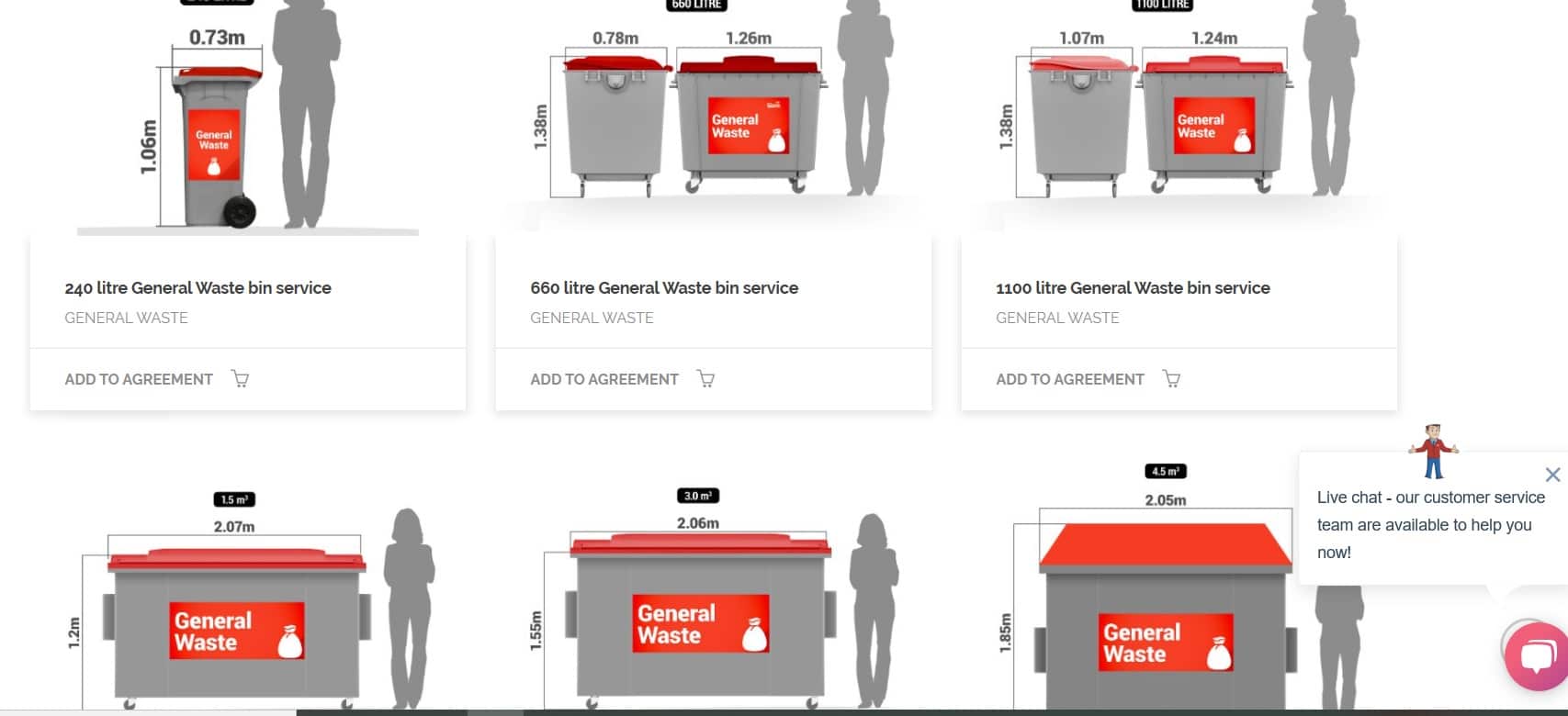 You can check out the exact sizes and dimensions by clicking on the links above. This will let you ascertain your bin fitting into your location and through the door.
For larger bin sizes, the common industry methodology is to use cubic metres. Cubic metre sizes include 1.5m, 3.0m, and 4.5m. A regular garbage truck can easily and efficiently collect these bin sizes.
For larger bin sizes in Australia, we get into the realm of skip bins which can run up to c.30 cubic metres. However, the collection methodology for these skip bins is quite different. The bin will be taken away to be emptied and usually requires a dedicated truck for collection.
To Newtown businesses: discuss with Waster your garbage collection and recycling needs now! Contact us now.