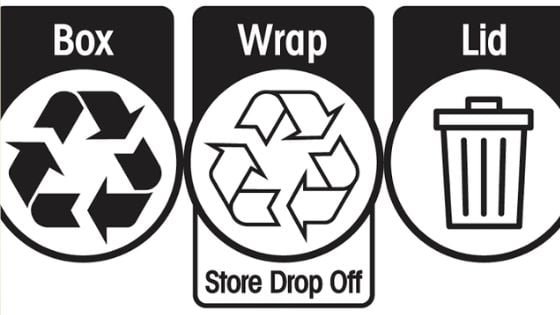 Australasian Recycling Label ♻️: Recycling Labels In Australia And New Zealand
Australasian Recycling Label ♻️: A wide assortment of recycling labels can get confusing, really.
As a result, it creates an alarming challenge for people and industries around Australia and New Zealand.
For example, the Mobius Loop (three arrows looped into a triangle) indicates that a product is recyclable.
But, is that all there is to it? Granted a product has a recycling label like that, would they be accepted in any kind of collection systems? I, for one, still find it confusing when I see a label like that. Don't even get me started with the plastic numbers!
Which? (a consumer group) carried out a survey in the UK. They stated that 59 per cent of consumers know what the green arrow recycling label of the Mobius Loop means.
But the black version, which indicated that not every local authorities accept such kind of rubbish, was only recognised by 38 per cent of the respondents.
Fortunately, there exists a programme that provides easy to understand recycling labels in Australia and New Zealand (Australasian region). Will the labels actually help us boost recycling?
Let me discuss further.
---
>Download Now: Free PDF Business Owners Guide To Commingled Recycling Bin Services
---
A Bit About Waster
Before I get further with the topic, let me first discuss Waster.
Here at Waster, we offer innovative solutions for your waste management and recycling needs.
Furthermore, we help boost recycling and collect rubbish for small and medium businesses in Australia.
With the help of Australasian Recycling Label and Waster, you won't have to worry about where your rubbish goes. They are in good hands!
Click the blue-button below to learn more.
Australasian Recycling Label: Recycling Made Easier!
Planet Ark, PREP Design, and the Australian Packaging Covenant Organisation (APCO), which was launched by Federal Environment Minister Melissa Price, came up with an evidence-based system for Australia and New Zealand to address the ongoing problem of pollution.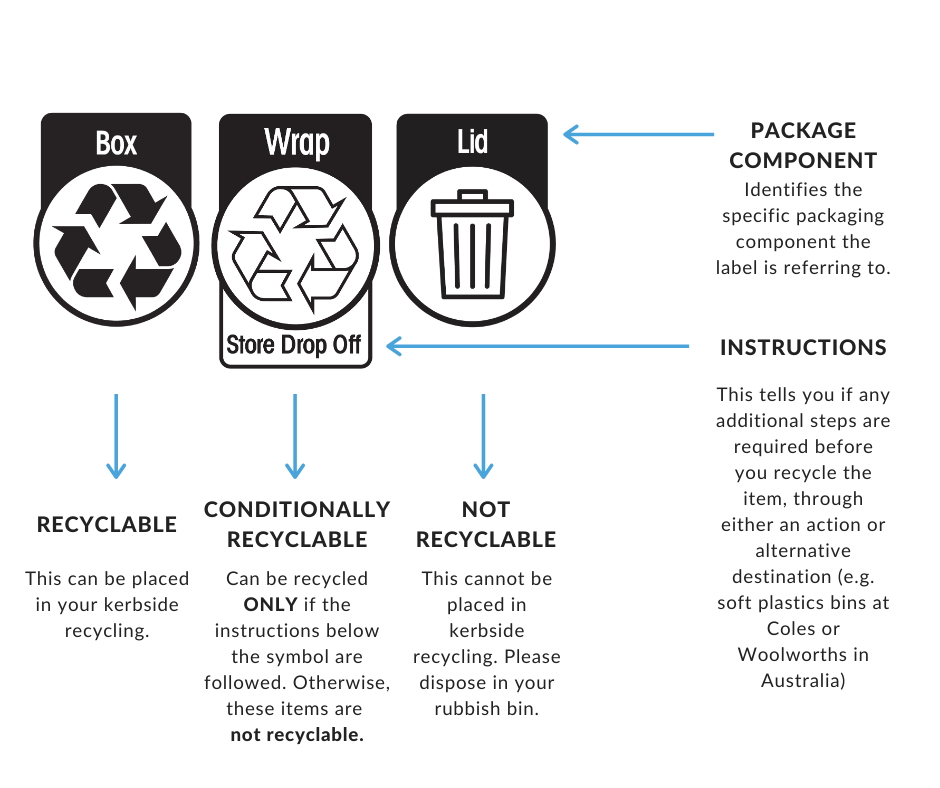 Called the Australasian Recycling Label, it aims to "provide you with easy to understand recycling information when you need it most".
It also removes, or at least reduces, the possibility of waste going into landfill.
What PREP Is
The Packaging Recyclability Evaluation, or PREP for short, aims to provide access to a clear, consistent, and validated information about an item's recyclability.
Scoped and commissioned by the Australian Packaging Covenant Organisation, managed and owned by PREP Design Pty Ltd, and founded by Industries SA and the Innovyz Waste & Recycling Technology Commercialisation Program; it is used to design more recyclable packaging and underpin claims on the Australasian Recycling Label.
Why Do We Need The Labels?
We all know that many of us care about the environment.
Under those circumstances, we need to promote increasing recycling rates and decreasing waste going into landfills.
Our priorities include cleaning the land, sea, and air around us. By reducing our waste and boosting our recycling, we can do just that!
But how can we do that if our recycling labels are too hard to comprehend? Is saving the environment just a dream for us?
For this reason, the Australasian Recycling Label was created!
As stated by Planet Ark, "The Australasian Recycling Label removes recycling confusion. When we dispose of our waste correctly, we keep contamination out of the recycling stream and recyclable material away from landfill".
In other words, increased information on recycling removes the confusion and makes it easier for people to know what they can recycle or not to boost recycling rates. Additionally, it will also decrease recycling bin contamination, which Australia faced because of the China waste ban. Read our blog on Australia's waste export and China's waste problem for more information on this.
Recycling: Much More Than That
We all think about recycling as somewhat of an easy process.
Frankly speaking, I know some of you think that the recyclability of a product or material is solely based on what it's made of.
Let me just say that it is much more than that!  Equally, you have to consider other factors in determining a product or material's recyclability.
Different components and materials make up packaging. Additionally, they each require their own disposal methods.
Planet Ark said that "Packaging recyclability is much more than just the material it is made of. Things like shape, weight, inks and glues, can impact the recyclability of an item".
The Australian Recycling Label removes all of these confusions.
"The Australasian Recycling Label takes all of this into consideration as well as the amount of the population that has access for that item to be recycled via their kerbside recycling collection service."
Australasian Recycling Label: How It Works, Knowing The Labels
There are 3 types of Australasian Recycling Labels.
First, the recyclable label. It is a black-coloured recycling symbol. It suggests that the packaging can be placed in the recycling bin as it is.
Second, the conditionally recyclable label. The transparent recycling label means that you must follow the direction it provides. Furthermore, failing to follow the instructions result in your waste going to the rubbish bin, unrecycled.
Instructions include short phrases like "Return to Store", "Make into Ball", "Fold to Recycle", "Remove Handles", "Separate to Recycle", and others.
Lastly, the not recyclable label. A material having this label means that you must place it in the rubbish bin. It cannot be placed in the recycling bin as it is not recyclable.
Since its launching in 2018, more than 270 organisations use the Australasian Recycling Label programme. Active organisations in the programme include Woolworths, Coles, Aldi, Campbell Arnott's, Australia Post, David Jones and Country Road Group, Unilever, Pact Group, Kimberley-Clarke Australia, Simplot, Fonterra, Goodman Fielder, Officeworks, Spotlight, Nestlé, Blackmores and T2 – plus so much more.
Will It Work?
It still requires effort from business owners and residents – but fundamentally – we have to know what a product is made from before we can recycle it – see our related blog on the thorny question as to are coffee cups recyclable.
Preparing For The Future
In the latest news, Ministers in Australia agree that they should target 100 per cent recyclable, compostable, and reusable packaging by 2025 in order to cut down waste.
Spearheaded by the Australian Packaging Covenant Organisation, it aims two clear goals to be achieved hopefully in the coming years, mainly:
optimising resource recovery of consumer packaging through the supply chain
preventing the impacts of fugitive packaging on the environment.
In fact, they delivered a plan, namely the 2017-2022 Strategic Plan, which focuses on "resource efficiency through sustainable packaging design".
The plan also involves diverting as much waste as possible from going into landfills through educating the consumers, packaging disposal labelling (Australasian Recycling Label), and improving packaging sustainability performance through researching and knowledge-sharing across industries.
Australiasian Recycling Label: Conclusion
Even with its implementation, we must execute it flawlessly (i.e., follow the labels exactly what it wants you to do).
Additionally, we require a multi-faceted approach to the recycling crisis (e.g., less waste, more recycling options, less plastic and better labelling).
If Australia does it with precision and a sense of urgency, we may start to make some headway with this huge problem.
Waster: Your Partner In A Sustainable Future
People in Australia – and other countries, as well – needs every bit of help in the fight against pollution.
Waster also joins the fight! Be our partner in the fight against pollution and avail our services.
Take a look at our waste recycling shop to learn more.
Waster, the partner of smart businesses.
Take a look at our offers and give us a call at 1300 WASTER (1300 927 837).