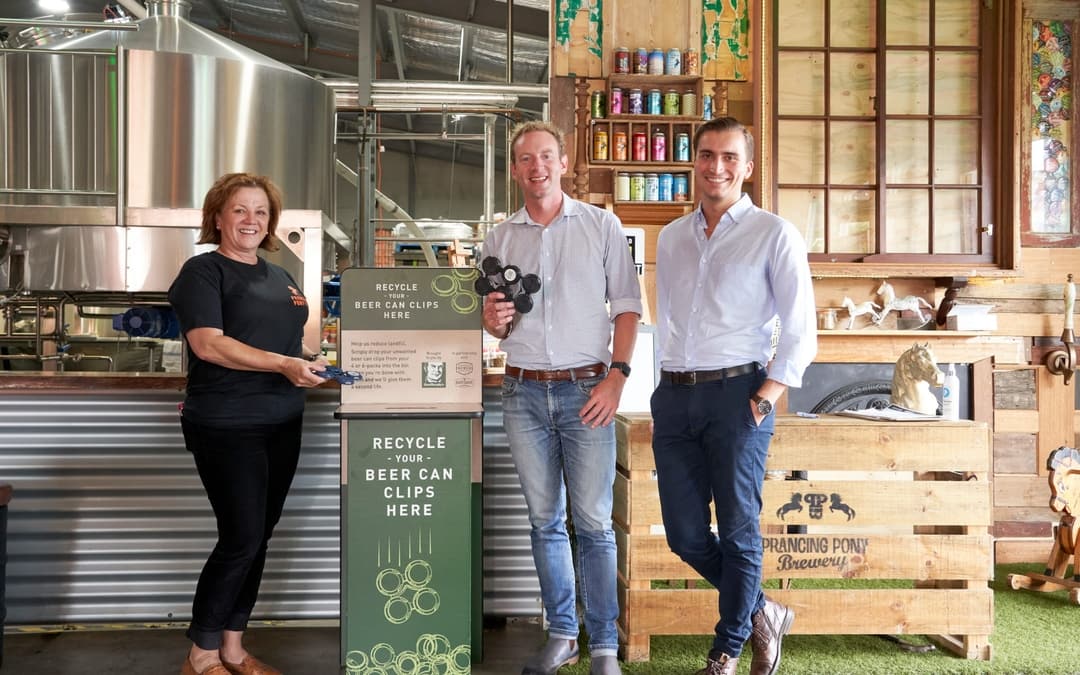 Beer Clip Recycling Efforts By Donut Waste 🍩
Donut Waste 🍩: In this blog, we take a look at the latest news on recycling in Australia. We will highlight the beer clip recycling efforts made by a WA Perth-based startup. Continue reading this information-filled blog to learn more.
For decades upon decades, beer rings – these six-pack rings used to hold together beer cans – have pestered the environment through and through. Various reports of wildlife (marine life, in particular) mentioned of events wherein animals of the ocean such as sea turtles had these six-pack rings ensnared onto their bodies.
Beer clips – a more modern design of beer rings that are also used to hold beer cans together – are no different in that they also cause harm to the environment. A revamp in design does not mean a better option for the environment, after all.
Fortunately, people nowadays have become much more environmentally aware than before. Efforts to either reduce, reuse or recycle have made rounds all over the world to tackle the world's waste problem. Beer rings or beer clips, whichever is used, are currently being dealt with for the benefit of the environment.
In Australia, plenty of beer clip recycling efforts have been made all throughout. Below, we will share with you one startup based in Perth named Donut Waste that have partnered with BWS and Dan Murphy's stores to recycle beer clips. Let us talk about it more in the following sections. Read on to learn more.
Providing waste and recycling solutions for small and medium Aussie businesses
Before we go on ahead and talk about the latest news on recycling – specifically, about Donut Waste and their beer clip recycling efforts, we want to share Waster – waste and recycling provider – with you.
Who is Waster? Why do plenty consider it as one of the best waste and recycling companies in Australia?
---
>Download Now: Free PDF Business Owners Guide To Commingled Recycling Bin Services
---
Simply put, Waster provides you with innovative solutions for your and your business's waste management and recycling needs. In addition to that, we provide flexible, 30-day contracts instead of the typical lock-in contracts, which proves a better choice nowadays.
Click on the blue button below to learn more.
---
READ: Are Printers Recyclable? 🖨️ Discussing Recycling Possibilities
---
WA-based startup Donut Waste's recycling efforts in Perth
As mentioned above, a WA Perth-based startup named Donut Waste has recently partnered with major liquor retailers to help reduce plastic clips that hold together either four or six packs of beer drinks through recycling.
The startup currently works together with six Perth BWS and Dan Murphy's stores. In their stores, if you have the chance to go there and get yourself a drink, you will now see collection points where you, the customer, can drop their used beer can clips.
Donut Waste then collects the beer clip plastic waste and recycles them so that they do not go to landfill. First, they wash the beer clips to rid them of anything unpleasant or health-compromising elements. Afterwards, they pack the used beer clips and sell them to local breweries for reusing purposes.
Known for their landfill-diverting ways, this local sustainability startup also collect coffee grounds from Perth cafes, which they later use in compost and various garden products.
Where can I send my used beer clips?
Donut Waste has various collection points and recycling stations in Perth. You can send them to the following collection points:
You can find collection points in Dan Murphy's Hyde Park – Cnr Bulwer and, Fitzgerald St, West Perth WA 6005,
Dan Murphy's Innaloo, 401 Scarborough Beach Rd, Innaloo WA 6018 and
Dan Murphy's Bicton, 378 Canning Hwy, Bicton WA 6157
You can also find collection points in BWS Mt Hawthorn, 223 Scarborough Beach Rd, Mount Hawthorn WA 6016,
BWS Bullcreek, Bullcreek Shopping Centre, 44 Benningfield Rd, Bull Creek WA 6149 and
BWS Perth, 231 Hay St, East Perth WA 6004
Additionally, Donut Waste has collection points on the following sites:
Mane Liquor, Great Eastern Highway, Belmont WA 6104
Perth City Farm, City Farm Place, East Perth WA
Environment House, King William Street, Bayswater WA
Do you want to become a collection point? Then, contact Donut Waste and wait for their response.
Donut Waste's big partner: Endeavour
Donut Waste (WA), along with Prancing Pony (SA), recently partnered with Endeavour in an effort to expand the beer clip recycling circular scheme. Starting on the Eastern Seaboard late last year, it has now extended to South Australia and Western Australia.
Endeavour is the first to Australian retailer to initiate and develop a circular scheme (check out circular economy to understand this more) for the reuse and recycle of beer can clips.
As mentioned above, we can find 6 stores in Perth housing collection points. On a national scale, around 30 collection points currently exist, with more to come this year.
"Many beer lovers are familiar with the can clips that hold four and six packs of brews together, but most probably don't realise that the clips are made of such sturdy material that they can be reused multiple times before being recycled and made into new clips," said Endeavour Group Sustainability Manager Sam Lungerhausen in an interview.
"Can clips are a great option for a circular economy, but there have been no multi-state recycling options available for customers where they can return the clips so many end up in landfill, which is why we have initiated this industry-wide reuse and recycling scheme," he added.
Once the clips have reached the end of their useful life, the program will send them to Visy Recycling. There, they will be converted into HDPE (a type of plastic) resin, which will be returned to PakTech afterwards. PakTech will then create more beer clips using the HDPE resin from the recycled clips.
Along with Prancing Pony and Donut Waste, Endeavour Group is also partnered with the Independent Brewers Association (IBA), Visy Recycling and PakTech for the can clip recycling program.
Contact Waster right now for your waste and recycling needs now!
Does your Australian-based business need waste and recycling services? If so, then you have come to the right web page!
Please call 1300 WASTER (1300 927 837).  You can also email us at enquiries@waster.com.au if you have any further questions. Find the best deals in terms of waste and recycling pricing and services!