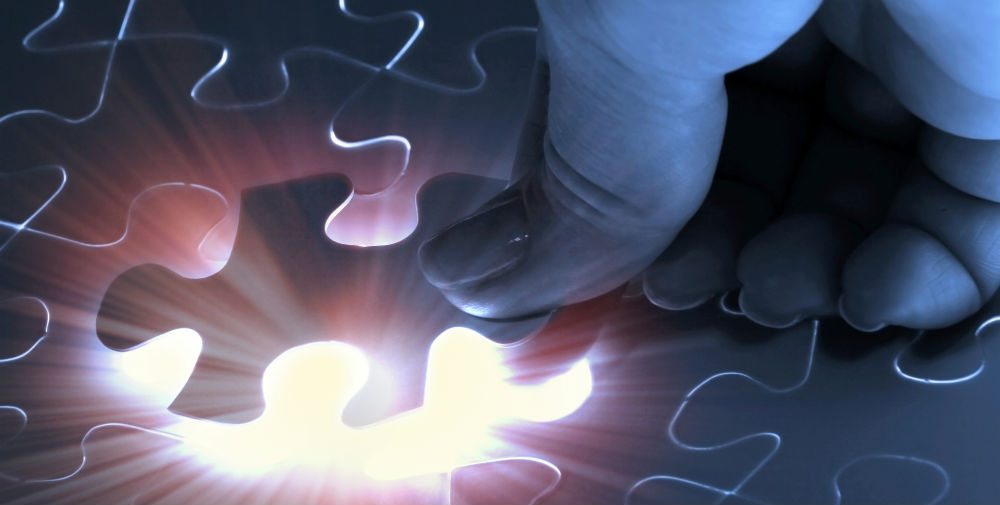 Secure Document Destruction 2023 🔒 – All About Security Bins Shredding
Secure Document Destruction 🔒: if you are like Mr Waster, you have a healthy suspicious mind and question things. One thing I wondered about was whether shredded documents from a home shredder or commercially bought shredder for your office is really secure. I also wonder if whether the shredded documents can be pieced back together again.
I remember watching a documentary about how the Viet Cong pieced together US documents after the Americans had left Saigon.
---
>Download Now: Free PDF Business Owners Guide To Confidential Paper Bin Services
---
Waster offers waste and recycling services such as secure document destruction to small and medium Australian businesses. You can check prices and book your services online today:
Secure document destruction: can documents be pieced back together?
Mr Waster was googling on the topic and found an interesting article on the BBC website.
We quote: "A team of computer programmers from California have developed software they say shows that computers can, in theory, do most of the hard work.
"It works by matching up individual shreds based on minuscule clues in each shred – the contour of the tears, a barely-visible watermark, and traces of writing, for instance – and can work incalculably faster than a human undertaking the same task.
"It was the successful entry in a document shredder competition launched this autumn by the US military, in an attempt to encourage research on what is essentially a maths problem – how to assemble a puzzle efficiently.
"A decent commercial shredder can reduce a sheet of paper to more than 400 pieces. That yields a total of 1,276,800 possible two-piece combinations – for one single-sided sheet.
"The winner of the competition advised: "A lot of these shredders are maybe not as secure as you thought, and maybe you should get a better shredder if you want these really and truly not to be assembled."
Since these developments, the competition was held in 2011. You can even use an online system for piecing together documentation. See www.unshredder.com: "The first commercial document reconstruction tool in the world – Unshredder – a menu-driven Windows application that automates the reassembly of shredded or torn documents. To reconstruct a document with Unshredder the user just follows the simple steps below for quick professional results."
See our related blogs on secure document shredding or confidential document shredding.
Secure document destruction Melbourne: when you run a busy office or business such as an accountants practice, legal office, medical surgery or potentially any kind of business, you may want to have personal and important business and customer documents securely destroyed so that private information does not fall into the wrong hands.
The other thing to bear in mind is that as a busy business operator, you likely do not have time on your hands to manage many different suppliers for your different waste and recycling requirements.
It is smart to see secure document disposal in Melbourne as a form of insurance for your business. Equally, it is a very cheap and easy way to really reduce business risk and the potential for a truly catastrophic loss or damage to reputation.
So, who is Waster then?
Waster is a smarter way of looking after your waste, recycling and ancillary business services such as sanitary bins (for your washrooms) or secure document disposal Melbourne.
Waster is able to help you as we offer all relevant waste and recycling options through our online waste model – including confidential paper disposal services that utilise leading industry standards and best practice. You can rest assured that your private information is handled in the most suitable manner.
You can check out our secure document destruction Melbourne bin options (both convenient 120 litre and 240-litre options) by pressing the buttons at the top or bottom of this page.
In Melbourne metro region (and Geelong) we provide scheduled secure document destruction services at $29.50+GST per service – significantly cheaper than competitor options.
If your service schedule is less frequent than once a month – we charge an additional bin rental/account maintenance fee of $15.00+GST per month.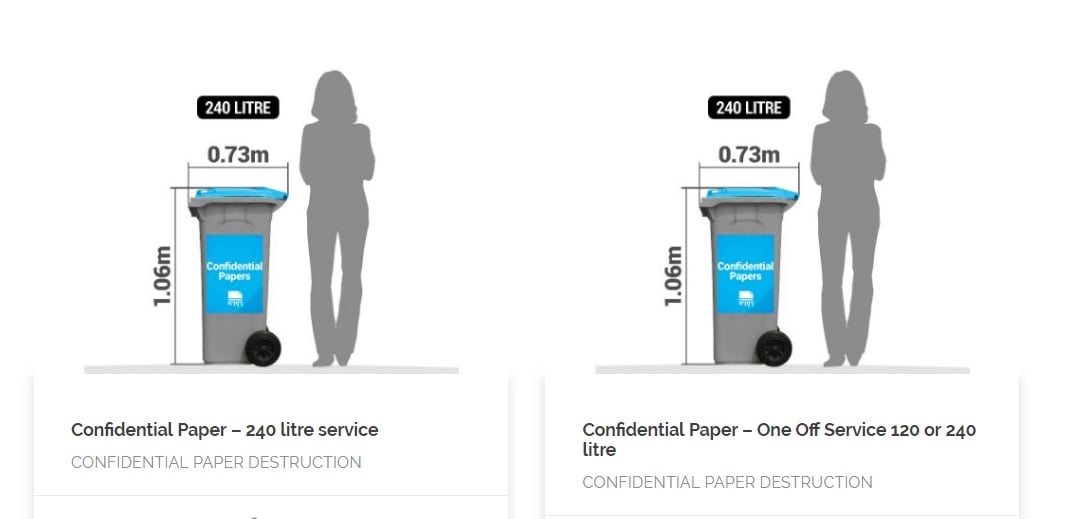 Secure document destruction Melbourne: do you need to sign a long term contract?
With Waster, all confidential document destruction services are performed on flexible 30-day agreements. This means that you do not need to sign a long term contract or worry about hidden rollover clauses. To cancel the service for whatever reason, simply give us 30 days written notice; an email will suffice.
Do you need to bring the document destruction bin to the street for collection?
No. A qualified team member will come into your premises on the day arranged to swap over the bins. This ensures that your private information is not kept in a public area and minimises any information risks.
Bringing a confidential destruction bin to the street or carpark for collection almost defeats the point of the service.
The bin will come with a padlock. It should be locked up inside the office to avoid people looking at internal private docs.
Generally, a secure document disposal bin of this nature will be kept in the photocopying area, etc.
How do I pay for secure document destruction for Melbourne services?
Through Waster, you will be invoiced for services one month in arrears. So, if you have services in January, you would be invoiced at the start of February. We have two convenient payment methods – either through direct debit or bank transfer.
We charge no hidden extras. The price you see in our online shop for every collection is the price you pay. Check out our latest blog on sanitary bins in Perth.
Can shredded paper ever be pieced back together?
Whilst this is by no means something to worry about (at a secure facility it will be shredded and then recycled in certain situations such as wartime), it has been possible to put shredded docs back together.
For example, after the Iranian Revolution, the BBC reports that:
"After Iranian students seized the US embassy in Tehran in 1979, they spent years painstakingly reassembling the intelligence reports and operational accounts shredded by the CIA officers who were the last workers captured."
The process was exceedingly time consuming:
"Instead, the Iranians laid the shreds out on a floor and devised a sophisticated procedure for numbering, indexing and reassembling the individual shreds, Mr Byrne says.
"Certainly it took a number of years for them to finish the process," he says.
"The security forces later published the reconstructed documents in book form and sold copies all over Tehran, he says. And agents used the intelligence they gathered to identify and kill CIA collaborators."
Thankfully, we do not face these issues in Australia in 2023. But, it is still smart to arrange low-cost document destruction services in Melbourne!
Secure document destruction Perth: in this section of the blog, we will explain how you and your business can easily organise a reliable and high-quality secure document destruction service in Perth for all your confidential document shredding requirements.
Following the Australian census hacking (or non-hacking if you believe the politicians) a couple of years ago, which threatened to give fraudsters access to every personal detail of the entire Aussie population, it is more important than ever to be certain that your confidential information stays away from prying eyes.
This minimal expense in destroying your documentation by a qualified third-party provider is certainly risky considering when you think about the potential cost of your information falling into the wrong hands.
A secure document destruction bin service in Perth is suitable for nearly every business type, but specifically for anyone handling private or financial information such as banking, insurance, finance, medical etc.
More on Waster
Waster offers a convenient online booking and management service for all your commercial waste and recycling services in all major metro regions across Australia including Perth, Sydney, Melbourne, Brisbane, Darwin, Canberra, Hobart, Newcastle, Adelaide and the Gold Coast.
You can arrange your business services online – from sanitary bins to document destruction bins Perth.
How to book document destruction in Perth
You can check prices, compare bin sizes and book your service online by pressing the button below to go to our online waste services shop:
Waster offers Perth document destruction services in two common and convenient bin sizes (120 litres and 240 litres) across the Perth metro. Check out our 240-litre bin size below:
Our prices per service (collection and destruction) are a flat $29.50+ GST in Perth metro. You can check the postcodes serviced here.
The price quoted is all-inclusive. There are no bin rental, site fee, delivery fee, etc. so you can rest assured you are getting reliable, fully licensed services that will keep your confidential information safe and secured. Check out our pricing inclusions details page for complete details.
If you require less frequent services than once a month, we charge a bin rental fee of $15.00+GST per month plus the normal collection fee. All our services are delivered on flexible 30-day agreements. This means that we will never lock you into a multi-year contract that does not suit your business.
As we offer comprehensive waste and recycling services, why not check out our other Perth waste services and save even more money?
Secure document destruction services in Perth are performed with the highest standards. So, your information is kept secure and private at all times.
Secure document disposal: lots of us have confidential paperwork such as bank statements, medical records, personal and customer information and many other types of info we want to keep private lying around.
Waster offers economical and high-quality secure document disposal services and recycling depot options in all metro regions throughout Australia.
Secure document disposal: 6 tips from a global security expert
When you shred your secure documents, you want to make sure that you do it in the best way possible. US-based Robert Siciliano is an identity theft expert and he produced his list of 6 tips to prevent identity theft (originally published in the Huffington Post online). We quote from the article below:
"Here's how to better manage your shreddables:
Primary documents: I shred everything that comes in the mail with my name on it and that I don't need. Shred or destroy prescription bottles, CDs with data on them, and supporting tax documents older than three years (some say seven), including investment statements, bank statements, cancelled checks and paystubs.
Secondary documents: Documents like ATM receipts, credit card statements, utility bills and insurance policies should all be kept for two years. The only reason to keep these is in case you determine a mistake was made so you can go back and look. Otherwise, if you can access any of these documents online, shred them now. Homeowner-related documents should be kept as long as you own the home and maybe a year after you eventually sell it.
Devices: Don't forget to shred or destroy hard drives, SD cards, mobile phones, SIM cards and thumb drives. While reformatting and reinstalling an operating system will get rid of most of the data, it's just better to kill the drive with a special shredder for non-paper files—also known as a sledgehammer.
Reduce paper: One way to reduce all the stuff needing shredding is to turn off the paper. At this point, most, if not all, of your bank, credit card, utilities, mobile phone and other accounts allow (and in some cases, require) e-statements. This means every month you'll get an email stating, "Your statement is ready!" But don't click that link, as it could be a phish. Get access to your statements through a password manager or via your favourite menu.
Shred-a-thons: Many banks now sponsor shred-a-thons where one of those crankin', big shredding trucks shows up to the bank's parking lot and you can watch boxes and boxes of your stuff get decimated right in front of you. Bring the kids!
Burn it: Depending on the amount of stuff you have to shred and your local ordinances regarding conflagrations, you might want to box up all of your shreddable and burn them at the same time you might burn leaves, or when you have a backyard bonfire."
Take some tips from an identity theft expert
Sometimes, it is good to know what the con artists and imposters are doing to steal your identity. There are probably no more famous con artists in history than Frank Abagnale, the star of the Tom Hanks and Leonardo DiCaprio movie "Catch Me If You Can".
If you remember, at the end of that movie, the credits told us that the young Frank Abagnale went on to work with the FBI in preventing fraud. A bit like a poacher becoming a gamekeeper!
In 2018, Frank is still working in the identity theft prevention business.
Conclusion
Prevention is better than cure when it comes to data security. Making small changes can really prevent a lot of heartaches. As I am sure you will agree, there are some useful points there and things we should all bear in mind. Hoping you all get through tax time without too much pain!
Secure document destruction Sydney: if you operate a business or organisation with sensitive information such as medical records, insurance or financial data (or really any client or business information that you do not want falling into the wrong hands), organising a cheap and reliable secure document destruction service in Sydney should be at the top of your priority list.
The issues surrounding data security and holding of confidential information (and the risks involved) is very much in the Australian press at the moment as we approach the national census next week. There is much coverage of the risks involved in holding confidential information and what could happen if it falls into the wrong hands.
The good news, however, is that getting rid of this information securely and professionally is not difficult and can be at a very low financial cost to your business using document destruction bins in Sydney.
One of the biggest reasons people do not arrange confidential shredding bins for their business is a fear of the cost. You may have heard stories about the expense of shredding bins.
However, in 2023, booking confidential shredding bins for your business is low cost. Pricing for a once-a-month service is $32.50+GST. There is no additional cost such as bin rental or fees. We have kept this cost constant for two years!
One-off secure document destruction Sydney services: document destruction bins in Sydney
We also provide one-off security document destruction services in Sydney if you simply need to destroy documents once. We can provide this service to both business and private residential customers.
Waster will drop a bin off at your location and pick it up one week later for secure shredding in a facility off-site.
You can also ask us for other service options such as less frequent services. There will be a rental fee for less than once a month of services.
Secure document destruction Sydney: what services are available?
By booking a licensed and qualified secure document shredding service through Waster, you can ensure that your legal requirements, as well as important client/s and internal information, are kept safe.
A qualified and professional service provider will be able to provide a certificate of destruction, providing evidence that the confidential paper disposal has been performed in the correct manner.
In this way, you can be certain that issues will never come back to hurt your business or clients.
When organising a confidential shredding service with a professional supplier – your documents will be taken off-site in a secure truck and to a secure facility. The cost of a regular confidential bin collection service is much more economical than purchasing and maintaining a shredding machine.
Where does Waster provide Sydney with secure document destruction services?
Waster offers secure document destruction in Sydney all across the waste removal Sydney metro region covering the following postcodes and suburbs.
Postcodes: 2000, 2006, 2007, 2008, 2009, 2010, 2011, 2015, 2016, 2017, 2018, 2019, 2020, 2021, 2022, 2023, 2024, 2025, 2026, 2027, 2028, 2029, 2030, 2031, 2032, 2033, 2034, 2035, 2036, 2037, 2038, 2039, 2040, 2041, 2042, 2043, 2044, 2045, 2046, 2047, 2048, 2049, 2050, 2060, 2061, 2062, 2063, 2064, 2065, 2066, 2067, 2068, 2069, 2070, 2071, 2072, 2073, 2074, 2075, 2076, 2077, 2079, 2080, 2081, 2082, 2084, 2085, 2086, 2087, 2088, 2089, 2090, 2092, 2093, 2094, 2095, 2096, 2097, 2099, 2100, 2101, 2102, 2103, 2104, 2105, 2106, 2110, 2111, 2112, 2113, 2114, 2115, 2116, 2117, 2118, 2119, 2120, 2121, 2122, 2125
2126, 2127, 2128, 2130, 2131, 2132, 2133, 2134, 2135, 2136, 2137, 2138, 2140, 2141, 2142, 2143, 2144, 2145, 2146, 2147, 2148, 2150, 2151, 2152, 2153, 2154, 2155, 2158, 2160, 2161, 2162, 2163, 2164, 2165, 2166, 2167, 2168, 2170, 2171, 2172, 2173, 2174, 2175, 2176, 2177, 2178, 2179, 2190, 2191, 2192, 2193, 2194, 2195, 2196, 2197, 2198, 2199, 2200, 2203, 2204, 2205, 2206, 2207, 2208, 2209, 2210, 2211, 2212, 2213, 2214, 2216, 2217,2218, 2219, 2220, 2221, 2222, 2223, 2224, 2225, 2226, 2227, 2228, 2229, 2230, 2231, 2232, 2233, 2234, 2555, 2559, 2560, 2563, 2564, 2565, 2566, 2567, 2568, 2570, 2747, 2750, 2753, 2759, 2760, 2761, 2762, 2763, 2765, 2766, 2767, 2768, 2769, 2770.
Please see a map of our Sydney service area below: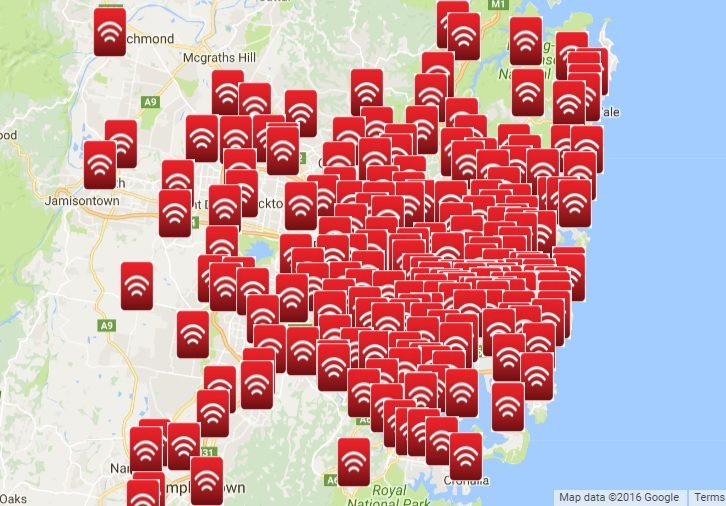 If your business location falls outside the Sydney metro region for Waster coverage, you can check out our informative articles on other geographic regions such as waste services Wollongong, waste management Canberra for our coverage in the Australian Capital Territory, or waste management Newcastle on how to book your waste and recycling services in other areas of New South Wales and the ACT.
Jump online today and check out our rates for your required service. We look forward to assisting you. Please also see our blog on Sydney Grease interceptor trap services for additional services.
Document destruction Brisbane: if you are based in Brisbane and have been searching for an economical and secure method of getting rid of your confidential documentation, I am pleased to say that Waster can certainly be of assistance to you.
Document destruction services can be an afterthought for many businesses. You may not know whether to invest in an expensive shredder or arranging a third party commercial shredding service.
Off-site shredding is most secure
The most secure and trustworthy method of destroying documents is a service whereby documents are taken in a secure truck to a licensed facility.
Waster offers high quality and fully licensed confidential paper disposal services and destruction services across Brisbane. You can thus rest assured that your private information will stay out of the hands of others.
We have previously published blogs on the topic such as what you need to know about confidential paper disposal.
Document destruction Brisbane: bin sizes offered by Waster
We offer scheduled document destruction Brisbane services in both convenient 120 litres and 240-litre bin sizes. See the images of bins below:
120-litre bin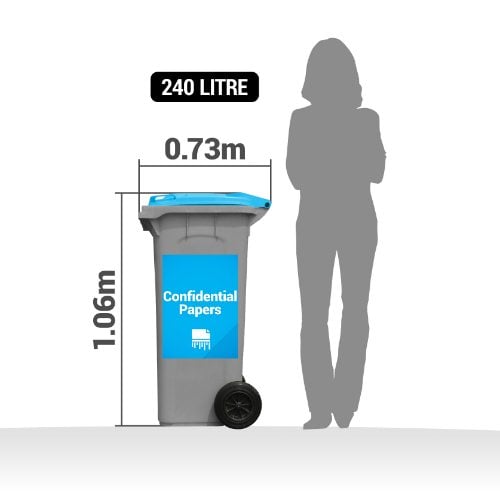 240-litre bin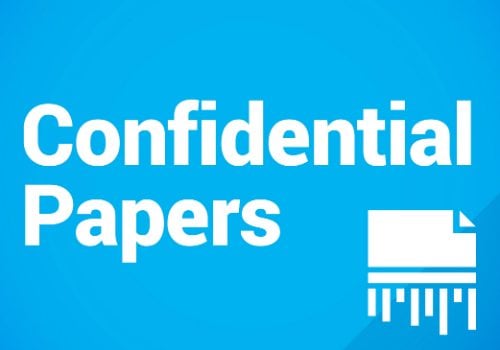 Note: this is an all-inclusive price with no additional extras. You can see a comprehensive listing of our secure document disposal inclusions on our pricing detail page here.
Our service and personnel are fully licensed and accredited with industry-leading work practices and controls. This means you can rest assured that your secure document destruction service will be of high quality and that your documentation will be destroyed professionally.
All our services are performed on flexible 30-day agreements. The price is held constant (we only adjust rates once a year) and you can end the contract at any time (and for any reason) by providing 30 days notice in writing (email is fine).
Check out our services and save more money!
Whilst you are booking your document shredding service for your business, you should also check out our other Brisbane rubbish collection and recycling services.
Waster is Australian owned and operated and would love to help you with your other service requirements.
Waster provides comprehensive waste management and recycling services such as general waste, commingled recycling etc through our online waste shop. If you have a query that is not listed here, simply contact us and we will offer you a quote.
For more info on identity theft and how to protect yourself and your business, see the Ted talk below.
This video covers a number of important and relevant topics (such as hard drive destruction), including how seldom it is for anyone to actually need your name for identification.
Secure document shredding
identity theft and theft of personal information is becoming an increasingly common concern for both individuals and businesses in Australia in recent years. It is almost every month that the press reports an incident of personal information being stolen by criminals from either electronic or tangible sources.
As a responsible and trustworthy business, it is of extreme importance to keep client and customer data confidential as the chance of a leak could have terrible consequences for your ongoing business viability. You can check out the recent blog we posted on confidential paper disposal. If you are based in Melbourne you can also view our article on document destruction Melbourne.
Most businesses collect sensitive information and data from both clients and employees such as names, dates of birth, postal addresses, Medicare numbers etc. In various States and Territories, numerous laws are in place governing how sensitive information is stored and secured, and when it should be destroyed. Many industries also have secure document shredding or destruction guidelines such as the medical sector, the banking and finance industry and insurance.
The Australian Attorney General's Department estimates that identity crime costs Australia more than $1.6bn each year, with the great majority due to credit card fraud, identity theft and scams.
Secure document shredding can provide your cost-effective solution
As a busy business operator, taking care of the destruction of confidential documents is the last thing you want to be spending your time on. You have more than enough on your hands through managing customers, employees, marketing, etc. Let Waster take that stress off your hands.
An added benefit of a document destruction plan is that your staff can become aware of the correct manner to destroy confidential information. This can be a key part of an effective waste management plan.
By booking a licensed and qualified secure document shredding service you can rest assured that your legal requirements, as well as important business assets, are being protected. A qualified and professional service provider will be able to provide a certificate of destruction – providing evidence that the confidential paper disposal has been performed in the correct manner. In this way, you can be certain that issues will never come back to bite you.
Is it worth it?
The service is a very cost-effective solution to give you peace of mind. Through our online waste services shop, you can check pricing for shredding in your location. For example, a 240-litre secure document shredding bin serviced once a month in Sydney costs $35.75 plus GST as of February 2023. This is an all-inclusive price per service with no additional costs such as rental, site fee etc.
We are finding more and more offices are coming back to work following the Covid crisis in 2020. Hopefully, this will continue. I never thought I would say we miss office work – but after Covid – we are just happy to get back to normal!
Waster currently offers secure document shredding services in both 120 litres and 240-litre wheelie bin sizes in the following Australian locations: Canberra, Brisbane, Gold Coast, Newcastle, Central Coast (NSW), Sydney, Wollongong, Darwin, Adelaide, Hobart, Launceston, Devenport, Burnie, Melbourne, Geelong and Perth.
How to book your secure document shredding service
The easiest way to book your required confidential paper service is through our online model:
All services are booked under flexible 30-day contracts so you can be certain to never be locked into an agreement that does not suit your business. Check out our blog on rubbish removal in Hobart.
See our blog on celebrity identity theft in confidential document destruction.
Document destruction Melbourne
If you are a Melbourne or Geelong-based business with confidential documents that you need to have securely destroyed, Waster.com.au can provide you with an extremely cost-effective and reliable service that meets all industry-leading standards and requirements.
Through our online model, Waster currently offers scheduled document destruction services to business customers in all major Australian cities including Melbourne and Geelong (Victoria), Canberra (Australian Capital Territory), Sydney, Wollongong, Newcastle and the Central Coast (New South Wales), Brisbane and the Gold Coast (Queensland), Adelaide (South Australia), Perth (Western Australia), Darwin (Northern Territory) and in Hobart, Burnie, Launceston and Devenport in Tasmania. You can also check out a recent article we posted on waste management in Geelong.
We have also published two introductory articles that contain useful information for document destruction in Melbourne in our blog: confidential paper disposal and secure document shredding.
Document destruction Melbourne: the important details
You may require confidential destruction Melbourne bins for your offices or workplace to securely dispose of documents such as medical records, bank statements, legal information, contracts, tenders, proposals, employment data, marketing plans, patent or design plans and anything else that is important to your business and personal activities.
You and your business can achieve peace of mind knowing that our licensed operators on document destruction in Melbourne will provide a certification that states that they securely destroyed the documents in accordance with the Privacy Act 1988.
The bins are collected by security vetted drivers with GPS tracked trucks and processed at fully licensed facilities. All these safeguards ensure your private information is securely destroyed.
Waster provides confidential shredding bins in two wheelie bin sizes – 120-litre bins and 240-litre bin sizes to suit larger offices. These Melbourne document destruction bins are padlocked and positioned in a convenient place inside your workplaces such as near stationary cupboards or photocopiers.
How you can book a Melbourne document destruction service online?
To book online, simply follow our step by step instruction detailed on our waste services smart businesses page where we will quickly and clearly walk you through the booking process.
Where we provide document destruction services in Melbourne
Waster provides document destruction services across Melbourne metro region as well as in Geelong. For a comprehensive list of postcodes serviced please see below:
Postcodes: 3000, 3002, 3003, 3004, 3006, 3008, 3011, 3012, 3013, 3015, 3016, 3018, 3019, 3020, 3021, 3022, 3023, 3024, 3025, 3026, 3027, 3028, 3029, 3030, 3031, 3032, 3033, 3034, 3036, 3037, 3038, 3039, 3040, 3041, 3042, 3043, 3044, 3045, 3046, 3047, 3048, 3049, 3051, 3052, 3053, 3054, 3055, 3056, 3057, 3058, 3059, 3060, 3061, 3062, 3063, 3064, 3065, 3066, 3067, 3068, 3070, 3071, 3072, 3073, 3074, 3075, 3076, 3078, 3079, 3081, 3082, 3083, 3084, 3085, 3087, 3088, 3089, 3090, 3091
3093, 3094, 3095, 3096, 3097, 3099, 3101, 3102, 3103, 3104, 3105, 3106, 3107, 3108, 3109, 3111, 3113, 3114, 3115, 3116, 3121, 3122, 3123, 3124, 3125, 3126, 3127, 3128, 3129, 3130, 3131, 3132, 3133, 3134, 3135, 3136, 3137, 3138, 3139, 3140, 3141, 3142, 3143, 3144, 3145, 3146, 3147, 3148, 3149, 3150, 3151, 3152, 3153, 3154, 3155, 3156, 3158, 3159, 3160, 3161, 3162, 3163, 3165, 3166, 3167, 3168, 3169, 3170, 3171, 3172, 3173, 3174, 3175, 3177, 3178, 3179, 3180, 3181, 3182, 3183, 3184, 3185, 3186, 3187, 3188, 3189, 3190, 3191, 3192, 3193, 3194, 3195, 3196, 3197, 3198, 3199, 3200, 3201, 3202, 3204, 3205, 3206, 3207, 3335, 3337, 3338, 3427, 3428, 3750, 3752, 3767, 3802, 3803, 3804, 3805, 3806, 3807, 3910, 3911, 3912, 3913, 3915, 3916, 3918, 3919, 3920, 3930, 3931, 3933, 3934, 3936, 3937, 3938, 3939, 3940, 3941, 3942, 3943, 3944, 3975, 3976, 3977
We also service the following Geelong postcodes: 3214, 3215, 3216, 3218, 3219, 3220, 3224.
Next steps
To book a service or simply check the price you can access our online waste services shop and check out prices for your exact requirements. The pricing inclusions page covers all details of our pricing – but you can be certain that the price you commit to is the price you pay. We also offer medical waste bins in Melbourne services.
Waster does not charge bin rentals, site fees or other charges. Our agreements are on flexible 30-day terms which you can cancel at any time (and for any reason or no reason) by providing 30 days written notice (and yes, an email will suffice). If you cancel within 12 months there is a bin removal fee of $75 per bin to cover removal costs – after 1 year there is no bin removal fee. Note – we also offer document destruction Perth services. Waster provides comprehensive waste services including grease traps in Melbourne.
Document disposal Melbourne
We hear more and more about the importance of protecting your confidential information whether it be electronic or paper in format. Nearly all sensible businesses will have antivirus protection software for their computer and phones such as McAfee or Trend Micro. In the same manner, it is of high importance that you protect your businesses confidential information when it is in printed format.
Even though we are steadily moving to an electronic world (with some countries even thinking of phasing out paper cash), there is still a long way to go. All offices produce some private or confidential information on paper that should be destroyed in a secure manner (i.e., secure document destruction).
In today's blog, we will seek to give some simple and usable advice on how do you dispose of confidential documents in a secure manner and implement an office-wide confidential document disposal policy. This means that you do not need to panic or make mistakes when disposing of sensitive documents.
Document disposal Melbourne: a case study in info recovered from bins in Melbourne
An article in the Herald Sun really highlights the risks of throwing away confidential info in your general waste or recycling bins without a sensible confidential document disposal policy.
We quote from the article below:
"The Herald Sun was given exclusive access to a Melbourne recycling plant and saw sensitive documents, including bank details, share portfolios, medical records and company invoices, which careless businesses had failed to destroy.
"Documents dating to the mid-'80s were found inside the curbside bins, posing a serious threat to the personal identity of clients. In the wrong hands, thieves could use such confidential documents to siphon money from bank accounts or access personal or company information.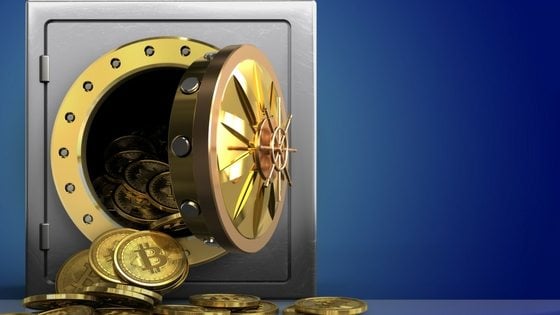 "According to the Australian Bureau of Statistics, identity theft affects more than a million people a year and costs Australians more than $1 billion annually.
"Law firms were among the worst offenders, with one firm throwing out documents including medical records for a legal claim brought about by an employee. In another bin, the private investigators found detailed records including blood test results outside a medical clinic.
"It takes only a second to look at a document and identify if it should be securely disposed of (shredded/cut to pieces) or discarded in a normal fashion.
"Bob Johnson, chief executive of the National Association for Information Destruction, said identity theft was one of the fastest-growing crimes in the country and companies would likely never know their rubbish was being used for such sinister purposes."
Confidential document disposal Melbourne: 5 tips to protect yourself
The article also lists 5 useful and practical tips to help protect yourself and your business from the Australian Crime Commission:
1. Keep copies of key documents in a secure location (see blog on document destruction service)
2. Destroy personal information before putting it in the general waste bin. Of course, with a confidential document disposal bin, this will not be required. There are methods on how to dispose of documents without a shredder, but Waster does not recommend those.
3. Treat requests for copying your personal documents with caution.
4. Order a copy of your credit report annually.
5. Check your billing and account records carefully.