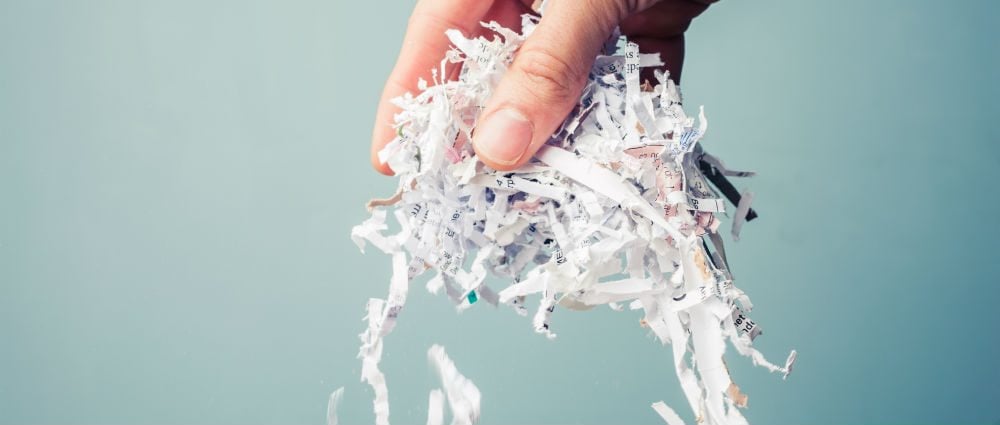 Confidential Paper Disposal Bins 2023 🔒 – What You Need To Know About Shredding!
Confidential paper disposal: We all have information that we want to keep private from prying eyes and be certain that when it has been disposed of; we want to make sure that it has been correctly destroyed. With increasing legislation and customer concern surrounding the confidentiality of personal records and information, it is vital that businesses can rely on their confidential paper and document destruction service.
Even in the era of electronic communications such as WhatsApp, emails, Skype, etc, nearly every business and office have lots of confidential paper that needs to be destroyed securely.
In 2023, following the Covid crisis and working from home, we are seeing lots more demand for shredding bins as companies gradually move back into offices and people look at office cleanouts, etc.
"How do you dispose of confidential papers securely so nothing comes back to bite you?" is an excellent question. We will discuss everything with you below in today's blog.
---
>Download Now: Free PDF Business Owners Guide To Confidential Paper Bin Services
---
It is very important to not dispose of confidential information in your general waste or cardboard and paper recycling bins.
You can see our article on secure document shredding here. If you are based in Melbourne, we recently wrote an article on document destruction in Melbourne.
What documents are commonly destroyed securely?
Common documents that may require confidential destruction Sydney include: medical records, bank statements, legal information, contracts, tenders, proposals, employment data, marketing plans, patent or design plans and anything else that is important to your business and personal activities.
What does a confidential paper disposal bin for shredding look like?
Check out our two sizes of confidential disposal bins in our online waste management shop. We offer the service in both 120 litre and 240-litre bin sizes. These locked bins are generally placed in your office space commonly near photocopiers or other stationary areas. The bins will be padlocked ensuring documents can not be removed from the container.
These services can, of course, be booked online on flexible 30-day contracts through Waster.com.au.
Collection and destruction process
Confidential paper disposal by licensed third-party operators ensures your peace of mind as certification can be provided that the documents were securely destroyed in accordance with the Privacy Act 1988.
The bins are collected by security-vetted drivers with GPS-tracked trucks and processed at fully licensed facilities. All these safeguards ensure your documentation is securely destroyed.
For a regular scheduled confidential paper disposal service in either a 120-litre or 240-litre wheelie bin, Waster charges $35.75+GST per collection when on a monthly schedule. If you picked up weekly, for example, the price per collection is $28.60+GST per bin (as of 6 February 2023).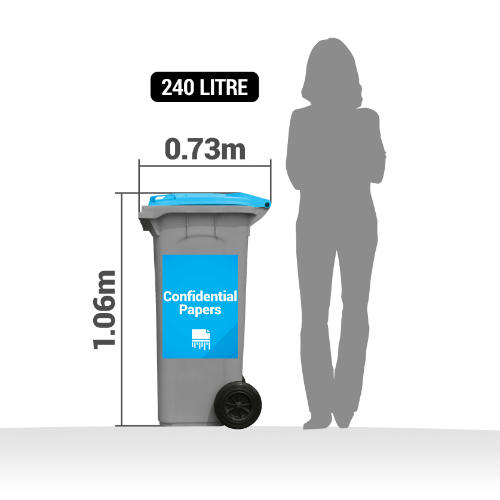 If less frequent than once a month, we charge an additional $15+GST per month rental fee to cover the bin usage.
You can book either a once-off or ongoing service with Waster.
Takeaway
Compare prices for confidential paper disposal in our online waste management and recycling shop. We are sure you will obtain excellent services at a great price.
You can also check out our article on secure document destruction in Sydney and document destruction in Brisbane. See our article on 6 tips for secure document disposal.
Discussing confidential paper disposal bins' potential
We are getting used to reading about data leaks and breaches of confidentiality in both corporate and private individuals these days. In the early days of the internet, lots of people did not want to shop online or provide credit card details for fear of data theft.
Thankfully, this fear has dramatically decreased. But data leaks continue to impact online and paper-based security still.
Be aware of your business data security
Businesspeople (and people in general) are becoming much more aware of their information security in all aspects – whether it is on paper (such as receipts, legal forms, applications etc), computer files or even items such as your credit card or debit card.
In the past, the major risk was that your confidential document disposal processes would be weak. And, your private or confidential data would fall into the wrong hands. Issues such as these are generally easy enough to deal with by implementing a sensible document disposal system, using confidential shredding bins, or utilising a shredder for your office.
However, the world is changing. And, there are new threats to your data security all the time.
A number of years ago, there were news reports that some Government agencies in Germany were resorting to using old fashioned typewriters as anything connected to the internet was in theory not secure.
Of course, this will not apply (thankfully) to the vast majority of Australian businesses, or else typewriter sales may take a jump!
We will look at potential methods to protect you against skimming – i.e. when criminals seek to copy data from the magnetic strip on an ATM card.
A bit about Waster and how we can help your business
Waster offers low cost, reliable and of course secure confidential document disposal bins. So, you can ensure your business is taking all reasonable and sensible precautions against information theft and identity crime.
We provide all standard and niche waste and recycling services in the Australian market on flexible 30-day agreements with no hidden fees!
You can also see our related blogs on topics such as secure document destruction and confidential document shredding.
Confidential paper and document disposal bin for shredding and destruction: can you protect yourself against skimming of credit and debit cards?
When you have taken care of document shredding through a company like Waster (with perhaps confidential document disposal bins or similar), you may want to take the next step and look at protection against electronic crime such as skimming.
If you are asking what skimming even is, you should probably read this or speak to your business security specialist. There is a saying that criminals get smarter just as quickly as technology does!
The website Finder defines "skimming" as below:
"Credit card skimming is a type of credit card theft where crooks use a small device to steal credit card information in an otherwise legitimate credit or debit card transaction.
"When a credit or debit card is swiped through a skimmer, the device captures and stores all the details stored in the card's magnetic strip. Thieves use the stolen data to make fraudulent charges either online or with a counterfeit credit card."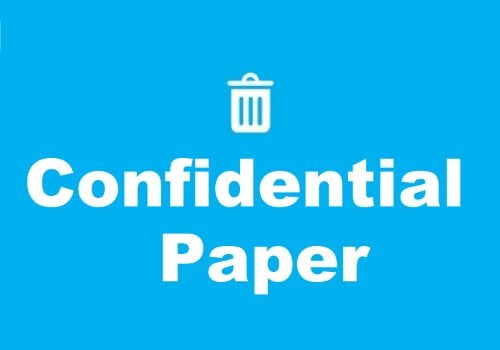 To help prevent this risk, there are a number of advertising products that promise to stop the skimming process. For example, the CardGuard promises to:
"The CARDGUARD intervenes during the entry and exit of the magnetic card to and from the card reader and this prevents the card data from being copied (skimmed)."
"A false front is stuck over the entry of the card reader on an ATM/SST for fraudulent attempts to copy the information from the magnetic stripe of the bank customer's card."
"The CARDGUARD detects the entry and eject of the card by using various references and ensures the security of the card data at these times. It is almost impossible to copy a card that is used in an ATM/SST that has a CARDGUARD installed."
Whilst we do not vouch for this product, it is certainly an interesting approach to data security.
Thankfully, you can prevent most issues by taking simple and cost-effective steps such as using confidential paper and document disposal bins. Common sense goes a long way in most things. For example, most theft can be prevented by locking doors and leaving valuables out of sight.
Most information security issues can be reduced significantly with a shredding bin, of course.
Check out our blog on landfill Sydney and how Hong Kong can predict the future.
Confidential document destruction
We all know the importance of making sure we do not let our personal information fall into the wrong hands. But often these thoughts can be quite theoretical.
We seek to mention a couple of celebrities or people in the public eye who have had their identities stolen and have suffered financially, as a result.
These cases are even more worth considering, as passing yourself off as a famous celebrity is obviously harder than as a member of the general public.
Waster provides low-cost waste and recycling services (including niche office service such as confidential document destruction) to small and medium Aussie businesses.
Through our online model, you can arrange all your general waste bin hire and recycling bin services. Check out your prices and options below.
Confidential document and paper destruction and disposal: examples of famous stolen identities
It seems hard for imposters to steal the identities of household famous names such as movie stars and sports stars. One of the most famous sportspeople in the world was a victim of identity theft. We quote from cardrates.com:
"In 2000, celebrity golfer Tiger Woods testified in the case against Anthony Lamar Taylor, a man who stole his identity. Taylor used Tiger Woods' real name and Social Security number to apply for at least a dozen lines of credit in Woods' name, which he used to charge thousands of dollars in fraudulent purchases.
See our blog on recycling old photos for extra security!
"He bought TVs, furniture, a car, electronics and more by using the unauthorized card. By the time he was caught, he had stolen more than $50,000 in goods and services in Woods' name, according to ESPN.
"Taylor, already a two-time convicted felon, was convicted on eight felony counts and sentenced to 200 years to life for his crimes against Woods."
Other famous celebrities who have befallen identity fraudsters include Kim Kardashian and Will Smith.
For other blogs on confidential document destruction such as secure document shredding.
Conclusion
As you will see from the cases above, identity theft can affect anybody.
When you think about the amount of private information that web services such as Facebook and Google have access to even when you do not use their services, the risk of identity theft becomes apparent.
Of course, we all need to take precautions like changing our passwords. Destroying confidential paper information is another vital and easy step.
It should also be remembered that social media is another area where caution should be exercised in 2023.
Confidential document shredding
When you are producing lots of paperwork in an office, the question will sooner or later be raised as to what is the best way to dispose of this documentation without risking the info falling into the wrong hands.
We have covered in previous blogs the risks associated with disposing of customer information and some of the more high-profile data scares (such as the 2016 Australian census). See our document disposal blog for more information.
When you have lots of confidential documentation, your options are basically to:
A. buy a confidential document shredding machine for your office
B. arrange a confidential document shredding or destruction service with a trusted supplier such as Waster.
Confidential paper and document shredding for disposal machines can cost much more in the long term. When you are starting a new business, or running an established business with correct cost controls, minimising expenditure over the long term is vital for profitability. Key things to remember include:
Good quality machines are expensive. The Officeworks website lists machines suitable for bust offices. The prices range from $470 to $40,000. This is a very high capital investment for any business. Officeworks shredder selections cover all from cheap to expensive.
Machines can and do breakdown. If you have ever bought a printer, you will be aware of how often the breakdown stop working properly or require new parts or maintenance.
This can be a real issue if your shredder breaks down. What do you do with your documents in the interlude?
Where do you dispose of the shredded paper? Even when it has been shredded, the question is where do you put the paper? In your general garbage or paper and cardboard service (see recycling Sydney). At the end of the day you still need to pay to dispose of it – and this can be a double cost. See blog on document destruction service.
You will need to buy a bin. If you are shredding in your office, you will need a bin to dispose of the paper – this will cost a couple of hundred dollars.
You need good processes to ensure the paper is actually shredded. Many staff do the thing that is easiest, not always what is the correct procedure. You need to make the shredding as easy as possible for staff – i.e. access the machine, where is it positioned in the office (think how far staff have to walk to the machine) and also train them on usage.  The percentage of paper disposed of correctly will inevitably drop.
When you look at the costs above, a paper and document destruction and disposal service from a supplier like Waster make a lot of practical and financial sense.
We provide the bin, padlock, collect and disposal of the bin.
If you decide to completely go against the shredding approach, there are other methods to destroy documents that can be effective and better economic sense.
At Waster, we provide confidential paper bin shredding and disposal services to small and medium Aussie companies. We (as I am sure you do also) are always reading about the paperless office and how shredding bins will be a thing of the past.
In this section of the blog, we cover our thoughts on the topic and some of the trends we are experiencing.
Note that we have covered in a previous blog what we think the world of waste and recycling will look like in 50 years. You can see it here.
Waster provides low-cost waste and recycling services (such as confidential paper bin services) to small and medium Aussie companies.
You can easily book your services such as document disposal, general waste and all recycling services online – all on flexible 30-day agreements.
Check out your bin size options and costs below. In metro regions – a confidential paper bin service costs $31.50+GST per service (when once a month schedule is selected from our online waste shop).
We are often asked can files, folders etc also go in the bin – and the answer is yes. Commercial shredding utilises very strong shredding devices and so folders etc will be no problem.
Confidential paper bin disposal: is it going to be an extinct service?
Whilst we have been reading about the digitalisation of all information and a movement towards a truly paperless office for years, it has been slower to become reality.
The paperless office is slower than everybody thought
The Wall Street Journal reported in 2016 that the USA uses huge amounts of paper :
"Every year, America's office workers print out or photocopy approximately one trillion pieces of paper. If you add in all the other paper businesses produce, the utility bills and invoices and bank statements and the like, the figure rises to 1.6 trillion. If you stacked all that paper up, it would be 18,000 times as high as Mount Everest. It would reach nearly halfway to the moon."
Apparently, we have been promised the end of the paper for a very long time:
"In a 1975 article in BusinessWeek, an analyst at Arthur D. Little Inc., predicted paper would be on its way out by 1980, and nearly dead by 1990."
Evidence shows that the actual amount of paper in offices is starting to decrease
There is some evidence (again mostly from the USA) -that the peak of paper was c.2007 – i.e. just before the global financial meltdown.
"For the first time in history, there is a steady decline of about 1% to 2% a year in office use of paper. Add in the dip in use during the most recent recession, and as of 2016, we are already 10% below the peak of the number of pages produced by office printing and copying in 2007."
Scanning for moving to electronic still requires confidential paper bin services
For quite some time now, we are seeing numerous larger companies such as banks, insurance, etc moving towards paperless offices with large scale projects to scan and digitalise all paper documents.
This requires large numbers of confidential paper bin services for a fixed term as the project runs.
Conclusion
Evidence shows that confidential paper bin usage will likely drop in the medium term – in line with declining paper usage overall.
Larger companies have taken the lead in this – with smaller businesses still more focused on paper.
During the Covid crisis as fewer people worked in offices – we certainly saw a decrease in the volume of office paper being produced and disposed of. Whether this really continues or returns to the "old normal". As of now, who knows!
If you work in a large office, you may have often wondered when the paperless office is actually going to arrive! Most large offices still have one or more paper shredder bin if they do not have their own paper shredding machine on site.
We have covered in previous blogs why a paper shredder bin can work out considerably cheaper in the long term than buying a commercial shredding machine.
One of the funny things is that a move to electronic scanning and databases for documents is actually leading to greater requirements for paper shredder bin services. Of course – this is a short term thing that will not last!
I suppose until the paperless office finally arrives, thorough and trusted shredding is still required for all confidential documents and papers.
We aim to cover one of the more common questions we receive from clients. What exactly can go in the paper shredder bin and what can't?
What should go in the office paper shredder bin?
We have often had questions about what can and what cannot go in the paper shredding bin.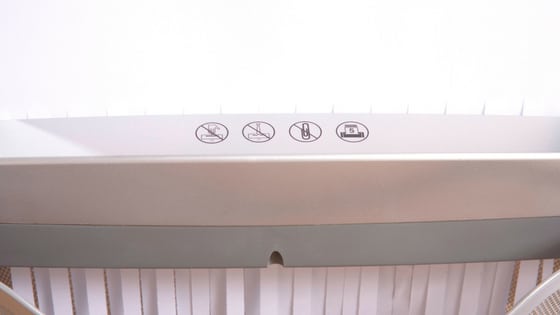 Is it just paper – or can you put it in files? In other words, do pages have to be removed from notebooks, etc?
Let's check out the answer.
What can go in the bin?
– Books, bound paper, brochures
– Business and multi-part forms
– Envelopes (including window face, labels and express post delivery envelopes)
– File folders (including manila and coloured)
– Notebooks and binders
– Paper and letterhead products (including white, coloured, computer and photocopy)
– Post-It notes, photos and blueprints
What should not go in the bin
– Food, food containers and wrappers (including plates, cans, cups bottles, cartons)
– Glass
– Metal and solid wood products
– Negotiable instruments (including travellers' cheques, bearer bonds)
– Solid plastics, polystyrene, styrofoam
– Toner cartridges
– Carbon paper
– Wet waste, liquids, hand towels and tissues
Conclusion
A paper shredder bin is not just for loose-leaf paper and can be pretty flexible.
You do not need to spend time removing spines from booklets, etc. In many cases, you can just throw a light folder in the bin and let the shredding process take care of it.