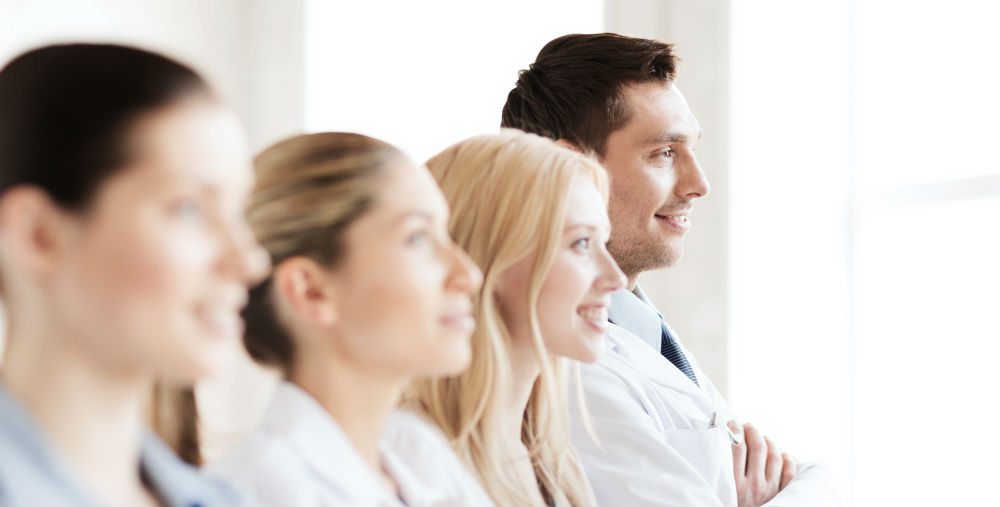 Medical Waste Disposal: 3 Tips To Reduce Medical Waste Costs 2019!
Medical Waste Disposal containers: when it comes to reliable, high quality and trustworthy waste management services, there is no reason why the medical, veterinarian and pharmaceutical sectors should not benefit from the low costs and excellent customer services provided by Waster's online model.
---
>Download Now: Free PDF Business Owners Guide To Medical Waste Bin Services
---
In this blog, we provide easy to follow and usable information detailing how your business can reduce their waste costs and improve business flexibility by implementing three easy steps. At all times you can also rest assured that your services are being provided by a fully qualified and insured provider.
We often get contacted by businesses requiring medical waste services – such as clinical waste, pathology bins, sharps containers and collections and used pharmaceutical bin services.
Some of the businesses require regular scheduled pickups of multiple bins every week – and others may only require a small medical waste disposal containers service on an on call basis.
What medical waste disposal container services does Waster offer?
Waster offers comprehensive high quality medical waste bins management services across all metro regions throughout Australia. Waster makes obtaining your waste services fast and can service operators in dental, medical, veterinary and research areas. We ensure maximum control of any infection risk throughout the entire process by following EPA approved processes in each Australian state and territory.
We supply sanitised and fully lined mobile clinical waste disposal bins that we collect when full and transport to our fully licenced waste treatment facility. Waste is treated using state of the art steam sterilisation or incineration technology before being shredded and disposed.
Clinical – discarded sharps, lab and associated waste, human tissue and animal tissue or carcasses used in research
Cytotoxic – Waste is material that is, or may be, contaminated with a Cytotoxic drug during the preparation, transport or administration of chemotherapy. Cytotoxic drugs are toxic compounds known to have carcinogenic, mutagenic and/or teratogenic (causing foetal and/or neonatal abnormalities) potential. Must be incinerated
Pharmaceutical – Used or unused drugs, waste generated from manufacture of drugs. Must be incinerated
Anatomical – Body parts, or components used for replacement of joints etc. Must be incinerated.
What medical waste bins and containers are available
Waster provides medical waste disposal containers in both 120 litre and 240 litre sizes for the safe collection of waste at the customer site. All waste is collected in EPA approved and compliant vehicles.
We can also provide collections in smaller sizes such as 20 litre medical waste pails as required. Please contact us for a quote in that regard
All wheelie bins sizes are coloured yellow in line with Australian bin and waste sticker standards – making it easy for your staff to make the correct disposal decision.
The medical waste units will generally be kept inside your surgery or business – and will be swapped over for a new unit each time it is collected. Our team will enter your premises and swap the clinical waste bin over. You do not need to leave the bin outside for collections.
You can see the bin sizes for medical waste disposal containers shown in the images below: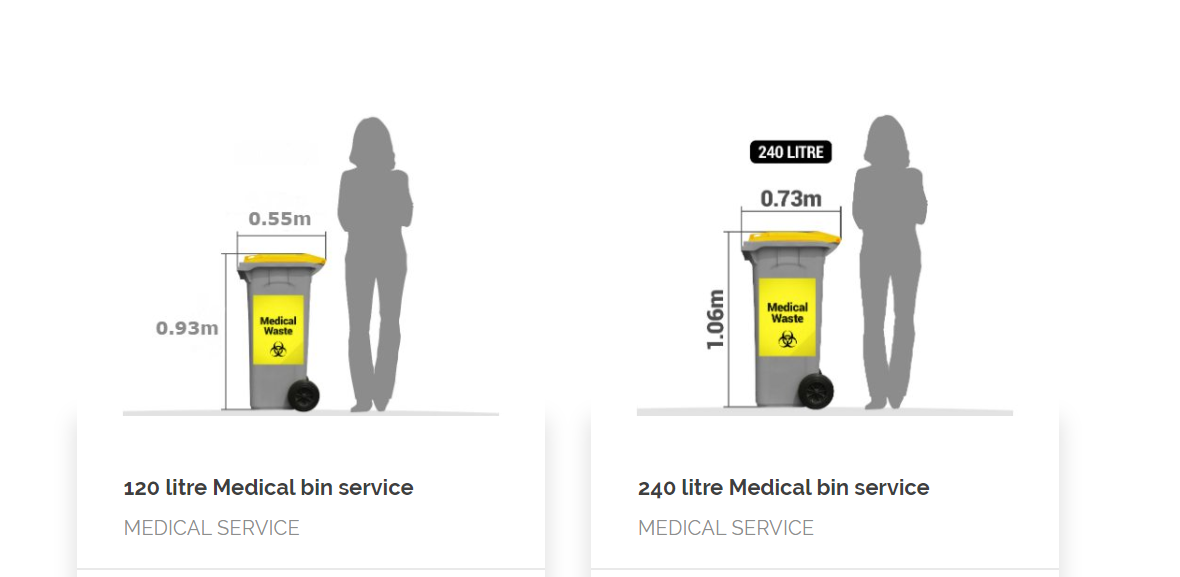 3 tips to saving money on your medical waste collections
The easiest way to save money on medical waste services is to follow this simple plan:
A. Check out your current contract and see if you are tied into a long term , restrictive supply arrangement with your current waste supplier. There is no reason for a business in Australia in 2019 or 2020 to be tied into a long term contract that does not suit their interests. Waster operates on flexible 30 day contracts.
B. Compare your waste collection prices online. Waster brings transparency to medical waste disposal, you can compare your current costs with our online shop. We currently offer medical waste disposal in the following metro regions: Canberra, Newcastle, Central Coast NSW, Sydney, Wollongong, Darwin, Adelaide and Hobart.
C. Say goodbye to hidden or additional fees. You may have been charged extra fees from your incumbent waste supplier such as bin rental, site fees, environmental fees, admin fees etc. Waster.com.au does not charge these fees. What you sign up for is exactly what you pay. For full details on pricing inclusions please see our pricing page. For an example of clear pricing see our grease trap price.
For added benefits – you can dispose off a sealed sharps container inside your medical waste container at no additional cost.
We can also drop off additional sharps containers (in a range of sizes) for you when servicing your clinical waste bin.
Check out our recent article when we launched medical waste bins Melbourne services.
What to do now?
The smartest choice at this juncture is to check our online prices for medical services.