Commingled Recycling: Why Commingled Bin Is Key To Recycling 2019
Commingled recycling: Waster is a big advocate for using commingled bins in many circumstances and argues they can be a key step in helping you business boost its overall recycling and cost minimisation performance.
Commingled recycling bin – what exactly is it?
Commingled recycling is one of the most versatile waste management services currently available in Australia as many differing items can be accepted in the waste commingled bin. Most food and beverage containers such as plastic bottles, glass jars, aluminium and steel cans are all accepted.
Implementing a commingled recycling bin service can be a perfect secondary partner to a standard General bin waste services and also a recycling cardboard and paper collection service. This can be very useful for waste management in pubs and clubs.
We have published a number of blog posts recently on the best way to set up a waste management plan for your business to improve your environmental / recycling performance as well as reduce your costs. You can also see our article on obtaining rebates for Sydney recycling.
Prior to implementing a commingled service to recycle waste, you should check out our blogs on the potential to get cheap or even free cardboard recycling in 2018. You can also check out our informative blog on the best wheelie bin sizes to use for your business to best match your exact needs.
Why is a commingled bin a logical "next step" in 2018?
When a business starts along the journey of reducing waste management costs and boosting recycling – implementing a cardboard collection can be the easiest first step. This will likely reduce the volume of general waste by enabling large, bulky cardboard boxes to be removed from the bin.
The next step is to remove commingled waste – similar to what Australian households are getting used to with their home commingled bins. By removing bottles, cans, plastic and glass it is possible to reduce the total cost of waste management (check out our article on whether a glass collection service could be useful for your business – Sydney waste disposal).
As can be seen from our online waste services shop – the cost for a commingled service can be considerably lower than a collection of a general waste bin of the same size. For example, in Sydney metro (in Jan 2018)- a 1100 General Waste bin collection (once per week) costs $41.00 (for a restaurant). In comparison an 1100 Commingled bin at the same location and frequency would cost only $31.20. This difference offers room for significant cost savings for your business.
You can book your bin online in three different sizes:
240 litre commingled recycling bin
660 litre commingled recycling bin
1100 litre commingled recycling bin
Colours and branding of Commingled bin
In Australia – commingled recycling bins are coloured yellow: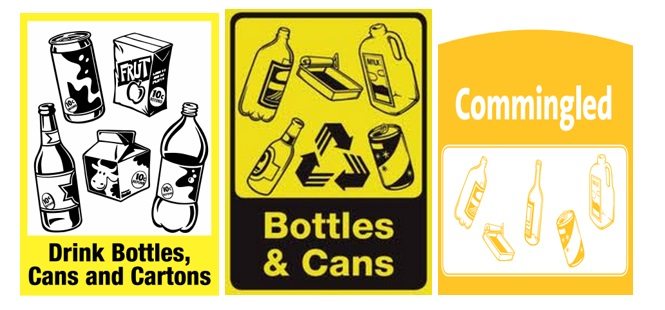 The colour scheme ensures staff are always clear about which bin to use for which waste stream.
You can get instant access to free downloadable garbage bin stickers here to boost your recycling performance.
How to book your commingled service
The easiest way to compare prices and book your commingled recycling (also commonly spelled co-mingled) service is through our online model. You can access our services and compare prices for metro regions including Canberra, Sydney, Wollongong, Melbourne, Perth.
We will be doing an article shortly on the importance of recycling in Wollongong – reflecting the very expensive waste disposal costs there. Waste services Wollongong has the highest waste disposal costs in Australia.
You can also see our blog here on whether you will even need to have rubbish removed in the future!