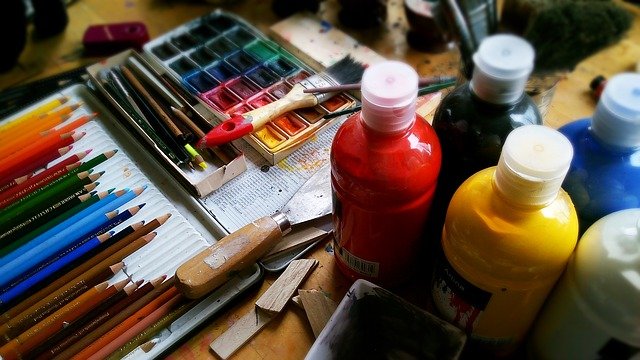 Can You Recycle Canvas Paintings? 🎨
Can You Recycle Canvas Paintings? 🎨: Art is appreciated by all ages. May you be a toddler, adolescent, or adult, you certainly have an artistic side of you. It is also true that there are businesses dedicated to art. The nature of the business can either be accepting art commissions from different clients or producing supplies/materials people can use to create art.
I, for one, found it relaxing to (poorly) draw my favourite anime characters like Monkey D. Luffy or Ash Ketchum on a piece of paper. After all, for me, you do not have to be that talented to try to do art. In fact, I like to spend my time drawing and colouring. This is very therapeutic for me.
However, I quickly realised that because I keep on making irreversible mistakes plenty of times, it results in me using up a lot of paper.
---
>Download Now: Free PDF Business Owners Guide To Commingled Recycling Bin Services
---
Having said that, those businesses accepting commissions can produce quite a lot of art supplies and canvas waste. At the same time, you can also say the same about the art supply producers. How can we deal with the said waste?
Of course, the answer to that is recycling! Waster, in particular, offers a solution for you to recycle your art supplies – canvas paintings, paint tubes, cans, bottles, etc. Read on to learn more.
A Bit About Waster
Before we discuss how to recycle canvas paintings and other art supplies, let me share with you more information about Waster.
We here at Waster provide you with innovative solutions for you and your business's waste management and recycling needs. Furthermore, we provide flexible, 30-day contracts instead of the typical lock-in contracts, which proves to be better.
Click on the blue button to learn more.
---
READ: Recycle Toothpaste Tubes ♻️
---
Waster Can Help You Recycle Your Canvas Paintings And Other Art Supplies
The once deemed "unrecyclable" can become recyclable with the help of Waster! We offer you services to recycle your canvas paintings and other art supplies through the use of TerraCycle boxes. I will discuss further below in the following sections.
Why You Won't Find Acceptors For Your Art Waste
Generally, you will find it hard – if not entirely impossible – to find a recycling facility that accepts these types of wastes. That is because many of the materials are made up of different combined materials, making it extremely "unrecyclable" by their standards.
As a result, they usually end up in landfills or cluttered in various places. Of course, no one wants that to happen. Fortunately, TerraCycle takes these types of wastes. They are the first alternative option to think of when trying to recycle "unrecyclable" products.
Watch this video for an example of a hard-to-recycle product:
You Can Recycle Your Canvas Paintings With The Zero-Waste Box From Waster!
If you are a business mainly involved with art, you can inquire with Waster. We can provide you with a canvas painting and other art materials recycle box that you will certainly need to dispose of these wastes.
As our customers and readers alike already know, we offer a wide variety of TerraCycle "Zero-Waste" recycling boxes that can fit your business's needs. Recently, Waster has added more products available which include art supplies. We will discuss below the easy process you need to do.
View the Art Supplies – Zero Waste Box highlighted here.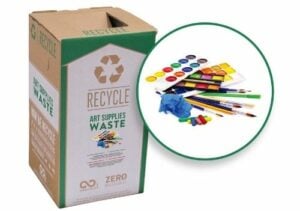 Shipping Off Your Canvas Paintings And Other Art Materials To Be Recycled
Shipping it off is fairly easy. Once you get the box from us, here is what you should do to ship it off to TerraCycle:
Pick the box size you want to purchase – either small or medium for canvas paintings or other art products.
 Only put the appropriate type of waste here. In this case, only recycle empty paint tubes, cans, and bottles, watercolour palettes, crayons, charcoals, canvases, sponges, notebooks, easels, markers, tape, and empty paint remover bottles. More details will be discussed here in the next section below. 
After you filled it up with the appropriate items, you can then ship the box to TerraCycle. Use the pre-paid shipping label affixed to the TerraCycle box. Rest assured that your sent items are recycled properly and safely.
Also, for you to ensure that the waste stream is recycled properly, remove all the excess or unnecessary products.
Dos And Don'ts
You should always remember that you got this box specifically to recycle canvas paints and other art supplies. That means that other than those mentioned items, you are not allowed to put any other item inside the TerraCycle box. Doing so will result in your sent items not being recycled.
Read this for your guidance:
Please do not include office supplies like hole punchers and staplers. Please note that we will not accept organics, broken glass, bio-medical waste, soiled diapers, expired medication, pesticides, paint, pressurized canisters or medical sharps in any of our boxes.
How The Waste Will Be Recycled
Once TerraCycle receives your sent waste, they will either mechanically or manually separate them into metals, fibres, and plastics. They will smelt the metals for recycling purposes.
As for the fibres, TerraCycle can either choose to recycle or compost them.
Finally, the plastics then undergo a process called extrusion and pelletization that is then moulded into new recycled plastic products.
Can You Recycle Canvas Paintings? – Conclusion
Always remember that plenty of times once considered "unrecyclable" due to their composition such as canvas paintings and other art supplies can indeed be recycled if you do your research. Waster, in particular, can help you with all of that by providing you with an easy-to-follow program spearheaded by TerraCycle.
Final reminder: it is always in your best interest to recycle as this can help you cut costs and save the environment at the same time.
Waster's Other Services
If you're looking for recycling bins, check our waste recycling shop and find the best deals in terms of pricing and services.
Also, please call 1300 WASTER (1300 927 837), or email us at enquiries@waster.com.au if you have any further questions.