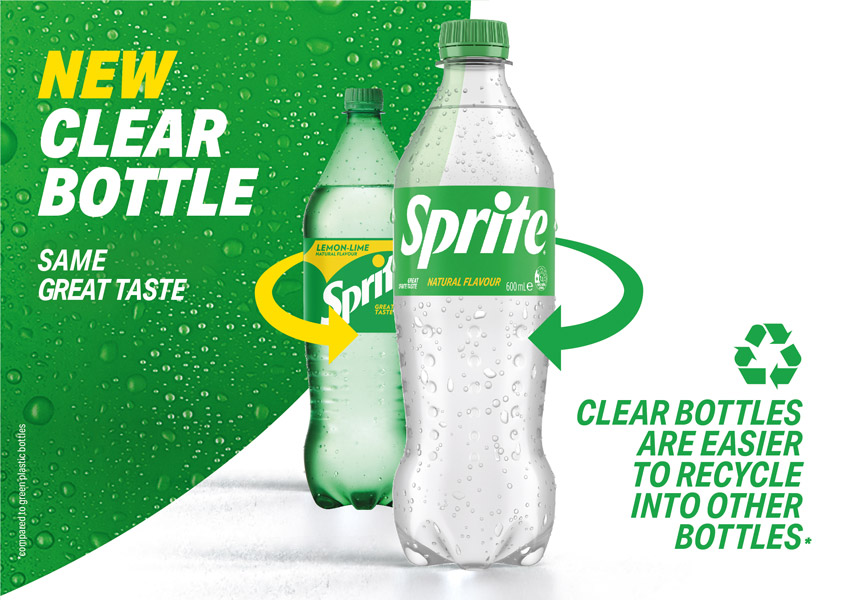 Green Plastic Packaging No More: Sprite Australia Switches To Clear Plastic Bottle For Better Recycling ♻️
Sprite Bottle Recycling Australia ♻️: Last July, the Coca-Cola company in Australia made a significant change. Their world-famous Sprite plastic bottle went from its signature colour of green to a now clear one with a good reason: to improve their product's recycling. How does this simple change make recycling Sprite bottles better in Australia? We will cover that below and more, so we suggest you continue reading to learn more!
This is not the first time that a well-known brand such as Coca-Cola's Sprite soft drink made a conscious change for the betterment of the environment.
For example, our blog about the fairly latest marine waste recycling news mentioned that BMW and Ford, both automobile giants, made vehicle parts using marine waste. Brands like Nike, Adidas, Apple and many more made some changes to help build a more sustainable environment.
We can clearly see a lot of benefits involved when brands make efforts to produce more environmentally-friendly products. We certainly think of it as a positive and necessary trend in today's world. This shift reflects a growing awareness of environmental issues, consumer preferences for sustainable products, and a recognition of the long-term benefits of adopting eco-friendly practices.
---
>Download Now: Free PDF Business Owners Guide To Commingled Recycling Bin Services
---
Examples of some key benefits include sustainable sourcing, reduced carbon footprint and waste reduction and recycling. Other benefits include product durability and longevity, circular economy and initiatives and more.
The Coca-Cola Company, being one of the largest companies in the world, definitely knows all of these and strives to have a more environmentally friendly reputation, hence coming up with changing the Sprite's bottle colour for better recycling in Australia.
Below, we talk more about this, so we encourage you to read more.
More on Sprite bottle recycling in Australia news
After nearly 60 years, Sprite's iconic green plastic bottles will switch to clear plastic, making them easier to recycle into new bottles locally.
The switch from green to clear Sprite bottles is a big step towards being more environmentally friendly. This change makes it more likely that these bottles will be recycled and used again, which is great for the planet.
According to Kate Miller, who is in charge of marketing at Coca-Cola Australia, the goal is for their bottles to be used more than once. They've already made progress with Sprite bottles that are less than 1 litre – those are already made from 100% recycled PET plastic, except for the caps and labels.
This effort helps support recycling systems and gives the bottles a better chance of being recycled and turned into new bottles right here in Australia. Even though Australians have been used to seeing Sprite in its green bottle for almost 60 years, this change is a positive move as it helps make the packaging more environmentally friendly.
Sprite bottle recycling Australia: a welcome change
The Planet Ark Environmental Foundation, which encourages positive environmental actions, has welcomed this change by Coca-Cola Australia. They think this could have a good impact on plastic recycling in Australia.
Rebecca Gilling, the head of Planet Ark, thinks it's important for companies like Coca-Cola to invest in making sure their products can be recycled. When bottles are collected and recycled and then used to make new bottles in Australia, it means we don't need to use as much new plastic. This also helps reduce pollution that comes from making new plastic.
Gilling also mentions something called "Container Deposit Schemes." These are programs where you can return your bottles and get a small amount of money back. This helps keep bottles out of places where they could harm the environment, like landfills. When bottles are collected through these schemes and recycled into new bottles, it's a win for the environment.
Coca-Cola Europacific Partners is working with others on something called the Circular Plastics Australia (PET) project in collaboration with Pact Group, Cleanaway Waste Management and Asahi Beverages. They're using modern recycling facilities to turn empty PET bottles into new ones. The first facility started in Albury, NSW in 2022, and another one will open in Altona, Victoria later in 2023. Together, these places can recycle as many as 2 billion 600ml PET plastic bottles every year, right here in Australia.
This change in Australia will affect all sizes of Sprite Classic bottles in plastic and should be done by August 2023 as stores use up their old stock. It's a positive step that shows how companies can make changes to help the environment.
Waster's final thoughts
As a company that cares about the environment, the switch from green to clear Sprite bottles and Coca-Cola Australia's recycling efforts clearly impressed us here at Waster. Using recycled plastic for Sprite bottles and supporting local recycling is fantastic. It means less need for new plastic, which makes it good for our planet.
We also look forward to the opening of new PET recycling facilities. They'll help recycle a lot more bottles, reducing pollution and saving resources.
Overall, this change and these initiatives are steps in the right direction. They show that Coca-Cola is taking responsibility and making positive changes for a greener future.
Contact Waster right now for your waste and recycling needs now!
Does your Australian-based business need waste and recycling services? If so, then you have come to the right website!
Please call 1300 WASTER (1300 927 837).  You can also email us at info@waster.com.au or enquiries@waster.com.au if you have further questions. Find the best deals in terms of waste and recycling pricing and services!