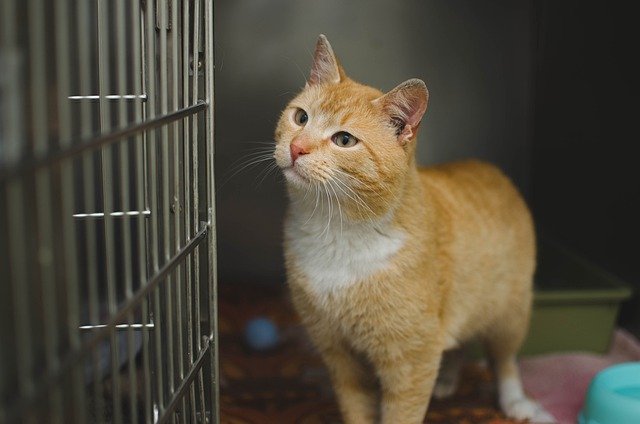 Veterinary Waste Disposal Best Practices 🐱🐶
Veterinary Waste Disposal 🐱🐶: I find it very heartwarming that those with pets treat them like their own children and do what is best for them. I also have friends like that in real life. They always make sure to feed them healthily, take them to walks for exercise, and groom them when needed. Additionally, and more importantly, they always make sure to take their pet/pets to the vet as often as possible.
According to them, the pets do not have to be sick to be taken to a vet, which I definitely agree. And, that got me thinking, "what makes a good veterinary clinic?"
Well, we can all agree that what makes it good are lots of factors. But, I want to focus on one factor that we can relate to what we always blog: cleanliness.
Now, going through the blog
Many veterinarians realise the importance of safety when it comes to disposing of biological or biomedical waste in a vet clinic. If you own a veterinary clinic, you should find an affordable and efficient veterinary waste disposal provider. Failure to do so will lead to hefty fines.
Now, let us discuss what you, as a veterinary clinic owner, can do to practise proper waste management in your vicinity when it comes to handling clinical waste, which comes from medical, as well as veterinary, waste disposal guidelines posted by EPA Australia. Read on to learn more.
---
>Download Now: Free PDF Business Owners Guide To General Waste Bin Services
---
A bit about Waster
Before I discuss the best veterinary waste disposal practices, let me share with you more information about Waster.
We here at Waster provide you with innovative solutions for you and your business's waste management and recycling needs. Furthermore, we provide flexible, 30-day contracts instead of the typical lock-in contracts, which proves to be better.
Click on the blue button to learn more.
---
READ: Hygiene Services Suppliers 🗑️
---
Discussing the best veterinary waste disposal practices
As a worker here on Waster, I found that waste management in health care establishments is something that always lingers on the minds of both the waste industry and the common citizens. I cannot blame them; medical waste itself can potentially spread various infections and toxins, injure the handlers, and ruin the aesthetics of the environment.
As a result, it is important that all of the parties involved in this particular case adopt procedures that can minimise risk to human health, the environment, medical employees, and waste industry workers.
Medical waste
For you to know the best veterinary waste disposal practices, we must first define medical waste, as a whole. Basically, medical waste includes:
discarded sharps (i.e., needle and syringe) and instruments used in surgeries,
human or animal tissues, organs, and body parts,
biological liquids,
animal vessels in a veterinary vicinity,
specimens, and
other discarded matter in medical, dental, or veterinary setup or research that can compromise human health and the environment when contact occurs.
How to store veterinary medical waste properly
Obviously, one of the best advisable veterinary waste disposal practice is to store the waste properly before collection and transportation.
Here, we will share some steps on how to properly store veterinary medical waste before disposal:
Store it with the intention of minimising health and environmental risks.
Put the stored medical waste in a secure location.
Bring and use all the necessary tools and equipment to clean and disinfect the area with the stored hazardous waste in veterinary practice. Accidental spillage, after all, can easily happen which can lead to problems.
Consider non-medical waste mixed with medical waste as medical waste, too, and store it properly.
Finally, as for the sharps and other surgical instruments used, place it into a container resistant to puncture, displayed with the universal biohazard label, accessible if needed, sealed tight, and safe from spilling or falling.
Let waster handle the veterinary waste disposal for you!
It truly is no surprise that Waster can service all healthcare establishment with their waste management and disposal needs, veterinary clinics included. In general, our cost-saving, high-quality medical waste bins and services can help businesses all across Australia manage their waste, especially the hazardous ones, properly.
Below, you will find our offered 240-litre wheelie bin where you can safely store medical – in this case, veterinary – waste before collection and transport. Additionally, we can also provide a 120-litre bin collection service or 20-litre medical waste pails, depending on your needs.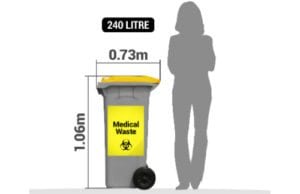 Basically, our services include providing you with the bins and collection on a regular basis. Then, after we take the medical waste from you, we will see its proper disposal either by incineration or by autoclave. As also stated above, we provide our services nationwide. Following the veterinary waste disposal guidelines, we also serve in places such as NSW and Brisbane, among so many others!
The reason for picking Waster
If your business is based on anywhere in Australia, partnering up with Waster for your veterinary waste disposal needs will prove to be beneficial for your business. Here, I enumerate to you what we bring to the table in terms of providing quality waste management services.
You pay exactly what you asked for – and not a dollar more! For your waste management and recycling needs for magazines with staples – or any other type of materials – avail our flexible, 30-day contracts instead of those long, unproductive, and hidden fee-containing lock-in contracts.
Designed for small and medium businesses – we help you reduce cost while boosting recycling. That's a win-win situation!
On-time and reliable – we provide fully-accredited logistics and facility operators. By saying so, we ensure the safety and efficiency of our services.
Additionally, in the waste management industry, problems are bound to rise – like in any other businesses. If such problems arise in regards to our service, you can talk to our friendly customer service team!
Veterinary waste disposal: conclusion
Veterinary medical waste regulations, guidelines, or practices – whatever we call it – is very important to implement, as it is required by law and also helps keep everyone and everything around us safe.
Furthermore, veterinary medical waste disposal is not something to be done half-heartedly, especially the biohazardous ones. As I have mentioned above, there are corresponding guidelines to its storage, collection, transportation, and disposal.
And, if you decide to avail veterinary hospital waste management, then Waster is the right partner for you.
Waster: things you need to know
If you're looking for recycling bins in Launceston, check our waste recycling shop and find the best deals in terms of pricing and services. Also, please call 1300 WASTER (1300 927 837), or email us at enquiries@waster.com.au if you have any further questions.
Lastly, check out our clinical waste disposal guide created in 2021 for a more general take on medical waste management.